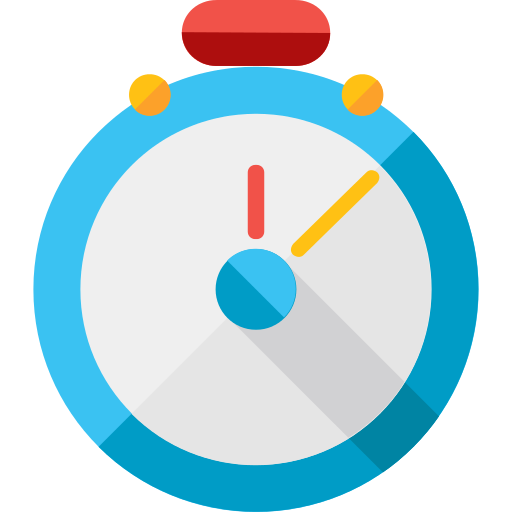 12 Minutes Read
Getting millennial kids active and off the couch has proven to ironically be a much harder task than it was to get baby boomers back home from the endless activities that they had outdoors.
Hence the invention of fitness trackers; a tool that is geared towards enhancing the level of physical activity for its users.
Although there has been much debate on the effectiveness of fitness trackers, one thing is undeniable; they positively impact the physical health of their users. And more so for kids, who get an early insight into self-care.
As you would expect, the considerations for kids' fitness trackers differ from those of adults. Top at the considerations for kids is a fun approach through which the child won't feel like they are being coerced into another chore. At the same time, you also want the tool to be effective in motivating a healthy and active lifestyle.
But with so many options for young wearers, how do you then decipher which device is right for our kid? Well, we scavenged through the best trackers in the industry; each equipped with different and solution-oriented features to find the best of the best.
Read on to find out which fitness trackers ticked off our checkboxes.
Comparison Table of the Best Fitness Trackers for Kids
Fitness Tracker
Recommended Ages (Years)
Weight
(Ounces)
Battery Life
Waterproof
Why We Loved It
Garmin vivofit Jr. 2
4-7(Smaller)
6 and above (larger)
0.96
One Year
50 meters water resistant
Theme-based games, 60-minute activity goals, band size, and theme options.
Fitbit Ace 2
6 and above

0.64

Five Days
(rechargeable)
50 meters water-resistant.
Robust construct, no calorie count, Parental control.
VTech Kidizoom Smartwatch DX2
1.76
Two Years
(rechargeable
Splash-proof
Dual camera, sturdy build
Garmin Vivofit Jr.
4-9
0.64
One Year
Water-resistant up to 50 meters
60-minute daily play goal, fun and educative, customizable rewards ad chores.
Fitbit Ace Activity Tracker
8 plus
0.5
Five Days
(rechargeable)
Water-resistant
No calorie count, Slim design.
Fitbit Zip Wireless Activity Tracker
13 plus
Six Months
Splash-proof
Clip-in design in place of the strap, extremely light.
UNICEF Kid Power Band
13 and below
0.16
FIVE DAYS
(rechargeable)
Water-resistant
Fun and educative system, lightweight design
Sqord Activity tracker
8 - 12 years
4
Nine Months
100% water-proof
Play rather than step tracker, Wide age range.
Leapfrog Leapband
4-7 years
6.2
Four Days (Rechargeable)
Splash-proof
Easy to customize, the widest range of fun and interactive games
X-Doria Kidfit Activity tracker
5-13 days
0.96
Seven Days
(Rechargeable)
Easy to use, a quantified scoring system.
1
Garmin vivofit jr 2- Best Overall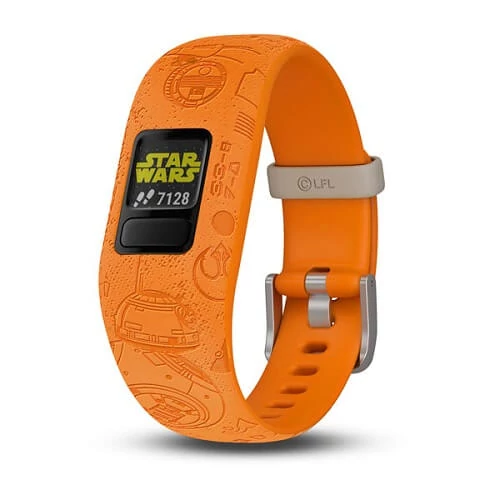 The Garmin Vivofit junior 2 is unanimously one of the things we would wish for if we could reverse our youth.
From the word go, this tracker instantly appeals to kids as it is available in 10 different guises themed by famous superheroes and other Disney themes such as Captain America or Mickey & Minnie Mouse. This allows the kids to have a customized screen rather than a standard one.
Being a successor of the Vivofit Jr., it has several differences from its predecessor.
For starters, Vivofit Jr. 2 differs in that it has band options in two different sizes. The smaller watch features a stretchy band and is recommended for kids between four and seven years of age, while the alternative is a bigger watch featuring an adjustable band and is recommended for kids above six years of age.
The color display on the 11 x 11mm screen is another upgrade compared to the black and white theme of the vivofit jr.
One of the main characteristics of the vivofit Jr. 2 is that not only does it keep track of the young user's steps, sleep, and active minutes; it also creates step goals and rewards them for mundane activities such as finishing homework and completing chores set up by parents.
It further features an extra challenge called the toe-to-toe step challenge through which users can compete for the most steps taken in two minutes
Rather than merely pushing for weight loss, the Garmin Vivofit Jr. 2 stresses a healthy lifestyle by unlocking a special themed mission in the companion app once the user meets the recommended 60minutes of daily activity.
Akin to all Garmin devices, this tracker is completely waterproof and has one-year battery life.
The only thing that this tracker doesn't do is tracing the whereabouts of the wearer. It only functions to encourage an active lifestyle in a fun way, which let's be real; it is the primary reason why kids need fitness trackers.
Fun and interactive.
Customizable Disney-themed band styles.
Swim-friendly as it is water-resistant up to 50 meters.
Tough and durable.
Includes a task-timer option for chore management.
One-year battery life.
No GPS or cell service connection
2
Fitbit Ace 2 - Best For Younger Children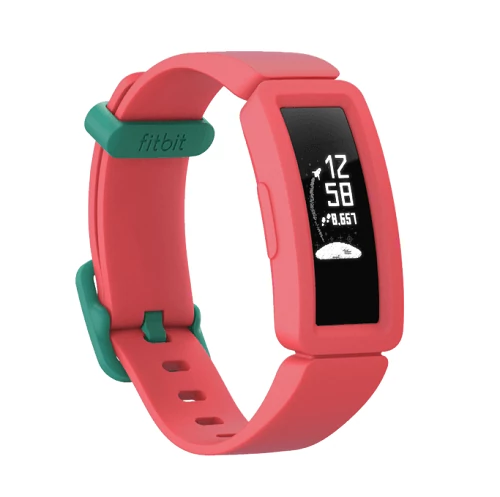 Colors: night sky + neon yellow, watermelon + teal.
The Fitbit Ace is a fun and, simple, and easy-to-use touch screen activity tracker that tracks kids' activity with a goal of one hour of active time and rewards them with virtual badges and other fun incentives for their accomplishment.
Among the features that differentiate the Fitbit Ace 2 from the Fitbit Ace is that it is more robust and has more child-friendly strap design.
It further differs from the Ace 1 in that it has a raised silicone bumper that acts as a protective shield against the inevitable bumps and tumbles that kids are somewhat bound to encounter as they actively move.
This tracker is easy on kids' wrists as it boasts of a comfortable adjustable clasp that holds securely enough.
Not only does this device actively track the hours of sleep, but the parent can also set up bedtime reminders and alarms. That way, high energy levels are guaranteed for the kid the next day.
The Fitbit Ace 2 allows interactivity by enabling kids to challenge one another to step competitions and even cheer each other on in-app
Like the Garmin Vivofit JR. 2, kids can also customize the clock faces for a more personal touch.
To finish off, the Fitbit Ace 2 is completely swim-proof, and its battery life lasts two days shy of a week, which means that your kid spends less time charging and more time on the move.
A cute watch with fun goal celebrations and incentives such as the Fitbit Ace 2 is just what kids need for a healthy lifestyle.
Vibrant colors.
Fun and interactive competitions.
Customizable watch face.
Motivating goals, badges and fun celebrations.
Parental control.
Swim-proof.
No GPS to track a kid's location.
Shorter battery life.
3
VTech Kidizoom Smartwatch DX2- Best Value/Multimedia Features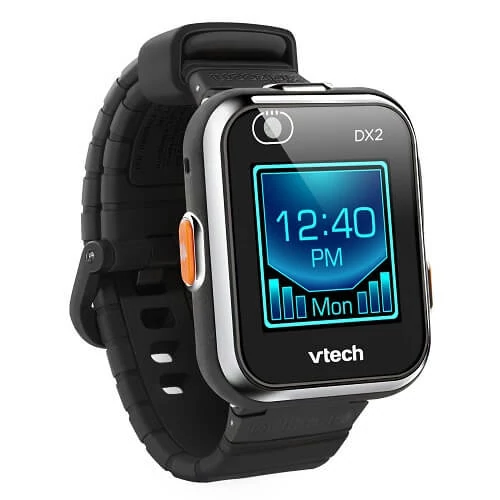 The VTech Kidizoom Smartwatch DX2 is one of the most recent additions to kids' fitness trackers that made it to this review.
First released in September 2017, this device secures a top-ranking for having the highest range of multimedia uses.
This tracker doubles as a camera and video recorder. With a dual-camera and memory storage of 256MB, kids can not only engage in active play but also capture exciting memories with one touch of the screen.
As expected, this tracker has a pedometer through which their steps can be counted. Additionally, this tracker has an assortment of new games that kids can participate in and parents can limit how long their kids play to avoid over-indulgence.
Like other high-ranking fitness trackers, the VTech Kidizoom is interactive thanks to a motion sensor that monitors active play challenges. In total, the Vtech Kidizoom tracker has 5 built-in games, 3 fun activities, and 3 action challenges that all make use of the smart motion sensor.
But is that all there is to this splash-proof tracker?
You guessed wrong if you assumed that the radness ends there. Your kid will be the coolest one on the block because after completing the set challenges, they can move around to trigger cool sound effects from the tracker.
With a built-in rechargeable battery that lasts a couple of days, depending on use, this tracker is an excellent addition for health-focused families.
Fun and easy to use.
Dual camera.
Full of fun apps.
Parental control.
Customizable screen.
Educational tools.
No GPS tracking.
Only splash-proof.
4
Garmin vivofit junior- Most Durable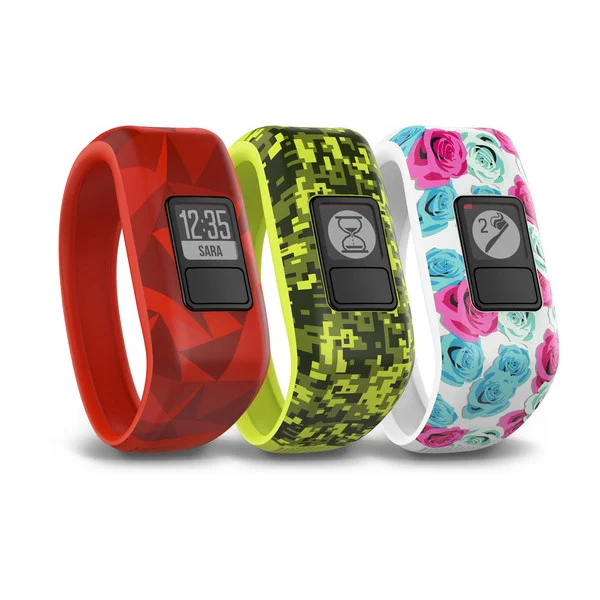 Color: broken lava, digital camo, and Real flower.
The Garmin Vivofit Junior is the perfect solution for child inactivity as it monitors the child's movements to ensure they have the recommended one hour of daily physical activity.
Kids will definitely go bananas over the vibrant and straightforward design of this watch. Firstly, the Vivofit Jr. is easy to use as a single button controls all the functions
Secondly, it has a more bangle-like compared to the wristband design that is perfect for kids who find trouble clipping adjustable wristbands.
This device tracks the activity level of its wearer and allows them to unlock a series of adventures and fun facts every 60 minutes of active time.
It syncs to the parent's mobile device to allow them to track the activity of their child and even assign chores. It further motivates kids to maintain high activity levels by allowing them to earn redeemable coins for the rewards set by their guardians.
You will never need to charge this watch ever as the Vivofit Jr. also boasts of one-year battery life.
Not only is it swim-safe but it is also comfortable and secure enough to wear daily between school, home, and even while sleeping
A robust and durable design crowns this tracker and makes it land a good spot in our books.
Stylish design.
Specifically designed for kids.
60-minute daily play goal.
Fun and interactive.
It allows parental control.
One-year battery life.
Robust and comfortable.
Stain-resistant.
Swim and bath safe.
No GPS tracker
Requires constant recharging
5
Fitbit Ace Activity Tracker- Best for young Teens and Above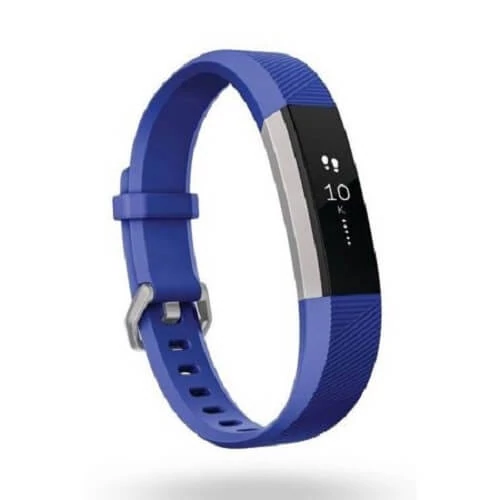 Color: Electric blue, Power purple.
Seeing as the Fitbit adult fitness tracker has witnessed tremendous success, a fitness tracker devised entirely for kids isn't a surprise.
In simple terms, the Fitbit Ace is a simplified version of the Fitbit Alta with room for parental supervision. This means that parents are in charge of awarding their kids when the kid meets the established goals.
Kids are awarded achievement badges and celebratory messages to egg on their progress and encouraged to rest well as the tracker further monitors sleep hours.
The Fitbit Ace is truly everything that you would want from a wearable fitness device. Its smart single-color design makes it the ideal wristband for young teens who don't want anything too childish.
It is also relatively low maintenance as its battery lasts up to five days before the next session of recharging.
Wearers can not only track their progress throughout the day, but they also have the option to customize the watch face to a theme of their liking from the ten fun clock faces availed. As for the date, time, and goal progress, they are displayed on the bright, crisp OLED tap screen.
The cherry on the cake is that it features an adjustable strap, meaning that your child gets to keep it as they grow.
Lastly, the water-resistant make of the Fitbit Ace means that it can survive any splashes and spills!
Fun and interactive.
Has great incentives.
Parental control.
Measures step, distance, and active time.
Monitors sleep.
Slim design.
Has reminders and alerts.
The clasp is smaller than its competitors hence limits wearers
Shorter battery life
6
Fitbit Zip Wireless Activity Tracker- Best for Kids with Sensory Issues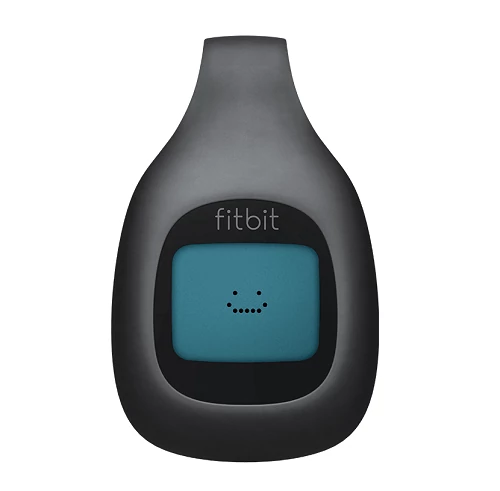 Colors: blue, charcoal, lime, magenta.
The Fitbit Zip Activity Trackers is the perfect definition of simplicity. This activity tracker boasts of a simple clip-on design that does the job perfectly.
It is the ideal gadget for persons who have sensory issues or detest wearing wristbands.
In place of a wristband, this tracker latches onto the users' clothing, belt, or even backpack where it is securely held in place. To protect the device which is now paced in a more vulnerable position, the tracker is sheltered by a rubber body that shields the screen in case if an accident.
Other than keeping an eye on the users' steps, it functions also to track other activities including active minutes, calories burnt and distance walked. The featured pedometer does this job using an advanced 3-axis accelerometer to track the young wearer's steps.
There's no particular reward system instilled in this watch as it is not targeted at kids, but you can easily work out your reward system if you so desire.
The Fitbit Zip's tracker's battery is by far the most long-lasting of the Fitbit family as it takes up to six months before replacement. One of its best elements is that it has a rudimentary design through which you see the daily stats and time by tapping the display screen.
If you simply want an easy and non-cumbersome way to track steps, then this is just the device for your kid.
Great for kids of all ages
Has a brief learning curve
Allows kids' independence of learning on their own
Strongly built
Not compatible with most bike frames
Heavy compared to other brands of bike seats
Pricier than most similar bikes
6
UNICEF Kid Power Band- Best for Educating Your Kids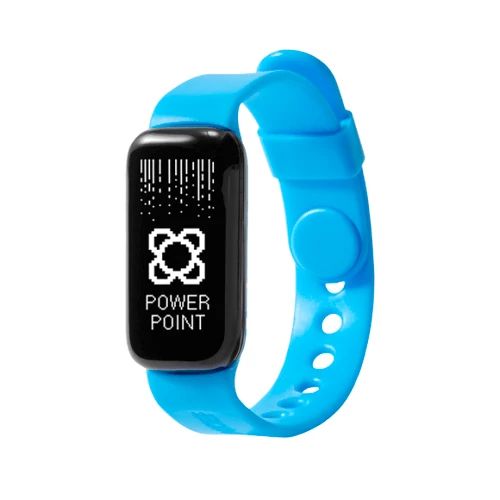 Colors: Blue, green, black, orange
If you are wondering whether there is a way to educate young ones through a fun and health-oriented approach then you need to be introduced to the UNICEF Kid Power Band.
This tracker tracks users' steps and has them unlock food packets that UNICEF then delivers to severely malnourished kids around the world.
Kids are actively motivated to make progress as the belief is that their accomplishment of the set goals is the key to delivering food to the less fortunate.
Assuming the organization doesn't hold back on food when the users fail to accomplish their set tasks; the UNICEF Kid Power band is the best way to ensure kids remain active, grounded, and educated.
It works by tracking both steps and other active movements through an easy-to-read touch screen. It further allows you to earn fun rewards and even compare progress with family and friends.
As for educating the user, the process is quite simple; by achieving the target set out for the day, they unlock a video that gives them a few facts about the world and the different cultures within.
Although this tracker's battery life isn't as lengthy as the other contenders in this review, it promises only to take but an hour to charge every five days.
Because it is water-resistant; your kids can take the tracker along with them as they shower or swim without worrying about spoiling it.
By feeding the less fortunate and equally encouraging an active and healthy life for its users, the UNICEF kid tracker does an excellent job at connecting activity to real-world impact.
Life-saving food pockets are delivered to children suffering from malnutrition worldwide.
Kids learn worldwide cultures.
Adjustable wristband fits many.
It allows parental control.
Water-resistant band.
The strap could be more secure.
Short battery life span.
The band is water-resistant but not water-proof.
8
Sqord Activity Tracker- Best Activity Tracker Underwater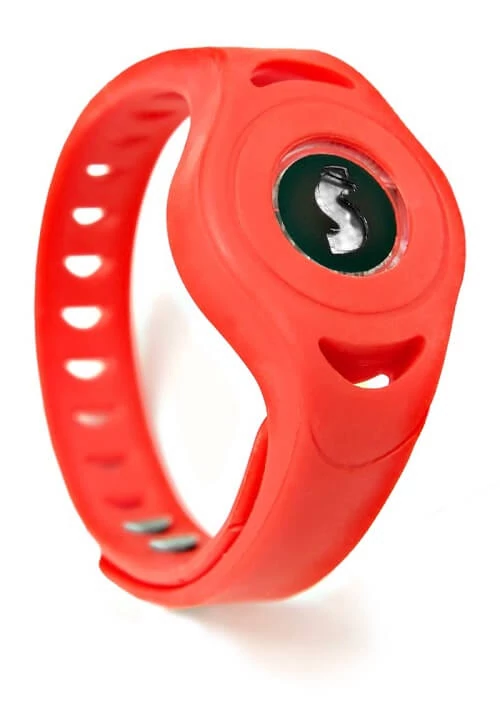 First released in November 2014, the Sqord Activity tracker has done its dues and earned a spot in our review for being a fitness tracker that tracks play rather than steps.
The Sqord Activity tracker syncs with a KidSAFE certified app that allows parents to exercise control over their child's account. This means that there is no risk of the child being exposed to bullying, inappropriate content or danger from strangers while they use this device.
The Sqord activity pod prides itself in being more than just a step counter. It functions by tracking all physical movement, then converting the movement to points. These points are further awarded in the free kid-safe app.
Another great thing about this fitness platform is that it is not limited to tracking movement on land. On the contrary, water-bound activities such as swimming and water-balloon fights also account for physical activity.
The Sqord pod is not only waterproof but also indestructible- it can take a beating and still tracks activity.
The best feature of the Sqord activity tracker is that it can even monitor sitting positions. Talk about accuracy goals!
It also has quite an impressive battery life. Only after an entire nine months of use will you have to replace the battery; considering the replacement is easy and inexpensive.
One of the most prominent features of this tracker is that by converting play into activity points, the average user earns 46.915 points per day; an equivalent of taking 91.5 laps around an NBA basketball court! If that doesn't amaze you, we don't know what will!
With reports of a 55% increase in activity for its users, the Sqord activity tracker takes the cake for being a proven-effective fitness platform.
Monitors play rather than steps.
Completely waterproof.
Built to last.
9-month battery life.
Easy to use mobile app.
Heavier than most.
It does not tell time.
Unsuitable for kids under three years.
9
Leapfrog Leapband - Most Fun Fitness Tracker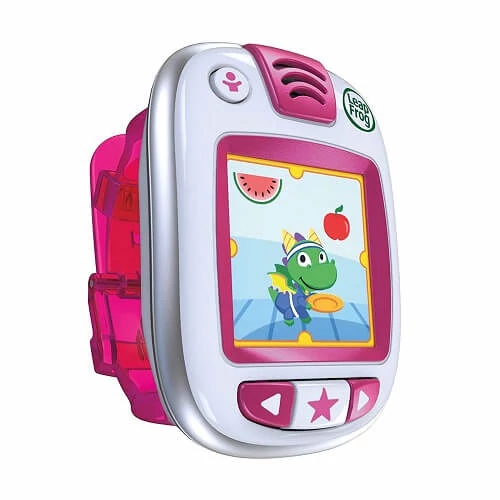 Colors: Blue, green, pink.
The Leapfrog Leapband is the literal definition of fitness made fun of. It boasts of 50 fun active challenges that do a great job of encouraging active play for your kid.
Kids can participate in a wide range of physical activities, including running, jumping, dancing, hopping, and playing, which are then transferred to points.
The parent can control playtimes, and other fun challenges through Leapfrog connect.
They can then earn rewards and give power to a personalized pet pal from the 8 virtual pets available. Furthermore, they can choose its name and color more a more personalized touch
The pets make for fun playmates give the much-needed company to the kid as they continue to challenge themselves daily. Through more active play, kids can unlock accessories for their pets and earn more rewards
Its rugged construction, in combination with an adjustable band, makes the tracker very durable. Not to mention a water-resistant construct that makes it safe for shower-use
The only downside to this wristband is that it is quite bulky.
Other than that, the Leapfrog Leapband indeed encourages healthy habits in one of the most fun ways of any trackers.
Super lightweight.
Fun and interactive.
Splash-proof.
Strong and durable.
Battery life lasts for months.
Minimal features.
Prone to getting lost.
10
X-Doria Kidfit Activity tracker – Easiest to Use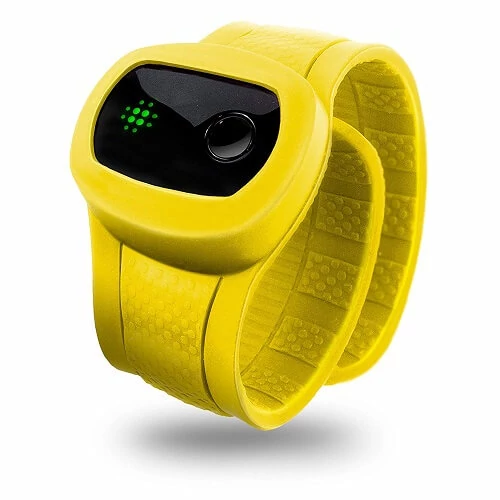 The X-Doria Kidfit tracker is a wireless activity and sleep tracker that encourages active movement for kids.
This tracker is by far the easiest to use. It works by setting a daily activity target, which is then scored out of 100 points. Kids remain motivated in that they always want to beat their previous score.
The parent can opt to award their kids with real-world rewards once they achieve their activity and sleep goals. This is because unlike most, this tracker lacks a virtual award system. However, this shouldn't be taken as a fault on this device as some kids remain motivated through real-world rewards as opposed to virtual ones.
It is up to the parents to come up with a reasonable reward system for their young ones.
Additionally, the X-Doria Kidfit fits comfortably yet securely, so users need not worry about it slipping.
Our only reservation about this tracker is that it is a one-size-fits-all slap bracelet meaning that some are excluded from wearing it.
One thing for sure is that users remain challenged and motivated to keep actively pursuing a healthy lifestyle.
Quantified scoring system.
Compatible with iOS and Android.
The slap bracelet is comfortable yet secure.
It has in-built goals as well as customizable ones.
IPX3 rated Splash-proof design.
One-size-fits-all slap bracelet
How to Choose the Best Kids' Fitness Trackers
Each year a set of new fitness trackers for kids loaded with new features, style, and performance debuts with the promise of getting calories burnt in your child. You might find yourself at a crossroads on the best fitness trackers to buy for your child. We have had parents consult us on the factors to consider when purchasing a fitness tracker for kids.
Most of them have complained that despite regulating screen time for their kids, it slowly kicks in without their knowledge. Our answer has been simple, why not get them a fitness tracker to monitor their activity? In this respect, we have seen it wise to compile a buying guide for fitness trackers for kids to help you make pre-purchase decisions, whatever the set of activities you've set for your kid and the goals for them to achieve.
1. What are the goals of the children and your goals for them?
Conducting a needs assessment is critical as it leads to you and the kids coming up with goals to see them fit. Trust me this is the hardest part given the high gradient of changing from a sedentary to an active lifestyle. Nevertheless, understand the number of steps your kid can make in a single day and then research on the number of calories that can burn.
Also, you could advise them on the best activities to get them to burn calories. It is important at first to choose the easy activities then advance up as the child grows their interest in different activities. Remember, the activity you choose determines the type of fitness trackers you will choose. For instance, if it is just some steps you could do a basic step tracker for kids or a basic fitness tracker for kids.
On the other hand, if it is a tough exercise such as swimming you will need a waterproof or water-resistant fitness tracker with software designed to handle such environments. As for regular activities, like combining boxing, dancing, and jogging, you should find your kid a device that has advanced specs such as automatic activity recognition, heart rate monitoring, and step tracking capability.
You can also choose to source for your kid a fitness tracker with a GPS tracker to get the pace, elevation, and speed estimations. Surprisingly there are kid's fitness trackers with cellular connectivity. Lastly, you can also get your child a fashionable fitness tracker for kids, and you will have an easy time convincing them to stay active. The trick works.
2. The Design of the Fitness Tracker
Not all fitness trackers or activity trackers are designed the same. The various companies have invested in R&D to ensure that the multiple needs of the kids and parents are met. The majority of the fitness trackers are worn on the wrist while some have a clip that can be used to hook the wearable to clothing. Kids like graphics and images, it is just hard to explain how so.
But, we think such designs imitate the games and present some of the characters in games, movies, or comics that the kids like. Some trackers have graphics, animated characters or pets, and even microgames, which makes it possible for you not to nag them into different activities, they do it at their pleasure.
It is also important to look for family features including challenges and chores that can be set up by you as a parent and rewards at the end of every challenge or task. If your child is in love with walking the dog as they do some exercises, ensure you choose a tracker that can help you set milestones for both activities.
Remember, kids have a particular type of appetite for cool stuff and will be concerned with the weight, appearance, and color of the tracker, that's how they are created. Good news!
There are different customization options for different fitness trackers with the taste of your child in mind. As part of the design, it is also important to look for fashionable fitness trackers for your kids, especially for those who are in love with fashion at a young age. Also, it is essential to check whether you need a water-resistant or waterproof fitness tracker for kids; this is especially if you are looking for a durable and all-day fitness tracker. Regardless of what design you prefer, the priority of the child is always vital in choosing the best fitness tracker for your kid.
3. Fitness Tracker Apps
The advancement in technology has not left out kids. Most of the fitness trackers come paired with a downloadable app that syncs data as the child is active. Others, allow the parents to manually log in the details of the workout when the kids finish and then give vital outputs. Some apps are compatible with kid's sleep activity trackers to check on the quality of sleep.
Most importantly, there are provisions in some apps where you log the food and drinks your kids consume, and they help keep track of the diet. Remember, diet goes hand in hand with fitness. It is important when purchasing a fitness tracker for your kid, to consider the design of the app, the ease of using the graphical interface, and the limit age of creating an account in the app.
Some apps only allow the parents to create accounts and then add the accounts of their kids. The apps are available at Google Play Store or Apple's App Store, and you can look at the ratings and reviews before downloading. Look at our compilation of the best fitness tracker apps for your kids.
4. Compatibility with your Smartphone
Everything we can do with wearables can be tracked through our smartphones. Most fitness trackers are designed to sync with smartphones. You can choose a fitness tracker that is compatible with your handset.
Nevertheless, the default design of the fitness trackers is such that they sync with Android or iOS devices, there are exceptions, and you need to consider the probability of them being compatible before getting your child the device. The beauty of such compatibility is that you end up having access and control to the fitness trackers just at the press of your smartphone's button.
5. The Price of the Fitness Tracker
Fitness, just like other necessities, comes at a cost. Whether you are running, jogging, swimming, walking, or just doing some yoga or ballet, you need to fish out some money. The good thing is that most of the fitness trackers cost between $50 and $300 with customizations costing a lot more. If you are just after a simple step-tracking device for your kids, a less expensive tracker will do you just good.
On the other hand, if your aim is for the child to engage in different sets of activities in a schedule, you need a higher-end tracker with more information beneficial for you and the kid to reach your goal. Colored touchscreen and fashionable fitness trackers also cost more. There are also options for elite fitness trackers that are hybrid in that they combine the functionality of both smartwatch and trackers at a go.
Having looked at the factors to consider when choosing the best fitness trackers, let us delve into the reasons and some of the salient features of these pedometers or fitness trackers.
Reasons You Should Get Your Kids a Fitness Tracker
There are a plethora of reasons that can prompt you as a parent to get your kid a tracker. Maybe you want your child to stay fit, or you want them to be healthy.
Remember, lifestyle diseases like obesity and diabetes can be prevented by keeping fit. Furthermore, you might be that parent who wants to support their kid who is a budding athlete or footballer.
Either way, you will find it quite useful to log the details of your training sessions to track your kid's progress from time to time.
Even when you want to encourage your kids to stay or be more active in their daily life, an activity tracker comes in handy as it motivates them to get moving and meet the targets. Yes, you can now set challenges on the activity trackers and reward the kids for meeting their goals.
One parent rang us telling us how the child had become more active soon after she purchased an activity tracker with a GPS, she could trace her whereabouts and still reward her for meeting the targets she set.
Remember, screen time is becoming a menace, and before you realize that the boundaries have been moved in the kid's favor, your kid would have increased their weight and become unfit.
According to research, kids between the ages of 5 and 16 years spend close to 6 hours a day on screens whether it be TV, tabs, laptops, IPad, PCs, or even smartphones.
While you live for work, the kids become less active, sit for long hours, and consume high-calorie foods and snacks. Choosing the best fitness tracker for your kids will be the only unopposable way to help them stay healthy. Kid's fitness trackers also have the advantage of managing the screen times to healthy levels.
Essential Features of The Best Fitness Trackers for Kids
Even when choosing the best trackers, there are some essential features of fitness trackers that you have to be acquainted with for total successful purchase.
Hydration Monitoring
Water is life. It is vital to ensure that when your children are on their fitness journey, they consume the recommended levels of water. Tracking the water consumption habits of your kids using a fitness tracking device helps schedule rehydration times and reminders so that the daily targets are met.
It is advisable to buy a fitness tracker with hydration monitors to check the levels and protect your child's body immunity as they sweat it out.
Tracking Rest and Sleep
Some of the fitness trackers for kids come loaded with the ability to track rest and sleep. Remember, overactivity in kids can cause exhaustion and adequate sleep, as well as rest, pays off in the fitness equation.
If the kids do not have an appropriate sleep, whichever activity they undertake, it will all be in vain. Sleep is critical for the replenishment of muscles. The rest and sleep tracking capabilities in some of the trackers help you monitor, master, and control the sleep patterns and cycles of your kids.
You only need to allow the kids to wear the trackers overnight and the output of the sleep time and quality of the sleep will be presented in a chart.
Tracking of Burned Calories
The ultimate goal of getting your kids to stay active and off screens is so that they can burn excess calories. Weight has its associated issues on the health of the kids. Luckily, the manufacturers and inventors of some of the kids' fitness trackers foresaw this and embedded the option of tracking the calories burned during activity in the functionality of these trackers.
There is software or an application that you can access and enter the food logs daily and accurately measure the weight loss against the goals for your kids. With such information, you can easily tweak the targets and nutrition as well as set new challenges for your kids. It is all fun.
Distance and Steps Measurements Tracking
When shopping for a kid's pedometer, consider if it has distance and steps measurement capacity. Most if not all of the activity trackers allow you to measure the distance covered and the steps that are taken. The steps are automatically logged in and can be accessed at the end of each day.
One of our friends sets goals using steps and distance, and it has worked wonders for the kids. It's fun and goal-achieving at the same time. There are apps within the trackers where you can engage in friendly and family challenges to stay motivated to step. Remember, kids, are very hardworking when in a competition or contest for a prize.
Heart Rate Tracking
Heart rate tracking is an important feature that comes with fitness trackers. It helps in monitoring heart rates when undertaking aerobic activities. There are different calibrations used, and different tracker models have varying degrees of accuracy. However, what is more, important is the ability to track your kid's heart rate during an intense exercise session.
Bottom Line
With the obesity rates for kids being at an all-time high, fitness trackers are the best way to turn everyday life into a fun path to fitness. The question on which fitness tracker is best for my kid is best answered by you as the parent. Understand their goals, preferred design and features, your control features, and the cost. The preference, personality, and taste of your kid will determine the amount you will foot for the fitness tracker. Our compilation of the best fitness trackers for kids can be your first resort in your research journey. We are sure we have presented the top kid's fitness trackers that will address the needs of your kid.
With that said, here are a few factors that you should take into consideration before purchasing a fitness tracker for your kid:
The approach should be fun for kids- ALWAYS!
Trackers that allow interaction with others motivate kids more.
The app should be easy to use
The app should also allow parental control especially for younger kids
Fitness band should fit comfortably securely so it won't slip off
The band should be completely waterproof or at least water-resistant to allow accuracy underwater
Consider a tracker with lengthy battery life- You don't want something that needs regular charging because that's plain inconvenient
The stylish and straightforward band could never go wrong with kids
Reasonably affordable and give you value for money
Just like that, you can counter all the health concerns you have for your kids.
It is indeed worth it to get your kid the best fitness tracker as they will develop healthy habits, be happy, and radiate happiness to your child. It is investing in the future of your child knowing very well that obese kids grow into obese adults. You can save your grandchildren a few dollars. Let your kids be the happy version of you and themselves as much as you can! Let's get that tracker. Take your pick!
Please Rate This Article
SEND