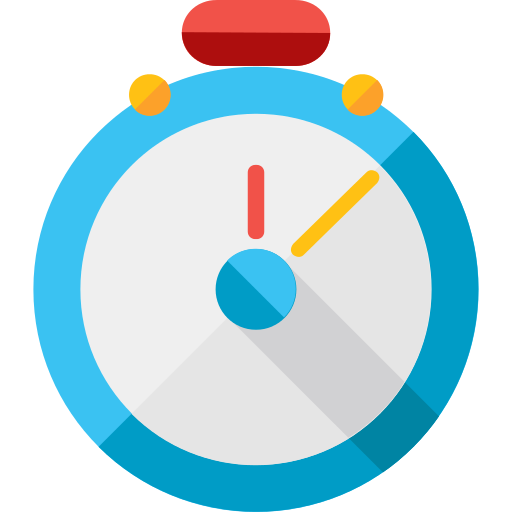 12 Minutes Read
Nothing screams togetherness like riding/cycling as a family. However, the tricky part comes when the youngest family members can't cover as much mileage as the oldest members.
A trailer bike, trailer cycle, tow-along bike, or tag-along bike- however you call it- is the perfect way to haul both seasoned riders and young novices on an entirely adventurous family riding escapade.
Are you looking for the best trailer cycles for kids? Well, today is your lucky day! We love to test, research, ask around, and experience before we can advise. And because we know the fun having a family on bikes brings, we went the extra mile.
We took it upon ourselves to scout for the best trailer cycles in the market. And as you may assume, several hours went into this research, and expert knowledge was deliberated over to come up with a thorough, well-analyzed review from the most trusted brands.
Eager? Let's jump straight into it.
1
Wee Ride Pro-Pilot Tandem Bicycle Trailer (Best Trailer Bike)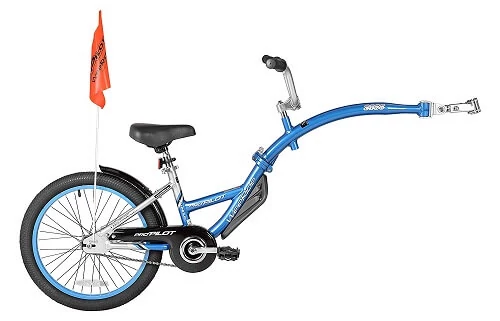 Age range: 2-6 years
Load capacity: up to 75 pounds
Colors: blue
Why we liked it: it attaches easily and quickly to almost any bicycle with a seat post.
Acquiring the right trailer cycle is already an expense in itself, so you probably don't want to go through the hassle of purchasing another bike for it to be compatible with your trailer bike of choice.
Here's the thing that pleased us the most about this trailer bike. Within seconds, the Wee Ride Pro-pilot can be attached securely to just about any bike with a seat post!
Not only is the U joint silent and smooth, but it also maximizes stability and control.
However, the most salient feature of the Pro-pilot is its lightweight frame. While the Wee Ride Co-pilot (which we'll dig into later) has a steel frame construction, the Pro-pilot is sturdily constructed with aluminum which is much lighter and easier to haul.
The package includes fully adjustable handlebars, a seat, pedals, a chain guard, and a 20-inch rear wheel. That means that your little passenger can choose to pedal independently or just coast!
As for storage and assembly, the quick folding hinge does the trick quickly and easily.
Our only reservation about this trailer bike is that it doesn't offer the best alignment to your bike when riding. However, its other features greatly make up for this and at a modest price!
The WeeRide Pro-Pilot proved its place at the top of the list in all our testing and research parameters. Its safety features and comfort totally impressed us. We are sure this is that product you buy, and everyone wants to be the one trying it out first.
We guarantee you that your child will take to this trailer cycle like a duck to water!
Lightweight aluminum frame.
Fits most 26" mountain bikes.
Patented swivel hinge (SYNC-LINK) attachment for maximum stability and control.
Quick folding hinge.
Does not have the best alignment.
2
Burley Kids' Piccolo Bike (Best in Stability)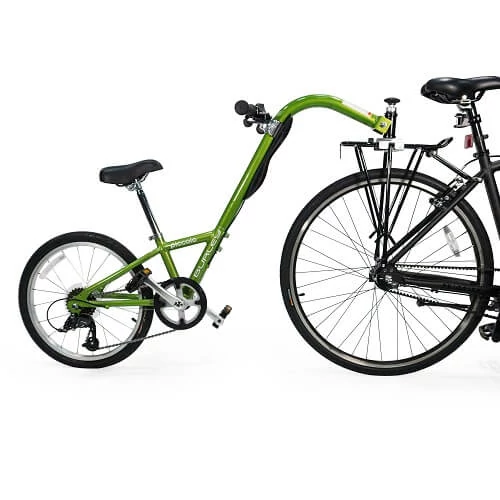 Age range: 4-8 years
Load capacity: up to 85 pounds
Colors: Green
Why we liked it: its unique mounting system offers the BEST stability on the go.
The Burley Piccolo is like no other! Why? Because a 7-gear trailer cycle is hard to come by.
Not only is it easy to engage, but the 7-speed rapid-fire style thumb shifter is a convenient tool to teach your kiddo proper gearing on different terrains. With it, your young passenger can contribute a lot of riding power and help you when going up inclines.
If nothing else sold it for us, then the stability offered by the double-locking rack attachment system did. The trailer cycle comes with a heavy-duty steel moose rack that eliminates the wobble factor. That way, the rider of the puller bike has entire control over the lean of the trailer bike.
Its lightweight aluminum frame is another factor that pleased us. This accounts for the durability and high performance of the gear. Plus, the optimized weight means that you won't feel much different than when riding alone.
Other than that, it also features a splash guard that blocks water from the puller bike's rear tire, as well as a safety flag for increased visibility on the road. But here's the icing on the cake; a front-wheel option allows you to transform the trailer cycle into a full bicycle.
Seriously, what's not to like about this gear?
Connects to rack rather than seat post for maximum stability.
Easy to attach and detach due to quick-release adjustment system.
Geared hence good practice for kids.
Comfortable and adjustable for growing kids.
Sturdy and easy to maneuver.
Pannier and disc brake compatible.
Burley requires rack compatibility.
No straps.
3
WeeHoo iGo Turbo Bike Trailer (Best Recumbent Trailer Cycle)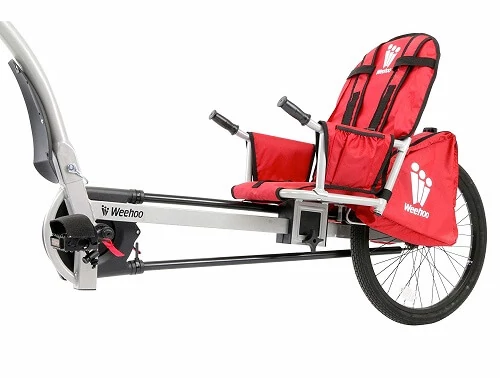 Age range: 3-9 years
Load capacity: up to 80 pounds
Colors: red
Why we liked it: its recumbent seat post offers a good resting position on the go.
The Weehoo Turbo bike trailer will literally have your kids going "weehoo!" from excitement. This is because it offers kids the option to engage in the ride by mimicking your pedal stroke or merely sitting back.
But that's not all there is to the propelling factor.
The Single wheel design of this trailer cycle is perfect for narrow paths as it ensures that your kid's bike will accurately track yours. Furthermore, it features a three-point harness and foot straps which offers you peace of mind as there is no chance of your child falling off.
For extra security, moving parts such as the chain and the sprocket are fully enclosed to protect any wandering fingers. Thanks to these features, you can confidently navigate traffic.
In addition, the Weehoo turbo boasts of a 14l cargo storage space for ride essentials as well as a tool-free adjustment feature that allows it to accommodate children of many ages comfortably.
Listen, this one-wheeler further features a redesigned attachment system (entailing a snap pin in place of a quick-release) that is considerably easier to use. Not only that, but it is also updated better to accommodate a variety of bikes, including 29ers
Ultimately, we highly recommend this addition as your kid will still be absolutely raving it even after months of use.
The recumbent seat is low to ground, thus stable.
A three-point harness offers child security.
Lightweight.
Easy mounting on the seat post.
The redesigned hitch connection system is easier to attach and detach.
All-terrain.
Narrow track alignment.
The low to ground feature means kids require extra eye protection from dust.
3
Trail-Gator (Top Tow Arm)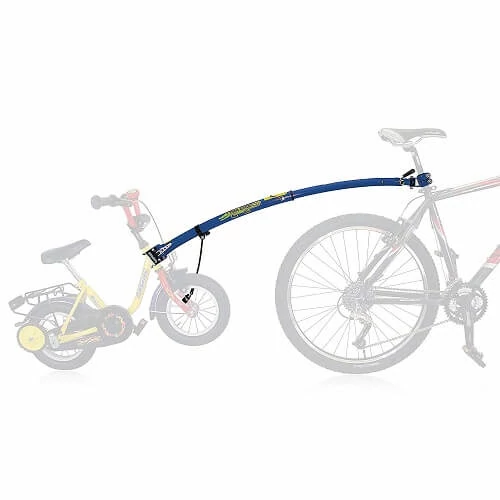 Age range: 4-9 years
Load capacity: up to 70.5 pounds
Colors: red and blue
Why we liked it: it converts a regular child's bike into a towable trailer bike.
The Trail-Gator bicycle tow bar is a magic kit, in our opinion.
Why? Because you don't need to break the bank to get a one-wheeler! Just convert your child's two-wheeler into a trailer bike by attaching the tow arm to your child's bike.
The child, however, has to have the ability to ride independently as this type of trailer cycle is best used mid-ride when the little rider gets worn out.
Performance-wise, this gear (Trail-Gator) works by lifting the front wheel of the rear rider off the ground and then stabilizing the child's handlebars to prevent turning. The adult rider is thus left in control of the steering while the child can choose to pedal or coast. Voila, you have a trailer bike!
The good news doesn't end there as the tow bar fits any 12 to 20-inch child's bike and quite easily folds next to the rear wheel for storage.
Just keep in mind that the adult's weight must be at least twice the child's and bike's weight combined to haul them appropriately, and you'll be good to go.
Did we mention that the attachment of the tow bar is toolless and straightforward? Because it is. With this gear, bicycling has never been easier!
Secure hitch attachment.
Small and easy to store.
The child can easily be removed or reattached to an adult bike mid-ride.
Budget-friendly product.
Not recommended for kid's bikes with handbrakes.
Wobbly compared to traditional trailer cycles.
5
Weehoo iGo 2-Bike Trailer (Best Reclining Trailer Bike)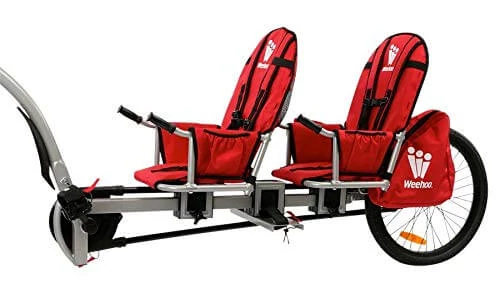 Age range: 2-9 years
Load capacity: 80 pounds
Colors: red
Why we liked it: not only is it placed in a reclining position, but it is designed to fit two kids!
The Weehoo iGo 2-Bike trailer is the ideal family bike. It seats two, but what sets it apart from other trailer cycles is that it is recumbent, which places your little passengers in a comfortable, laid-back bike position.
This reclining position is more advantageous in that the rider's weights are distributed over a larger surface area than a traditional upright bike, where the rider's entire body weight rests on a small portion.
This well-balanced design further promotes easy towing behind your bike.
While the body position and comfort provided by the bike sold us on the concept, other features also stood out. For instance, it has a three-point harness and hand grips for maximum security, as well as cargo storage on the seat and over the rear wheel, ensuring that you remain stocked up on supplies!
The two-seater is set up such that it can only be propelled by the front rider. The rear seat (intended for the youngest child) has a footrest in pedals where they can comfortably rest their feet.
The Weehoo iGo 2 mounts onto various adult bikes with cylindrical seat posts ranging from 25.1mm to 31.9mm, so you will most likely not have to worry about compatibility.
The Weehoo 2-bike trailer can only be described as a well-designed bike from a well-established firm. But hey, if you don't take our word for it, just ask yourself why it's one of the best-sellers from Weehoo.
Two crank and drive train.
Open cockpit design.
A patented hitch allows easy and secure attachment and detachment of the bike trailer.
Two adjustable seats.
The redesigned seat offers tool-free adjustment when hauling different-sized kids.
Tons of storage room.
Buckled straps and graspable handles provide security and safety.
Due to its closeness to the ground, kids get dusty and dirty hence the need for glasses.
6
WeeHoo iGO Blast Bike Trailer (Best for Toddlers)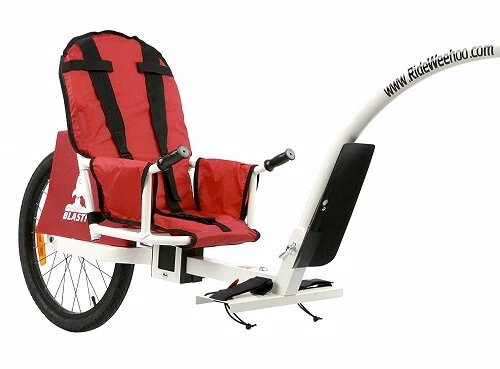 Age range: 2-6 years
Load capacity: 80 pounds
Colors: red
Why we liked it: its slim design makes it very easy to go through single tracks.
The Weehoo Blast Bike Trailer is another trailer cycle that made it to our list mainly because we had a great product honeymoon with it.
This tag-along bike boasts a single-wheel streamlined design that enables you to ride safely in narrow bike lanes and quickly pass pedestrians on bike paths without bumping them.
In addition to that, the Weehoo Blast features buckled straps and very grippy handles that secure your child. So chances of them falling off will be the last thing on your mind.
Not to mention that it also hosts a patented, self-aligning hitch that allows effortless attachment and detachment of the bike trailer and eliminates wobble.
In place of pedals and a drive train, this bike has relaxing foot platforms to comfortably and safely keep the kiddo's feet in place.
Although this might be a bummer for kids who are eager to help mom or dad pedal, this bike can accommodate the youngest kids. They don't have to know how to pedal to join in the fun!
If your kids are not yet acquainted with riding, then the purchasing decision for this trailer bike should be straightforward.
Tool-free adjustments.
Easy to disassemble.
A balanced, streamlined design enables easy navigation.
Very economical.
It might not fit bigger kids.
7
WeeRide Co-Pilot Trailer bike (Budget Trailer Bike)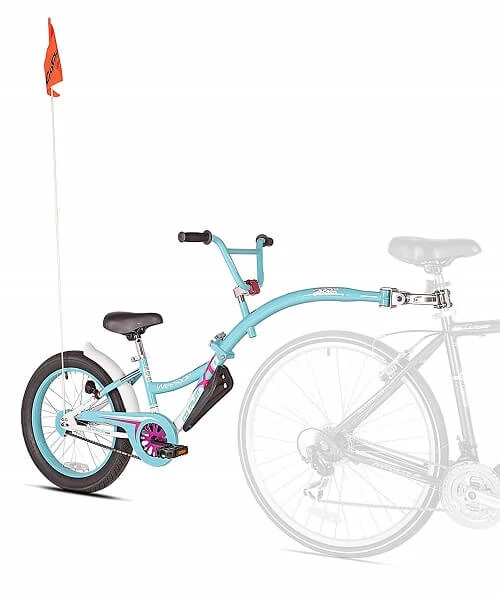 Age range: 4-9 years
Load capacity: up to 75 pounds
Colors: grey
Why we liked it: it's a high-quality solid bike that serves the purpose effortlessly and long-term.
Nothing says family biking like a petal-style bike that allows your kid to rest whenever they feel like it.
Right off the bat, the WeeRide Co-pilot is aesthetically pleasing with a ravishing black and silver color scheme. The whole package consists of a 20-inch wheel, handlebars, pedals, and a seat.
It attaches to the seat post and folds up easily for compact storage, especially handy when traveling long distances.
As for different sized passengers, its handlebars can easily be adjusted to accommodate children of a wide range of ages and sizes.
Compared to the typical trailer bike, WeeRide Co-pilot's seat is very comfortable and perfect for kids who can't cover the mileage their parents intend to cover. The choice is theirs to pedal, just coast as mom or dad do the heavy work.
For the safety of your kiddo, this bike comes with a safety flag that increases visibility by motorists and other road users. In addition, it also features a splash guard so your child's face will be protected from dust and dirt.
You won't need to worry about its durability as this steel-constructed bike gives a good fight against time!
Sturdy construction.
Hitch attaches easily and quickly to almost any bike with a seat post.
The Quick-release system detaches easily.
Comfortable padded seat.
Budget-friendly gear.
Adjustable handlebars.
Foldable hence easily portable.
Comes with a safety flag and splash guard.
8
Weehoo Venture Trailer Cycle (Best in Storage Space)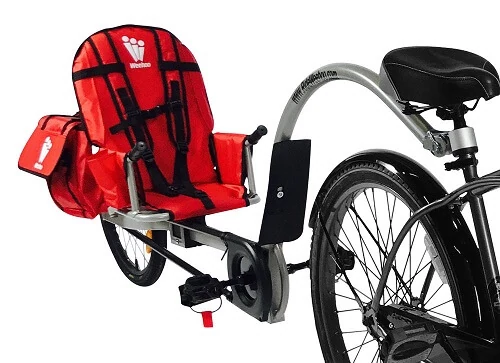 Age range: 2-9 years
Load capacity: up to 80 pounds
Colors: red
We liked it: it boasts exceptional storage space, yet it is still easy to haul.
The Weehoo Venture, an updated version of the Weehoo Turbo, is an instant hit!
This updated model boasts features that will make the riding experience smooth and more enjoyable for both the rider and the passenger.
For instance, the updated foot straps are much easier to secure than the older model. To maximize security, it also features an adjustable 3-point harness with chest straps to prevent your kid from falling off.
True to Weehoo style, the sprocket and chain are enclosed to protect little wandering fingers from grease and self-harm.
Weighing a mere 26 pounds, this bike is effortless to haul. Just attach it to any 26".29' or 700c bike with a rounded seat post. To further ensure this is feasible, it comes with six plastic shims to fit any standard-size seat post.
Navigation has never been easier, as the slim nature of this bike makes it perfect for maneuvering through narrow paths. Plus, the single wheel's patented hitch makes it very easy to install and remove the trailer for seamless portability.
In comparison, the Weehoo Venture beats the Turbo in that it has more storage space in the panniers attached over the rear wheel. In addition, you can rest assured that you will not run out of supplies thanks to the bike's cargo storage capacity of 31L.
All you have to do is be adequately prepared for active adventures.
A low-to-ground design makes for an extra stable ride.
Tool-free adjustable seat enables easy accommodation.
Shoulder and foot straps secure your child in place.
Tons of storage space in the panniers.
Fits a wide range of adult bikes.
Comes with a safety flag for conspicuousness on the road.
Large hence not the easiest to transport.
9
WeeRide Co-Pilot XT Deluxe Wide Tire (Best All-terrain Performer)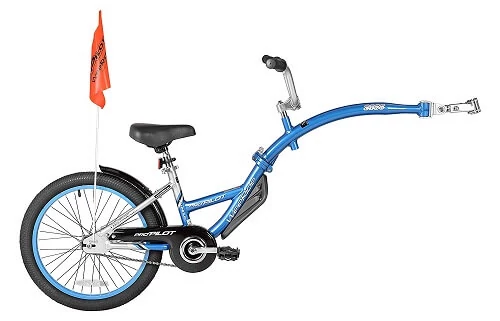 Age range: 4-9 years
Load capacity: up to 75 pounds
Colors: gray
Why we liked it: its wide tires offer the best traction on all-terrains.
Much like the name suggests, the WeeRide Co-Pilot XT Deluxe Wide Tire Bike Trailer boasts wider than normal tires. What this does is that it decreases the cumulated pressure of both the bike and the biker due to increased contact area.
As for the functionality, its hitch attaches easily and quickly to almost any bike with a seat post. Moreover, thanks to the patented sync-link attachment system, attachment and detachment have never been easier or faster.
You don't have to worry about durability as this trailer bike is sturdily constructed with heavy-duty steel, which holds up exceptionally well against tear.
Your child's safety is kept in mind with the inclusion of a conspicuous safety flag and a superior design front splash guard to prevent dirt and water from touching your little passenger.
Trust us, WeeRide is known for its bike-making expertise, and they did not disappoint with this creation.
Wider tires offer great traction.
Arm folds easily for compact storage.
Splash guard fender.
High visibility safety flag.
Higher quality padded seat.
Fully adjustable handlebars.
A bit heavier than most trailer bikes.
10
Burley Kids' Kazoo Bike (Top Pick for Single Speed Trailer Bikes)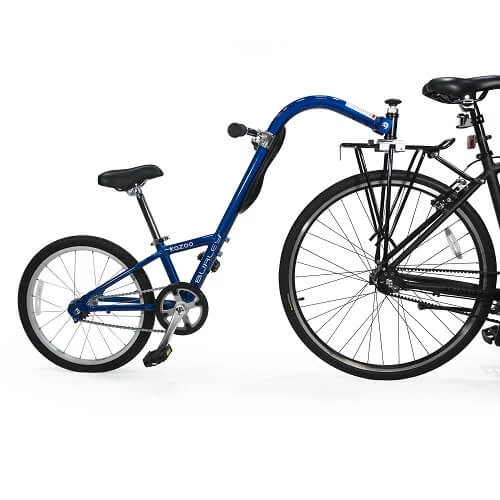 Age range: 4-10 years
Load capacity: up to 85 pounds
Color: blue
Why we liked it: similar to Burley Piccolo, it offers exceptional stability
The Burley Kazoo is simply the single-gear version of the Burley Piccolo as they host the same features save for this factor.
When it comes to stability, the Burley Kazoo and Piccolo take the cake as they have the least amount of wobble. This is thanks to the fact that both trailer cycles attach to the rear rack rather than the seat post.
To enable this attachment, this bike comes with a heavy-duty steel rear rack for mounting onto.
If you are looking for shimmy-free performance, you will be pleased to know that it also boasts a patented double locking hitch that attaches to the Burley Moose rack for maximum security and stability.
You experience superior handing of your bike as the hitch sits perpendicular to the ground.
The Burley Kazoo is by far one of the lightest trailer cycles you will find in the market. Its aluminum construction doesn't only account for its lightweight nature but also its high performance and durability.
Regarding the little passengers, this trailer cycle is quite accommodative of different-sized kids as its seat and handlebars can be easily adjusted. Not to mention that the seat adjustment is entirely tool-less.
There's a reason why Burley trailer cycles are top in the market, and we just showed you why!
Lightweight aluminum frame.
Mounts to the rear rack hence less wobble factor.
Splash guard blocks water spray from the rear tire of the adult bike.
Safety flag increases visibility on the road.
The tow bar easily removes for compact storage.
Rack assembly is time-consuming.
Trailer Cycle Comparison Chart
There you have it; the best trailer cycles in the market right now! So how do these options stack up against each other?
Well, you can use the comparison chart below to figure out which option is best for you.
| | | | | | |
| --- | --- | --- | --- | --- | --- |
| Trailer Cycle | Type | Mount | Geared? | Weight (Pounds) | Number of Kids |
| Weeride Pro-pilot | Standard | Seat post | No | 22.1 | 1 |
| Burley Piccolo | Standard | Rear rack | Yes | 18 | 1 |
| Weehoo Turbo | Recumbent | Seat post | No | 26 | 1 |
| Trail Gator Bike Tow Bar | Tow bar | Seat post | No | | 1 |
| Weehoo iGo 2-Bike | Recumbent | Seat post | No | 36 | 2 |
| Weehoo Blast | Recumbent | Seat post | No | 22 | 1 |
| Weeride Co-pilot | Standard | Seat post | No | 24 | 1 |
| Weehoo Venture | Recumbent | Seat post | No | 27 | 1 |
| Weeride Co-pilot XT Deluxe | Standard | Seat post | No | 27.6 | 1 |
| Burley Kids' Kazoo Bike | Standard | Rear rack | No | 16.5 | 1 |
Conclusion
Nearly every household wants to have fun on the go. Apart from staying seated long hours in cars, the best way is to get kids and parents cycling on different trails. It makes a whole lot of difference. The good thing is the market is just getting ready for innovative trailer cycles for kids. If they are too old for the bike trailers, tag-along-bikes or trail-a-bike will do the magic.
Getting the best trailer cycle is more than just the aesthetics; we have covered some aspects you need to look for. Our review here will help you choose the trailer bike that will suit your entire family. So keep the fun between the legs of family members by choosing the best.
Have fun family riding!
Related: Buying advice for Trailer Cycles for kids
Please Rate This Article
SEND