When the passion of cycling kicks in, there are many sacrifices to be made on the parents' side. If you ask any cycling pro or enthusiast, it is all for the best reasons.
Cycling, as we have always insisted, is a fun sport and an exercise that a parent dare denies their kids in the age of screens and rising obesity cases.
However, even when engaging in cycling as an activity, parents must ensure that their kids are hydrated. Depending on their age, size, and level of activity, children need different amounts of water.
For instance, children under eight years need 4-6 glasses while those above eight years should take close to 6-8 glasses daily.
Experts advise pre, during, and post-activity hydration for kids. Dehydration can limit the concentration capacity of a kid.
Any cycling family will agree with us that having kids' hydration packs comes in handy during family bike rides and tours. Therefore, when your kid is obsessed with cycling, and you do that a lot as a family, you need to consider getting them the hydration packs for kids.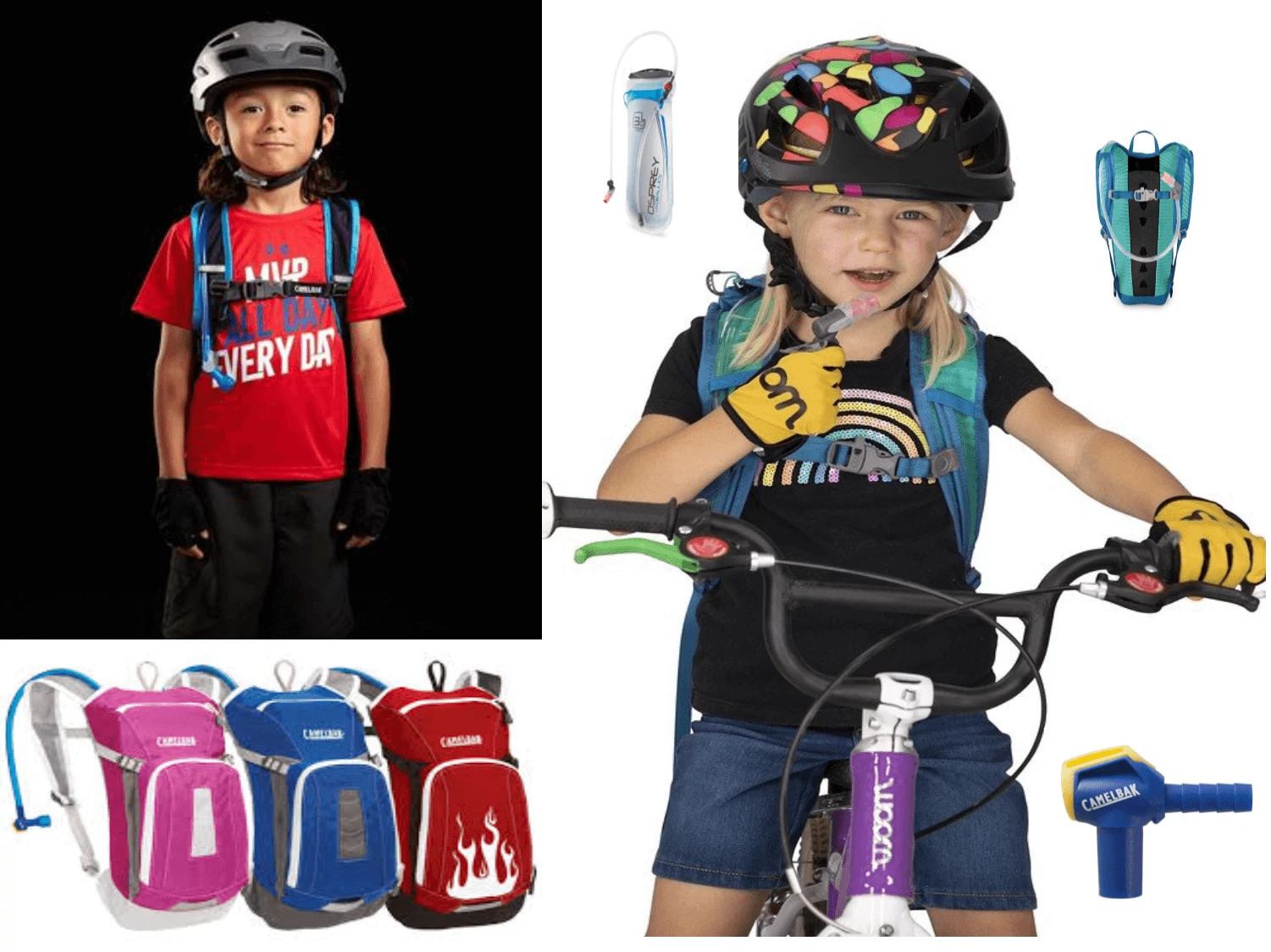 What is a Hydration Pack?
A hydration pack is a specially designed waist bag or backpack used to carry a hydration bladder full of water or any fluid. The bladder feeds a hose that is led towards the shoulder and clipped into position on the chest strap of the backpack.
Mostly, hydration packs offer an easy means of rehydrating as kids cycle or hike. The kids can grab the hose and drink some water to rehydrate. Kids find it easy sucking from the valve of the hose as they take control of their two-wheels through the handlebar.
Hydration packs for kids are the best option to raise independent kids by letting them carry their fluid. Apart from carrying water, hydration packs also come with some cargo space where the kids can carry some supplies, including snacks, extra gloves, raincoats, and mini-cameras. For this, be sure to select the best size depending on what you would wish your kid to carry for the family ride, bike packing, or bike tour.
Hydration packs have advantages. They allow the children to concentrate on the handlebars and save them from carrying stuff in their pockets that can distract or affect their balance. Hydration packs also save young and budding cyclists.
Factors to Consider when Buying Hydration Packs for Kids
Different factors come in mind when deciding on the best kids' hydration packs for young cyclists. To begin with, when choosing kids' hydration packs, it is vital to limit ourselves to those compatible with young cyclists.
Bike-specific hydration packs include the common features of a hiking and camping hydration pack such as drinking tube/hose, hydration bladder compartment, bite valves. In addition to those, they come with compartments for cargo where kids can hold some supplies and essentials.
Hydration packs for paved rides have a low profile and do not necessarily have a waist belt. However, waist belts are a key factor in hydration packs for trail riders. Hydration packs used in mountain biking have extra spaces for tools, cargo, and have spine protectors.
Depending on the age of the kid, it is always important to consider the water carrying capacity of the hydration pack. Typically, hydration packs have hydration bladders ranging from 1.5 liters to 3 liters.
Mostly, if you are planning shorter rides with the kids like just a loop of mountain biking or a small distance family cycling activity, go for the 1-1.5 liter Kids' hydration pack.
Weight of hydration packs beyond 1.5 liters can be troublesome to your kid and can make them hate cycling forever. If your child cannot carry as much water, prepare to buy a huge adult hydration pack or extra water bottles.
Kids being kids, they sometimes do things out of the ordinary but expected. As someone who cycles with kids, you will most definitely notice that they are naturally great at biting and chewing almost everything they can get into their mouths, especially when tired. Well, choosing the best kids' hydration packs pretty much also depends on whether or not your child is a chewer and a biter. If they are, the Camelbak Mini M.U.L.E suits their useless talent :-) (pun intended).
Thinking ahead of adventurers, hydration packs manufacturers have designed them to encompass many excellent features. From space to ventilation and locking systems, you can never compare a cycling hydration pack to a water bottle in the water cage. One thing we noticed about some kids is that they can easily sacrifice all other great features for a chewable valve.
It sucks at some point to be replacing the bitten valves now and then, which is reason enough to compel your kids to use the on/off valves on the tubes. Soon enough, you will realize that they can independently use the valves on the tubes of their respective hydration packs. If your kids chew valves, check out the Osprey packs and the Camelbak hydration packs for kids. Even though Camelbak provides the best experience for the little ones who bite valves, there are many other brands to choose from as well.
Ease of Filling and Drinking
Hydration packs that are easy to fill are also easier to drink from. When choosing a hydration pack for your kids, choose one that will not be trouble filling.
Most manufacturers produce easy to fill bladders. Some come with filling places right up front at the center. Others have sleeves that contain the bladder in a zippered compartment.
It is also important to consider the ease of drinking. The pricier models come with ease of drinking. They have a tube or hose from which a cyclist can drink some water.
We can easily contract outbreaks from our habits. Therefore, before purchasing a kids' hydration pack, consider the ease of cleaning the hydration bladder. Children are particularly sensitive, and you need to take much caution.
Go for the hydration packs with bladders that can be opened and can be washed easily. These types of hydration bladders allow you to wash them. For this, choose the bladders with a broad opening for thorough cleaning.
If you use the hydration pack for kids for other fluids other than water, you will appreciate one that has ease of cleaning.
Another factor to consider when choosing a hydration pack for your kids is the cargo space. Children like carrying stuff around. They also want a snack from home.
You can choose a hydration pack with a large cargo compartment to educate your kids about the importance of bringing healthy meals from home.
If you intend to go on adventures with the kids, you should choose ones with large cargo compartments for warm clothes and some tools and snacks.
Being that kids are not as big as adults, you have to choose a kids' specific fitting hydration pack. Hydration packs do not all come with sizing levels like clothes. However, there are certain additions such as waist belts and shoulder straps to make the fit anyone's torso.
The size of the back, shoulder straps, and waist belts should be a guiding factor when choosing a hydration pack for kids.
Small riders should go for smaller hydration packs. Luckily, there are kids' hydration packs, which solve the problem of size. Have the kid with you when making a purchase.
The Design of the Hydration Bladder
Like helmets and bicycles, hydration bladders for hydration packs come in different designs. It is worth noting that the difference in the design of the hydration bladders makes it difficult to fit one bladder into another hydration pack. For instance, Camelback has two different hydration bladder designs. It has one that fits in the waist belt hydration packs and one that fits in the rucksack style packs.
So, if you are choosing the hydration pack, be sure to check the bladders that you have.
The Ventilation of the Hydration Pack
Some kids can be sweaty, and that can be an issue. For this reason, you should choose a hydration pack for kids that is well-ventilated at the back, waist, and shoulder areas.
Sweating is bad both when chilly and when the sun is scorching hot. Therefore, be sure that the mode of hydration pack you are choosing has ventilation spaces.
Most of the hydration packs come with meshed backs made of foam for breathability.
Hydration pack comes with a bite valve through which water oozes out. The locking mechanisms prevent water in the hose/tunes from spilling out of the bite valve.
Some hydration packs have intact bite valves that have no issue at all with dripping water unless they are worn off or damaged. However, those that lack intact valves come with locking mechanisms for the same function.
When you purchase one of those with a locking mechanism, be sure to train your kids on how to lock the tube when they have hydrated themselves.
Mostly, the locking mechanisms are easy to use features that can be operated even with the mouth or the thumb.
The Comfort of the Hydration Pack
For children, comfort is never substituted. The pack has to be comfortable, or else you will carry it around. Now, most manufacturers have recognized the need for comfort and included special features. Apart from ventilation, already discussed, other comfort features include shoulder straps, waist straps, and overall support.
Most hydration pack manufacturers have included overall support in their different designs.
Some hydration packs come with a special back panel that conforms to the shape of the spinal cord. The back panel absorbs shock in the event of a fall and during bumpy rides.
For protection, some hydration packs have only a small cargo compartment. You should consider the overall support of the pack before purchase.
The Appearance of the Hydration Pack
Although subtle, most parents overlook the colors and appearance when selecting the best hydration packs for kids, and most kids want a hydration pack that factors in color as well.
So, the next time you go shopping for a good kids' backpack for cycling, make sure your kiddo is involved. There are a lot of stylish kids' hydration packs and backpacks for cycling that can catch your kiddo's eye.
Your choice of a hydration pack might be right, but a poor color choice can make the kids hate it, and that is just who kids are - always finding excuses where their insights were never sought!
Always find them something appealing, or better yet, accessorize it to their taste!
The Cost of the Kids' Cycling Hydration Pack
Finally, it would be best if you also considered the cost of hydration packs for kids. It does not have to cost an arm and a leg. Always go for the best-priced hydration pack that fulfills the features we have discussed above.
There are high-end hydration packs and just regular packs. Be sure to decide which one is best depending on your budget as well.
Benefits of Kids Hydration Packs
You must agree that kids' hydration packs are just the best invention. Your kid can carry their water and some of their stuff and thus freeing up some space in your backpack.
If you are in hot weather areas, your kids need to stay hydrated.
Here are some benefits of hydration packs.
Independence.

Your kids get to carry their water supply, and this is the greatest advantage of purchasing a hydration pack for your kid. You teach the kids to be on their own when pursuing adventure, something they can grow with to later ages. For long rides, you will have peace of mind riding. Rather than stopping to get them water, you will ride together and enjoy the session. It also inculcates some sense of responsibility. If you purchase a hydration pack for your kid later, you would always wish you had done it earlier.

Ease of Use.

Teaching a child how to use a hydration pack is easy. Once they understand how it operates, how to refill it, and how to pull and suck from the hose that is it. They will nibble the valves and quench their thirst on the go. Compared to water bottles on water cages, the kids' hydration packs reduce the number of frequent stops to drink water.

Rehydration on the Move.

Your child can rehydrate when you are cycling together. For those doing family rides, you will notice that the stops for water will reduce significantly. It solves the problem of having to stop, remove water bottles from the water cages, and drink. With hydration packs, your kids can drink water as they pedal.

Cool water anytime.

Unlike the water bottles, research indicates that water in hydration packs stays cool for long. This capability is great in ensuring the kids keep cool, especially during the long rides in hot environments.

Less waste of water.

With hydration packs, even though not fool-proof, children find themselves keener on preserving water. Children with water within their reach, in this case, water bottles, find it easy to waste in washing their faces to cool off.

Eliminate Muddy Water Bottles:

Water bottles attached to cages are an easy target for mud when taking rough and muddy terrains. You will notice some wastage during water stops as some water is used to clean the valves of the bottles. Hydration packs save the wastage as no mud reaches the hose.
Final Words
Hydration packs are mandatory for outdoor cycling or even hiking with kids. Kids need to stay hydrated for them to be sharp and lively during physical activities.
There are different factors to consider when buying hydration packs for kids. It would be best if you considered cost/budget, ventilation, size/capacity, cargo space, and comfort features such as shoulder straps, waist belts, and inbuilt support.
Training your kids to use hydration packs right from childhood cultivates a culture of frequent hydration and fosters responsibility and independence that they can apply in their later lives.
Consider the biting habits of your child as well as that will determine the life-cycle of the pack in their hands. For the best kids' hydration pack for biking reviews, be sure to follow our series of articles on the same.
Please Rate This Article
SEND