The hands are among the three important touchpoints on a bike and must have some level of protection, which is where cycling gloves come in.
Cycling gloves play a critical role in providing comfort to the hands, ensuring that the rider can easily control, steer, and coordinate their bike.
The gloves are also crucial for sweaty palms, enhanced grip, absorbing vibrations for smooth rides, crash protection, wiping snotty nose, clearing foggy lenses, and many other good reasons for wearing cycling gloves.
Cycling gloves are just as essential as cycling jerseys or bib shorts. And with the variety of cycling gloves in the market, finding the right ones for your kids can be a nightmare.
We've been fortunate to test different gloves and have researched different types of kids' bike gloves. In this guide, we share insights that will help you know whether kids cycling gloves are worth it, which cycling gloves to choose, and how to choose the best cycling gloves for your riding kids.
Do Kids Need Cycling Gloves?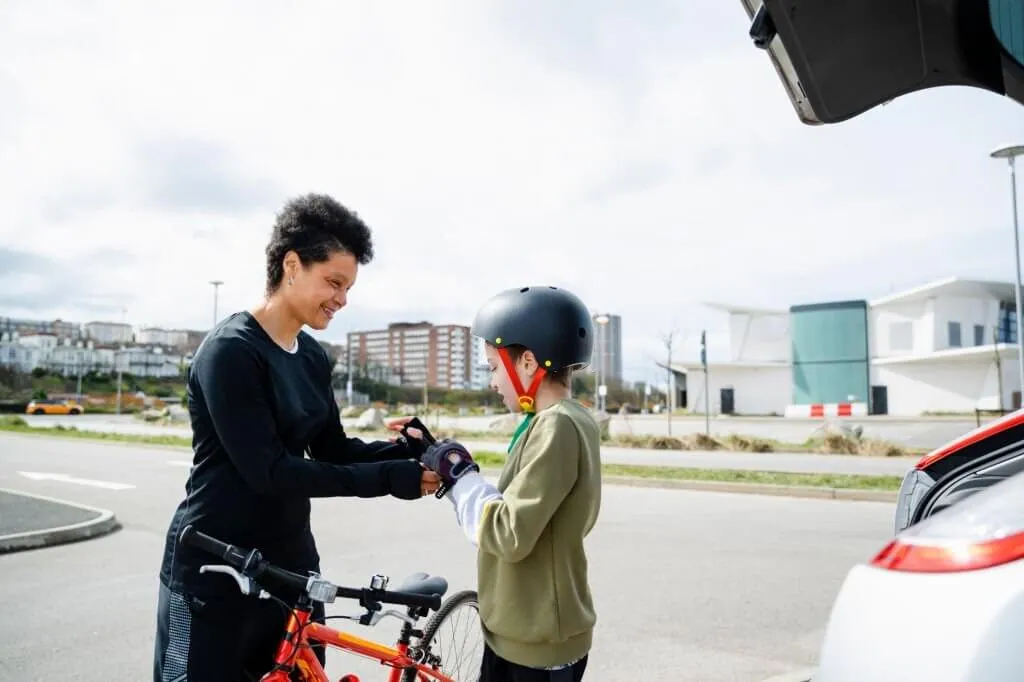 Kids who ride bikes need to have gloves. Besides their aesthetic role, kids cycling gloves play a critical role in ensuring their palms and hands are protected. The benefits of cycling gloves might be less obvious, but they are an essential first line of defense and add a rad look to cycling tots.
The gloves protect the hands from the elements of weather such as wind, rain, and cold. This is why there are cycling gloves for summer/spring, shoulder seasons, winter, and extreme weather.
During summer, the summer cycling gloves or mitts (fingerless gloves) absorb sweat on the palms, making them drier and more comfortable. When winter sets in, the gloves help the kids retain warmth in their hands, improving their winter cycling experience.
The soft towel section of the gloves is vital for wiping away sweat or clearing foggy Kids' cycling sunglass lenses.
Gloves also help prevent hand numbness that can be uncomfortable while riding a bike. The padding absorbs the road vibrations that prevent the hands from getting numb. Getting gel-padded gloves is an excellent way to cushion the hand nerves. Generally, gloves protect the hands from hurting as kids ride their bikes. The good thing is that there is no difference between girls' and boys' cycling gloves. And smaller kids can benefit from toddler bike gloves.
Cycling gloves also ensure that kids have a firm grip on their handlebar grips, which enables them to steer, control, and coordinate their bikes quickly.
In accidents, the kids' palms are protected because they are the most likely to touch the ground first. Without gloves, kids who ride might get palm blisters, scrapes from the trails, or scratches from falls during bike crashes or minor accidents. When the hands are sweaty, the bar's grip reduces, which is sorted out by buying a well-fitting glove.
After all, getting a cycling glove for a kid is not a waste of money but a good investment that cushions you from further expenses. Think about the cost of treating and managing crashes. Given the importance of gloves, even kids riding in trailers, bike seats, trailer cycles, or those using scooters, skates, or hoover boards should wear gloves.
Parts of a Cycling Glove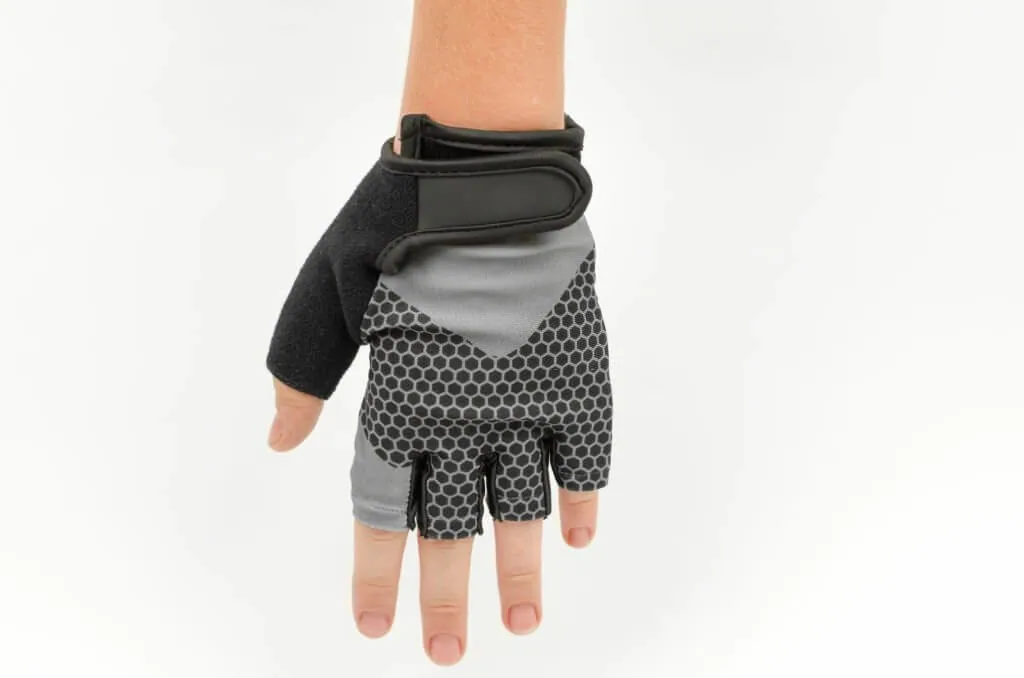 Understanding the various parts of a glove is essential to know how and what to look for when shopping for the best for your kid. A glove has four main parts: upper, palm, fingers, and cuffs.
The upper is the top part or the back of the glove. It is made from a thicker material, offering extra cushioning from wind and other weather elements. Some gloves include a waterproof coating membrane to protect the back of the hands further.
The palm of a cycling glove refers to the inner part of the glove opposite the upper that offers protection to the palm. In most cases, these parts are made from synthetic leather for adequate grip on the handlebars, and some also feature silicon or gel for comfortable grips.
The fingers are the parts where the fingers of the hands fit or go through. The fingers are halfway done for the mitts, half-finger, or fingerless gloves, while on the full-finger gloves, the fingers are extended to the end of the fingers. The full-finger gloves offer more protection and warmth that is great for trail or gravity riding, while the mitts are good summer or spring cycling gloves. The mitts allow for better sweat-wicking and tangible encounters with the handlebar for better grip.
Finally, the cuffs are the areas that feature the closure systems and go around the wrist. An excellent fitting glove should be snug so that it does not affect circulation, and it should not be too loose as that affects the ride experience of the kids while on bikes. The best cuffs are those made from Velcro straps that don't allow flapping or chafing.
Types of Kids' Gloves
As we mentioned, the gloves you select depend on the kid's cycling. You can go for either mountain bike or road bike-specific gloves. The choice is also controlled by the weather conditions you intend your kid to use the gloves. For instance, winter gloves are better designed for warmth and waterproof, while summer gloves must be breathable and lighter. Let's explore the types of gloves so that you can narrow down your choice.
Fingerless/ Half-finger gloves or Mitts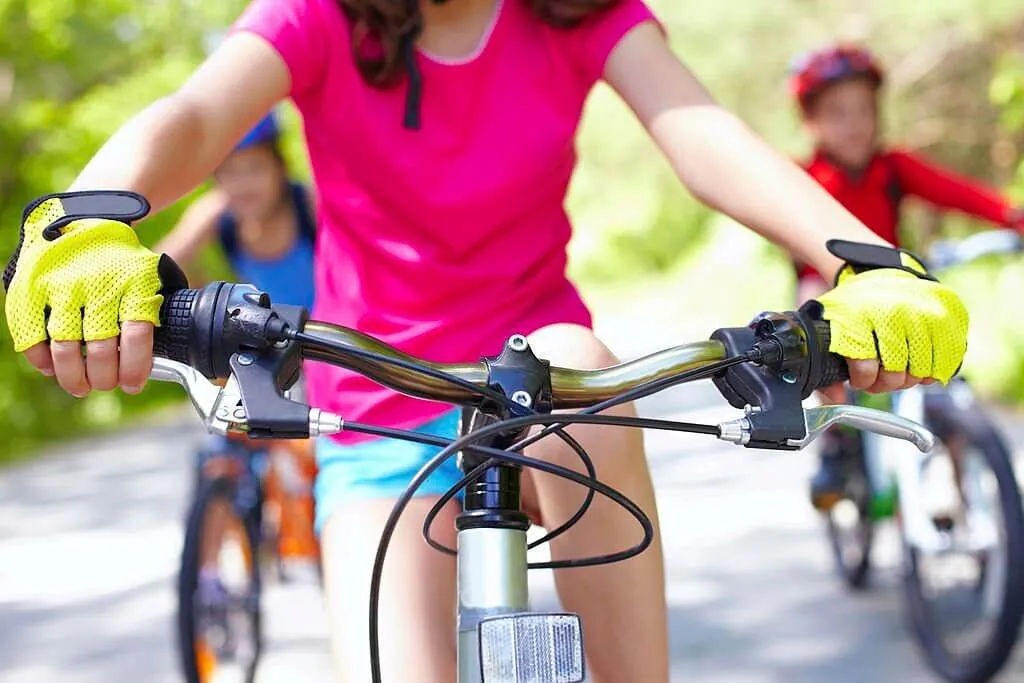 If you are shopping for summer wear for your cycling kid, the traditional roadie-style fingerless mitt or half-finder cycling gloves will give the little hands the extra cushioning they need.
These gloves have extra palm padding; other premium options will have an ergonomic gel insert that ensures a smoother grip on the handlebars.
In case of a spill, the mitts help protect the little hands from being shredded by road rash.
Full-Finger Gloves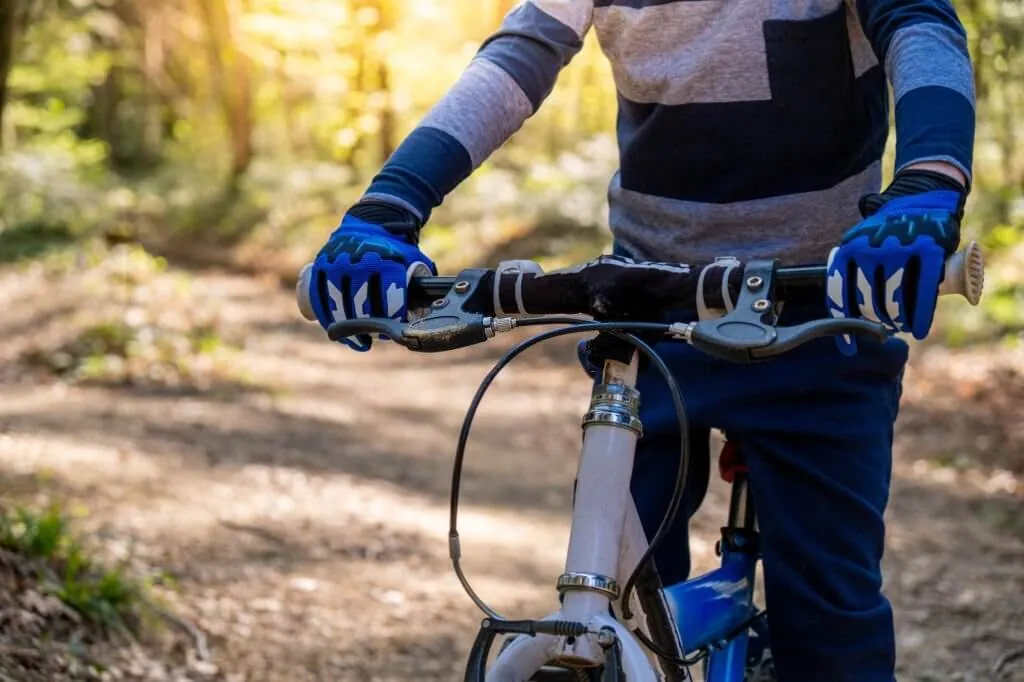 As the weather cools during autumn and winter, most of the riders need not only protection but also warmth retention.
The full-finger gloves are windproof and waterproof, which enables kids to retain the warmth in their palms as they cycle.
These gloves feature breathable microporous membrane fabric that prevents water from entering but allows moisture to escape.
If you are shopping for full-finger road gloves, consider the silicon finger grippers that improve control and coordination by allowing easy handling of gear and brake levers. You should also look for reflecting strips that help you to be visible, especially for kids who commute to school on bikes.
Mountain Bike Gloves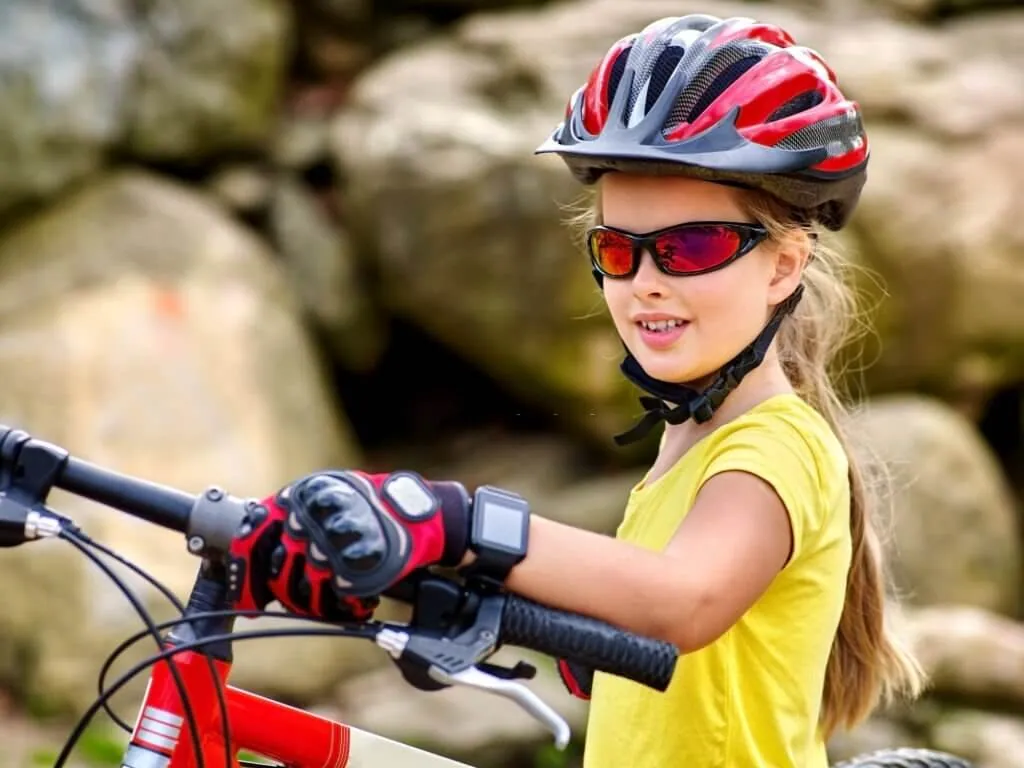 The mountain bike gloves offer high-level protection and are made from tougher materials. They also have an external plastic or carbon fiber panel that adds extra protection to the hands on the trails.
If you are raising a little shredder, you should opt for the MTB-specific bike gloves as they offer protection from thorns and other trail-side vegetation. The lightweight full-finger gloves can also do the same function and come in handy during the winter and autumn days.
Kids' MTB gloves should be breathable, have wicking capacity, be warm, and come in full-finger or mitt styles.
What to Look for When Buying Kids' Cycling Gloves?
With many options in the market, it is easy to pick a cycling glove for your kid just for the sake of it. However, there are many features that you should focus on to get the best from the available options depending on the weather (season), the riding the kid does, and the preferences of the kid. If you want to make a purchase that will be your kids' favorite bike gloves, check out these features.
Nose Wipe
If you want a good cycling glove for your kid, consider one with a nose wipe. This is a small soft piece of fabric located at the back of the thumb to help wipe the sweat away from the face, clean wet lenses on the sunglasses, or wipe a running nose.
Material
When purchasing a cycling glove, please focus on the material from which it is made.
Most of the cycling gloves in the market are made from synthetic materials, including acrylic, fleece, polypropylene, and polyester.
Polyester has high breathability and is good at wicking sweat. It also offers minimal water and is windproof.
The fleece material is mainly used in winter cycling gloves. The microfiber helps retain warmth by offering insulation and limited breathability. The microfiber also offers a surface for wiping away sweat and clearing foggy lenses.
Polypropylene has better weather and wind resistance but is not effective in managing moisture from the palms.
Finally, acrylic is stretchy, breathable, and warm but has minimal weather resistance capacity.
As you select the gloves, consider the season, desired properties, and the location where the child will use them.
Size/Fit
The size is one of the most obvious and vital guides when looking for kids' gloves. The phrase fits like a glove means that it should be precisely the right size so the kid is comfortable or even wears it each time they are on their bike.
When riding, blood pumps at a higher rate. A glove that fits too tightly might end up interfering with or cutting off the blood circulation to the child's hand, causing discomfort or hospital visits.
On the other hand, the child's hand will probably blister from constantly slipping within a loose-fitting glove. You want to find a glove that fits snugly, not too loose or tight.
Manufacturers usually have a size and age guide, but to be safe, you'd instead measure the child's palm width as the size guide is usually just an estimate. Gloves sizes are measured using the length of the hand at the tip of the middle finger and the circumference of the hand around the knuckles. Therefore, an XS from a brand might be medium in another.
It is, therefore, better to measure the palm of the child before choosing a cycling glove for them. To do so, measure the widest part of the child's palm (of their dominant hand), excluding the thumb. Then look for a glove whose measurements are as close to this size.
Type of Closure
Gloves come equipped with various closure systems. Most kids' and adult bike gloves come with Velcro straps. Ensure you select a glove with an adjustable closure system to fit closely on the wrist and stay in place without slipping between the kids' hands and the bar. Loosely fitting gloves can bother the kid, negatively impacting their ride experience.
The kind of closure a glove has is crucial as it usually affects how easy or hard it is to get on and off.
Most bike gloves for younger kids have a hook and loop closure system, which is relatively easy for them to pull off and put on independently. Another advantage is that they can be adjusted if it happens to be too big or small.
Gloves for older kids usually have elastic material around the wrist to protect them from falling off.
For kids' gloves, a Velcro closure works best.
Type of Glove
This has to do with the amount of coverage and exposure of the hand.
Gloves can be full-fingered or half-fingered (otherwise known as fingerless), and the choice of which type depends on your child's need, preference, and the type of riding they are interested in.
As the term implies, full-fingered gloves cover the whole hand, while half-fingered gloves expose the upper part of the hand.
This is an advantage as full-fingered gloves are usually somewhat cumbersome for little kids to wear as they tend to be longer at their fingertips. Half-fingered gloves are best for young children as they are especially easier to put on.
So if your child is still on their first bike, this might be the best option.
As we've said, full-fingered ones can offer complete protection to the rider's hands, although they tend to be a bit cumbersome for little kids to put on. They are thus advisable for older riders, especially those who indulge in aggressive riding, as the gloves enhance their grip on the handles when they fully wrap their hands around them. However, even the little riders should wear full-fingered gloves during colder months.
They also offer extra comfort, especially during cold weather seasons, where they keep the rider's hands warm.
Extent of Grip
You also want to consider a specific glove's grip over the other.
When riding in the cold, hands are usually inclined to go numb after prolonged exposure to the cold. Numbness weakens the grip; thus, gloves are essential to prevent any hazardous occurrences by keeping the hands warm.
Added grip is always a bonus, and here's why; during hot summer days, hands tend to get sweaty when riding and might slip off the handlebars when not wearing gloves.
In this way, the gloves protect the rider from the elements.
Also, sweaty hands are usually prone to blisters and lumps from the continuous friction between the hand and the bike's handles. A glove thus acts as a barrier between the surfaces, reducing direct friction and any chance of damage to the palms.
Certain factors come into play with regard to grip. For instance, the material used to make the gloves and the level of padding (outlined below).
Palm Padding
If you've ever had to pick off gravel from a kid's palm, you can appreciate how vital gloves are when riding.
Padding acts as an additional layer in the event of an accident for riders of all ages, but especially for young riders/ beginners whose chances of losing balance and falling off the bike hands-first are high.
However, padding in gloves starts to serve different roles as they advance.
For older riders, gloves enhance the much-needed grip for the riders. Additionally, they ease the strain on hands after extended periods of holding onto the handlebars.
And for those who are into aggressive riding, gloves help minimize the impact of trails and enhance comfort for both young and old riders by
As a rule of thumb, the more padding, the better.
Reflective Features
Some gloves are usually endowed with reflective material to aid visibility when riding in low-light settings.
These features are welcomed because they enhance one's safety on the roads or trails and add a "coolness" factor, making the gloves more likely to be worn by riders.
Other factors to consider
Apart from the salient glove features we have discussed above, below are some things to be on the lookout for as you shop for a kids' or youth's cycling glove.
As you purchase the glove, consider the breathability of the fabric. Go for a glove whose fabric allows vapor to escape. When the vapor is trapped inside the gloves, they become uncomfortable and slippery.
Waterproof features. A glove with a waterproof membrane helps keep the hands dry during extreme weather. Although waterproof gloves are good, they are limited to wet seasons and winter because waterproofing could impact on breathability of the fabric.
A good glove should draw sweat away from the skin to the fabric's surface, where it can evaporate. Consider the wicking capacity of the glove before you purchase it, especially if your kiddo has sweaty fingers.
Although all gloves make the hands warm to some extent, the winter gloves are well-suited to offer extra warmth thanks to their insulation efficiency that does not compromise the escape of sweat from the fingers and palm. They keep the hands warm and ensure the kids can cycle even in extreme temperatures.
Depending on the kid's cycling, gloves offer various levels of protection. Kids riding mountain bikes on trails should go for gloves that have additional plastic or carbon fiber reinforcement to prevent the back of their hands and knuckles from taking a beating from falls or the plants along the trails. Extra protection is also needed for BMX riders in case of a fall. Summer cycling mitts protect the palm in the event of a fall and allow kids to engage gears without hindrance.
Most cycling gloves have synthetic or leather palm sections that ensure a better grip on the handlebars. Some gloves come with silicon or gel grippers on the fingers so kids can quickly shift the gear, front shock, or brake levers.
Conclusion
Cycling gloves are as important as another safety accessory for kids on bikes. It is crucial to ensure that you purchase the gloves alongside helmets, knee and elbow pads, bib shorts and jerseys, or cycling shoes.
Remember that even though they cost less, gloves are critical apart from being aesthetically relevant to the rider. The most important thing is keeping the rider safe if an accident occurs and they land with their hands first.
With such maximum protection, the kids can go out there and be the little daredevils they always are on two wheels.
Teaching kids when they are young the essence of wearing gloves when cycling is something they will live with their entire life. It is a plus for their safety as they enjoy cycling gloves' advantages.
We have reviewed the best cycling gloves for kids and rounded up every glove we think can make the best for your kiddo. Look at our review, and now that you know what you might want for your child or what they might like in a bike glove, you are bound to make a better purchase decision that none would ever regret.
But before you go, look at the frequently asked questions below, whose answers we've tried to structure comprehensively. If you are looking for youth gloves, consider the small adult gloves; they might fit perfectly.
Frequently Asked Questions
We've encountered concerns from parents concerning choosing the best cycling gloves. This section offers comprehensive answers to help you in your research, purchase, and post-purchase journey. In case you have any further questions, our comment section is open. Feel free to drop us the questions; we will try our best to answer them promptly.
What are the best places to get kids' cycling gloves?
If you are shopping for the best cycling gloves for your kids, you can check out online stores or at your local bike shop, and Amazon offers the best kids and youth cycling gloves.
What are the best brands for kids' gloves?
In our experience, the best place to get kids' sports accessories is the same place you'd get kids' bikes.
Most brands that manufacture kids' bikes also specialize in making protective accessories such as helmets, kneed pads, elbow pads, and helmets.
You can often get them in matching pairs, but the great thing about these brands is that they use research in their manufacturing. As such, they know what best suits kids, which would encourage them to ride, and how to size them appropriately for kids.
Do kids need cycling gloves?
We have always insisted that even as we try to put more kids on bikes, we should take a keen interest in prioritizing kids' safety on bikes. Cycling or biking gloves have different roles; their use hugely depends on the type of cyclist, the terrain, and the rider's age. Nevertheless, different kid-specific cycling gloves satisfy every kid's need for a glove. Gloves come in different colors and comfort features. All of the biking gloves, whether full or half-finger, are padded. They also come with ventilation that prevents sweaty fingers. Gloves are a necessary safety gear for kids. For one, they offer protection against the elements of weather. Two, they also protect the kids from getting blisters from bumpy rides. For instance, they help cover the hands of balance bike riders if they fall. For a little older cycling kid, the gloves help improve grip when taking on different terrains. Besides, they also give them a rad and heroic look. Yes, some kids wear it as a motivation to ride more miles.
Which one should I choose for cycling kids, full-finger or half-finger gloves?
Although one might argue that kids fall on their arms, thus there is no need to get full-finger kids cycling gloves, there comes a time, such as during winter, when the full-finger bike gloves for kids come in handy.
A half-finger biking glove's only advantage for kids, especially preschoolers, and toddlers, is their ease of removal. Besides, they are less sweaty as much of the hands, and the palms are exposed.
We noticed that older kids prefer full-fingered cycling gloves. They offer comfort, better padding, and grip, and cover the entire hand, which is handy when braking, gripping the handlebars, and when they crash.
How do you know the right size? How do you figure out know what size to order?
First things first, don't make the mistake of guessing based on observation. This is because gloves aren't something that can fit loosely and still do their job efficiently, so you need exact measurements.
Measure the palm width to find the right size. Note that it means measuring the palm (just under your fingers) and not all around the hand. This is what usually confuses many people.
If the manufacturer's guidelines are dictated by palm width or hand circumference, be sure to follow the guidelines before purchase.
Additionally, some sizes tend to run small while others run large. Make sure to do your research by browsing through the website beforehand.
What is the function of the strings around the fingers in some gloves?
Pull strings/loops serve a great purpose.
Usually, pulling gloves can be a bit cumbersome as they take time and sometimes turn inside out after removal. To ease the removal process, the strings attach between the fingers, and one needs to hook the fingers under them to pull them off when you are sweaty or at the end of your ride.
Do Summer cycling gloves make a difference?
The hand is an integral touchpoint on a bike. For kids cycling during the summer season, getting summer cycling gloves (either mitts/fingerless/half-finger gloves or full-finger gloves) makes a difference because they can wick the sweat leaving the palms dry and comfortable. In this sense, they help maintain a better grip and allow kids to wipe the sweat off their faces, clear their noses and brow, and wipe the sunglasses' lenses. Thanks to the summer biking gloves, the kid is generally protected and comfortable as they cycle. Some summer cycling gloves feature silicon grip or gel grips that enhance the grip on the handlebar, which is excellent, especially for longer rides such as bike tours.
Please Rate This Article
SEND