Sunhiker Kids' Cycling Backpack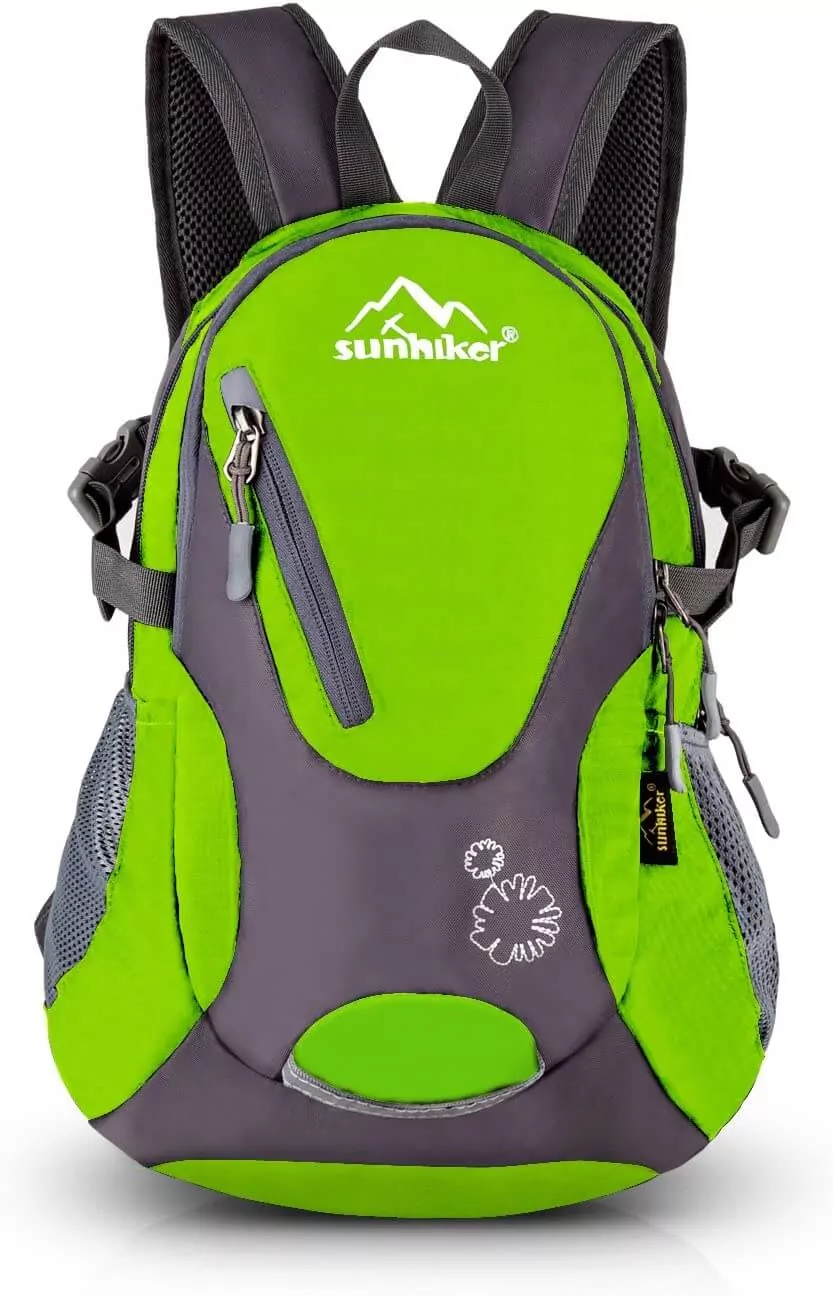 Paragraphs and descriptions here.
High quality and highly durable nylon material
Appropriately sized for small riders
Built-in organization
The highly breathable mesh backing
Variety of colors to choose from
Water-resistant but not fully waterproof
No cellphone pocket
Chest and waist straps not suitable for larger body types
Outstanding Features of the Sunhiker Kids' Cycling Backpack
Dimensions: 15.8 H x 9.4 Lx 5.9 W inches
Weight: 0.76 pounds
Capacity: about 20-25L
Material: Highly tear-resistant nylon
We can all agree that while riding and hiking aren't for everyone, those who do enjoy these activities do so because of the convenience that comes with some accompanying supplies. These are the basics such as water, food, and a cellphone or rain gear.
This type of convenience is brought about by backpacks such as the Sunhiker MO714 backpack through which the rider can store all their essentials.
First things first, this pack is excellent at what it's meant for; and that is day riding. That means that if you are in the market for an overnight pack or one suited for longer trips, you might as well as get off the wagon as early as now because this isn't the pack you are looking for.
Now that that's out of the way let's dive into what makes this backpack such a perfect day-riding companion.
Material
The material of a backpack has a direct bearing on its quality, weight, and durability. The Sunhiker MO714 pack is made of high-quality, sturdy, and lightweight nylon material.
We love that this pack will stand up to intense heat exposure without tearing. All thanks to its sturdiness.
Not only will it last with you despite any abuse you put it through, but it doesn't conform to the elements as well.
It's excellent for day riding, and here's why; the material is highly water-resistant.
Now we'll be honest and let you know that water resistance does not equate waterproof. That means that this pack will repel light splashes, but in the case of torrential downpour, we can't vouch that the contents of your pack won't be affected.
The good news is that if you live in a sunny environment where negligible light splashes with very little chance of permeation are common or if you are fond of short day rides, then this pack will serve you well.
The bad news? The pack won't repel water from torrential downpours.
Bottom line; this pack will protect your contents before you get to your destination or before you find the nearest shelter in case of impromptu rain.
Size
This is a small and lightweight pack that makes it perfect for younger riders or day riders as one can fit the bare essentials (a snack, a drink, first aid supplies, and a gadget or two.)
Weight
Not only is the size of this pack compact, but the weight is also kept to a minimum.
Weight is an important consideration when looking for a backpack because it can determine whether or not you are going to be comfortable.
The ideal weight of a day trip is supposed to be less than one pound. You do not want to haul a cumbersome load, especially when going uphill. This is why we appreciate the fact that the bag's weight in itself doesn't have a significant impact on the overall weight when the pack is loaded.
The mere 0.76 pounds is just perfect!
Capacity
When looking at capacity, you need to ask yourself, "How much do you intend to fit in the pack?"
Backpacks are usually sized based depending on how much they can hold, and their volume is generally measured in liters.
For day trips, you don't need to carry a lot, so you want to go for a pack that is anywhere under 35 liters. With a capacity of 25 Liters, this pack is just appropriate for such trips.
Functionality
This has to do with how prepared the pack is for outdoor activities.
This pack is well-equipped with smooth functioning zippers, and most of all, it is compartmentalized to ease its use.
The pack is segmented into large compartments alongside an inner pouch for storage of small items such as keys and credit cards as well as a front zippered compartment.
Besides, there are two dedicated water bottle holders on both sides of the pack for on-the-go hydration
The pack itself can hold a good number of items, but the multiple compartments are a smart addition as they enable the neat organization, easy access, and retrieval of the smallest of details.
The only flaw is that in spite of the many compartments, there isn't a delegated area for your cellphone, and the front zipper is too small to store a variety of items.
Comfort
A pack is only as good as the amount of comfort it can offer. This pack offers great comfort to the user, thanks to several factors.
For starters, it features adjustable straps, which not only a snug fit for one user but also the next one if the pack is shared.
The shoulder, chest, and waist straps stabilize the load and distribute it evenly so that it doesn't overwhelm the carrier even when riding for hours on end.
Besides, this pack features great padding to relieve the stress of the load further.
And the comfort measures don't end there.
With a breathable construct, riding on a sunny day and sweating won't be a worry as the material wicks moisture away, leaving you feeling fresh and comfortable.
One downside to the straps is that they are better suited for smaller people as compared to larger body types. The waist strap at the bottom is simply a little small and tight for larger riders.
Security and Safety
You can never have enough safety measures. So the MatRefctive strip is an excellent addition that will add to your conspicuity on the road.
If you're caught up in the dark, you can rest assured that other road-users will take note of you. However, we wouldn't encourage you to rely entirely on this feature as the sole protective feature to have as you ride.
Final Thoughts
The appealing features of the Sunhiker MO714 backpack are endless.
It even comes in a wide selection of colors. With nine colors to choose from, you can be sure you won't miss out if you've got a particular taste or kids who love the fun addition of brightly colored accessories.
This backpack is a perfect accessory for outdoor activities. So whether you are cycling, hiking, day camping, climbing, or traveling, this pack will serve you well.
And what we love about this pack is that it avails all these convenient features at such an affordable price.
Ultimately, the main selling point of this pack is its small packaging, which is appropriate for the storage of bare essentials and perfect for pre-teen riders and small to medium-sized adults.
Please Rate This Article
SEND