Riding bicycles as a family is fun, beneficial, and satisfying. The attachment one eventually develops with their bikes is so tight and unimaginable. Sometimes, you and your kids might need to haul the bikes around before reaching the actual trails, pump up tracks, parks, camping destinations, or race starting points.
You probably need to carry bikes by your car, and you would want to do that safely, efficiently, and securely. For this reason, it is advisable to purchase a bike rack or carrier for either your car or truck.
How do you pick the best bike rack for your family?
Here is a comprehensive guide to help you find the right bike rack that fits you, your car, your family, and your cycling needs.
After hours of research and testing, we have an article that broadly covers everything you need to know before you purchase a car bike rack.
What is a car bike rack?
A car bike rack is an adaptable bike towing attachment that allows you to transport bikes by car/sedan, SUV, and trucks without disassembling the bicycle or using a trailer.
It is one of the bicycle accessories attached to your car to carry one or more bicycles. It is mainly used by forest explorers, families, individuals, trail lovers, professional cyclists when training, racing games, and many others. Pretty much anyone with a bike is a perfect candidate for a bike rack for their vehicle.
There are so many types of bike racks for cars in the market. These racks vary depending on the model, size, design, and parent company.
With over 30 companies that manufacture car bike racks, you will not lack a model that favors your needs, family needs, and car.
Pros and Cons of Car Bike Racks
Like any other tool, machine, or device, bike racks also have their pros and cons. So, let's explore the benefits and drawbacks of bike racks so that you can know what you are getting yourself into.
Pros
Easier to use and install
Stores your bike safely without damaging the bike or the car
Flexible in that there are different types of bike racks
Easier to clean
Cheap to maintain
Cons
Expensive
Some racks are of poor quality
Types of Car bike Racks
When you set out to shop for your first or next bike rack, you need to understand that there are different types of bike racks to help you narrow down your list to the best. There are four major classifications of car bike racks, each with its merits and demerits. In the end, the one you choose will probably depend on its pros and cons and other factors that we will discuss later in this guide.
Let's explore each type briefly:
1. Rooftop Bike Racks
A rooftop mounted bike rack is the most flexible and more accessible option compared to other bike racks. In addition, this design adds more balance to the car as it is fixed in the center. Most bike racks are fixed onto your cars with crossbars. While others only need more space for attachment as they come with pre-mounted rails.
Two rails connect to the roof bars and cross the car's roof transversely. These rails are crafted to support the increased weight of the bike rack and your bicycle. Some vehicles have pre-installed cross rails and roof bars, while others will need adjustments before fixing your bike rack.
Rooftop Bike racks are of different types: those that need front tire confiscation and those that permit both wheels on the bike. When the front wheel is removed, it keeps the bike lower, ideal for tall cars. In addition, this lightweight makes it easier and lighter to load your bicycle.
Some racks do not interfere with any bike wheel, but they are expensive and unstable. However, save on time in reinstalling the wheel. Both choices include integrated locks that secure your bicycle to the rack.
Rooftop carriers need to be attached to the cross rails. They are flexible with most cars but are suitable for vehicles with lower heights due to the lifting of the bicycle. You can also opt to get a stepstool.
Rooftop bike racks are not permanently attached to our car roof; you can always detach them when not in use. However, you can add on other accessories that let you carry your cargo boxes, skis, and many others.
Pros and Cons of Rooftop Bike Racks
Pros:
Added Balance: Rooftop bike rack is designed to be fixed at the center of your car roof. If your bike is strapped carefully on it, then you will not have any problems.
Extra luggage compartment space: when the rooftop rack is installed, it leaves some room for you to put your luggage on top of the rack.
Access to doors and boot: this type of rack is installed on your car. which does not in any way affect your access to your doors and boots
A clear line of sight of the rearview mirror
Bike roof racks can be detached primarily to be changed with ski, watersport, or cargo racks.
Flexible: Most rooftop racks come with unique and robust mounting systems. You will find several options that will fit you. These lock systems ensure that your bike and racks are secure. In addition, it ensures that your bike does not sway.
Rooftop bike racks are suitable for almost all types and brands of cars.
Cons:
Gas mileage: at thoroughfare speeds, the rooftop bike rack alone reduces the mileage by an average of 6 %. When you add on your bicycle, they can increase up to eight percentages. However, for bigger SUVs, it shows no decrease in fuel consumption or none at all. Detaching the rack when free saves you energy as well as decreases the wind noise.
Rooftop bike racks are not easily detachable as they are fixed tightly on the roof bars, requiring some expertise and tools.
2. Trunk Bike Racks
Trunk bike racks are attached to the trunk of your car using straps and hooks. The hooks are connected to the upper and lower feet to stabilize the vehicle.
This type of bike rack is the lightest and pocket-friendly. In addition, installing Trunk bike racks are more accessible after you learn how to hook the straps.
To install the racks, open the back door of your car. Clip each strap on the edge of its adjacent knocks. Fine-tune the rack to ensure that the pads resting on the rear door are in the middle. To constrict each strap, pull the buckle as you adjust the slide.
Majorly many Trunk bike racks have straps that run around and engrave together on the inner side of your back door. These racks are more secure and can store up to 3 bikes. However, if you are fond of using more minor roads or parking in places with smaller spaces, a compact bike track is your preferred choice. A compact trunk bike is easier to install and remove but has weaker straps and covers only one bike.
However, trunk bike racks are not safe. You will have to detach them for areas infested with criminals. It is better stored inside the house or the car. In this rack, there is always a risk of the wheel or pedal swinging around. When it happens, it interferes with your paint and rear glass if not strapped carefully. In addition, trunk bike racks may not work with all types of bicycles, especially bikes with add-ons.
Pros and cons of Trunk Bike Racks
Pros
It is easier to install and detach your bicycle without special tools or expertise.
Trunk bike racks fit almost all types of bicycles available, except for other bikes with unique add-ons.
It is lighter to lift and safely tucks your bicycle on the rear of your car. This lightweight makes it suitable for almost all types of vehicles.
Trunk bike racks are easily stored as you can loosen the straps and keep them in your car or the house. These straps save you a lot when in places with high crime rates to avoid losing your bicycle and rack to thieves.
Cons
At times the straps may temporarily loosen. It usually happens when your rack has serviced you for long without proper maintenance. As a result, the straps can be easily interfered with or cut. In addition, these loose straps might result in the loss of your rack ad bicycle if you had locked them.
The car's panels support the cumulative weight of your rack and bicycle, which can sometimes lean on the panel. This learning results in scratching of the sheet or pain.
3. Spare-tire Bike Racks
Another type of bike rack is the Spare-tire rack. This rack is fixed on the rear part of your car on the spare tire; installing spare-tire bikes depends on the model you purchased. Others come with straps that are tied on the spare wheel while others. It comes in different versions and features. They are designed to carry a specified amount of weight, for this rack can support up to 4 bikes.
Pros And Cons of Spare-tire Bike racks
Pros
Usually, allow access to the rear door
Easy to install and maintain.
Flexible and used across all types of bikes and cars.
Usually allow trunk access.
No hitch is required to install a spare tire rack.
Spare tire racks do not affect the spare if carefully installed.
Cons
The driver's vision of the rear window is distracted in some racks and blocks you from accessing the trunk. Therefore, you have to detach the racks before using your trunk.
To balance your car, it can only carry only two bikes. However, larger cars may carry three or four bikes, depending on the modification and quality of the rack.
4. Hitch Bike Racks
Hitch-mounted bike racks slide into the hitch receiver installed on a vehicle. They are the type of bike racks that can be fixed on the lower rear parts of your car.
A hitch bike rack system at the back of your vehicle improves its utility. It instantly adds the ability to cart bikes around. The hitch-style racks are built with a tilt feature that allows you to access the vehicle's rear without removing the bicycles attached to it.
They are a great choice if you do not want to scratch your car—they maintain your car's paint job since they don't come into contact with the vehicle. Besides, if you're carrying more than one bike, a hitch rack is specifically useful.
While some cars come with a factory-installed hitch receiver or trailer hitch, you have to modify or install a hitch receiver on vehicles that do not have one, which is an extra expense. This bike rack is connected to the trailer hitch to support and balance your bicycles on the rear. It is designed to carry heavy loads and is easier to install. A hitch bike rack can comfortably hold between two to four bikes.
When shopping for the best hitch bike rack, you should focus more on its shape, style of the hitch rack, and design over its size. Ensure that the rack you are purchasing does not interfere with the car's frame or the design of the rear bumper. Always check with your car's manufacturer before purchasing one.
Installing the hitch bike rack can be done in many ways. For some racks, you will need to connect them to your car by inserting a rod into the hollow part of the trailer hitch, then fasten it using a bolt into the opening. Next, you have to get the other hitch types under your car and screw it vertically to fit the frame. To effectively do this, you have to slide the rack into the Hitch and insert a bolt onto the opening frame .to tighten the bolt, use a socket jerk.
Most hitch bike racks have lock options attached to the Hitch; they fold out of the way when the rack is not in use. The locks have a firm connection to your Hitch through the receiver pipe. They are inbuilt to firmly attach your bike to the rack by using arms extending up and over the bike's front wheel.
There are two categories of hitch bike racks currently on sale: platform style and hanging cradle style car bike racks.
(i). Platform-style Hitch Racks
In this style, the bike is placed on top of a platform. It is the most straightforward and most safe choice to transport your bike. The platform keeps your bike in place and prevents damage to your bike's tires or the rims. However, it costs more than the hanging cradle style. In addition, the platform style is heavier and is oddly shaped, which makes it hard to transport.
Pros
Easier to install
Safer to the bike and car
Has security features to lock your bike
Cons
Expensive compared to a hanging cradle
Difficult to transport as it is oddly shaped and heavy.
(ii). Hanging Cradle Style Hitch Racks
In this type of hitch rack, the bike hangs on the rack. However, it is riskier, as the bike's wheels hang free and sway when in transit. When the bikes sway, they may damage the bike parts or the car's paint. on the positive side, they are cheaper compared to the platform style
Pros
Cheaper than platform style
Lighter than platform style.
Give more ground stability
Easier to install and maintain
Cons
Riskier as the bikes may they are not tightly held
When buying this type of rack, ensure that you check your car's Hitch. Usually, all cars' Hitch is a tenth of the cars' towing power. If you put too much weight on your Hitch, it may break or bend it.
Pros And Cons of Hitch Bike Racks
Pros
Some hitch racks come with integrated locks or are cheaply added on to secure your bicycle.
Hitch racks are easy to install and detach any time off you
It is a better alternative for taller and larger cars.
It is strongly built hence can carry more bikes.
It is attached to the rear hence giving you more space on the roof to carry other items.
Hitch bikes racks are suitable and can be used to transport almost all types of bikes.
Cons:
Some models may block the driver's view through the rear window, making it cumbersome to access your trunk except for other significant and more extensive, easily attached, and detached models.
The platform model gives the rack a space to swing if not firmly attached. However, this swinging may drop off your rack and bike.
Racks designed to carry three of four bikes are heavy, and they might sway on each other during your transportation.
Factors to Consider When Choosing a Bike Rack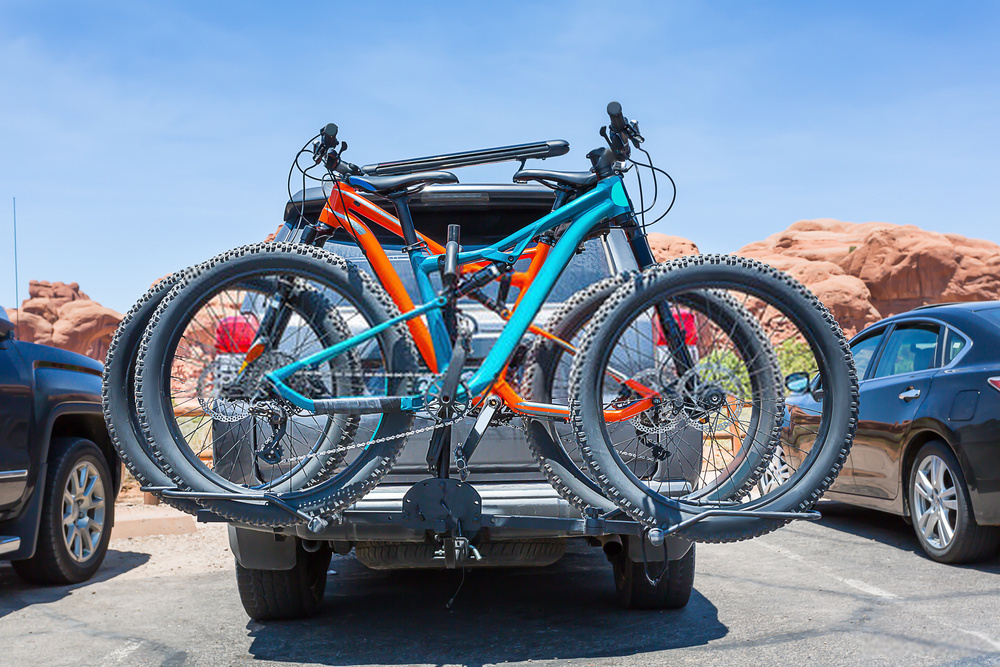 Not all bicycle racks are flexible to all bikes or cars. They differ in size, design, and build material. There are also different locations where the modification is done. Therefore, before procuring one, there are specific details you must put into consideration before purchasing one.
Not all racks are modified to fit your bikes. The racks vary depending on your bike's model. There are many bike models from their purpose and gender: some are meant for kids, women, hill climbing, and regular bikes. Also, for some car models, you have to procure unique add-ons to fit your rack before locking your bike. Also, some racks are crated to carry one or two bikes, while others are made for heavy-duty purposes.
Before we look at the features singly, here are some questions to ask yourself when choosing a bike rack for your vehicle:
Is the bike rack versatile enough to allow you to bring along all family bikes?
Is the rack compatible with small kids' bikes?
Does the bike rack fit your budget?
How often will you be using the bike rack?
How many bikes can the bike rack transport?
Is the bike rack secure?
How easy is it to install the bike rack?
Does the bike rack fit your vehicle's model, make, and year of manufacture?
Does installing the bike rack require extra accessories?
Below we go deep into some of these factors to make it easier to narrow down to your final contenders.
The number of bikes to be carried
One of the things we know about bike racks is that different bike racks carry various sizes of bikes. Although it is a no-brainer, most cycling parents and enthusiasts overlook this attribute when selecting a bike rack. Look at the chances of your family growing or the chances of you buying other bikes. It is an essential factor to consider as much as your budget.
In other words, you should check on the carrying capacity of the rack before purchasing it.
Some racks are specially crafted to transport 3 or 4 bikes, while others are for light duties and cannot hold on to the weight of 2 or 3 bikes.
A bigger one is recommended for a family rack to avoid straining your car or the rack itself.
Frequency of use
How often you use a bike rack will determine whether you go for a heavy-duty bike rack for your car or buy something you can use and later sell.
Suppose you intend to use your rack once in a while. In that case, you may opt for the lighter and cheap one, but for heavy users, scan for bike racks with quality and durable designs to save on your repair and maintenance.
Your Budget
Cost matters. All other factors considered, make sure you know how much you're willing and able to afford because it determines the type of bike rack that you can buy for your car. Some bike racks may not be worth the price, so it is crucial to cross all the brands before purchasing one. You can opt to ask for a person who bought it earlier or check on the reviews on online shops.
Type of bikes to be transported
Before purchasing a bike rack, ensure that you check on your bike's website to check the recommended racks. Forcing a rack on a bike can result in many problems: scratches, malfunctions, and breakages. For example, your bike might not be correctly strapped, which might sway as you drive. When it sways, it may corrode your paint or break your window.
When purchasing a rack to haul both adult and kids' bikes, focus on a versatile bike rack system that can accommodate both small and big bikes. You do not want to spend money on something that will limit the kind of bikes you can transport.
Consider the safety features of the bike rack that are compatible with a given bike, then decide whether it suits you. The types of bikes you can haul can quickly help you cross your list to the most suitable bike rack for your vehicle and family cycling needs.
Type of car
The car model, year of manufacture, and make affect your rack choice.
Some car models with higher heights work perfectly with rooftop racks, while those that have lower height work are fixed with spare tire racks. A step stool helps you place your bike and rack when using rooftop type.
Some racks can exclusively fit on trunks of sedans and cannot work on the boot gates of SUVs. Besides, some cars come equipped with roof rack rails, making it easy to mount rooftop bike racks. Others might be compatible but have none, case in which you
It is, therefore, necessary to check on a bike rack that fits perfectly to your vehicle without any complications.
Distance to be used
The distance is yet another factor that dictates the type of rack that you will choose.
For heavy and wide travelers, strong/resilient and more intact bike racks are more favorable. Although these car bike racks maybe be expensive, they save you a few dimes, give you peace of mind, and they are workhorses.
For light duties, use a light and easy rack, but you have to consider the other factors to get the best that fits your budget. These types of racks can be detached easily when not in use. Of course, all can be attached and disconnected, but the latter takes less time.
Ease of Installation
Some bike racks are easier to assemble and install.
Others are harder to install and require more skills for perfect installations. This installing also applies to attaching and detaching the bicycle itself. When hunting for a better rack, look for the easier one to save on your riding time.
You can also check videos and reviews online on how easy it is to install a bike rack. Likewise, assess how to attach bikes to it before you settle for that single bike rack that ticks all your checkboxes.
Alternatively, you can leave the technical for your local bike shop, bike mechanic, or car mechanic, who will quickly read the installation manual and take you through the process.
Storage space and parking spaces
When purchasing a bike rack, you should consider your space for its storage when attached to the car – the parking space or when detached.
Some parking spaces are not favorable for rooftop racks, especially outdoor packing and those with high roofs.
If you don't consider the parking spaces available, the chances are that you might crash your rack onto your parking lot. Therefore, you need to be extra careful.
For lower parking spaces, look for detachable racks to avoid damaging your bikes, car, and valuables.
Security and safety of the rack
A top concern when purchasing a car bike rack is whether it is safe and secure for your bike. Its safety, too, matters because it is an investment.
Some racks come fitted with anti-theft systems, while others have none. So, you should be sure on which one to pick. Of course, the choice here depends on your neighborhood, where you pack when riding, and other factors such as cases of theft of racks and bikes, etc.
It is therefore vital that you shop for a product that has strap-on locks but is quite expensive. But for added protection to your bike, purchase a cable lock to secure your bike and rack. Security is by far necessary to avoid losing your rack and bike to looters.
The intangibles
When purchasing a new bike rack for your car, try to evaluate the intangibles.
The intangibles refer to invaluable aspects such as corporate passions or interests, customer service, length of the warranty, and the manufacturing process.
You can easily find this information from the manufacturer's website, the mission of the bike rack brand, and the feedback from the customers.
Another intangible to consider is the appearance of the rack because, after all, you are after looks, style, and functionality.
9 Steps to Help you find a New Car Bike Rack
Suppose you are in the market for a new or used car bike rack. In that case, there are different things you need to consider before making your decision altogether. We have compiled a comprehensive list of five steps you can take to ensure you get the right car bike rack for your vehicle, family, or bikes.
1. Know what you are looking for in a car bike rack
When shopping for a new car bike rack, you should know the type of car bike carrier to purchase. The type of carrier or rack you will purchase will be determined by the year, make, and model of your vehicle where you will fit the bike rack. For example, is your vehicle a pickup truck, SUV, wagon, or sedan?
Another determinant is whether your vehicle comes equipped with roof crossbars or receiver trailer hitch and the sizes or whether you will need to install these if you settle for a given type of bike rack. Finally, consider the number and types of bikes you intend to carry on the car bike rack.
2. Visit the Manufacturer's website
After narrowing it down to a given type of car bike rack, it is imperative to select a particular brand that appeals to you. First, you can narrow it down to the brands by looking at what is on offer for your preferred vehicle bike rack. Then, get insights from their blogs, product pages, and reviews or feedback from the customers.
3. Read online reviews
Now that you know what you want and have narrowed it down to a few brands, listening to what people say online is essential.
Unlike the old days when experts and friends ran the show when it comes to purchasing information, the internet has made it easy to get genuine feedback or reviews from people who have interacted with the actual product.
Such unbiased, natural, and reliable reviews can help you make a decision. It turns out that these reviews from strangers are invaluable.
You will be sure to get photos of the bike rack in operation, detailed descriptions, and pros and cons that can help you decide.
A bike review website like Kiddingzone with experts can also be invaluable in your bike rack purchase journey. For example, we have listed the top ten bike racks for families, cutting you time for research and worrying about what to buy.
4. Ask for opinions from friends
We exist in an open society where friendships are everything. Maybe you have gone for a family group ride where friends bring their bikes and families, and you are impressed or curious about your friend's bike rack. Well, you could ask them their views about the bike rack, whether they can recommend it, and some of the disadvantages and advantages they have.
Insights from friends can help you winnow down to the final contender automotive bike racks. You can then compare what you have gathered from your research, reviews, and expert advice.
Research shows that word of mouth from friends is better than that random review. So, if you can use direct information from a friend, don't shy from getting it.
It is time to trust that cheeky or unserious friend to be part of your bike rack shopping buddies – maybe they are the ones to help you get a rack that lasts.
5. Engage your family members
The ultimate bike rack users will be your family members. When shopping for a new bike rack, assign the members to read reviews, ask around, and make observations that they can share.
It is easy for them to discover a vehicle bike rack that suits your family. For instance, if your teen kids are on Instagram, Facebook, and other social media, they can leverage the power social media has to inform themselves about bike racks.
A single post requesting reviews of the best bike racks can come in handy.
6. Join online communities and ask questions
We are talking about forums, twitter spaces, Instagram, or Facebook groups with members whose interests align with yours. For instance, if you have a given type of vehicle, hundreds of online forums, and social community pages with enthusiasts. You can post questions about the suitable bike rack for your car and be surprised at how much information you will get.
7. Watch Videos online
Instead of imagining what a bike rack would look like when fixed to your car, spend time watching videos online.
Videos have a way of capturing the unique aspects in a single shot that runs for a few minutes. For example, you can find a rack that works well with the specific car or view people with the rack you want to buy.
Consider visiting the bike rack manufacturers' YouTube pages to learn more about specific bike rack brands.
Chances are that a video will highlight features about a bike rack that cannot be seen in reviews or pictures shared online. There are also many rack-specific videos on the manufacturer's website's product pages that can be informative.
8. Ask for insights from your local bike shop
Once you have your top contenders, it is now time to utilize the expertise at your local bike shop. The great people at your local bike shop are easily accessible experts who will give you real-time information.
The bike shops have knowledgeable people about bikes, bike accessories, and car accessories that carry the bikes. They can go through your narrowed list and help you settle on the best car bike rack.
Remember, supporting the local bike shop is a great way to grow the cycling community. It also enriches the local economy, which is why you need to visit them whenever you need their expertise and services.
9. Purchase from a reliable vendor
The very last step is to purchase your new car bike rack from a trustworthy and reliable vendor. A marketplace like Amazon or buying directly from the manufacturer would work.
Some local bike shops and auto dealerships also stock bike racks, which can be great places to purchase. Once you purchase and use the product, share insights, reviews, and feedback to help others make meaningful decisions when shopping for a new bike rack for their cars.
Factors determining when you need a new bike rack
Now that we know the various steps you should take when shopping for a new bike rack for your car, it is also prudent to look at some of the common signals or indicators that it is time to get a new bike rack.
Changes in demographics, assets, hobbies, or lifestyle can warrant a new bike rack for your car. The Covid1-19 pandemic taught us that change could come abruptly, disrupting everything we had planned. Below are some five common signals:
1. Purchasing a new car
Buying a new vehicle means the world to everyone. The fresh car smell or the feel of owning a second-hand car is a thrill that cannot be explained. However, suppose your new vehicle is not compatible with your already purchased bike rack. In that case, it is probably time you started budgeting and saving for a new bike carrier or rack for your car.
Remember, there are different types of bike racks, each fitting in a given model, year, or make of a car. Therefore, ensure that the rack and car are compatible.
2. You just bought a new bike(N+1 Factor)
Every cyclist admires the bike that is in the shop. Even if you bought a new bike, the other bikes in the store would always attract you. Now, if you bought a new bike for yourself, a family member, or your kids, it is probably time to go shopping for a new bike rack for your car. You want to bring all the bikes to the starting point of riding, family bike tours, and family bike camping activities. With the new bikes, you are probably also looking for the safest and versatile bike rack.
3. You just want to upgrade
Oh! Well, it looks like the bug of upgrading has bitten you. Do you have the reputation of being ahead with products or love the latest and greatest or hot and new? If yes, then whenever a new line of bike racks is out, you will probably need to get one.
4. Your family is growing
Kids grow faster. Before you know it, they have outgrown the balance bikes and become independent pedal bike riders. You can't say no each time they want to come for those rides with you.
As the family grows, the opportunity to take the entire family to the cycling destinations that are far from home shows. With a family of cyclists, a family of bikes, and accessories to carry, a new bike rack comes in handy.
It is vital to get a new bike rack if your family is growing. Consider the sizes, compatibility, and bike rack-car-fit.
5. You disposed of your old car rack
If you sold your car, car bike rack, or gifted a friend or family a car bike rack, then it is time to get a new bike rack for your car. New is always better. Sometimes friends stick on us so much that we have to pass down some products to them. It is then an opportunity to upgrade.
13 Popular car bike rack manufacturers
You have probably heard about them, spotted their logos on bike racks mounted on cars on highways, in your neighborhood, movies, or popular media. Here are some of the best performing bike rack manufacturers of brands whose products you can research more about, purchase, and utilize.
1. Thule
Thule thrives on manufacturing products for more extraordinary outdoor experiences. This bike giant combines technology and engineering to bring forth cheap and accessible bike products. For each Thule bike rack you purchase, you will have a lifetime warranty on it, so you will never have to worry about spares or to replace them.
Thule manufactures an array of bike racks, but one of the products that stand out is the Thule T2 Hitch Bike Rack. This rack is primarily manufactured to transport two bikes. However, it is a choice to add two other bikes without installing frame adaptors. It is also flexible with almost all types of bikes. When not in use, you can fold it carefully.
2. Saris
Saris mainly focus on manufacturing nature-friendly products. So when you purchase a saris product, be sure that the build material is 100% environmentally friendly. On top of it, they are uniquely crafted with different colors and sizes depending on your budget.
Some products like Bones RS bike rack come in four different colors: yellow, pink, black, or blue. This trunk bike rack comes in two varieties .one holds two bikes while the other holds three bikes. It is flexible with all car models. It also comes with a bike Beam that is used to attach oddly shaped bikes with a lot of ease.
3. Yakima
Yakima manufactures different types of car racks; You will be spoilt for choices. Yakima has been in existence since 1979 .it is a company dedicated to providing the best bike racks for you. They come in different colors and prices, which make them stand out in the bike rack market.
4. Seasucker
This company majorly manufactures lightweight bike racks in the market. It combines technology and experience to manufacture its best bike racks.
One of their best-selling bike racks is the Talon I rack. This bike rack is flexible in that it is placed on the roof, trunk, or hatchback. It, however, can carry one bicycle. Moreover, it is very cheap, which makes it favorable across the board.
5. RockyMounts
RockyMounts mainly focuses on the quality and design of the bike racks. They have a couple of bike racks spread out in the market. They are relatively cheap but worth the price.
One of their most-used bike racks is SplitRail Ls which is installed on the hitches. It carries two bikes, but the trays are added on to accommodate four bikes. SplitRail also comes with a hook to keep your bikes intact. In addition, there are inbuilt cable locks to attach each bike to the trays, with a primary hitch bolt to secure them to the car.
6. AllenSports
AllenSports duels on simplicity and light racks; that can be detached at any point. Their products are easy to install and maintain. In addition, they are uniquely manufactured to serve all riders with long-lasting bike racks.
One of their everyday products is Premier Spare Tire Rack. This rack is mounted on the spare tire using solid straps. The Quick carry arms that fall into place just outside the box make it suitable for two bikes. In addition, it has a wider lower foot that supports weight onto the spare tire rather than the rim. As a result, this bike fits almost all spare tires, even those with brake lights over the tire.
7. Kuat Racks
The bike rack giant focuses on secure and up-to-date bike racks. They are pretty expensive, but your bike is secured, and your car will be safe. In addition, the built material is superior to others in the market.
The Piston Pro X is one of their most purchased bike racks. It has arms coated with Kashima. Loading the tire is easy as squeeze the levers to release powerful arms to grab your bikes' wheels. It is also equipped with automated locks opened only by keys. In addition, the Piston Pro x is accustomed to tail LED lights that sync automatically when the racks are assembled.
8. Velocidad
The rack giant makes racks from steel that are not easily breakable. The damper-anchored hinge means that you will not have to lift your bike. The racks can accommodate up to 7 bikes.
Velocidad 7 is one of their successful bike racks in the market. The rack is fixed on the Hitch. It can accommodate up to seven bikes, depending on the type of car you are using. It is ideal for family bikes. In addition, it ensures maximum security by enforcing an anti-rattle locking system.
9. North Shore Racks
It specializes in bike racks for mountain bikers that are lightweight and vertical mountain racks. The NSR-6 bike rack is one of their successful racks. This rack carries up to 6 bikes which makes it ideal for family and friends hiking. It is fixed on the Hitch and does not interfere with the rear door opening. This rack is made from pure steel and is suitable for all bikes, including e-bikes and kids' bikes.
10. ReconRacks
It mainly focuses on three varieties, 4, 5, and 6 carrier bike racks. These racks are cheap and lightweight. Recon Racks mainly focuses on hitch bike racks. It boasts of an auto-locking system that is only open by steel keys. The bikes are entirely secured to avoid contact with the frame. Recon Racks Gen2 R6 is one of their most successful racks.
11. Lolo Racks
With many years of experience in engineering and undergoing real-world testing, the Lolo Racks is built to transport your bikes anywhere. Their racks are flexible with all types of bikes. In addition, they manufacture hitch bike racks that are enforced with a locking system to improve security.
SUVs, trucks, and vans predominantly use Lolo Racks Bike Rack for 2" Hitch. The rack will incline to allow the user to access the trunk. It is available in a grey color.
12. Alta Racks
Altar Racks produces car racks that are strong and durable. It manufactures different types of racks, including rooftop racks. The Alta Vertical Rack can safely carry bikes of 20 inches and up. The smallest Alta rack transports three bikes, while the biggest carries six bikes. The top rails of most racks have three settings to maximize the height of higher cars. The space in between tire rails is adjusted to suit different settings.
13. 1Up USA
This bike rack giant mainly uses aluminum steel to bring forth flexible bike racks. To add to it, Alta Racks provides a lifetime warranty on its purchases, which means you will cater in spares.
Bikers are widely like Quik Rack Single in the world. This rack is flexible in that it is used on almost on type of car. Alta Racks also gives free shipping to large orders.
FAQs
We combed through forums, social media groups, comments about bike racks on various blogs, and common concerns that we ourselves had when buying or when our friends consulted with us for the best bike rack for their family. We have tried to answer the questions to save you time comprehensively.
Are car bike racks safe?
Car bike racks have security systems like locks, hitches, and brackets. These security systems are hard to beat or crack.
Do Bike Racks Get Stolen from Cars?
It occurs but not often. When it happens, it is mainly due to loosely installed racks or the thief has prior knowledge on installing car racks.
Therefore, always follow the installation guidelines or let an expert take you through installing a bike rack on your vehicle.
Besides, mind where you park your car when the bike racks are loaded with bikes. You can also fortify the security of your bikes by buying bike locks.
What is the benefit of installing car bicycle racks?
Car racks are essential for transporting bikes during mountain riding or other outings. Bike racks have very many advantages.
Instead of carrying the bike disassembled, the bike racks allow you the convenience of hauling a complete bike with only the wheels detached. It, thus, saves you time.
In addition, bike racks will enable you to tote more than one bike, which is useful when camping or on tours with family bikes. Bi bike racks conveniently and safely carry bikes to where you must use them rather than cycling to the destination and riding again.
What is better, a roof or rear rack for bikes or a car?
The type of rack to use depends on many factors. The kind of car determines your rack. Therefore, finding out from your manufacturers' websites before purchasing one is essential.
Can kids' bikes fit in bike racks?
Kids' bikes fit in some bike racks, but to fit in other racks, you have to modify the hitches or arms to fit the bike. In addition, not all bike racks are compatible with kid's bikes. Therefore, when choosing a bike rack for your family, consider the type that can accommodate kids' bikes too.
Can someone steal a car bike rack?
For some models with no security features, they are easier to tamper with by looters. But for high-end car racks, it is hard to beat their security systems.
Do Bike Racks fit all cars?
When planning to purchase a bike rack, this is usually a common question nearly all clients ask. Before buying a bike rack, the first question should be what type of car or vehicle you have and how many bikes you would like to carry.
Notably, bike racks come in different styles. Some can be mounted on the roof of a vehicle, while others on the rear trunk or hatch, on the spare tire or bed of a pickup truck, or in the hitch receiver. The vehicle you drive will determine the type of racks that will work for you. With the type of racks that can work for you, it is easier to narrow down to the most suitable or preferred style based on the number of bikes you want to haul using the bike rack.
Conclusion
Your objective is to carry bicycles for yourself, your family members, your kids, and possible friends on your vehicle; you need the right bike rack. The right bike rack fits nicely on your vehicle, securely transports it, and is durable enough to give you value for your money.
Finding the right rack can be tiresome, with different makes, models, and pricing points. And if you are not keen enough, you might end up with the wrong rack, which is a safety hazard, can lead to scratches on your car, or can leave you with a stolen or damaged bicycle.
To maximize your bike rack, we have compiled this guide to help you pick the best bike rack that suits you, your family, and your vehicle. First, however, it is essential to find the recommended bike racks from your car manufacturers' websites before purchasing one.
If none is recommended, you can check for reviews online, social media groups, and rack manufacturer websites for the most suitable bike rack information.
To this end, we hope that you will select a suitable bike rack for your family's cycling needs.
Related Reading:
Please Rate This Article
SEND