By the time you are done reading this article, you will be at peace that your kid's bike won't be stolen. This article will help you make up your mind for the best bike lock for your kid's bike.
Notably, Kids' bikes, whether balance bikes or pedal bikes are a great investment. For young girls and boys, bikes are by far one of the most precious toys.
So how can you secure their bikes against theft? It's simple; by fastening them with a good bike lock.
A bike lock is clearly of importance but just how do you find the right one for your kid's bike?
Well, truth be told, the most secure locks tend to be the heaviest and least portable while the most portable ones open doors for theft. Therefore, finding the right balance between portability, weight, and security is key.
The best locks are designed to lengthen the time it would take an opportunistic thief from taking advantage yet still practical enough for riders to use/carry on a day to day basis.
Take a look at our trusted review of the best locks for kids' bikes in the market today.
How to Choose a Bike Lock for your Kids' Bike - A Guide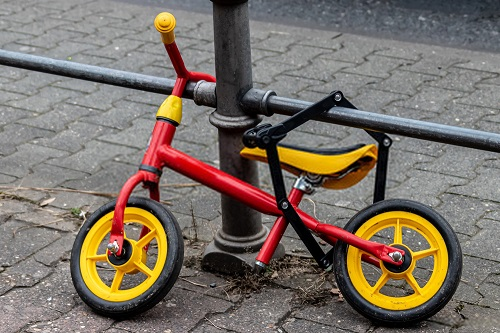 Care to find out exactly what to look out for when looking for a bike lock? Here is a reliable buying guide.
1. Type of Bike Locks
There are several types of locks; each differing in terms of size, weight, security, practicality and even ease of use. You will find that some are easily portable while others not so much but all in all they all have their own advantages and disadvantages.
Let's have a look at each one of them.
(a) U-locks/ D-locks
A u-lock is basically a giant padlock that gets its name from the metal that forms the letter 'U' or 'D' where it attaches to the crossbar section.
It works by fastening it around your bike or whatever item you want to secure and solid and firm objects such as a bike rack, pole, or parking meter.
They work best when attached to a rigid object as opposed to just tying the frame to the wheel. This is because while the opportunistic thief cannot break them in time, they can easily carry the whole bike to a separate location where they have time to break the u-lock-free.
The advantage of a u-lock over other locks is that they are highly resistant to cutting with the use of power hand tools such as bolt cutters. However, they are unfortunately susceptible to leverage attacks by jacks especially if there's enough room between the locks and the item being secured.
For this reason, the best u-locks are those that are extremely hard and therefore highly resistant to grinding. Their keyholes are also designed to resist attack by drilling.
When in use it is advised to leave little to no room to allow for a jack or crowbar to be inserted and forced open with enough force.
Although u-locks are very reliable they are also limited in size and shape such that they are not as flexible as chain, cable, and folding locks which can be maneuvered to secure more objects or from awkward angles.
Ultimately, this rigidity further makes them more difficult to carry than other types of locks.
(b)Chain/Coil Locks
Chain locks consist of a long metal chain and a key or combination lock attached on one end.
They are usually accompanied by a protective sleeve to prevent damage to the bike's paintwork as well as to secure the chain itself from the elements.
Their main advantage is their strength and length. Those made of hardened steel are the best and toughest to cut. For this reason, they are appropriate for high-crime areas.
The cheapest chains are made of basic iron or steel and are thereby the easiest to cut.
A long chain lock can attach the bike to an immobile object and still wrap around the frame and wheels of the bike.
Another thing to note is that the padlock needs to be just as sturdy as the chain lock itself if it doesn't come with a locking mechanism. Otherwise, a thief may easily cut through a thin lock and free the bike.
Compared to other locks, chain locks are disadvantaged in that they are also quite heavy and therefore a hassle to transport. Although their length and flexibility ease this by a notch in that they can be wrapped around a wider range of objects- widening their use in comparison to u-locks.
For bikes, we recommend chain locks with a thickness of less than 12mm and thicker chains for stationary locks.
(C) Cable Locks
Cable locks consist of a length of cable wrapped in protective material.
They usually already have a permanently integrated locking mechanism being either a combination or key lock
Cable locks are similar to chain locks in terms of length and flexibility but they are better in that they are more portable due to their ultra-lightweight nature.
These locks work best in low-crime areas as they can, unfortunately, be cut quickly with bolt cutters (especially when the cable is unprotected). They are however a great weapon against the opportunistic thief who isn't usually equipped with such tools.
Plus the more robust ones are usually protected with overlapping steel jackets threaded over the cable in order to make cutting the central cable more difficult.
They also work great as secondary security measures used to secure removable bike components such as the wheels or saddle. Otherwise, for high-risk areas, you are better off combining them with a u-lock for the frame of the bike.
(d) Folding Locks
Folding locks are the most innovative locks in the industry right now. They consist of a series of metal plates linked together through attachment bolts
As the name suggests, they usually fold into a compact form for storage and unfold to fasten around the bike.
The locks are by far the easiest to carry and are lighter as well as more flexible than u-locks. However, they just aren't as durable nr as strong as the unmatchable u-locks.
(e) Looped Locks
Like we've said, many cable locks are better used in conjunction with u-locks; which is how looped cable locks were created. They basically consist of a u-lock with an additional length of cable that has loops on each end.
The cable is intended to secure the wheel or saddle.
2. Security
The second thing you need to consider when choosing a u-lock is the level of security needed.
The strength of the lock should match the level of security you seek. For instance, if you reside in highly insecure areas where you intend to leave the bike unattended for long periods then you will definitely need a stronger lock as compared to a lower risk area.
This is especially if the bike is pretty rad or expensive and thereby appealing to on-lookers.
Mid-security locks work great for low-risk areas where you intend to leave the bike for less than an hour.
So then, how do you determine how strong a lock is? Because remember, this is essential in determining whether or not the lock will provide the level of protection you need.
Keep in mind that all bike locks, regardless of the type, are susceptible to being broken off. What you want to do is choose one that lessens the probability of theft or the time it would take.
With just enough time and the right tools, any thief can steal.
That said, with u-locks and chain locks, the strongest locks are usually the thickest. U-lock shackles and chain links whose diameter measures less than 13mm will most likely succumb to medium-sized bolt cutters.
Therefore the thickness of 13mm and above (say 15mm) are more secure/ resistant to breakage. Although the biggest bolt cutters will still do the trick.
For maximum security, chain links and u-lock shackles with a 16mm diameter are practically impossible to cut.
There are several online security testers such as SOLD SECURE or ART which are non-partial and use standardized methods to measure the performance of a lock. These include machine tests (such as tensile strength, torsion strength, resistance to corrosion, freeze tests, etc.) and test engineers for the brute and intelligent attacks for combination locks.
At the end of their test, they rate the locks with pertinence to the security they offer.
But that's not all there is to the strength of a lock. Read on to find out what else determines the strength of a lock.
3. The Combination Mechanism
A lock really is just as strong as its weakest link. And truth be told, even with the strongest and thickest locks, the locking mechanism can end up being the weakest link.
Combination locks allow the user to set their own personal code. They are usually accompanied with instructions on how to set the code.
The great thing about this type of locking mechanism is that one doesn't have to carry a key with or experience the worry of either losing or forgetting to carry one.
All you have to do is to remember the code.
With the lowest quality combination locks, thieves can easily peer into the grooves between the disks and decipher the unlock combination. All they have to do is cycle through the individual numbers on each disk and easily unlock the mechanism.
And the risk of this happening is even higher with a lower number of disks.
Keyed locks are susceptible to lock picking tools although the best key locks are designed to counter this.
They can either use flat keys or cylindrical keys; both of which are highly secure. The great thing about them is that are usually equipped with two or more keys to serve as a backup in case one gets lost.
4. Security
Away from the strength of a lock, you also want to consider how much it weighs.
For kids, you want a lock that doesn't add too much weight to the backpack which inevitably strains their backs depending on what else they are carrying.
Cable locks are therefore appropriate for the youngest riders while u-locks and chain locks that are heavier are more suitable for older kids.
5. Durability
Listen, while you want to protect the bike from theft, you don't want to do so while imposing damage on the frame of the bike. That is why you need a lock that has measures against this.
The durability of the bike and the lock itself shouldn't be compromised while the lock is in use. So you want a lock that is highly resistant to water and extreme weather damage.
The metal of the lock itself could be engineered to be this way or it could feature thick vinyl coverings for this purpose.
Summing Up
What we have in this article is not only the list of the best kid-friendly bike locks but also some advice on how to select the best bike locks for your kids' bikes.
A bike lock may not be the most exciting tool to purchase but they are worth every penny. The truth is that a great bike lock will serve you many years even as the kid graduates to the next bike
And here's what most parents need to hear; the wrong decision might cost you their favorite bike.
With that in mind, you want a lock that's highly secure yet easy enough to use on a day-to-day basis. In essence, a great balance of security, portability, and ease of use. And you can look for that in each of our reviewed locks.
So choose one and secure your peace of mind!