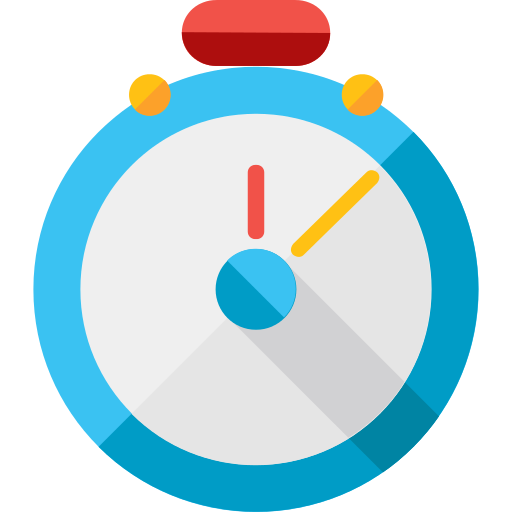 12 Minutes Read
Snowy climates are part of our experience, but cutting the mountain biking fun for it can be boring. The fat bikes or fat tire bikes as they are also known extend the MTB season to all year-round. Even when the grounds/trails are wet, a fat bike will perform greatly thanks to its grippy giant wheels.
Besides, fat bikes are also handy during bike packing, bike camping, family tours, and riding on extremely sandy surfaces. The larger tires perform their magic by maintaining low pressure over soft surfaces, which makes a ride smooth even when your bike is unequipped with suspension systems.
If you are looking for kids' fat-tire bikes, you can find both high-end-priced fat bikes and cheap fat-tire bikes. Even though there are 16-inch fat-tire bikes and 18-inch fat-tire bikes, our focus is drawn more to 20-inch and 24-inch fat-tire bikes. (We are also exploring the option of including 26-inch fat bikes soon)
Fat bikes are quite literally the new talk of the town but let's be real; not everyone knows what these bikes are, how they function, or why there are models that are sized for kids.
Worry not; that is what we are here for, we have it all figured out in this best fat tire bikes for kids review.
Let us take a deep dive into everything you need to know about fat bikes.
1
Diamondback El OSO Nino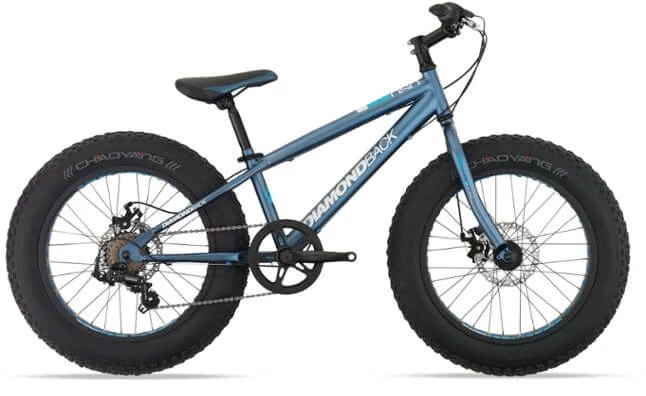 Best for 7 years and above
Weight 35 pounds
Wheel size 20 inches
Number of gears: 7 gear(s)
Frame: hi-ten steel
Brake type: mechanical disc brakes
REVIEW
If your kid loves adventure then this bike will thrill them!
The El Oso Nino is the mini version of the El Oso Grande from Diamondback so you can be sure that you are getting nothing but top-shelf quality.
Its high tensile steel frame and fork are extremely sturdy; so much, so that handling rough terrains and dirt trails is a breeze.
The 20-inch wheels and 4-inch tires work great for stability and the low pressure enables the bikes to grab every bit of traction while giving you a unique floaty feel on snow, sand, and mud.
The El Oso Nino is further decked out with Apex mechanical disc brakes and a 7-speed Shimano drive train.
Not only are you graced with a variety of gearing options but the gears also allow easy shifting
In addition, with adventure comes the need for sudden, accurate stopping and control of the bike; which is exactly what the powerful disc brakes do.
Being the smallest fat bike from Diamondback, you can rest assured that it suits the youngest riders.
This bike's tires will literally roll over any surface so be they beach riders or winter cruisers, all will have a blast on this one.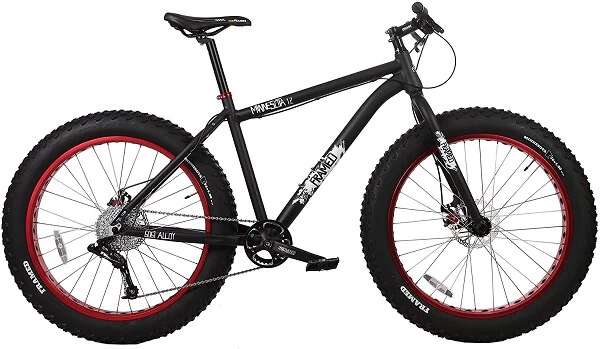 Best for: 9 years and above
Weight: 34.3 pounds
Wheel size: 26 inches
Number of gears: 10
Frame: aluminum
Brake type: Mechanical disc brakes
Best use: medium trail/ off-road
The framed Minnesota 1.2 is just the bike you need to burst into the fat bike scene. You can easily tell that a lot of thought went into its design.
Like its predecessor (the Minnesota 1.0 from Framed Bikes), the Minnesota 1.2 features superior quality components and performance.
The only difference is that the Minnesota 1.2 features a tapered head tube so you can install a framed carbon or suspension fork from Rock Shox if you'd like to experience a different riding style and better feel of the bike.
This is what makes the Minnesota 1.2 unique.
Like most fat bikes in our review, it requires professional assembly; which is the only reservation we have about this bike.
Even so, a myriad of other high-quality features is abound. For instance, a lightweight but sturdy 6061 aluminum frame and an oversized alloy fork speak of the bike's high quality and durability
The fork can accommodate wheels sizes ranging from 26" x 4.8" to 29" x 2". Therefore, the rider can enjoy both summer and winter riding by swapping out fatty slims for fatter winter tires. Having multiple wheel configurations broadens the options of the type of riding that one can participate in with one bike. Furthermore, the larger tires on this bike roll faster and push through obstacles with ease
In addition, this bike comes with high-quality components such as the SRAM 10-speed drivetrain. That way, the rider experiences extra smooth gear shifting on all terrains
Lastly, a Neco 10mm sealed bottom bracket allows smooth turning of their cranks and prolongs the life of the bearings by keeping them away from the elements. Not only that, but they also protect the rider from grazing the bearings and possibly harming themselves.
This all goes to show that the Framed Minnesota 1.2 fat bike is a solid entry-level fat bike.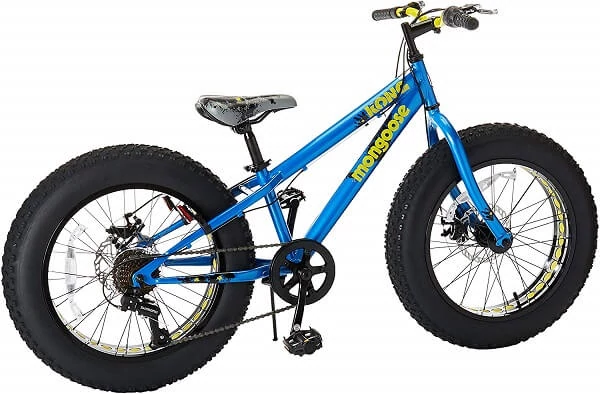 Salient Features
Best for: 7 – 13 years
Weight: 41.8 pounds
Wheel size 20 inches
Number of gears: 7 gear(s)
Frame: hi-ten steel
Brake type: front and rear disc brakes
REVIEW
We have witnessed it, and oh my! Kids can literary do anything they wish while riding the Mongoose Kong fat tire bike.
The Mongoose Kong fat tire bike features durable construction with a steel frame that is sure to withstand any abuse thrown at it.
It is equipped with a massive pair of 4-inch tires that are excellent for traction and stability no matter the terrain. The kids can extend their trails and cycling fun on snow, in difficult terrains, and on wet surfaces with herculean confidence.
Its powerful front and rear disc brakes are the perfect way to negotiate sharp turns and bring this bike to a sudden stop.
The gear ratio is easily adjustable through the bike's seven-speed shifters for a custom riding experience.
This bike is also adjustable for kids between 48 and 60 inches tall so you are sure that it will stay with your kid as they grow.
Every rider on this bike will be sure to conquer every trail they navigate. So with a kickstand for convenient storage of the bike, what more could you want from a fat bike?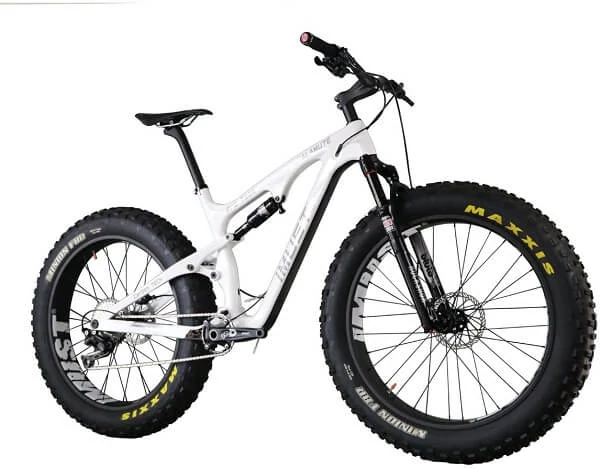 Salient Features
Best for: 8 years and above
Weight: 34 pounds
Wheel size: 20 inch
Number of gears: 11
Frame: carbon
Brake type: Shimano hydraulics brakes
Analysis
The most expensive bike on our list is a full-suspension fat bike from China's IMUST. The IMUST Malamute is also the only carbon fat bike in our list.
A full carbon frame, RockShox suspension, and carbon rims make this bike an industry special.
This fat bike takes the cake for being even lighter weight than aluminum and the shed weight translates to it being extremely maneuverable by young riders
It features a full suspension system pegged at 120mm travel whose shock absorbency is off the chain. With RockShox Bluto fork up front and Rockshox Monarch XX shock in the back, the bike's tires effortlessly conform to the irregularities of any trail giving the rider a floating effect and saving them from fatigue especially after a long ride.
At the same time, an 11-speed gear range helps the tyke tackle hills with ease
Not only that, the bike is also anatomically correct for the young riders. It features an integrated headset and sealed bearings so your child is kept away from harm's way while riding. The bike's functioning also remains smooth without the interference of outside elements on the bearings.
To further wrap beauty with performance, the bike comes equipped with a pair of Shimano hydraulics brakes, which give the little shredder ultimate stoppage power on any trail.
Verily, this fat tire bike was built with performance in mind!
Even though, neither the cheapest nor the lightest bike on this list, the IMUST Malamute will surely and graciously take your child through winter riding. Ultimately, you definitely get your money's worth by seeing your kid have the fun regardless of the terrain or the weather.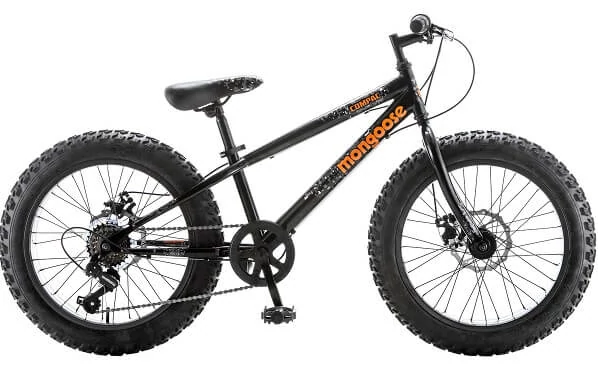 Salient Features
Best for: 8 years and above
Weight 39 pounds
Wheel size 20 inches
Number of gears: 7 gear(s)
Frame: hi-ten steel
Brake type: dual mechanical disc brakes
REVIEW
Mongoose bikes never disappoint and the Mongoose Compac is no exception.
This bike will take your kid everywhere you can imagine, as it is equipped with all the features you could want in a kid's fat bike.
The massive 20-inch by four-inch tires combined with seven speeds with a Shimano rear derailleur, enable the bike to conquer any terrain under it.
Riders have the easiest time changing gears to enable them to charge up hills or roll over sand and snow.
The front and rear disc brakes allow the bike to stop in its tracks be it in wet or sandy conditions.
Equipped with a steel frame, the machine is not only extremely sturdy but also lightweight so navigating the bike will not be an issue.
This frame style offers high-ground clearance for exciting bike explorations.
Lastly, it comes with the convenience of a kickstand for easy parking.
All this and so much more make the Mongoose Compac a great bike for beginner-level riders.
6
Krusher Men's Dynacraft Fat Bike (8107-57TJD)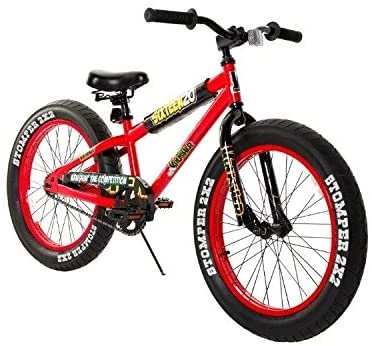 Salient Features
Best for 6 – 10 years
Weight: 33 pounds
Wheel size 20 inches
Frame: Steel
Brake Type: Coaster brakes
REVIEW
This is the perfect bike for adventurous boys between 48 and 53 inches tall.
If nothing else catches their eyes, the red/black color mesh and graphics of the bike will be sure to do so.
However, there is so much more to this bike than its visual appeal. The focal point of the bike is its wheels and tires.
The Dynacraft Krusher 20 inch boy's bike is equipped with oversized tires that are sure to keep the ride stable and comfortable even on uneven ground.
The bike further boasts of a deluxe BMX steel frame that is lightweight and super-durable. It also features a padded saddle, an adjustable seat post and cozy grips for extra comfort during long rides.
The bike's coaster brakes further allow kiddos to have solid control of the bike while enabling them to enjoy bumpy rides and easy parking/storage owing to the bike's alloy rims and kickstand.
Lastly, the superior Mountain Bike (MTB) handlebars promise the best rock climbing experience in style.
If you want to explore natural terrains with your kid then this is exactly the type of bike that you grab for them.
7
Early rider Trail Runner XL (14")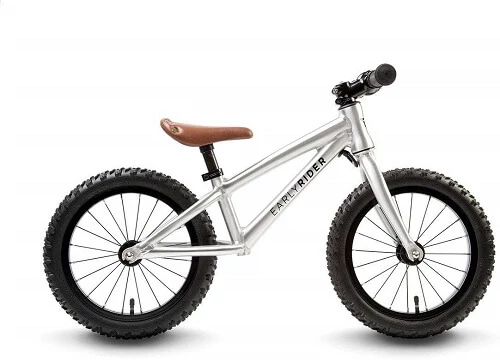 Salient Features
Best for: 3 - 6 years
Weight: 8 pounds
Wheel size: 14 inches
Number of gears: none
Frame: aluminum
Brake type: none
Analysis
If you thought balance bikes are just two-wheeled bikes that are limited in terms of where they can go; think again.
The Early Rider Trail Runner fat balance bike is a unique addition to the balance bike world.
What we love the most about this bike is that it helps build your child's confidence in a way that many other balance bikes can't. Glazing over the sandy beaches is now a breeze with the pneumatic XL knobby tires that the bike comes with.
This is thanks to the one-of-a-kind grip that the bike offers; especially on dirt tracks.
Thanks to a lightweight aluminum frame and fork, this 14" mini-fat bike is so easy for the youngest riders to navigate. Unlike any other fatty we've reviewed, this bike boasts of weighing a mere 8 pounds!
You can be sure that the child will automatically take to this bike.
Tapered aluminum fork blades demonstrate just how this bike is perfected for a child's geometry while sealed cartridge bearings demonstrate that safety is certainly also a priority.
Moreover, a stylish and highly innovative faux leather saddle keeps your child highly comfortable.
As with the majority of balance bikes, it lacks a braking system but that's not a cause for alarm as most children in this learning stage know how to instinctively stop using their legs.
Listen, if you are running on a tight budget then this is not the bike for you as it is very highly-priced
But it compensates for the high price with high quality, lightweight, comfort, style, child-appropriate fit, durability, and great performance both on and off-road make this fat bike such a worthy investment.
To sum it, the Trail runner XL is an absolute off-road machine that brings fun to the earliest riders in such an innovative way.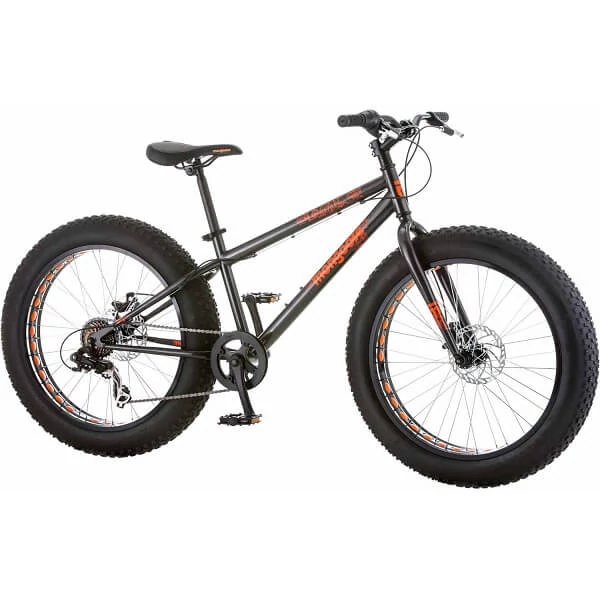 Salient features
Best for 7 years and above
Weight 35 pounds
Wheel size: 24 inches
Number of gears: 7 gear(s)
Frame: hi-ten steel
Brake type: mechanical disc brakes
Analysis
The Mongoose Logan is another entry from the Mongoose fat bike series.
If you're looking for the occasional beach companion then this fat bike will do the job with utmost precision. But truth be told; if you're looking for an everyday bike that you intend to use all through the day then this might not be the best option for you.
That aside, this fat bike is truly a reliable beast as it offers great traction and stability off-road. This is because of its supersized 4-inch wide tires which enable it to effortlessly roll through just about any kind of terrain.
The tires are supported by light, yet strong drilled alloy rims that not only add to the support of the bike but also its durability.
This fat bike boasts of a durable steel mountain bike design and to top it all off, it is backed by 7 speeds that enable riders to even take on hills.
A 7-speed shifter and Shimano rear derailleur enable smooth gear shifting to get through any route that the bike takes on.
Furthermore, the speed control and stopping power provided by the front and rear mechanical disc brakes that the bike adorns puts a seal on your child's safety regardless of the conditions that they are riding in.
The only drawback to this bike is that it comes poorly assembled and requires professional assembly. So if you're not an expert you best take it to the local bike shop, otherwise you will work up a sweat trying to set it up!
But once fully assembled, the 24' Mongoose Logan fat tire bike will soldier young riders through snow, sand, and anything in between with ease.
For a budget bike, the Mongoose Logan is impressive!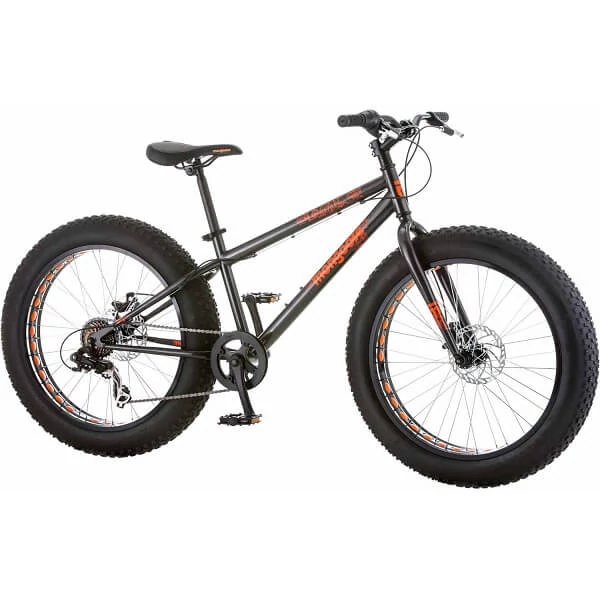 Salient Features
Best for 10 – 15 years
Weight: 44 pounds
Wheel size: 24
Number of gears: 24-speed Shimano
Frame: aluminum
Brake Type: Dual mechanical disc brakes
REVIEW
Last but certainly not least; Mongoose Vinson is one of the best and most popular fat tire bikes on the market.
The Mongoose Vinson is the ideal bike for the smallest of the pack who want the freedom to let loose and explore.
The bike's aluminum frame does a tremendous job at reducing its overall weight; which is great as the youngest riders can easily navigate it through rugged terrains.
This bike boasts of one of the most versatile gear ranges; and at a reasonable price. With 24 speed options, the bike's gear can be adjusted for whatever speed you want for the type of terrain you are riding over.
SRAM X4 Shimano front and rear derailleur make for smooth and precise gear shifting
Not to mention the super-sized 24 by 4-inch wide fat tires deliver maximum traction and stability for hassle-free riding on muddy, sandy and snowy. The tires are supported by a durable alloy rim set, which is not only lightweight but also extremely durable.
Its 3-piece crank works great for smooth gearing and minimal maintenance due to reduced wear.
The dual mechanical disc brakes that come with the bike make for a powerful and instant stop, which is especially crucial for rugged terrain.
It does not hurt that it comes from one of the most trusted brands for fat bikes so you get the best of the best with this bike.
All You Need to Know about Fat Bikes/ Fat Tire Bikes
What are fat bikes?
As the name suggests, fat bikes; also known as fat tire bikes or fatties, are special kinds of bikes that are equipped with massive tires that run 4 inches or wider.
How do fat-tire bikes function?
Tires with big volumes run at much lower pressures as compared to normal bike tires. This factor makes them great for loose and muddy trails because tire pressure (which we'll dig into later) greatly affects the force impacted upon a trail.
To avoid sinking, the tire pressure needs to be low in order to also lessen the force of impact. That is the mechanism of fat-tire bikes.
With that said, fat tires have an advantage over the average bike tires in that because they can run at entirely low pressures, they can float on surfaces where normal bikes would sink in.
The increased floatation is what makes these bikes perfect in heavily snowy and sandy areas where normal mountain bikes, roads, or cross tires just wouldn't do.
In addition, the ability to run at low pressures allows these tires to cover greater surface areas and in turn, the wider distribution enables increased traction; great for both dirt and snow.
A brief history of fat bikes
So where exactly did the idea of fat bikes come from?
Well, fat bikes date all the way back to the 1980s when Alaskan riders previously accustomed to riding mountain bikes found shortcomings in the machine as they could not journey through snow and ice.
Soon after, the riders would lace two rims side by side and install four tires; two at the front and the other two at the rear; through what was known as the tandem rim concept. This was the earliest version of the fat bike.
Over time, various modifications took place including removing the inner walls of the side by side rims to create a singular wide rim; although these versions were limited to wheel dropout spacing.
Thereafter the popularity of fat bikes still continued to rise with great challenges such as how to get the chain around the fat tires and even greater solutions such as a wider crankset and an offset frame became abound.
In recent years, the attempt to conquer sand dunes through fat bikes and fat bikes has evolved to accommodate lighter frames and symmetrical designs.
Today, almost every bike brand offers fat bikes while there are also a number of specialty brands that limit their production solely to fat bikes.
The wide variety of makes and models have left riders spoilt for choice with new creations such as e-fatties that offer much-needed pedal assist when riding uphill.
Let's see how beneficial these machines are.
What are the benefits of fat bikes?
You're probably wondering. "Why exactly should I invest in a fat bike?"
Primarily, fat bikes were created to thrive over sandy and snowy trails. This means that fat bikes can extend not only when you ride a bike but also where you can ride.
Although there are many advantages that come with fat biking, these are the main ones:
Fat bikes extend the riding season.
Gone are the days when bikes would be locked up in garages when winter season came crawling in.
Fat bikes promise great stability when riding over snow.
With them, you can ride through all seasons but especially so in the fourth season as there is no chance of the bike sinking into the snow and you get stuck in the frigid conditions.
Fat bikes have such an impressive record of riding in winter conditions that a lot of cyclists now invest in these bikes with the goal of exploring sub-zero cycling and previously unridden ungroomed winter tracks.
This new winter sport also fetches income for tourism agencies that engage touring cyclists where they were previously limited.
But their use extends beyond one season as these bikes are well-equipped to be able to be ridden any time of the year! How's that for versatility goals?
Fat bikes create and extend the trails riders can explore
If there's anything else that fatties can take the credit for, it's that they have also extended trails for frequent and adventurous riders.
Whereas before, cyclists would be unable to ride over sandy stretches, today cyclists are not just limited to previously ridden trails. In fact, there are a lot of recreational organizations that are grooming trails specifically for fat bikes
Other daredevils have made their own legacies through fat biking. For instance, in 2014, Daniel Burton became the first person to cycle to the South Pole on a fat bike.
This proves just how reliable, convenient, and pioneering these bikes are.
Originally, they were invented for snowy and sandy trails but the truth be told you will appreciate the extra travel on trails that only fatties can promise to reach.
Their ability to conquer any terrain is certainly unmatchable.
Fatties help keep you in shape during winter
Fat biking is a rad style of riding that ensures that when the winter season arrives, your fitness goals don't have to suffer.
While gyms get less crowded, these super-wide tires enable riders to burn calories and still enjoy themselves through a sport they love.
Fat tire bike buying guide
Fat bikes are designed for extreme riding.
Like we mentioned; a lot of evolution has taken place since the first fat bike and needless to say, a lot goes into the creation of a fat bike.
Different models of fat bikes exist and as expected, these models vary in terms of materials, standards, weights, capabilities, pricing points and so much more!
However, a little research can guide you in the right path to finding the ideal fat bike especially if you are looking to purchase one for your kid.
Here are the key pointers to purchasing a fat bike.
The question that you need to ask yourself is "How fat do I want to get it?" In other words, "how much floatation do you want from your bike?" The choice here is whether to get 4-inch tires or bigger.
By now, we all know that fat bikes are not limited to certain seasons or trails. With that said, the size of your tires will be dictated by the type of riding you intend to do.
If you will be riding local groomed tracks or in normal conditions then you might have no use for the extra inch of the tire. They'll be sluggish and generally just no fun!
However, if you will be venturing into sandy areas for long periods at a time then you might want to look into fat tires.
Rim width and tire width need to be in sync.
Fat bike wheels cost an arm and a leg so you need to be careful before you make your purchase.
If the rim width and tire width are not in line then the shape of the tire can be affected. Additionally, incorrect pairing such as a wide tire fused with a narrow rim can lead to the tire burping
Typically, rim widths are within 50mm to 100mm and above
For 4inch tires, stick to rims between 60mm and 80mm wide while for 5inch tires, you need to pair them with 80-100mm wide rims.
Riding tubeless is another consideration that is recommended. It's a great way to shed weight and simultaneously avoid flats.
We highly advise that you purchase a frame that can accommodate a fat tire of the largest size you will want. That way, later on, you can install a smaller wheelset for a plus tire.
There's a difference between fat tires and plus tires so the reverse cannot work as fat tires won't fit on frames that are meant for plus tires at the largest.
So be sure to choose the right frame depending on the type of riding you will be doing.
Rigid, front, or full suspension
Fat tires use their volume to greatly increase traction by increasing the amount of contact the tires have with the ground when pressure is exerted
A lot of people are often confused with regards to the suspension factor.
In essence, suspension entails an ability to control external forces such as bumps and hard corners. Additionally, the suspension helps stabilize the bike by enabling the bike to accurately track the terrain as opposed to bouncing off and deflecting from it.
Most fat bikes being sold now are rigid. Go for a rigid bike if you intend to add the fat bike to your fleet of bikes as opposed to having it as your primary bike.
However, if you intend to use your fat bike as your primary bike then consider one with a suspension fork.
You want to buy a bike with a suspension system or alternatively get a suspension system that you can attach to the bike separately such as RockShox suspension.
Front suspension bikes, also known as hardtails; entail a front suspension fork but no rear shock. Good front suspension enables the bike to soak up bumps and easily roll over them
Front suspension bikes certainly have additional weight and cost but you will appreciate the extra travel offered. These bikes take you farther than you could ever imagine on a bike!
Full suspension bikes have a suspension fork as well as a rear shock. You want to invest in a full-suspension bike if you will be riding advanced technical trails as opposed to cross-country trails.
Trek Farley and the Salsa Bucksaw are great examples of full-suspension fatties that exist in the market today.
Tire pressure dictates the amount of contact/ interaction that the fat bike has with the ground.
The thing about tire pressure is that it can be changed for different conditions, and how well your bike rolls through sand or snow relates directly to your PSI
A difference of just 1 or 2 psi can be felt in a fat tire because of the large air volume. And this significantly affects how the tire interacts with the terrain.
8psi is common for fat bikers riding in soft conditions although depending on the right conditions fat bikers have experimented with psi as low as 5!
That said, a digital pressure gauge is a great tool to have if you plan on using the fat bike regularly.
On firmer trails, you can increase the pressure up a couple of psi to inflate the tires for a smoother ride.
Inflation on soft surfaces such as mud and sand, and snow needs to be low to not put pressure and sink.
The reason why fat tires do not perform as well on firmer surfaces, such as paved roads, is that they are under-inflated for such surfaces. They also do not have enough grip on the terrain.
Naturally, fat tires are designed in such a way that they have rolling resistance. This feature is both advantageous and disadvantageous, depending on the terrain.
While on soft surfaces such as snow or sand, the rolling resistance enables them to grab or grip the terrain, but this tends to diminish for firmer surfaces.
Fat bikes can be used on all types of terrains, but you need to know what tire pressures work best for the different terrains.
Related Reading: Best PSI for bikes.
The Q factor of a bike is the distance between the pedal attachment points on the bike's crank arms. In other words, it is the measurement between each foot/pedal.
Due to the clearance needed for wider tires, the Q factor tends to also be a lot bigger as compared to normal bikes.
Q factors vary depending on the bike's crankset, pedals, and how wide the cleats are set apart.
Fat bikes have a bottom bracket whose width varies between 100mm and 120mm and a Q factor of 200mm and above depending on the crankset used.
Contrary to how it sounds, clipless riding is a system whereby the rider's shoe clips into the bike pedal whereas flat pedal is where the he show just lies on a flat surface.
Flat pedals are advisable over clipless pedals especially when riding in frigid conditions
Clipless pedals can be difficult to use especially with wide cranks which is why you will certainly feel the difference of wider q factors.
If you've had knee issues in the past then the combination of wide q factors and clipless pedals will certainly be uncomfortable.
As with other bikes, frame material has a significant effect on the bike's weight. Solid construction is always important so the material needs to be premium but weight optimization is just as important.
Fat bikes do not necessarily ride fast and at low speeds, the momentum is also usually low; which means that the weight of the bike needs to be manageable. Otherwise, moving the bike can easily become a challenge.
The lighter the material the better for you, especially if you plan to have the fat bike as your primary machine
Aluminum and steel are common, although carbon fiber is quickly gaining momentum. A few titanium models exist but they are more visually appealing than anything else. Plus they cost a lot more.
The thing about carbon frames is that they are more expensive but they save weight
Opt for steel and aluminum frames. These are great options as they are sturdy and have optimal weight.
On the same note, you also need to take note of the wheel, rim, and frame combination as it plays a huge role in the overall weight of the bike.
The rule of thumb here is to go for lighter materials but to also ensure that the bike is sturdy enough for the type of riding you intend to put it to.
Shedding pounds off a bike, later on, can be quite difficult especially if the frame/tire combination isn't flexible.
Alternatively, you can opt for electric assistance for a better experience.
When it comes to brakes you need to consider the ease of setting it up, adjusting it, and generally using them.
Disc brakes can be hydraulic or mechanical; both of which are great for fat bikes as they offer increased control and extra stopping power with minimal effort.
Although hydraulics disc brakes are more expensive, they require less maintenance and adjustment as compared to mechanical disc brakes whose only advantage is that they can be mechanically repaired if they go wrong.
Mechanical disc brakes are highly advisable if when riding in the arctic, but let's be real, what are the odds that you'll be riding in the Arctic Circle?
Hydraulics disc brakes work great for warmer temperatures.
If you intend to use them in cold conditions, one that uses DOT fluid would be a better consideration as it has a lower operating temperature and retains a consistent feel in frigid conditions as compared to mineral oil (Shimano).
SRAM and Magura are good examples that use DOT fluid
It is important that you consider the type of gearing of your bike as well as the ease of use/adjustability.
Riding uphill and downhill can be made so much easier with gear changing.
Low gear would work great for tours especially considering the added weight that comes with wider rims and tires. Not to mention any additional gear that you will be carrying.
There'll be less strain on your legs with low gears.
Aside from low or high speeds, you also need to consider the gain ratio and shifting mechanism.
The gain ratio determines how easy it is to start pedaling the bike and how fast it can go.
It is determined by the wheel size, crank arm length, and number of teeth on the front and rear cogs
A high gain ratio requires more effort to get started but allows the bike to travel further with every pedal stroke. It works as a high gear on an adult bike
On the other hand, a low gain ratio requires less effort to get the bike started but requires more pedal spinning to get the bike going. It works like a low gear on an adult bike
As for the shifting mechanism, aggressive riders, especially mountain bikers, prefer trigger shifters- operated by pulling or pushing levers with your fingers; over grip shifters.
Foam grips are a better alternative to rubber or plastic grips as they do a better job at insulating your hands from the handlebars
Fat bikes are especially popular for winter riding and truth be told; staying warm as you ride has to be among your first considerations.
Although working on the bike helps generate heat, there are other considerations that you need to keep in mind.
Be sure to always dress warmly, especially if you intend to venture into winter riding.
An additional layer in case of an emergency, pogies for hands, and the appropriate riding boots/shoes will have you ready for the journey on a fat bike
When to replace fat tires on a bike?
As with other bikes when they are worn out or when their performance is bad.
By bad performance, we mean if you have a sudden streak of flats then you know that your tires need to be replaced.
All the same, be sure to check out the tires regularly and especially before embarking on a trip to avoid being stuck with a flat tire in freezing temperatures.
Parting Shot
When it comes to fat biking, any people ask "why?" But the real question is "why not?"
If properly equipped with the right fat bike and appropriate clothing, there really is no excuse for staying indoors.
Fat bikes will have you cruising sandy beaches, climbing up mountains, and riding over the snow as they are designed precisely for this type of riding.
There are a few things that you need to keep in mind before pulling coins out for a fat bike. These include:
Tire width is dictated by the riding you intend to use the fat bike for
The lower the tire pressure, the greater the tire's capability on soft terrain
The lighter and sturdier the frame, the better for the rider
Suspension is a plus for rolling over external forces such as bumps
Wider tires have wider rims and Q factors that offer a unique riding experience/ stance.
Disc brakes are the best for instantly stopping fat bikes
Hydraulic disc brakes (with DOT fluid) work better than mechanical disc brakes, especially in warmer conditions
Keep that in mind, and you'll be good to go.
If you want to convert the tires to tubeless, use our tubeless bike conversion guide.
Happy riding!
Please Rate This Article
SEND