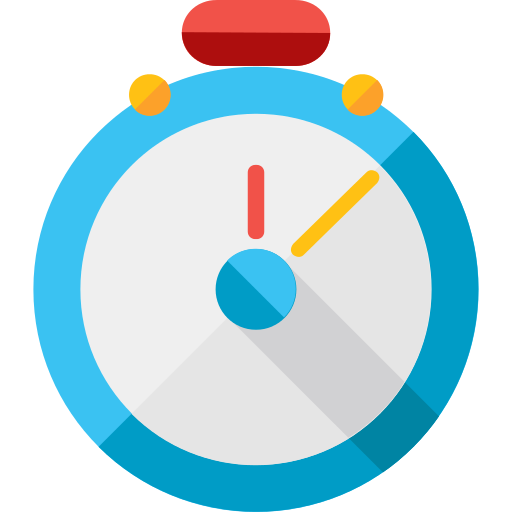 12 Minutes Read
So your little bundle of joy has just started developing their walking skills, and their energy levels are all over the place. So this is just the perfect time to instill an active lifestyle for the young one.
You want to help them build up their muscles and attain a sense of balance, but at the same time, you want them to have fun.
A baby bike/ ride-on toy is just what you need to do the trick.
Most baby bikes are a cross between a toy and a riding tool. These bikes are designed to aid with independence and balance while offering support. And they do so in such a fun way!
If you want to enable your child to develop riding skills at an early age, these mini bikes are by far the best introduction to biking. After that, you can get them a balance bike, then move on to their first pedal bike, and finally, they can branch into specific types of bikes that align with their interests.
But for now, we've assembled the best baby bikes in the industry today and a reliable buying guide for little Maggie or little Kevin's first bike. But before then, what are the different types, you may ask?
Erh! You can also select the best three-wheeled scooters for kids and see if they will be interested in them. The goal is to get them out, keep them active,a nd let them have all the fun they can experience.
Categories of Toddlers bikes for 1-3 year-olds
As you ask yourself, what is the best bike for a toddler? Here is a categorization table for the different types of bikes for toddlers. However, we highly recommend ride-on toys and balance bikes, given toddlers' physical and cognitive development levels.
Type of Toddler Bike
Features of the Toddler Bike
Ride-On Toys

These types of toddler bikes are recommended for toddlers between ages 12-18 months.

They come in three or four wheels and enable the toddlers to scoot around on their bikes.

They are great for little ones who have an appetite for riding but are not just ready for balance bikes.

They are a perfect birthday gift for cycling families who have kids within the age range.

An example is the Hape Scoot Around, which is a sure way to whet the cycling appetite for the little ones.
Balance Bikes

Balance bikes are great for confident toddlers while running, above 18 months, and have an inseam of at least 11 inches.

Balance bikes have great advantages. First, they teach toddlers the art of balancing and controlling a bike at a young age.

Above all, they save you from buying bikes with training wheels.

With a balance bike, your toddler will gain a natural riding experience. However, while using these bikes, it is important to know the limit your child can go to.

Seat SMART goals when training them on how to ride.

Check out our list of the best balance bikes. You might as well be interested in our best wooden balance bike compilation.
Training Wheels and Tricycles

We, for the best reasons, Do Not Recommend training wheels and tricycles. However, we covered that in our article that details why balance bikes are superior.

Yes, they were an option for us when we were young, but better ways to learn how to cycle. Balance bikes perform better compared to these two.

If you are into tricycles, you should check out the Wishbone-3-in-1 tricycle that can convert into a small balance bike.
Now that we understand what types of bike options are there look at the best bikes for one-year-olds.
1
Ancaixin Baby Balance Bike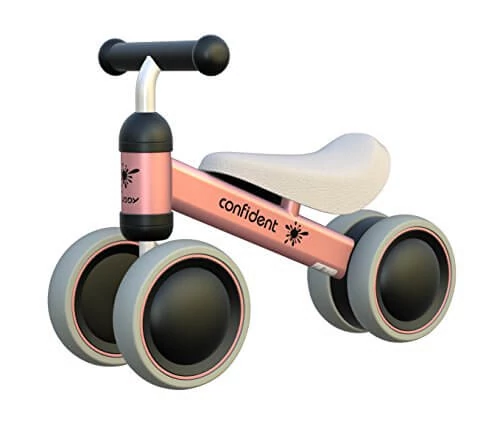 Dimensions – 20 x 7 x 14 inches
Ancaixin baby balance bike kicks off our list for the best baby bikes in the market today. Although the brand name itself may not sound familiar, this product's features meet all the needs of children in the early walking stages with ultimate precision.
This child walker is a popular choice among parents with one-year-olds owing to its perfectly balanced design.
For starters, the bike seats very low to the ground so that it offers exceptional stability to the young rider. If you're an avid cyclist, then you know how important this is for the youngest riders.
The mini-bike is further structured with four fully & wide enclosed wheels that perform two critical roles. Firstly, the four wheels ensure that the 10 months to 24 months old child who is yet to master balance can be given a steady and solid foundation, and secondly, being enclosed, the wheels ensure that the baby's feet remain protected as they leap forward.
With such great stability and closeness to the ground, even if the child falls off the bike, chances of them hurting themselves are very minimal.
This mini bike is also a trend-setter with its solid but lightweight structure. Made of steel frame and plastic wheels, it is entirely light and easy for a parent to carry the bike around and store it when the child wears out.
Children who are just learning to walk take the bike very instinctively, making it the perfect bike before moving on to larger balance bikes.
This is because it is perfectly sized for them such that their feet touch the ground when they are on and in no time, they have mastered pushing the bike forwards and backward.
With a soft and supportive seat, steering limiter, as well as decals and stickers to finish off the look of the bike, what's not love about this bike.
In fact, our only complaint about this bike is that it does not feature height adjustments to allow for growth.
That aside, if your child is at the "almost-walking" stage, this four-wheeled child walker is an excellent way of enhancing their leg strength and balance.
Sturdily constructed
Easy to assemble
Compact size doesn't take up a lot of room
Safety certified
Two-year warranty
Seat height can't be raised
Heavy compared to other brands of bike seats
For the smallest children hence can be quickly outgrown
2
Ybike Pewi 2-in-1 Walking/ Ride-on Toy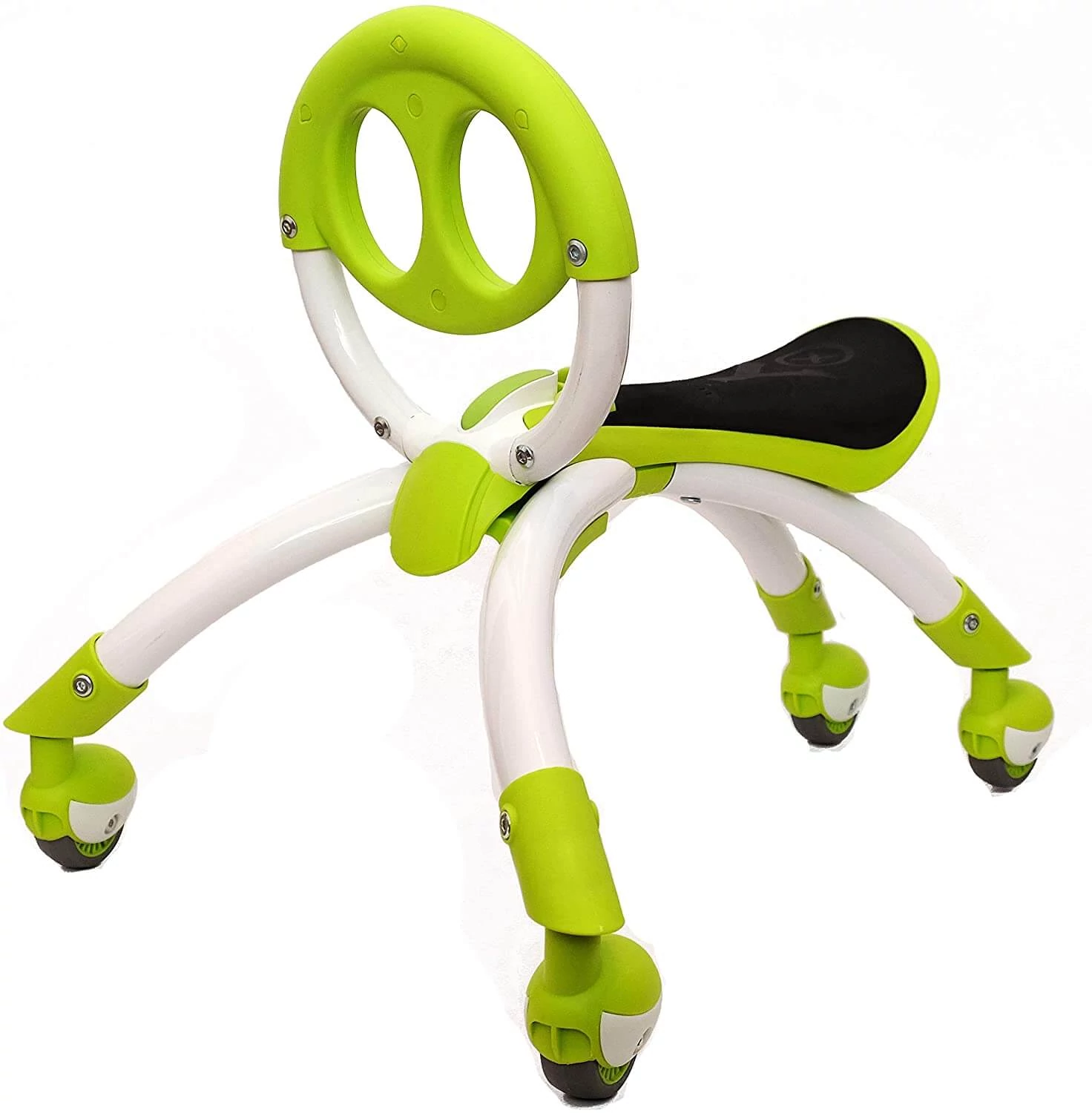 Weight limit - 44 pounds
Dimensions - 22 x 18 x 18 inches
The Ybike Pewi bike is an award-worthy mini trike aimed at enhancing the development of important motor skills such as balance and coordination in a fun and exciting way.
It is innovatively designed to mimic a chair and a horse outwardly, but its way of functioning is where its charm is.
Firstly, a unique thing about the Pewi is that it features four small, caster-style wheels, which are multi-directional and give 360-degree movement. This is entirely different from the steering-limited wheels that we've seen beforehand.
The rubber wheels are smooth and roll fast, but the best thing about them is that they can be used inside and outside the house.
The bike is smooth on thick carpets, doesn't leave marks on hardwood floors, and is incredibly silent even on tiles! Plus, a thin rubber covers the wheels, making them extremely easy to clean after outdoor use.
With such a broad base, tipping is kept at a minimum and only becomes an issue if the bike is rolled at fast speeds.
Another great feature is that the Pewi can be used both as a push-toy/ walking aid to learn to walk and will still be useful as a ride-on long after learning to walk. And it requires little effort to function in either position.
Additionally, unlike most baby bikes, it doesn't feature steering and instead just has a holder that doesn't guide the bike's direction.
The bike is mounted on a lightweight aluminum frame, while the rest is plastic save for the seat, which is fitted with soft foam. Needless to say, most parents loved how easy to clean the plastic is and how cozy the bike is in general.
The Pewi's only fault is that its height is not adjustable; however, it is a winner in our books for being very versatile in its use.
For toddlers between the cruising and independent walking stage, the Ybike Pewi is a perfect fit.
Super sturdy and well made
Innovative design functions as both a walking toy and a ride-on bike
Smooth caster-style wheels allow movement in all directions
Improves balance and grows with your child
Fun and highly attractive for babies
Caster wheels can move really fast hence caution is needed with beginners
Assembly takes longer than most 9approximately 15-20 minutes)
3
Hape Scoot Around Ride-on Wooden Bike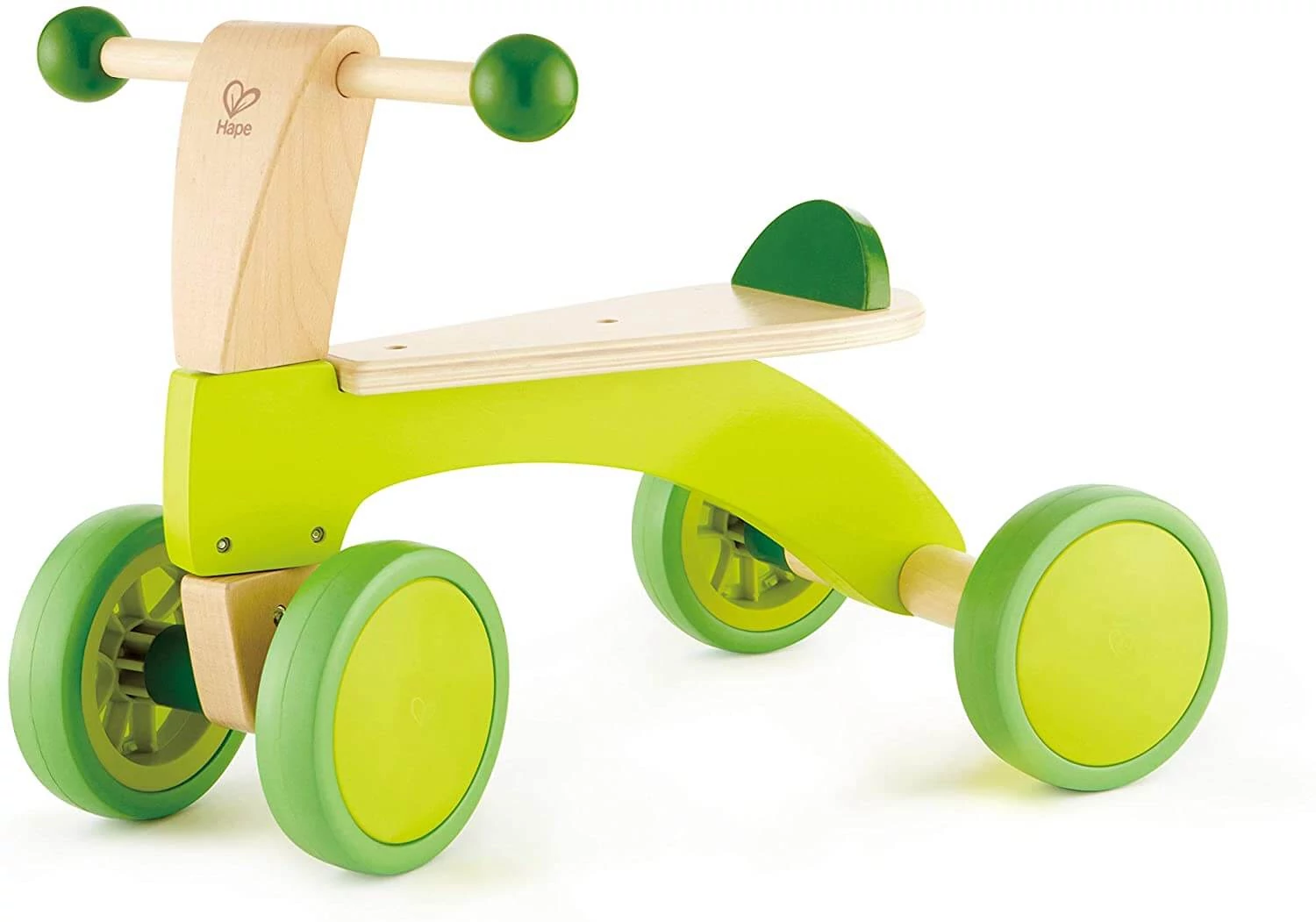 Dimensions- 18.1 x 4 x 14.2 inches
The Hape wood Scoot bike can be described in many ways, but one word surpasses all: environmental-friendly.
This bike is made from wood sourced from environmentally sustainable forests and finished with bright green water-based paint.
The bright green color appeals to kids, and the solid wood construction appeals to their environmentally-conscious parents; however, that isn't all there is to this mini bike.
This bike leads in terms of stability.
Its handlebars are set high, which is perfect as it allows the bike to accommodate the growing size of the kid. Not only that but it is also paired with a wide and highly comfortable wooden seat with a small backrest to keep the kid on the bike.
As for navigation, four rubberized wheels roll effortlessly and with just the right speed for young riders, all while protecting the floor they glide on. This makes the bike a great indoor and outdoor toy so that you can expect daily use from your toddler.
The wheels are well-balanced, with two closely set ones at the front and another two in the rear that is wide set to administer exceptional balance and stability.
The Scoot Around has a simple yet highly functional design featuring a short floor-to-seat height so the child can easily reach the floor with their feet.
It further features a turning limiter to prevent tip-overs that might end up in injury. As they get older, a larger window of steering can be allowed, but for users who are still in the walking stage, the limiter is perfect.
With such outstanding features, it is no wonder that the Hape Scoot is an award winner. So if you are in the market for a non-toxic mini bike to help with muscle development and balance, then the Hape Scoot Around should be your first stop.
Cute and high-quality wooden design
Outstanding stability with well-balanced wheels
High handlebars encourage an upright sitting position
Comfortable wide seat
Smooth-rolling anti-slip rubber wheels
Limited to one color choice
Seat height isn't adjustable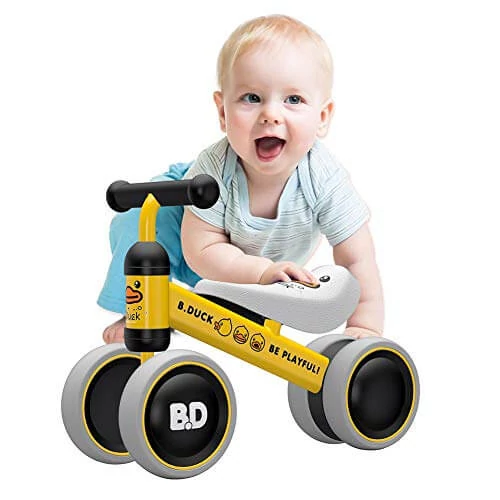 Making the next debut is the YGJT baby balance bike.
This China-made mini bike takes the cake for being one of the most robust minibikes we've ever come across.
The bike's frame is made of highly durable and sturdy carbon steel, so you can be sure that it will not only serve the first child well but will survive long enough to also be of use to younger siblings.
Although height and weight are appropriate for kids between 10 and 24 months, we warn that the bike lies on the smaller side. So if your toddler is bigger in size than most, you might want to test it out before the purchase.
All the same, the YGJT mini bike is a perfect choice for growing families.
This infant bike was easy and straightforward to assemble as it came with an instruction manual and picturized instructions that simplify things – only taking a minute to put together.
A pedal-less design necessitates natural/ instinctive propelling from the child and is backed by nice wide and noiseless EVA wheels that spin freely and resist slipping. This makes the bike especially great on flat surfaces, including carpet and wooden floors!
It further features a PU seat set low and close to the handlebars and centered between the wheels, enabling the child to maintain an upright sitting position.
As far as comfort goes, the bike is equipped with soft handlebars and a soft EVA seat that fully and comfortably supports the child.
And as for safety, it features fully enclosed wheels to prevent clamping baby's feet and a steering limiter that protects the child. More importantly, it is qualified for use, having passed CPSC requirements, and is ASTM and CE compliant.
The only other thing we are concerned about is that we wish it could grow with the child, but unfortunately, the seat lacks an adjustable mechanism for its height.
Ultimately, if you're in the market for a small toddler's bike to introduce your child to bike riding, then this is a great choice.
Sturdily constructed baby-sized bike
Easy to assemble
Great for indoor and outdoor use
Anti-skid widened EVA wheels
Available in five colors with super cute duck graphics
Not height adjustable
Too small for bigger toddlers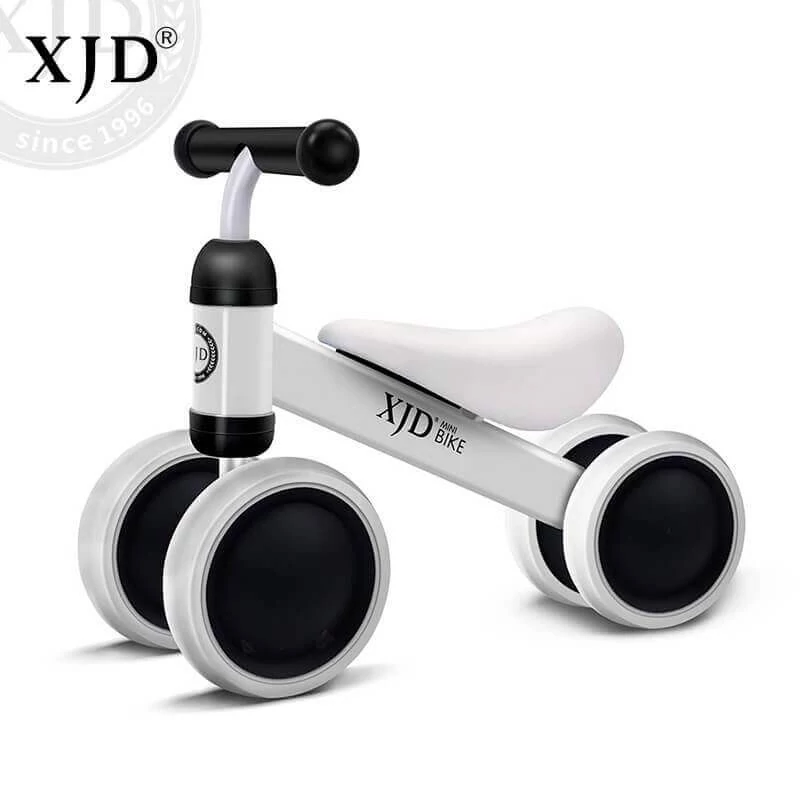 The XJD baby balance bike is one of the smallest balance bikes we have ever come across!
To start with, it is so light (weighing approximately 4 pounds), meaning that children between 10 and 24 months can efficiently steer the bike and even build upon speed as they get older.
The handlebars are also positioned lowly, and the bike further has a low step-through frame allowing babies to quickly and independently get on and off it. It features a low seat height that allows the child to sit with both feet on the floor and get the leverage needed to push the bike.
Being sized for the smallest riders, we recommend using the kids' size rather than their age to guide your purchase. This will save you a ton of confusion once your package arrives.
That aside, the bike is well-made with every intention that it will last long. Thanks to a steel construction that is very sturdy supported by four quality EVA wheels, which roll smoothly.
The wheels are fully enclosed for safety, and being noise-free means that the bike can be used anywhere at any time!
This adorable bike is also designed to minimize the danger of riding with a steering limiter that limits turning beyond 135 degrees. Although stiff, this restriction is a huge protectant for the youngest and smallest riders.
Like the YGJT baby balance bike, a very lightweight steel frame makes this mini bike great for the youngest riders and the earliest walkers.
Great for the smallest riders
Low-step through frame makes it easy to get on and off
The lightweight structure allows easy maneuverability
Soft, comfortable cushioned seat
Available in multiple striking colors (with a super cute duckie theme)
Very small, meaning children may outgrow it really fast
6
Bekilole baby balance bike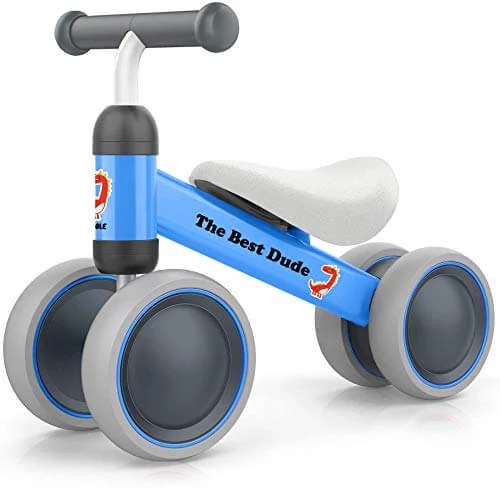 This pre-balance bike from Bekilole is as close as one can get to a balance-bike-like construction.
Featuring three wheels instead of four like most baby bikes we've featured in our review.
The three wheels are set in the reverse of the tricycle design in that two wheels are placed at the front and one at the back. Surprisingly, this design is quite advantageous as it offers the necessary support for the early rider.
There is literally no chance of the bike tipping over as it is set to be heavier at the front- and the single wheel at the back challenges the young rider to learn how to balance.
This three-wheeled design is also a great precursor to a two-wheeled balance bike as it not only delivers the best stability but also instills confidence in the earliest riders.
A low center of gravity further keeps the bike steady, while a low step-through frame eases mounting and dismounting.
Another great and unique feature bout this bike is that it entails a one-piece high-quality steel frame design, which makes it extremely hard to decline no matter how much abuse it is subjected to.
The handlebars are made of non-slip EVA and feature a 135-degree turning limiter to prevent sharp turns and jackknifing.
With EVA wheels that are sure to last, the Bekilole baby bike just oozes high-quality craftsmanship. Furthermore, the frame can hold a weight of up to 90kgs- speaking of just how sturdy it is.
It comes with attractive color options with fun theme designs featuring zebra and giraffe prints, which will excite the kid.
Lastly, it features a large cushioned seat whose only flaw is that it is fixed and can't be adjusted to grow with the child.
This pre-balance bike from Bekilole is otherwise an excellent tool for promoting coordination, stability, and muscle development- and the closest one can get to a balance bike design.
Mimics the design of a balance bike
Reverse tricycle design offers better stability
Wide, sturdy, and durable wheels
Non-slip EVA handles
Seat is fixed
Small so not suitable for bigger toddlers
7
Avenor Baby Balance bike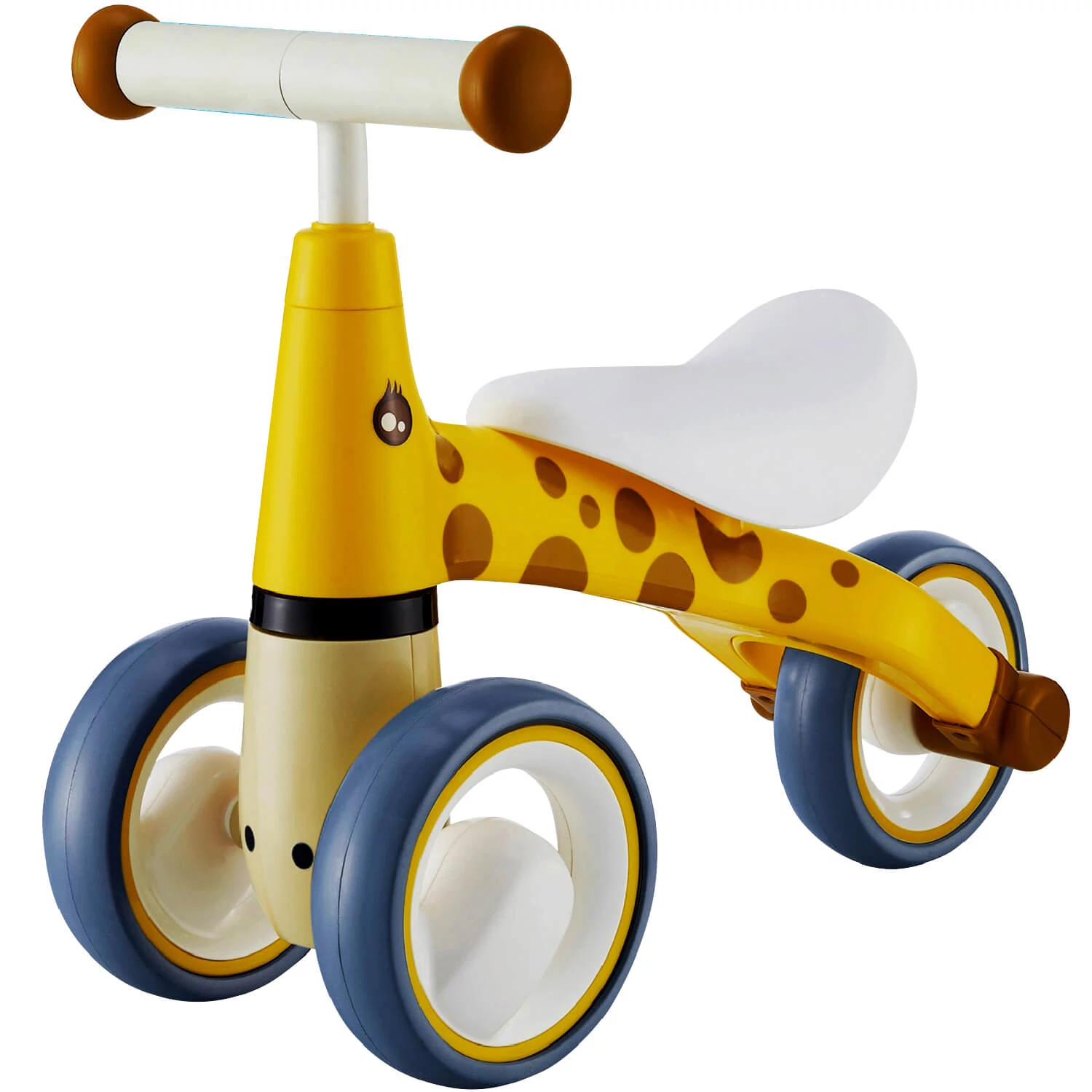 The Avenor baby balance bike is just the perfect bike for babies too young for a pedal bike.
This bike boasts of a sturdy design made of a carbon steel frame that holds up well after extended periods of use. Despite the steel frame, it is surprisingly very light in weight, merely weighing just over 4 pounds, which is excellent as one-year-olds can quickly push the bike.
While the frame is made of metal, its handlebar grips are made of EVA foam, and the wheels are widely designed with thick plastic. The handlebar also features a turning limiter to prevent the bike from over-flexing (beyond 135 degrees).
Akin to the balance bike design, the Avenor is pedal-less, so the child instinctively uses their feet to balance and stop the bike.
Its seat is made with PU leather. Compared to most, this isn't the most comfortable seat, but it isn't hard to sit on. The advantage of this material is that the seat is scratch and water-resistant, so it can easily be cleaned with a wet sponge.
We love that the Avenor is perfect for indoor use. This is optimized by the bike wheels being noise-free and anti-vibrant. What surprised us more is that it glides just as smoothly and 'silently' on gravel as it is on wood surfaces.
However, the seat height is not adjustable, which means that the bike will either have to be handed down to the next child or re-sold once your little one outgrows it.
This bike just embodies convenience! It comes 95% assembled and is incredibly easy to put the remaining parts together. Then, within one or two minutes, the little tyke can be ready to go.
And with a small design, storage isn't an issue as the bike can be easily tucked in the trunk of cars.
The Avenor baby bike makes for a perfect first bike for babies who are just starting to walk or can already walk!
Four-wheeled baby balance bike
Lightweight yet sturdy carbon steel construction
Works as both walker and bike
Mute wheels
The seat is not height adjustable
Only two color options
8
Joovy Tricycoo 4.1 TRICYCLE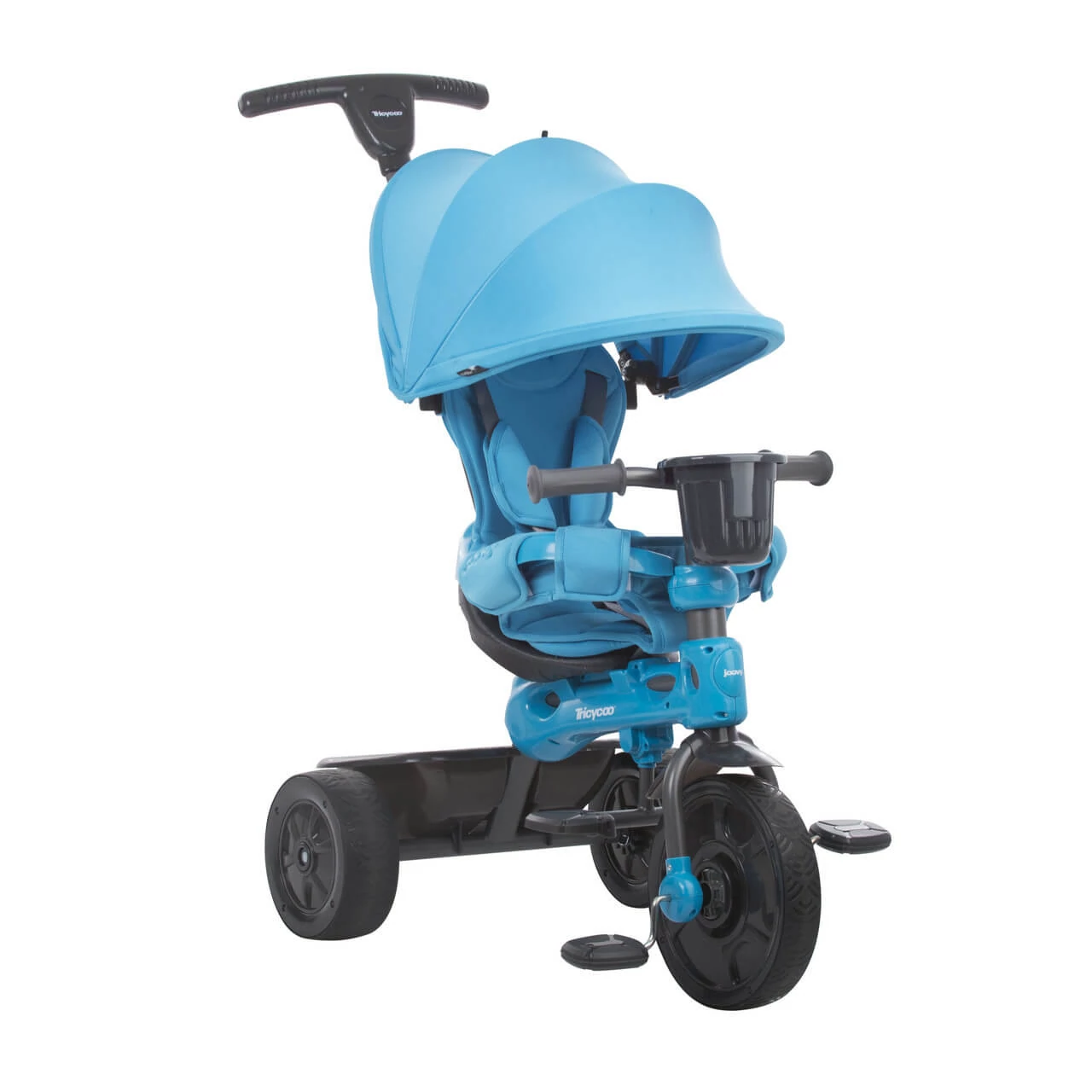 DIMENSION – 6 x 4.2 x 10.3 inches
Maximum weight - 44 pounds
The Joovy Tricycoo is one of the newer versatile creations whose thrill factor is in its design.
Unlike most tricycles, this is a four-stage trike that accommodates all the developmental stages of a child.
It can be used as early as 10 months old, and the elements such as the surround arms, parent push bar, and harness can be removed to transition the Joovy Tricycoo from a stroller to a well-functioning tricycle.
A big front wheel enables easy maneuvering when the mini-bike is in use in stroller mode. And regardless of the terrain, the stroller travels quickly.
Like a typical stroller, it features a handlebar for steering by the parent. The push handle is removable and adjustable from 32.5 inches to 38 inches to accommodate the parent's height and promote their comfort.
However, the push handle received several complaints about being flimsy and makes steering the trike somewhat hard, especially considering that it can be navigated with the child's handlebars.
This is especially hard when the child starts figuring out the tricycle's navigation system- a little too early.
The front-wheel locks are in place for safety, and the pedals can activate the tricycle to be used independently by the kid.
The Joovy Tricycoo features a deluxe seat pad that offers maximum comfort, removable surround arms for protection, a footrest that folds down as well as a harness that holds the child in place.
The comfort features don't end there as the Joovy Tricyccoo further features a large UVF 50 canopy to provide sunshade for the child. To help with the storage of essentials, the bike/ stroller is equipped with a rear storage basket.
A stand-out feature of this tricycle is that its seat can be adjusted in three positions to fit the growing child continuously.
As you can see, the many configurations of the Joovy Tricycoo make it a must-have for kid-raising households.
4-stage bike smoothly transitions from stroller to tricycle
Padded seat and straps enhance comfort
Rear storage compartment
Massive sunshade for solar protection
The parent handle is flimsy
It doesn't break down for compact storage
9
Radio Flyer Scoot About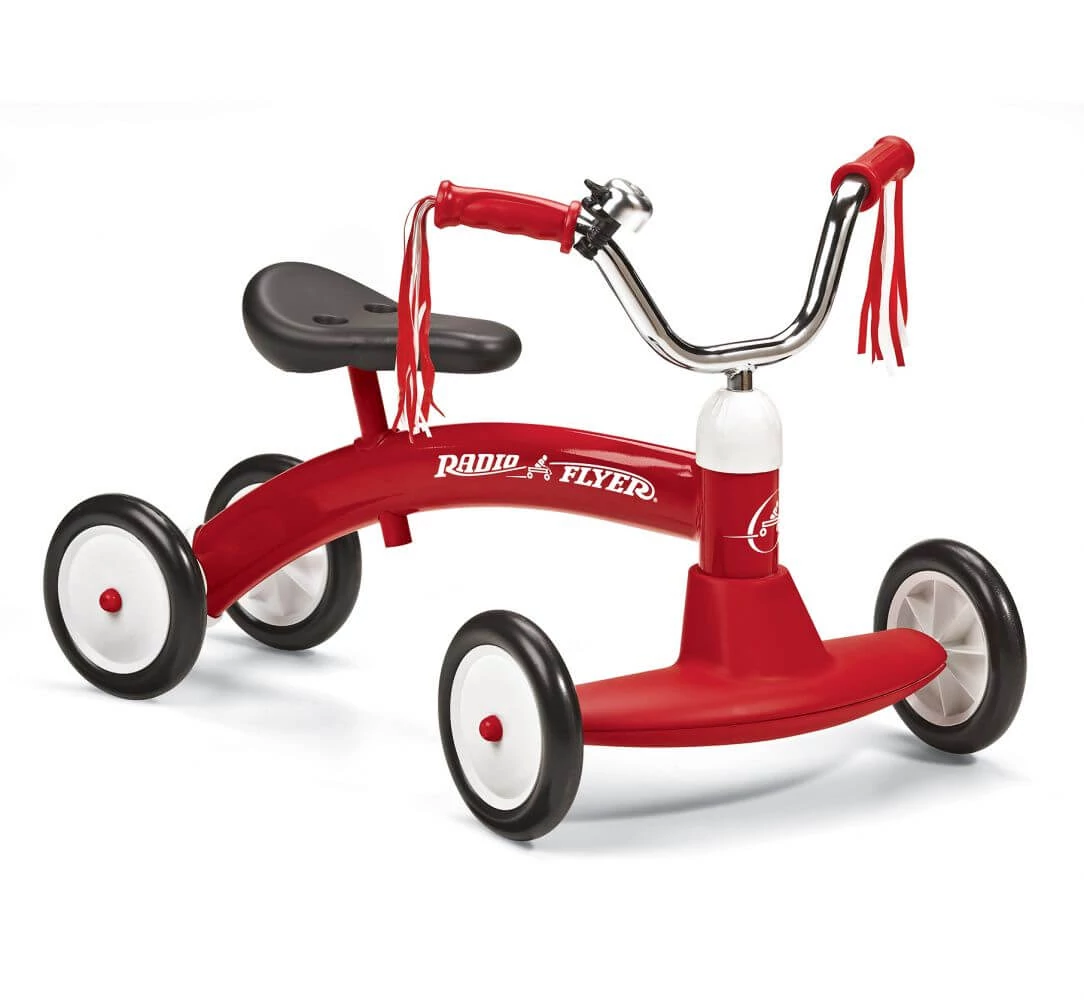 Radio flyer has never disappointed as it is infamous for creating classic toys. And the Scoot About by Radio flyer is an excellent choice for babies who love to ride in style!
Spotting a classic red steel frame, black and white rims, and stylish chrome handlebars, this mini-bike mashes style with functionality!
A high-quality steel frame speaks of the bike's sturdiness, while wide-set front wheels enhance the bike's stability and enable smooth steering.
One unique thing about this four-wheeled mini bike is that its front wheels are embellished with a protective bumper whose advantages all parents will appreciate. The bumper is not only an aesthetic feature but also functions to prevent the child from accidentally running into walls and furnishings or, worse yet, even flipping over.
On the flip side, some parents complained that the front bumper was a barrier for kids as they try to propel the bike forward- but that wasn't registered as a flaw, among many other parents.
But back to why we fell in love with this baby bike; unlike most mini-bikes in our review, the Scoot About features an adjustable seat. In addition, the seat can be moved up or down depending on the child's size, which means that as they grow, this classic bike will be right there with them.
Finishing off its look are red and white streamers that move with the rhythm of the bike, as well as a bell that will surely add to the fun of the bike.
This is by far the coolest of the bunch, and thus this retro-style baby bike is an ideal fit for the coolest toddlers between one and three years old.
Retro style is excellent for kids who love the style
Features a protective bumper
Extremely easy to put together
Widespread front wheel design offers excellent stability
The seat has three height adjustments
Some users complained that the bumper gets in the way when riders try to push forward with their legs
10
Little Tikes 5-in-1 Deluxe Ride & Relax, Reclining trike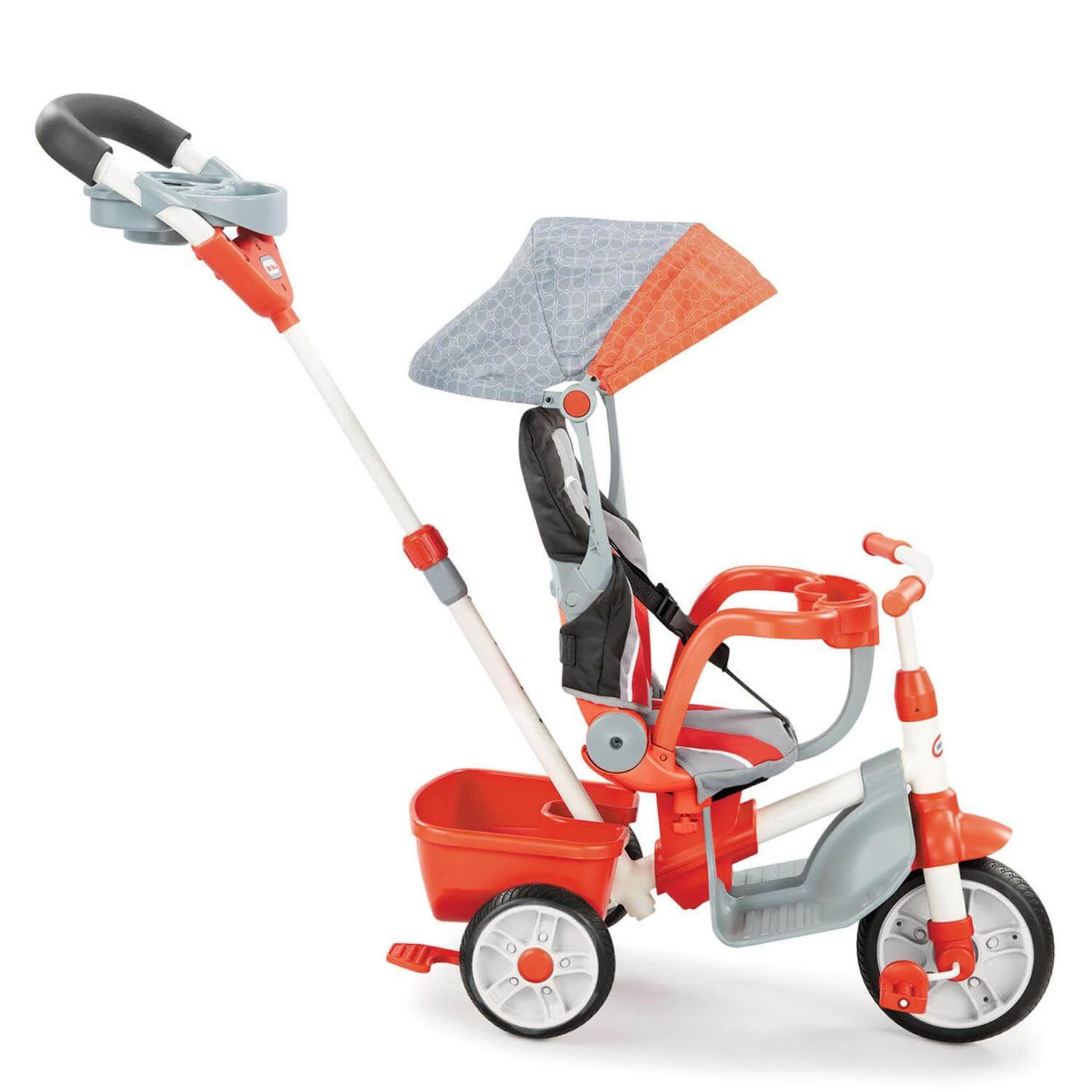 Weight limit – 50 pounds
Dimensions - 11 x 23.3 x 16 inches
The Little Tikes 5-in-1 deluxe trike can be described as fun, stylish, and, more importantly, very safe.
It transforms from a parent pushing stroller mode all the way to a pedal tricycle that kids can steer on their own once they are all grown up.
And that's the beauty of it- like the Joovy tricycoo, this tricycle cum stroller grows with the child and allows them to form an unforgettable bond.
A stylish and soft cushioned seat enhances the child's comfort and is appropriately sized with a high back for additional support in all modes. In addition, the seat can be simply adjusted with the flip of a switch to enable it to be tailored to the child's size.
A restraint keeps them safely tucked within and can be removed for use in tricycle mode once the toddler ages.
It also features a push bar for the parent and a waist bar for the child, which are detachable. What we loved the most about the waist bar is that it is quite extensive instead of the regular bar meaning that you can place items when the bike is not in motion.
A foot platform for resting the little one's feet and protecting them from bumping into the pedals adorns the bike, while a large storage bucket located at the back of the seat allows stowing of riding essentials.
This bike features a three-position reclining seat to keep sleeping children in a comfortable position, as well as a full shade canopy that offers excellent sun protection.
Like most conversion trikes, the complaint was that the push bar is quite flimsy compared to standard strollers and even presents a hassle when trying to make sharp turns. Understandably so as the bike isn't made to take sharp turns
In the tricycle mode, the child can finally propel the bike unsupervised. When the child is old enough to do so, it is an excellent aid at exercising and teaching balance.
Ultimately, it is the well-thought-out conversion modes of this trike that sold this trike for us!
Great for kids of all ages
Soft cushioned seat enhances comfort
Full shade canopy for sun protection
Foot platform protects little feet
It does not fold down for compact storage
The parent push bar is wobbly
Honorable Mentions
11
Radio Flyer 4-in-1 Stroll N' Trike, RED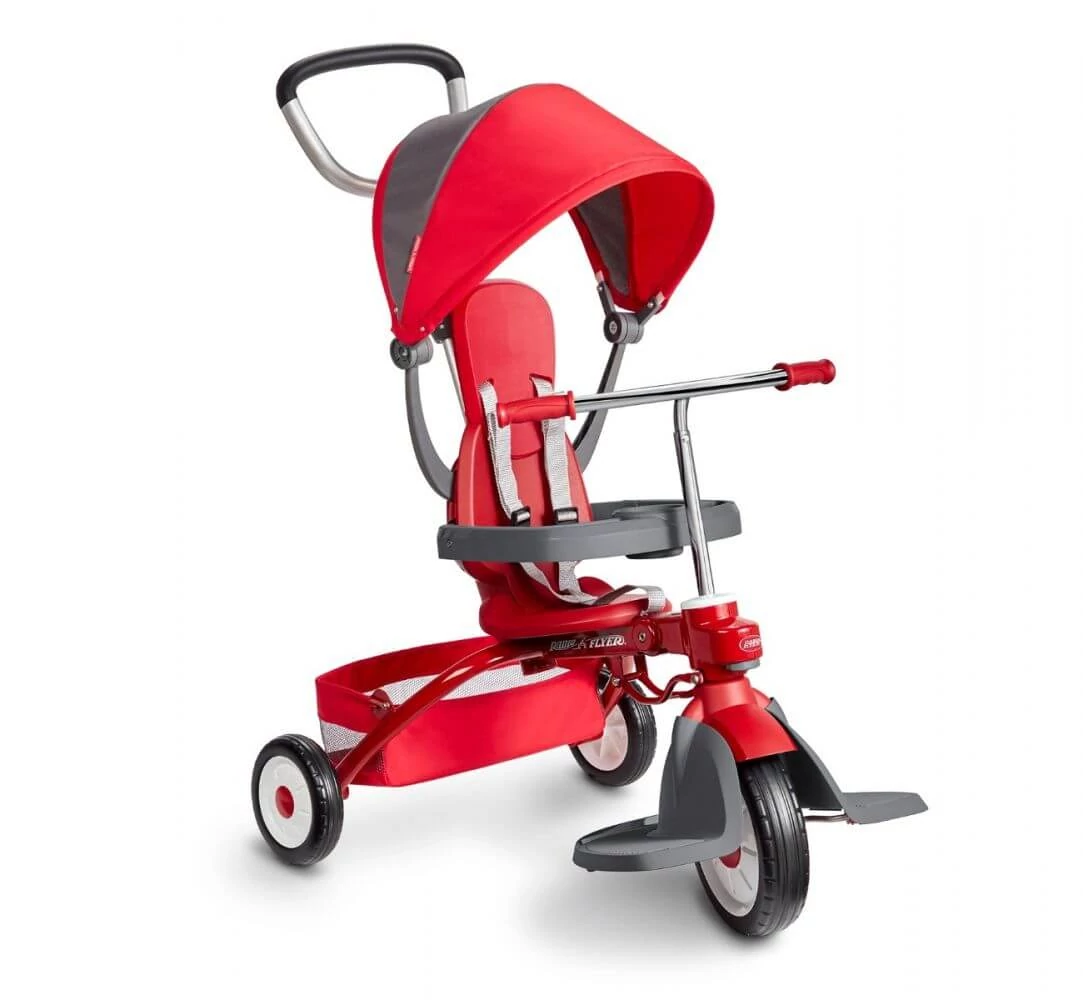 Dimensions - 28.7 x 22 x 41.3 inches
Weight capacity - 49 pounds
Radio Flyer is a brand that is recognized for making masterpieces in the toy world- with roots dating back to 1917, so we expect nothing but the best from them.
That said, the 4-in-1 Stroll N' Trike is a must-mention for its exceptional combination of a trike and a stroller. It is the upgraded version of the classic Radio Flyer toddler tricycle with a twist in that it starts as a stroller that eventually grows with the child.
Believe us, this stroller cum trike is everything that a parent is keen on teaching their child how to ride needs.
Like most machines that eventually convert into trikes, the Radio flyer stroller and trike spot a removable footrest for use with the youngest riders and removal as they get older and wide rear wheels to roll smoothly and silently in both functions.
It is sturdy, built with a steel frame, and equipped with a detachable foam-grip push handle, a 3-point safety harness that securely holds the child, an adjustable UV-blocking canopy, and an XL parent pouch well as a detachable tray with a cup holder for sippy cups.
An adjustable seat with a high back safely accommodates the little one as early as 9 months until they are 5 years old, but we will warn that the seat is rather slippery, and being flat rather than bucket-style only makes this more noticeable.
In our experience, the safety harness did a great job of holding the child in place and negating the slippery factor.
The only other drawback to this trike is that its steering attachment is flimsy and requires some play to align with the handlebars' direction. However, it doesn't take much effort to override the child steering.
Embellished in the classic red packaging, the Radio Flyer stroller N' Trike secures an excellent spot in our versatile trikes list.
Seamless transition from stroller to a tricycle
Built-in canopy is a great feature to keep the weather at bay
Built-in storage compartment in the back trunk
Adjustable push handle
Secure three-point harness
The seat is flat rather than bucket style
It takes about 20 to 30 minutes to put together
Heavy as compared to most trikes in our review
12
XIAPIA baby balance bike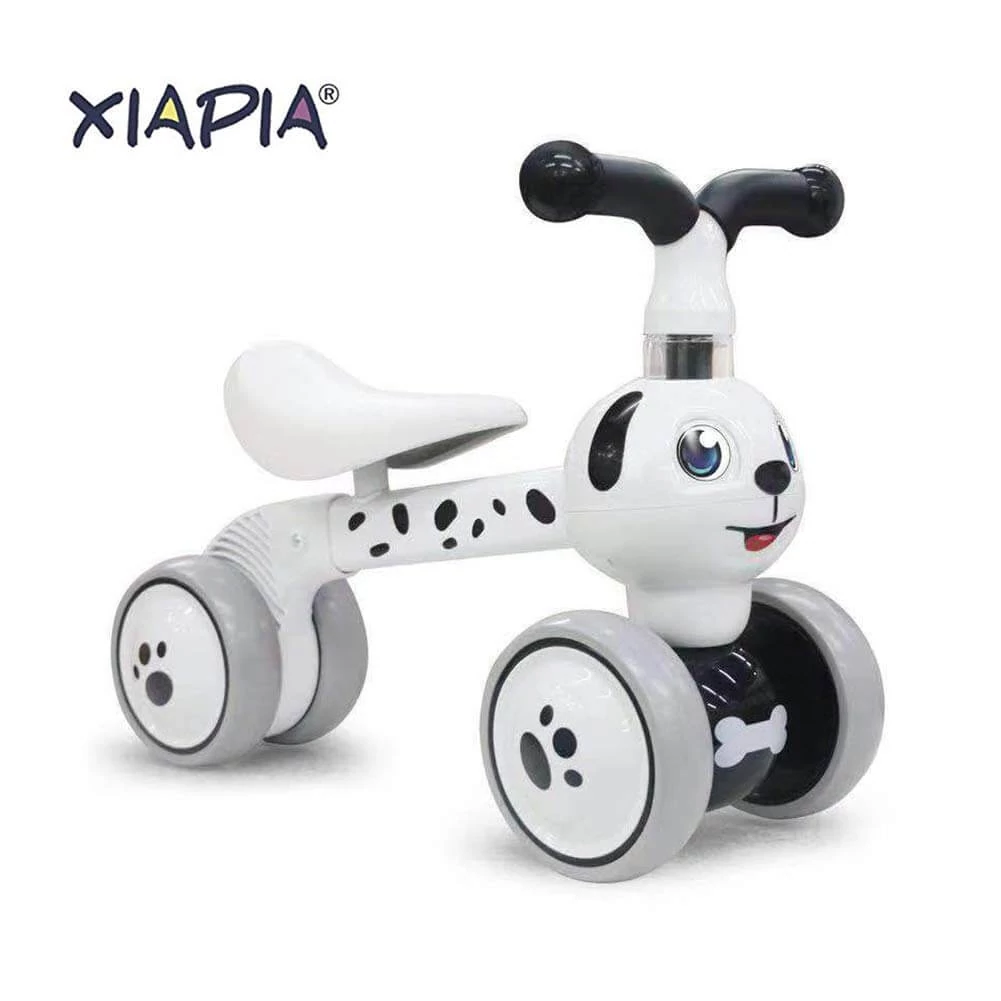 Last but definitely not least is the Xiapia baby balance bike.
This bike is quite similar to the Ancaixin and the YPJN baby balance bikes, which is why it deserves a spot on our recommendation list.
Like the aforementioned mini bikes, it is engineered to protect the little child and teach them to balance while ensuring they are comfortable. Moreover, this bike is built to last with an extremely robust carbon steel frame.
Despite the metal frame, the bike is very light and can be easily carried around by the parent.
The bike is perfectly sized for one-year-olds with a seat height that is not too high yet not too wide. That way, the little one can comfortably straddle the bike.
This four-wheeled baby bike is not only easy to steer, but its wheels roll quietly, and because they are soft, they pause no damage to floors and other surfaces they are placed on.
For the child's safety, it features a steering limiter and fully enclosed and widened rubber wheels. However, it doesn't avail safety at the compromise of comfort as it features a comfortable ergonomic seat and anti-slip EVA handlebars.
The bike's small size is both an advantage and a disadvantage in that the bike it's the smallest and youngest riders and stores easily but is also unfortunately very easy to grow out of.
But for the smallest babies who are still learning to walk.
For the smallest riders
Easy to set up
Anti-slip EVA handlebars
Soft and noiseless rubber wheels
Certified with CPC, EN71, ASTM F963
A child quickly outgrows the small size
Top Three Mini-Bikes
1. Ancaixin baby balance bike
Baby bikes aren't supposed to be too complicated for the young ones to use, and that is precisely what the Ancaixin baby balance bike embodies. However, the simplicity of this four-wheeled baby balance bike's design makes it a great tool for toddlers.
With a sturdy steel construction and child-optimized features that make use automatic for children, this mini trike is the best way to introduce little ones to riding while simultaneously teaching balance and building their muscle strength.
2. Ybike Pewi
This bike takes the cake for its innovative design. Featuring no steering and four caster wheels with 360 degrees multidirectional but its ability to function exceptionally well as both a ride-on and a walking aid makes this mini-trike an excellent tool for new parents.
3. Hape Scoot Around
The Hape Scoot Around comes in next with a solid wood construction that is environmentally friendly and an excellent pick for being extremely stable. Its back support for comfort and support, highly set handlebars for an upright riding position, and non-marking wheels are just a few of the features that make this bike stand out.
Comparison table for the 12 Best Toddler Bikes
Toddler Bike Name
Recommended Age
Frame and Wheel Material
Weight (Pounds)
Seat Height
Stand-out Feature
Ancaixin Baby Balance Bike
10 – 24 months
Carbon steel
4
8 inches
Lightweight, perfectly balanced design, safety verified
YGJT baby balance bike
10 to 24 months
Carbon steel frame, EVA wheels
4
8 inches
Patented design, multiple colors, Safety certified.
XJD baby balance bike
12 to 24 months
Carbon steel, EVA wheels
4.1
8.98 inches
Child-sized balance bike
Ybike Pewi
9 months and above
Aluminum frame
4
10 inches
Caster wheels, multi-directional movement, no steering.
Hape Scoot
12 months – 3 years
Wood frame,
foam wheels

5.7

8.98 inches
Aesthetically pleasing, environmentally friendly wood frame, outstanding stability
Bekilole
10 – 24 months
Carbon steel frame
10 inches
One-piece design, three-wheeled, Certified safety
Avenor baby balance bike
6 - 36 months
Carbon steel frame, EVA wheels
4.45
10 inches
Sturdy yet lightweight construction, very portable, ideal seat height for kids
Joovy Tricycoo 4.1 Tricycle
10 months and above
Aluminum
14.4
14 inches
4-stage Tricycoo, large canopy, comfortable machine-washable padded seat
Radio Flyer Scoot About
1-3 years
Steel/ plastic
8.5
N/A
Wide-set front wheels, protective bumper, retro style
Little Tikes
5-in-1 Deluxe ride & relax
9 months – 4 years
Steel/ plastic
20
N/A
Reclining seat, conversion modes from stroller to a tricycle
Radio Flyer 4-in-1 Stroll N' Trike
9 months – 5 years
Steel/plastic
16
N/A
Stroller and trike in one, three-point harness, UV canopy
XIAPIA
10 – 24 months
Carbon steel frame, rubber wheels
5.03
8
Sturdily constructed, sized for the smallest riders
The Ultimate Guide to choosing the Best Toddler Bike
Unlike the pedal bikes that most of us were initiated into cycling with (which scarred some of us), newer inventions have been made. The mini bike is one such creation that is well-made to teach children important motor skills without subjecting them to the many falls and bruises they are otherwise bound to encounter.
With that in mind, a lot of factors go into determining the right mini bike for your toddler, but these are the key factors:
1. SIZE
Getting the right bike size for your child is the most critical aspect of riding.
This is because the size of a bike can motivate the child to ride or discourage them altogether.
Usually, the wheel diameter is used to determine the appropriate size for kids' balance and pedal bikes. However, with baby bikes, most manufacturers usually indicate the seat height and recommended age range to guide the right sizing.
With toddlers, and especially those in the learning stages of walking, their feet should sit firmly on the ground for them to obtain ample leverage to push themselves forward and gain both balance and speed.
It is, therefore, vital to know their height and inseam measurements beforehand. The bike that will be the right size has a seat height that measures one inch less than the child's inseam measurement.
So take care not to select a bike that's too big or too small.
Additionally, factor in whether your child is within the recommended age range and whether they fall on the smallest or biggest size for their age. If your child is the taller size, you can get a bike for their recommended age, but note that they may soon grow out of it. In such cases, bikes with adjustable seat heights and handlebar heights accommodate the growth in the child's size.
2. Weight
The weight of kids' bikes is always a key consideration when looking for the right bike for your kid.
As a rule of thumb, the bike should weigh less than 30% of the child's body weight. This is important so that the child can navigate the bike independently.
The weight is usually affected by the frame materials. Bikes constructed from carbon steel or aluminum frames are usually the lightest and strongest. They are followed closely by wooden bikes.
You, therefore, ought to get the lightest bike that is appropriately sized for your child and, of course, within your price range.
3. Number of wheels
As you can tell from our list, mini bikes vary in terms of the number of wheels. While some have four wheels, others are three-wheeled with the difference in how far the wheels are placed from each other.
In our opinion, a baby bike should have the right number of wheels that provide needed support for the young one who is just learning to walk and ride.
So consider whether you want to buy a bike to enhance your child's walking ability or help them develop essential riding skills such as balance or even both.
If you are keen on developing their riding skills, then a three-wheeler (especially one whose rear wheels are closely set to resemble a two-wheeled balance bike) is a better option.
The child's personality can also come into play.
A four-wheeled bike is steadier and great for timid kids as it gives them a sense of stability. You don't want them to fear bikes from the get-go.
For the more adventurous type, a close bike to a balance bike is a better alternative.
Both types of kids might use the bike as a toy in the beginning stages, but eventually, they will get the hang of it.
Above all, the bike you choose should cater to the child's needs and persona.
4. No pedals
Most parents should opt for pedal-less bikes for this age range as there isn't much use for the pedals- they would only serve as a distraction for the young rider.
At this stage, you are looking to help develop balance and leg muscle for the child. Pedals are too complicated for young minds who are yet to master coordination.
Pedal-less bikes, and any bike really, can be used as a walker whereby the child simply stands behind the bike and pushes it forward while taking steps. They'll find their walking balance in this way.
Once they hop on the bike correctly, they can learn how to balance on their own by using their feet to push against the ground and move while maintaining an upright sitting position.
5. Wheel material
Wheel material is also important as, more often than not, the bike will be used indoors. Opting for wheels made from eco-friendly EVA material or rubber is better as they are kinder to the surfaces they are put on.
6. Steering limiter
When it comes to ride-on toys, this is one of the most effective safety features.
A steering limiter helps control the bike and prevents the child from hurting themself by falling sideways or jackknifing.
Some bikes usually incorporate fixed front wheels, which bar and sideways movement, left or right. On the other hand, others instill limiters that restrain the turning of the wheels up to a certain degree/ angle.
As you've seen with almost all of our recommended bikes, the most common arc is 135 degrees, perfect for riders in this age range as they are not fully capable of controlling bikes yet.
A full range of turning can turn out to be a danger to the child and their favorite toy, so we recommend fixed front wheels or limited steering for the earliest riders who are yet to achieve any kind of motor skills.
The Ybike Pewi is a unique example of a bike that features no steering and multi-directional wheels. This allows the child to use their feet to move in whichever direction and is excellent if steering seems too complicated for the young one.
7. Comfort features
Lastly, comfort features such as soft handlebars and a padded seat also play a role in your kid's reception of the bike/ toy. They ensure that the child doesn't suffer throughout the learning process.
Here is our Last word on Toddler Bikes
As a parent, you realize that developing your child's healthy and active lifestyle starts with you.
Related Reading: Steps for choosing the best kids' scooter.
If you've got healthy food and a full night of rest on lock, physical play is the only other missing thing that comes to mind. There's really no better way to help toddlers burn off their high energy levels, help them develop riding skills, enhance their leg muscle, improve essential skills such as balance- and still allow them to have fun than getting them a minibike.
Of course, they'll take to it as a toy first, then a walking aid or a pre-balance bike, but that shouldn't worry you. They'll get the hang of it with time.
You can trust any of our recommended bikes to serve all the abovementioned roles. Stop overthinking it; there's a perfect bike for your child, so go for it!
Please Rate This Article
SEND