If you asked us to pick a neutral balance bike for short and taller kids, we would choose the Hape Scoot Around Ride-on Wood Bike. It is an average size, sooth, and steady ride that we mostly recommend for parents with small kids beginning to test their mobility. On top of that, it helps kids develop active motor skills and is an easy transport toy around the home, in the sidewalks, and for trips in the parks.
The Hape Scoot Around balance bike is not your typical wooden balance bike. Instead, it is an award-winning and super awesome four-wheel and foot-powered wooden balance bike. Some describe it as an earth plane while some as a fashionable workhorse for kids.
Ordinarily, it is the best choice for a toddler who wants to strengthen their cognitive and muscular systems while enjoying the same fun as riding a bike. It is an option every little walker and soon to be cyclist needs.
The Hape Scoot Around is meant for riders aged from 12 months to 3 years.
Hape Scoot around Ride-on Wood Bike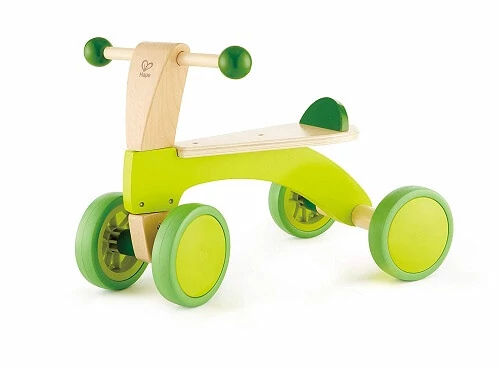 Unique Features of Hape Scoot Around Balance Bike
Meets and exceeds safety and design standards.

Award-winning toddler balance bike.

Four-wheel drive for stability.

Non-toxic finishes

Child-friendly materials

Bright green color

Rubberized wheels that spare your floor.

Best for children between 12 months and 3 years old.

Increases coordination, fine motor skill development, and balance.

Durable frame materials.

Light, fast, and stable.
Performance
Like any other balance bike, the Hape Scoot Around is feet-power powered. That is a plus since your kids get to master the art of control, balance, and coordination while on a bike. It comes in handy for toddlers who cannot just yet use the pedals-after all their short legs won't allow them to reach the pedals. Even if they did, some would chicken out, and that would be the end of bike riding.
Instead of just preparing the kids for their cycling life right through pedal bikes, Scoot Around helps kids have better balance bike skills. The kids push as scoot, and in the process, they learn how to glide and ride balance bikes.
We insist that pre-balance bikes like the Hape Scoot Around is a better option for parents who need their kids to develop their love for bikes at a tender age.
With the four wheels, Scoot Around bike is sturdy and stable enough to offer confidence in motion to the toddler or baby. Besides, tipping off the bike is nearly impossible unless through an unavoidable accident.
The front wheels easily turn by tuning from the handlebars, which also allow the toddler to maneuver around.
Wheels
The four wheels make the Hape Scoot Around roll around the house like something else. Even as the kids glide, run, and walk, they are assured of stability when at high speeds. The wheels also make it possible for the riders to master the art of control and coordination.
The wheels are also rubberized to prevent the kids from feeling the small shocks and also help in traction. We cannot tell why green is the only color option available. However, for what it is worth, the tires are best for indoor use and do not slide.
High Standards of Manufacture
The Hape Scoot Around bike has met the highest safety standard tests. It is made of non-toxic finishes and child safe materials. Therefore, when your child is on their own, you should not worry about the possibility of them ingesting poisonous materials.
The Hape Scoot Around has passed the sharp point test, the bite force test, tensile test, smart parts test, drop test, and the chemical test.
Courtesy of the highest standards, it is an award-winning balance bike. It is the winner of the 2013 Oppenheim Toy Portfolio Gold Seal Award. Besides, it is also the 2013 Parent's Choice Recommended Award winner.
Durability
It is made of a durable child-safe paint finish, which apart from giving it glow assures you of durability. The Scoot Around is made using metal, PP, EVA, ABS, and wood, which makes it also durable.
The rubberized wheels also add to the durability equation. For a bike, its price and the durability option, purchase it for your toddler in preparation for a balance bike.
Size
The Hape Scoot Around Ride on Wood bike comes with a fixed seat height of 8.75." Besides, it has high handlebars that also throw in comfort into the equation when the kid is riding.
Given the small size (the smallest balance bike you will get in the market), Hape Scoot boasts of being able to accommodate 16-month-old babies who are petite and with an inseam of 10.25."
Developmental wise, the Hape Scoot Around is designed for children 12 months and above and below 24 months. However, parents have reported their 10-month-old babies being able to ride on the Scoot Around but with some little assistance.
Robust Design
The Hape Scoot Around is built from reliable and high-quality wood frame. The wood, together with the water paint finishing, brings the classic passé look and feel. You can never compare the feeling with any other emotion.
The handlebars are higher to enable the children to stay comfortable and upright when riding. The height is also a design feature that allows the children to grow with the bike.
The handlebars also turn an axle on the front part of the frame for the bike to move around corners. However, the radius to which it can turn is limited, which also limits the bike from maneuvering around.
The tight steering helps the baby develop the concept of control in preparation to balance and pedal bikes.
Ease of Assembly
As part of the packaging, Scoot Around bike comes unassembled. It is not one of those straight forward bikes you assemble in a flash. Instead, you need to spare between 30-45 minutes to assemble the pieces into a tangible bike.
The good news is that the package comes with an assembly manual, which if mastered well, can reduce your assembly time.
Four-wheel powered balance bike for the stability of the kids.
Durable frame and wheel design.
Develops motor and balance skills.
Child-friendly materials.
Comes in only green color.
Assembling can take some time.
The rotation radius of the front wheel is limited.
Verdict
Watch this video for a visual review
If you are looking for a balance bike for a beginner into toys, the Hape Scoot Around balance bike is your perfect choice. This bestseller beat on four wheels is a workhorse for children learning to walk.
It helps develop motor skills by inspiring movements during playtime.
Related Reading: How to select a quality scooter for your kiddo.
Besides, it helps kids develop their creative skills and imagination while riding. As the child walks and learns to run on it, it helps them learn how to control and balance a bike.
For this bike to serve you well, you are advised not to wash it with water. Instead, you can clean it using a damp cloth. Another caution is storing in a cool and dry place and avoiding direct contact with the sun.
Given the cautions, the Scoot Around bike is best for indoor riding.
Otherwise, trust Hape Scoot Around for safety, stability, durability, and confidence-inspiring when your baby is on their first bike. It is the best choice for smaller and petite young walkers between the ages of 12-24 months.
Please Rate This Article
SEND