We all want our children to get off the couch and enjoy the environment around them. Well, the best way to start them off early is by getting them a good looking balance bike. The Schwinn Balance bike 12 inch would be a pretty decent balance bike for your kid ages between 3 and 4 years.
The pedal-free low-center of gravity design of the Schwinn Balance Bike makes it utterly ideal for beginner riders.
Any avid cyclist would agree that Schwinn balance bike 12-inch is a great budget balance bike for kids. However, it can better serve preschoolers as it is somehow a little too huge for toddlers.
Call it one of the best balance bikes under $100. The Schwinn balance bike conjures the confidence and balance in a great way.
But like any other bike we have so far reviewed, Schwinn comes with its fair share of pros and cons. But first, let us look into its specs.
Schwinn Balance Bike - The Best 12-Inch Balance Bike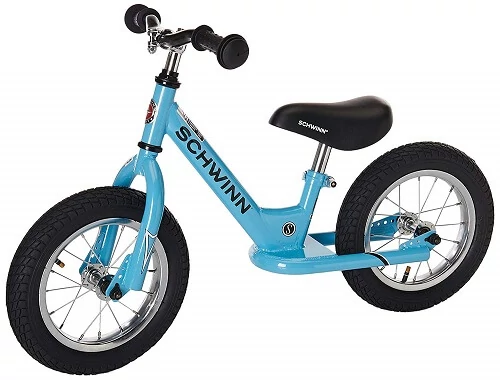 Specifications
Brand Name: Schwinn
Frame: Steel.
Seat Height: 14-16.5-inches.
Fork: Schwinn rigid steel.
Rims: Single-wall alloy rims
Front and rear hub: Steel
Seat post: Steel
Best for ages: 3-4 years
Tires: 12-inches air tires/inflatable tires/pneumatic tires.
Bolts: Rounded
Stand over height: 15-inches.
Stem: Quill aluminum
Saddle: Schwinn vinyl (child-specific saddle)
Affordable pricing.
Easy to assemble.
Long-lasting build.
Padded child-specific saddle.
Great geometry for stability.
Inflatable tires.
Easy step-in frame.
Attractive footrest design.
Adjustable handlebars and seat height.
The footrest is very wide that it causes little accidents as kids glide around.
Too big for toddlers and the steel components are prone to rust.
Not comfortable for2-year-old kids.
Schwinn 12 Balance Bike Features that Wowed us
At first glance, someone can always tell what stands out from a balance bike 12 inch. The most prominent feature that caught our eyes was the fact that it is a balance bike with footrest. We endeavored to dig deeper and see if it was indeed the best balance bikes for 3-4-year-olds.
Design and Geometry
Design and geometry top the list when purchasing a balance bike for your kid. You can find other factors to consider in our wonderful buying guide for balance bikes.
Now, the Schwinn 12 bike comes with an ergonomic design that is lovable both to adults and children. Its BMX look makes it a darling to children who are outrightly aggressive cyclists.
It is only that one cannot time-reversed to childhood; otherwise, we would have tested the Schwinn balance bike ourselves. There are tons of features, with the most standing out feature being the floor-to-floor design.
As a pedal-less bike, the Schwinn 12 easily takes on both level and higher grounds thanks to its sound mechanics. The foot-to-floor design is a safety design that helps children to place their feet on the ground and have more control and avoid tipping over in case of mishaps.
A Myriad of colors
The Schwinn 12 balance bike comes in multiple colors. There is something undefinable between kids and colors. So, always be ready to purchase everything aligning to their magic colors.
The Schwinn Balance Bike comes with blue, pink, green, cherry-red, and pink colors. The carefully painted frames, make the color designs each standout and appealing to the eye.
We are sure your kid would make the best pick just at first glance.
Ease of Assembly
The Schwinn 12 balance bike is quite easy to assemble.
Once you receive it in the packaged box, you will only need to attach the front tire and the handlebars, and you are ready to begin your little one some fun on two-wheelies.
At most, it will only cost you 30 minutes of your time to assemble this balance bike for kids.
Euphoric feeling for the riders (user satisfaction)
Our tester could not get enough of the Schwinn 12-inch balance bike. Our tester said that they felt great and confident on the bike.
For an affordable balance bike the kind of Schwinn 12, you have no excuse for denying your kids a chance to ride to freedom.
We can attest that Schwinn 12 bike is a confidence booster. Our tester glided around in rocket speeds as though they had mastered the art of riding an actual bike, just in a few hours of testing.
The Schwinn 12 inch bike is indeed a better transition to a real bike.
Pneumatic Tires
The Schwinn balance bike uses 12-inch pneumatic tires that give it the traction a child needs to run around. It is better than the form tires in toddler balance bikes of its kind.
The tires sit on single-wall alloy rims. The 12-inch spoked inflatable tires on Schwinn 12 bike provide both cushion and comfort to the kid while riding.
Handlebar Alignment
Most balance bike manufacturers do not get the correct alignment with the seating arrangement of the cyclist as Schwinn did in this wonderful bike.
Elsewhere, other brands have been on the spot for unaligned handlebars. So, to say the least, Schwinn stole the show in this factor and comes out of the list of balance bikes criticized for lack of handlebar and seat arrangement alignment.
The handlebars are not too far away in a manner to distract the posture of the child. It is thus a safe balance bike to consider as you will have a bike fit for your kid.
It is also easy to steer the headset using the handlebars thanks to the ball bearing headset. The seat post has a quick-release system for easy adjustment.
In short, for a great looking toddlers balance bike below $100, Schwinn 12-inch balance bike promises you value for every penny. At this amazing price, you can afford your little one a great balance bike experience. We assure you that with tact and mastery advantaged by its purchase, your child will be ready by far to take on their first pedal bike in no time.
Who would turn their eyes off a lifetime warranty? Yes! You read that right; the Schwinn 12 bike comes with a lifetime warranty, which is something if you ask any shopper. Nevertheless, there are certain things that did not go so well when we tested the Schwinn Balance Bike, 12" Wheels.
Concerns with the Schwinn 12 Balance Bike
Although Schwinn 12-bike has glowing praises out there, as experts there are some things we just do not like about it.
The Troublesome Footrest
For a child not keen on safety and so focused on the fun while riding, the footrest can be a hindrance of the latter. The footrest protrudes far out from the sides of the seats, which makes it difficult for kids to run or walk comfortably.
In most instances during our testing, little Marty had to cut short the fun because of hitting his calves on the footrest. However, when tested with a preschooler, the footrest wasn't quite a problem.
So, if your kid is smaller or slim, get an alternative other than the Schwinn 12 bike. Smaller kids would also have trouble with the seat height.
One parent said that after cutting off the seat post with a hack-saw the little one was able to site, glide, and run with Schwinn 12 around the lawn.
It Gets Rusty Quick
Low-end balance bikes are dreaded both for being heavy and rust-prone. Well, it seems like Schwinn 12 balance bike is no exception. With most of its construction being from steel, it is potentially a rust target if not well-handled.
Specifically, the exposed seat post gets rusty within weeks of riding, and you cannot tell whether it is the same new bike or a second hand Schwinn balance bike 12 from the local bike shop.
We totally believe this is a bike you cannot forget in the lawn or backyard. Better still, you cannot expose it to water for long. And if you live near the coast, your guess is as good as ours.
Sometimes it comes in the package with a rusted seat post due to packaging and storage issues on the retailers' end.
Uncomfortable Components
We hated the fact that our testers had trouble walking or running given the shape or the rear portion of the frame. Every step was countered by a troublesome and abrupt impact that caused discomfort to our short testers.
Besides, the large tubing where the footrests rest can cause injuries to the ankles and feet or the young cyclists in case of a fall. And with the low-frame design, you can bet that any impact on the paves or on stones on its way will cause scratches on the rear tubing.
Remember, as it is steel, any exposure means rusting and the bike losing its glow. If you have a child who handles bikes with aggressiveness, be sure to get several scratches on the bike in just a few days of riding.
Wonderful Schwinn Accessories that Might interest you
If you love it, accessorize it for them for even more love!
Schwinn is a famous name in the bicycle world. You might be interested in their safety cycling gears.
Get hold of the Schwinn Toddler Classic Microshell Helmet as an add-on accessory for the Schwinn toddler balance bike and be a safety-oriented parent.
You can also decide to get certified and tested Schwinn Owl's Classic Toddler Helmet to boost the confidence of your little one as they find their spot in cycling.
Still, with the possibility of falls, you can decide to go for the Schwinn Child's Pad Set, which comes with a set of Gloves and Knee and elbow pads. Make it the safest and softest landing and spike your child's love for two wheels. Riding a bike is the best and untamable freedom you can give your kid today!
Parting Shot!
Even though this 12-inch balance bike is far from perfection, it is still the best budget first bike for children. The Schwinn 12-inch balance bike is a wonderful budget-bike for preschoolers who have an inseam of 14-inches. This bike closely takes after the full;-sized pedal bikes and can be a great simulator and a gate pass to cycling. However, the steel components make it heavier, and rust-prone and is thus not a good fit for children under age three contrary to the advice by the manufacturer that it is a balance bike for 2-4 year-olds. We have covered it all in this unbiased Schwinn Balance bike review. For small toddlers, check out our review of the best balance bikes for their possible fit.
Please Rate This Article
SEND