Sized for kids with a 13 to 19-inch inseam or better yet; those who fit a 2T to 4t clothes size, the GOMO balance bike definitely ranks high if not the highest of the budget balance bikes that we are familiar with.
And that's simply because the brand stretches the retail price to far more than you would expect out of its price point. With this bike, what was exclusive to premium brands is now made available at a lower price point.
It surely stands for its abbreviated name – Get Out More Often (GOMO)
SPECIFICATIONS
Recommended age range - 2 - 5 years (13 - 19 inches inseam)
Weight – 7.1 pounds
Seat height - 12" – 17"
Tires – foam
Best for – families on a budget.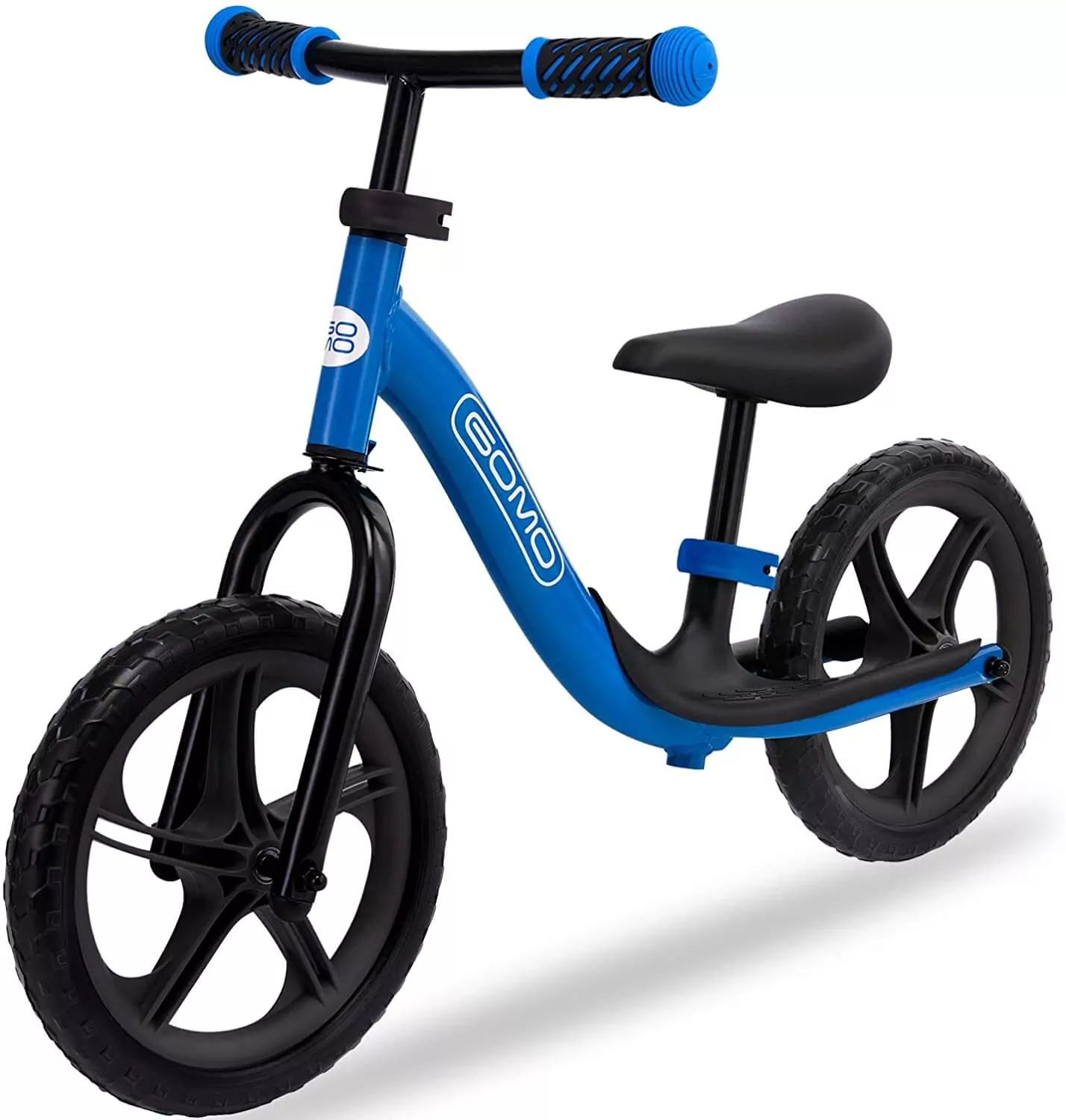 GOMO Balance Bike Review – An in-depth Review
We love that the GOMO (short for "Get Out More Often") balance bike surely lives up to what its name promises through the exceptional list of features that it has. These include:
Extended Wheelbase
The GOMO balance bike is designed with a longer-than-most wheelbase.
The long wheelbase of the bike provides sufficient room for the rider to sit comfortably and reach the handlebar with ease.
Lightweight
At 7.1 pounds, it's definitely not the lightest balance bike, but it's also not the heaviest. We have come across a number of balance bikes that are just too heavy for the average rider to handle.
In the case of the GOMO balance bike, the added weight is a result of the high-quality frame and frame parts which make the bike all the more wholesome. Everything on the bike has a necessary role to serve and the overall build is of high quality so we are satisfied with the weight.
Upright Riding Position
Anyone who's come across the GOMO balance bike will talk of its tall handlebars.
There are a lot of indicators for the right size, but GOMO'S tall handlebars sure tell whether a child can or cannot fit the bike. Typically, a child who fits size 5 clothes/ 2T clothes should fit the bike well.
The handlebar position is intentionally set to encourage an upright riding position for the toddler; especially when this feature is combined with a long wheelbase.
Thus, the high-quality build, upright geometry and long wheelbase all tell that a lot of thought went into the construction of the GOMO balance bike.
Handlebar And Seat Height Adjustment
We love how easily the seat and handlebar clamps adjust. The height adjustment is tool-free and pretty straightforward.
In comparison to the average seat post clamp, we've found that the GOMO clamps are wider and therefore allows enough space for maneuvering. One can easily fit two to three fingers and to adjust the lever as you wish.
Once clamped, the seat sits in place rather than maneuvering haphazardly as is common to some budget bikes.
The minimum seat height sits at 12 inches and adjusts up to 17 inches; and in comparison, to most bikes, the 5-inch range is huge! It means that the bike has a longer shelf-life with one user.
As mentioned above, the GOMO's handlebars sit high. And as the handlebar adjusts 3 inches; it does so to encourage the rider to continue steering in an upright body position even as they age.
Footrest
It's all about pushing and gliding with the GOMO balance bike.
A footrest, properly tucked underneath away from interference with the child's footwork, works to rest the child's feet as they glide. That way, they can easily concentrate on learning how to balance the bike.
We don't necessarily categorize footrests as an essential feature in a balance bike but we certainly take notice of the manufacturer's effort to make the riding experience cozy.
For this particular case, we are more impressed with how well-placed the footrest is; as some bikes tend to have theirs reach too far out.
Tires and Rims
This bike offers a competent ride on the road thanks to its 12-inch heavy-duty foam wheels.
GOMO's smooth-rolling EVA foam tires are built on plastic rims.
The foam tires do so well on paved roads so that's where we'd best recommend using them. It's common knowledge that air tires provide better traction and cushioning so we wouldn't bet a great experience off-road.
Make no mistake, though; foam tires are not without their advantages. Not only do they never go flat but they also shed some weight off the bike's overall weight.
The lighter the bike, the easier it is to handle.
As for the rims, we weren't expecting metal rims from such a low-budget bike; and we like that they happen to be warped.
Turning Limiters
GOMO just continues to prove its worth with the availability of features that one wouldn't easily find in a similar bike going for the same price.
One of such features is a turning limiter which accurately prevents the child from jackknifing themselves when they make sharp turns.
It's nice to see that in spite of how rare it is for the average early rider to jackknife themselves, GOMO has gone a step ahead to care for the more aggressive riders.
Grips
One thing we certainly appreciate about the grips on the GOMO balance bike is that they are easy to handle and that they do provide enough traction so that small hands don't slip and lose their control.
The safety of the rider's hands is assured in case of any wall collisions as the bike's grips have to cushion bumpers on their ends.
Lightweight
Tucked away footrest
Tool-free seat and handlebar height adjustment
Wide seat height range
The sturdy frame can hold up to 60 pounds of weight
Foam tires offer less traction
No brakes
Cross Comparison of GOMO and other balance bikes
| | | | | |
| --- | --- | --- | --- | --- |
| Balance bike | Seat height range | Weight | Frame Material | Tire Type |
| GOMO | 12-17" | 8.5 lbs. | Steel | EVA foam |
| Banana Bike GT | 13.5-18" | 10.3 lbs. | Aluminium | Air/pneumatic |
| Strider Classic | 11-16" | 6.5 lbs. | Steel | |
| Schwinn Elm or Koen | 14.5-16.75" | 8.5 lbs. | Steel | |
| Radio Flyer Glide & Go | 14.5-18" | 6.8 lbs. | Steel | EVA foam |
For its quality build, kid-friendly design (upright geometry, long wheelbase, and best colors), the GOMO balance bike beats the other budget balance bikes hands down. In comparison to the competition such as the Radio Flyer Glide & Go, Banana Bike GT, Strider classic, Schwinn Elm, and Schwinn Koen, it emerges as a push bike designed to make kids want to ride, even in the rain.
And at a price of less than $100 dollars, the GOMO balance bike is a great bang for your money, especially if you need a quality balance bike on a tight budget. It is a bike gift to a cycling kid that you will get at less and still impress. It is just the bike you need for kids aged 2-4 years, but not those with an inseam below 13-inches.
Final Verdict
With all these features in play, it is no wonder that GOMO is among the top sellers of bikes for toddlers.
So, what makes it such a great balance bike?
Well, the quality is just immaculate and there are no obvious mishaps in its build. From the clean colors (8 options, to be specific) to the great frame design; it's hard to believe that it's a budget bike!
It may not be as full-featured as most high-end bikes, but for its price, it's a sure win!
Please Rate This Article
SEND