The Qiani balance bike is an extremely versatile bike that can literally do everything, from the conception stage of gliding through in push-bike mode to being fully pedaled.
What is outstanding about this bike is that it is available in 12-inch, 14-inch, and 16-inch wheel sizes for kids all the way up to 8 years old, and the bikes are convertible from balance bike to pedal bike.
We reviewed the 12-inch version to find out what exactly fosters the smooth performance of this 2-in-1 convertible toddler balance bike. Here's our honest review.
Qiani 2-in-1 Balance Bike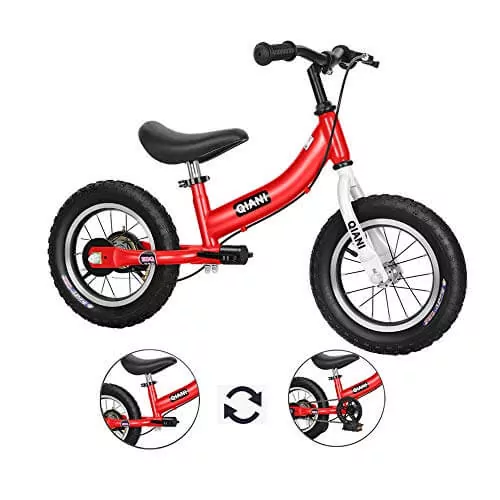 Specifications
Recommended age – 2 to 3 years
Frame material – high carbon steel
Tire size – 12 inch
Tire type – pneumatic rubber tires
Weight – 13.2 pounds (plus training wheels)
The Solid Features of this Bike
If you are struggling with whether a balance bike can convert to a pedal bike, the Qiani balance bike answers your question perfectly.
By default, the 2-in-1 balance bike has valuable features that will make it worthwhile.
Like other convertible balance bikes such as the Strider 14X, LittleBig, Go Glider 16", and SmartTrikeXtend, this piece of art and tool assures you that it will grow with your little one. Let's find out more about this bike.
Two-in-one kid's balance bike
The Qiani balance bike accommodates a wide age range as it is uniquely built with an allowance for transitioning between a pedal bike and a balance bike.
Between 20 months and two years, the child can start learning how to balance the bike in the balance bike mode and then switch to pedal bike mode as they get older or once they have mastered how to balance it.
The conversion is made easy through the pedal kit and training wheels (which it comes with), and we greatly appreciate that it takes about 60 seconds to tailor the bike to one's preferences. Even though the rider knows how to pedal and is just up for a bit of fun gliding, then can easily make the back-and-forth shift.
Another advantage is that if you're out of storage space, removing the pedal kits is easy and making the most out of your storage space without having that cramped look.
Sturdy frame
Made of a one-piece carbon steel body, the Qiani is strong enough to take any hard beating. Besides, the build does not have that wobbly feel that would be detrimental or even render the shelf-life of the bike short.
Even with a hard beating, we are sure the sturdy frame will outlast most similar bikes in the market.
Easy to assemble
For the convenience of use and for those who are not technically knowledgeable on bike assembly, the bike comes with 95% assembly. As such, you need only install the pedals, handlebars, and saddle. Getting your sleeves up for the job will take around 10-15 minutes.
The package has all the necessary tools and a straightforward manual guide for easy installation. Now with the guide, the assembling process becomes seamless and quick.
Safe braking
While we don't necessarily think balance bikes need brakes (most kids usually just put the bike to a stop by placing their feet on the ground), the Qiani features rear hand brakes for accurate stopping power, especially because the bike converts to a pedal bike.
The brakes come in handy when gliding in balance bike mode but are especially helpful in the pedal mode, where riders tend to put their speed to the test.
That said, we love that the brake lever compresses easily, so even tiny hands don't need to make a huge effort to bring the bike to a stop. This aspect makes it a kid-friendly bike.
No accidents over here, but more importantly, timid riders have the comfort that they can stop the bike whenever they need to, which, in turn, amplifies their riding confidence.
360-degree steering
We love that the Qiani handlebars allow 360-degree steering, which means the child is exposed to the full range of steering from the very onset.
Inflatable tires
This bike's tires are inflatable, hence the thoughtful addition of a wheel pump to the packaging. We love that the manufacturer aims to give the customer their money's worth by avoiding extra purchases.
The featured tires are widened to allow for more traction. This, in turn, makes the bike well-fitted for riding off-road. And because they are also wear-resistant, there will be no visits to the local bike shop or extra costs. Nothing beats the peace of having maintenance-free tires on your kids' bikes. You attain the same level of tranquility when you finally convert the Kids' bike wheels to tubeless.
Adjustable seat and handlebar height
Again, this would happen over time because the bike allows switching to pedal bike mode; the bike must also be equipped to accommodate the growth spurts.
As such, the Qiani allows the height of both the seat and the handlebars to be adjusted; tool-free. If you ask any parent, this is great for saving some bucks for other projects for your kid.
Footrest
The Qiani further features a non-slip footrest that lies strategically underneath for easy foot placement when gliding over pavements and other surfaces.
In our opinion, the non-slip make is the footrest's best aspect.
Kickstand
It's always a great gesture when the manufacturer goes out of their way to consider each and every need of the audience to whom their product is intended for.
We can confidently say that the kickstand on the Qiani balance bike is a great additional feature from our observation. It eases parking and reduces the damage that bikes are often susceptible to when thrown carelessly.
What we Don't Like
This bike is only available in red and blue colors, which is ideal for either gender. The problem with that is that most toddlers love having their favorite color on their favorite toys, so the two-color options limit their customization. But there are always different ways you can accessorize your kids' bikes and make them love them.
This isn't a deal-breaker for us, so if you can live with the compromise of a limited color choice, you will have no qualms with the Qiani balance bike.
Two-in-one push bike
Lightweight
Kickstand for good parking
Non-slip footrest
Pneumatic air tires
Final Verdict
The Qiani balance bike is a highly capable balance bike. In no time, children can prop their arms on its handlebars and push the bike forward. It is equipped for safe riding and is incredibly steady, thanks to high-quality construction. Let your kiddo enjoy the benefits of a balance bike before transitioning to their first pedal bike.
Of course, there are better options out there if you are willing to part with the exorbitant cash amounts, but if you are working with a family budget and can make the most out of a 2-in-1 bike, then the Qiani is just the balance bike for you.
Please Rate This Article
SEND