If you're after practicality and have a taste for simplicity then the INFANS balance bike is a great suitor for you.
It is a known fact that the attention spans of kids is very short. As such, even teaching them how to ride a bike ends up being a game of 'teach as fast as you can."
Should you want to make the most of the little time you have to grasp your child's attention and teach them how to balance a bike, then only a balance bike such as the INFANS bike will do.
This no-pedal bike comes in two different sizes- a 10-inch for the youngest kids and a 12-inch for toddlers; to match their sizes to the tip. Let's see what else will please you with this toddler running bicycle.
Specifications
Frame material: steel
Weight: 6 pounds
Weight capacity: 55 lbs
Recommended age range: 2–5 years
Seat height range: 13.5"–17.5"
Height of seat to ground: 13.5" to 17.5"
Tire type: EVA foam
INFANS Kids' Balance Bike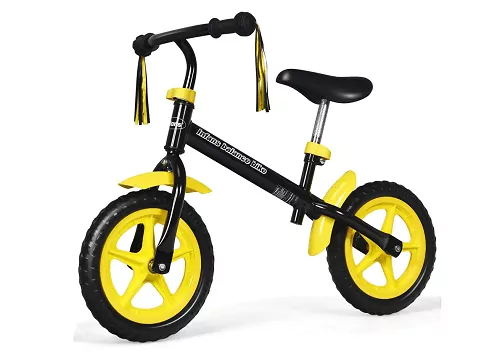 Protective coating
Lightweight
Premium quality low-maintenance EVA tires
Available in 4 different colors
INFANS Balance Bike Review–A closer look!
The INFANS Toddle push-bike develops and inspires confidence in kids just learning how to a bike. Being relatively light, it enables kid to learn how to control and balance a bike effectively and with lots of fun. It is among the perfect balance bikes that helps kids learn how to ride two wheels.
Its lightweight and pedal-less design allow kids to straddle it with both feet on the ground, which makes it nimble as it is easy to propel either when walking or running. Kids can lean and steer without too much distractions. Then there are more things we like about the INFANS balance bike more than just the design.
Subtle yet elegant finish
A bike is never done if the final touches are wanting, is it?
Well, the INFANS balance bike is beautifully coated with a non-toxic protective powder coat which not only gives an elegant finish to the bike but also works to prevent rusting and scratching off of the bike.
Tassel ribbon
A good decorative feature can never go unnoticed as it just upgrades the look of a bike.
With this bike, the manufacturer features lovely colored tassel ribbons on the grips of the yellow and green versions in order to give the bike that enviable standout appearance.
However, the black and red ones don't feature the ribbons.
Speaking of color, kids can make a selection from the 4 available color options.
Sturdy frame
This is a tough bike that will take any manhandling like a pro.
That's because it is constructed with a premium carbon steel frame which not only makes it durable but also allows it to carry up to 55 pounds with ease.
Lightweight
In spite of the steel construction; which generally tends to be heavy, this bike still manages to weigh a minimal weight of 6 pounds!
The superlight weight means that children can even the most petite toddlers easily raise the bike with one hand. Additionally, because they don't have to worry about pushing the bike, they can focus on balancing it.
This makes it a great beginner bike.
Easy to assemble
Putting this bike together is simple and straightforward. Just a few minutes out of your day and the pedal-less bike is ready to be hopped on!
Safe design
The non-slip handlebars of this bike are easy to grip and control.
They also feature cushioned ends. But what we especially like about the ends of the grips is that the cushioning has extra layers to provide extra protection from hurt.
Comfortable saddle
We love that the saddle does not induce sores; which makes it great for sitting on for extended periods as the kiddo learns to steer and effectively coordinate the bike.
Additionally, the seat is well-shaped and grippy enough that the child won't slip off when going down descents.
EVA tires
Featuring high-quality EVA tires, that are inflation-free and puncture free; this bike rides well on multiple surfaces.
Although the traction isn't what you would get out of air tires, you are assured of a long shelf life with the inflation-free tires.
360-degree rotatable handlebar
The handlebars of the INFANS bike allow 360-degree rotation.
While most people may pose this feature as a hazard, others contend that having full control of the bike's steering is a great feature for a child to have from their first biking experience. So, it's simply a matter of preference.
Adjustable seat and handlebars
We love that this bike does not limit its use to one specific size. Instead, with the adjustable seat and handlebar height, the bike can be used as the same kid grows or even passed on from one kid to the next one; depending on their size.
The handlebar adjusts from 21.5 to 24 inches while the seat adjusts from 13.5 to 17.5 inches.
With a 4-inch seat height range, the INFANS range is better than the typical 3 inches of adjustability that most bikes tend to have.
What we don't like
Unfortunately, the INFANS balance bike does not feature brakes. The assumption is that the bike can be stopped automatically and the chances of the child gliding at super high speeds are low.
However, brakes are a great add-on to the level of safety for paranoid parents.
If the budget could be stretched for brakes, then we'd have a perfect balance bike but even so the performance as it was surprisingly pleasant.
Final Verdict!
Being 12" in size, the INFANS balance bike is a wonderful no-pedal pre-walking bike that comes with fenders, tassel ribbon, and adjustable seat/handlebar that combines with maintenance-free EVA tires to make it a rad balance bike.
Under its simplicity, the pushbike tucks in quality features that will enable smaller kids to enjoy the benefits of cycling without having to worry about more than required features when learning leaning, control, and balancing a bike. It performs better compared to getting your child a bike with training wheels. We have explained why balance bikes are better in another article.
In a nutshell, the INFANS balance bike is a fun, fast, and superbly stable beginner bike
Although simple, its value is very competitive compared to other bikes in its price range. And with the price, it is a great saving for a parent who will achieve as much as they would with other high-end balance bikes.
If you need to explore more balance bikes, check out these reviews on our website:
Please Rate This Article
SEND