Ever heard or thought of a 16" inch balance bike? Probably not, or maybe a few. They are so few of the industry, and the great thing about them is that they solve a market need that so many companies tend to overlook. Now, think of that five- to an eight-year-old kid who has yet to grasp the concept of balancing and handling a bike. Better yet, what about that special needs kid who needs more time to adjust to a balance bike before they can advance to a pedal bike? The Bixe 16" balance bike is just what they need. Let's find out why below.
Special features of the Bixe 16 Pro Balance Bike
Recommended age range - 5 – 8 years old (19.25" – 24" inseam)
Frame material – steel
Seat height range – 18.25" – 22.4"
Bike weight -12 pounds
Tire type – air
Colors – Green, Blue, Pink, and Violet.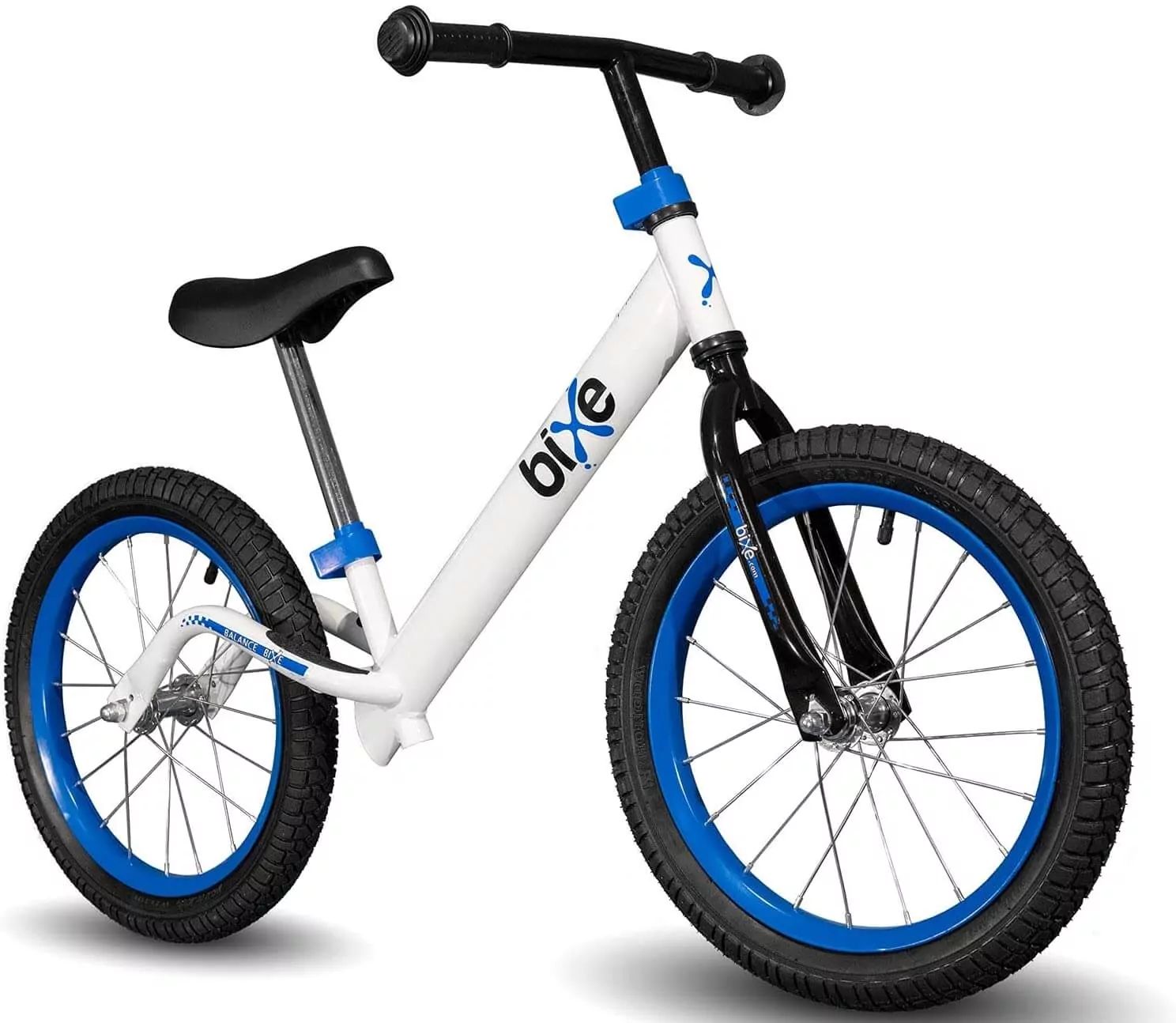 In-depth review of the Bixe 16 Pro Balance Bike
From a performance standpoint, many features make the Bixe balance bikes a great buy. We mentioned this in our review of the Bixe 12 balance bike. Even when made of steel, the bike still ways 12 pounds, which is manageable by most big kids. In addition, the geometry, wheels, seat and handlebar adjustability, ergonomic grips, and a hoard of other kid-friendly components stood out as features that make this bike an excellent buy for a budget bike its kind. The Bixe 16 pro is best for kids who want to show their bike handling skills in BMX and skate parks and those who want to learn how to balance and control a bike independently.
Frame material
We're big fans of the Bixe 12", and the Bixe 16 builds on what the Bixe 12 offered.
If you've come across the Bixe 12, you know that it's one of the lightest balance bikes in the industry.
Bixe 16 goes off in the same direction as it weighs 12 pounds, which is minimal for a 16-inch bike. In fact, it's the lightest 16-inch bike we have examined.
But that isn't even the best part. What's particularly impressive is that this low weight is in spite of the bike being made of steel. So it's a double dose of lightweight and sturdy; no sacrifice on one or the other!
Upright riding position
When it comes to riding, the geometry of the bike contributes a great deal to the ease of riding it. For example, if there is little to no room between the rider's torso and the handlebars (often due to a short wheelbase), the rider ends up sitting awkwardly on the bike, which may impede their riding.
That said, we are glad that the Bixe 16 encourages an upright riding position as the length of the wheelbase is sufficient. As such, this is one of the most fun bikes to ride.
Wheels
As aforementioned, the Bixe 16 is the bigger model of the Bixe 12- aimed at explicitly targeting older toddlers who might have missed the opportunity to master the smaller bike.
We love the most about the Bixe 16 because it doesn't stop at being a bigger version of the Bixe 12. Instead, it has more advanced features. For instance, while the Bixe 12 has foam tires on plastic rims, the Bixe 16 features air tires on metal rims.
Air tires generally offer better traction and cushioning (absorbing rough terrain with ease), so they perform better both on and off-road than their foam counterparts. And in spite of being heavier than foam tires, the Bixe 16 still weighs much less than the average 16-inch balance bike.
Seat and handlebar adjustment
The height adjustment of the seat and handlebars of the Bixe 16 is another advantage to it as they allow the kid to get a customized fit of the bike even as they grow.
The length of use is lengthier-than-most because the seat, for instance, allows 4-inches of height adjustment (from 18.25 "- 22.4") while the handlebars allow 2.5 inches of adjustability (from 24" – 26.5")
Although the adjustment takes a bit of time and requires the use of an Allen key, it's not too strenuous of a job.
One thing's for sure; the Bixe 16 is built to last through multiple kids.
Grips
The grips on this one feature safety bumpers on their ends; to cushion little hands from hard walls.
The grips, made of hard plastic, aren't the most comfortable, but they also don't cause too much of a hassle handling the bike, so we don't mind them.
Saddle
Just like the Bixe 12, the Bixe 16's saddle features extra padding for extra comfort. The only difference is that we think the saddle is more size-appropriate for the 16-inch bike and the riders who sit on it.
Frame/ bolts
Exposed bolts are a sight that we are bound to see on the average budget balance bike, and that is precisely what the Bixe 16" features. On the plus side, they cut the costs; but they are prone to scratching legs on the flip side, especially as they get older.
Footrest
The design of the footrest is just right; it sits under the seat without going too far out. That way, the child's stride is not interfered with, so they are safe from harm.
Easy to assemble
The Bixe pro comes partially preassembled with the wheels securely attached and ready for the maiden bike breaking the first ride. First, you only need to slide the seat and handlebars in position depending on the height and reach of your child. Next, you can clamp the seat with the wrench that comes in the box. After setting the seat and handlebars, you can then inflate the tires, and that's all you need to do.
Every child can ride
The bixe 16 pro balance bike is innovatively and carefully designed with almost every kid in mind. It is a perfect balance bike for kids who are starting out to ride a bike, kids with challenges, and those with special needs, as well as experienced riders who want to test and stretch their limits in skate and BMX parks.
Safety
Even though Bixe 16 pro comes at a fair price and a budget 16-inch balance bike, safety is not sacrificed. Both wheels of this bike are equipped with safety washers. Additionally, the clamps are also tamper-proof, which comes in handy, especially if you have a kid who likes to destroy everything. Even the heaviest children as heavy as 150 lbs. can enjoy riding this bike thanks to the frame design.
Just what every parent needs – Warranty!
Forget the price point, the kid-friendly features, and everything else we have covered above. If you are not satisfied with the Bixe 16 pro, you can utilize the 100% buy-back guarantee from the company. Yes, you can sell the bike back to the manufacturer. Besides, you also have a 100% guarantee that the manufacturer will fix any defective components or parts. We do not know what is excellent for a budget 16" balance bike if these are not wonderful additions.
Just one thing we did not like - No handbrake
If you are big on brakes, you ought to know that the Bixe 16 does not feature handbrakes. So, to stop the bike, the assumption is that the child will instinctively place their feet on the ground when they need to.
Normally, we'd dismiss the presence or lack thereof of handbrakes as a preference thing, but in this case, we do think if we could change one thing about the Bixe 16 to make it a tad better, we'd add brakes.
The reason for that is that riders who fit 16-inch bikes are obviously older than those who fit 12-inch bikes. As such, they also tend to ride faster and more aggressively, so having brakes would be a nice safety addition.
But then again, the Bixe 16 is a budget bike, so some features are limited by nature. Best stick to it riding on pavements at milder speeds.
Comparison of Bixe 16 and other 16" Balance Bikes
Let's look at how Bixe 16 pro balance bike performs compared to three others among the few available 16-inch balance bikes for bigger kids.
| | | | | |
| --- | --- | --- | --- | --- |
| Feature of Comparison | Bixe 16 Pro | Joystar 16 | Go Glider 16 | Strider 16 |
| Weight | 12 lbs. | 13.5 lbs. | 12 lbs. | 18 lbs. |
| Type of Tire | Air (pneumatic tires) | Air(pneumatic tires) | Air(pneumatic tires) | Air(pneumatic tires) |
| Frame Material | Steel | Carbon Steel | Steel Alloy | Steel |
| Padded Saddle | Yes | Yes | Yes | Yes |
| Brakes | None | Dual | Single | Dual |
| Seat Height | 15-22" | 18-22" | 16-25" | 19.5-25.5" |
When rounded up with Joystar 16, Go Glider 16, and Strider 16, the Bixe 16 pro stands out as a budget 16" balance bike. It offers comparatively better features at its fair price, just like the little more priced balance bikes.
Our only wish would be to have a handbrake on it so that kids riding it can train on how to use brakes on a bike.
Nevertheless, it is a viable solution for parents who want to teach their kids to ride a bike. It also serves as an affordable option for parents before transitioning kids either to 18" or 20" pedal bikes.
Pros and Cons os Bixe 16 Pro
Let's have a look at some of the things that we liked or hated about the Bixe 16 pro balance bike.
Note that similar sentiments have been shared by parents and buyers who have experienced the bike firsthand.
Air tires offer better traction
Padded seat
Extremely lightweight 16-inch balance bike
Wide range of seat height adjustment
Very affordable
Final Verdict
There're lots of reasons why we are totally crushing on the Bixe 16.
As one of the few 16-inch balance bikes available in the market today, we absolutely love that it is also one of the lightest. We also love that it is an innovative and solution-focused creation for parents with older toddlers who haven't mastered balancing a bike.
Lastly, for its price point, the Bixe 16 is an impressive balance bike. We dare say; very few bikes come close to it.
You can also opt for a 16-inch kids' pedal bike instead of a balance bike.
Please Rate This Article
SEND