The Radio Flyer Classic Glide & Go Balance Bike best answers the question of "what is the best wooden balance bike under $100?"
By now you understand that balance bikes are the best type of bike to introduce your child into cycling. (If you don't know that yet, please read our article on the reasons why balance bikes are just the best first bikes for kids).
You can easily boost the confidence and skills of your child by giving them a great opportunity of learning how to ride a bike. Now, the Radio Flyer Classic Glide & Go Balance Bike comes out as the best pedal-free beginner bike that trains your child how to balance and control a bicycle. It is one of those bikes you bring home wrapped, and the kid breaks into tears of joy unwrapping their birthday or Christmas gift.
Mostly, this balance bike is a darling to grandparents who want their grandchildren to have the best time outdoors. 90% of the buyers we interviewed were grandparents, and they thought getting the bike would limit screen time for their granddaughters and grandsons.
In this review, we cover everything you need to know about the Radio Flyer Classic Glide & Go Balance Bike, stay tuned.
Radio Flyer Classic Glide & Go Balance Bike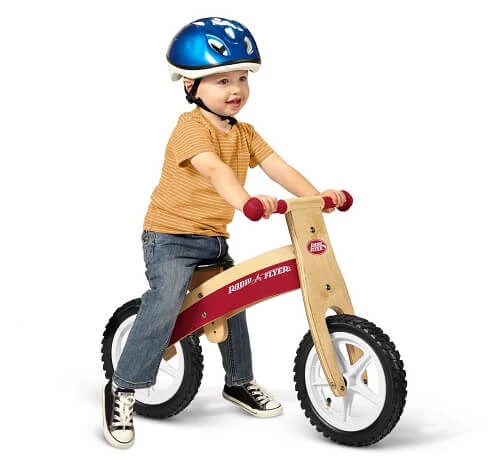 Salient Features and Review
Designed for kids between ages 2.5-5 years.

It has a wooden frame made from premium wood for durability.

Has a cushioned and adjustable seat for comfort. The seat can grow with your child too!

Classic Glide & Go balance bike comes with 12" pneumatic or air tires for traction and smooth ride.

For every bike you buy, the company plants a tree.

It allows the child to walk, glide, and run on it.

The seat to floor height is 14"-16."

The seat to handle distance is 9."

It has a weight capacity of 50 lbs.
Durability
If there is ever one concern when purchasing almost anything is its durability. With proper treatment and maintenance, the Radio Flyer Classic Glide & Go Balance Bike wooden frame can last for long.
The frame is made from premium wood that makes it durable enough to transition your kids to their first pedal bikes.
Its saddle is durable too. The saddle is made of cushion, which is durable to offer comfort until the kid outgrows the bike.
Light Weight
Radio Flyer Company is known to focus on lightweight kids' bikes. Even though some may think that the wood makes it heavy, the converse is true instead. The Radio Flyer Classic Glide & Go Balance Bike is lightweight and allows your kid to walk, run, and glide with ease.
The rims are also made of durable, lightweight plastic that further makes it lighter for kids.
Seat Adjustability
Wooden balance bikes, unlike the steel and aluminum balance bikes, come with seats that are adjustable by unscrewing and screwing some nuts on the frame.
The adjustability of the seat allows your kid to grow with the bike from 2-5 years. Besides, it also allows kids of different heights to enjoy the fun that comes with rising a balance bike as they nurture their skills.
Hassle-Free Assembly
Assembling the Radio Flyer Classic Glide & Go Balance Bike is very easy. You need no manual as the design is simple. Most of the parents who have purchased the bike agree to have assembled it without reading the manual. The assembly is self-explanatory, and you don't have to get any technical. It is more of a plug-and-play kind of thing.
Wheel Size and Tires
With the 12" tires, the Radio Flyer Classic Glide & Go Balance Bike hugs the road well and gives your child the traction they need. It also provides a reasonable clearance from the ground to allow the kid to do what they know best ", ride the crap out of the bike," as some parents would put it.
This is the best budget wooden balance bike that is worth every of your penny. The peace of mind it comes with during installation is out of the bike world.
Bottom Line
The Radio Flyer Classic Glide & Go Balance Bike live up to its name. Any bike enthusiast will tell you that this balance bike is something. To wrap it all up, when you purchase the bike, the manufacturer plant a tree. What a way to honor Mother Nature?
The Classic Glide & Go bike is a good balance bike for beginners who are seeking to gain confidence on their bikes before transitioning later to pedal bikes. It comes with a kid-friendly component including the premium wood used to make the frame.
You would say it is a perfect woodworker craft that shows how the impossible can come into reality.
The Classic Glide & Go is lighter, comes with an adjustable seat, and is a budget bike, what more wow you for a bike its class?
Besides, it has soft touch hand grips that your young rider grips as they glide, run, and walk with their newfound love.
Overall, the Classic Glide & Go balance bike combines a uniqueness in design, safety, and comfort in a clever way and packages the three into a pocket-friendly option for parents seeking to introduce kids to cycling.
Please Rate This Article
SEND