When you think of the Schwinn brand, the first thing that comes to mind is how reputable a company from yesterday has become today and will hopefully be tomorrow.
First off, it is because it produces kid-friendly bikes. Secondly, because it produces high-quality bikes such as the Schwinn Skip 2 balance bike. The two factors have made it a reputable company in the kids' bike and accessories industry.
As a pioneer in the bike industry still fully-fledged to date, the expectations are high whenever one comes across any of their products.
Like the Schwinn original (Skip 1) balance bike, the Schwinn Skip 2 is a particularly high-achieving balance bike. And what makes it different from other bikes is that it has the feel and look of a BMX bike, except it doesn't have pedals and is sized for toddlers.
So right out of the box, the Schwinn Skip has a cool style. But based on our review, we are pleased to report that its features go far beyond the face value.
Let's find out how together.
SPECIFICATIONS
Recommended age range: 2 – 4 years (28 – 38 inches in height)
Frame material: Steel
Wheel Size: 12-inches
Tire type: EVA form tires
Brake style: Coaster
Suspension type: Rigid.
Price range: Under $100
Weight: 7.2 lbs.
Schwinn Skip 2 Balance Bike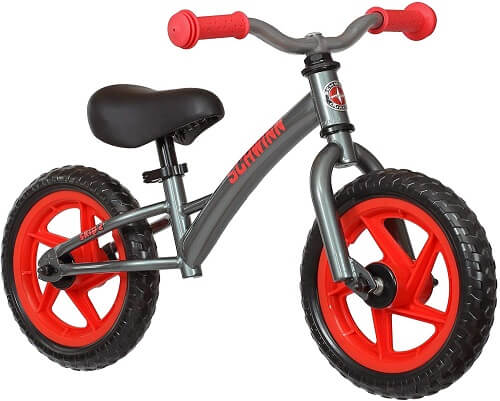 Schwinn Skip 2 Balance Bike Review – An in-depth Review
If you are looking for the best pushbike for a kid who is starting out to cycle, the Schwinn Skip 2 is a great option. Despite having a steel frame, the bike is lightweight, only weighing 7.2 pounds. It is a great ride around the neighborhood, considering the foam tires. Given the fair price, it ranks as a budget balance bike packed with exquisite features except for the problematic seat post clamp, which we take considerably take to issue. Let's have a look at some of the factors that make the Schwinn Skip 2 tick!
Variety of color options
The construction of this bike is quite something. Every part of it is of high quality, and we love that the bike is available in a variety of colors.
Now, your little one has the option of choosing their favorite color from the blue, graphite/ red, green, pink, and red colors, therefore customizing the bike.
Durable Steel Frame
As with most bikes, the Schwinn Skip's frame is made of steel.
This frame material has the advantage of being very sturdy and durable, so you can stand assured that this bike will serve your toddler for years to come in spite of the abuse thrown at it.
While the build is solid, we must admit that it leans a little on the heavy side in terms of weight. Arguably, this means that for some riders, giving that initial push might prove cumbersome.
But that shouldn't scare you into shying away from making the purchase. Although the bike is heavy, it is not too heavy that the average 2- to 4-year-old for whom it is intended for can't pick it up. It's simply a matter of knowing what your child can and can't handle.
Easy to Assemble
Another thing we really like about this bike is that if you're new to bike assembly, you need not worry about how you will piece it together for your young one. The Skip 2 comes preassembled, which eases the work on your end.
In no time, your toddler will be pushing the bike around while sticking their tongues out in joy, not to mention the aggressive ones who will glide their way into memories.
Frame Geometry
We love that the Skip is designed with an extended wheelbase and well-placed seat height to encourage an upright riding position.
However, our only reservation about the geometry is that the step-through is high. This limits the ability of some riders, especially the shorter ones, to be able to use it with ease.
A kid riding the Skip 2 and other Schwinn balance bikes enjoy the floor-to-floor design, which is a concept that works well for first-time riders. In addition, the design concept helps improve confidence and coordination, which prepares the little kids for their first pedal bike.
EVA Foam tires
The Skip 2 balance bike comes with a pair of maintenance-free EVA foam tires. Typically, this means that you do not have to worry about carrying a puncture kit or investing in a bike tire pump. Furthermore, the kids can glide and ride on different kinds of terrains unhindered.
Although the EVA form tires are not of the best quality and are slightly thinner compared to the knobby and low resistance air tires, they offer a smooth ride and peace of mind. The foam tires are also great at providing traction, making the bike heavier, depending on the rider. Therefore, Glide &Go can be a better alternative if you want an affordable balance bike with air tires.
Plastic Mag Wheels
The Skip 2 tires sit on plastic mag wheels.
The mag wheels are lightweight, but they also add a touch of style to the bike's overall look.
The only drawback to plastic is that it isn't as durable. However, what the Skip 2 lacks for durable wheels makes up for incredibly high-quality construction in all other areas.
Coaster Brakes
You can never be safe enough, so putting the bike to stop by placing one's feet on the ground (as most balance bike riders do) doesn't have to be the only available option.
Most people argue that stopping a balance bike is an instinctive thing for children. Therefore, balance bikes don't need brakes. However, those who disagree argue that while stopping the bikes may be instinctive, having brakes adds an extra layer of safety that shouldn't be compromised.
Plus, using feet to stop the bike usually brings many wears to the rider's shoes.
We love that Schwinn instilled coaster brakes on this balance bike to give the child the power to choose whether or not to stop the bike by placing their feet firmly on the ground or pedaling backward.
Related Article: Why coaster brakes aren't ideal for kids.
Adjustable Seat Height
The Skip is designed to grow with the toddler; therefore, its seat can be raised to accommodate the growing child better; and no tools are required to make that adjustment.
Our only issue with the seat is that although it adjusts, the seat post clamp is a bit flimsy, so the seat doesn't hold the new height in most cases.
Grips
The grips on this bike are excellent; small enough for small hands to grab with ease and grippy enough so that they do not slip from the hold.
Easy Steer Handlebar
The Skip's handlebars allow flex in the direction the child wants. However, the handlebar is instilled with a steering limiter to prevent the child from jackknifing into themselves, especially when they take sharp turns.
Padded Seat
We love how well-padded the Skip's seat is, especially in comparison to most balance bikes. This is one distinctive feature that we noticed about the Schwinn Skip.
Aside from the cushioning, the seat is also wide enough to accommodate each rider's bum. That way, no matter how long the trip, they won't be tired or in pain from discomfort.
Available in a variety of colors
Easy steer handlebar
Cozy seat
Very economical
Limited lifetime warranty
The seat clamp is flimsy
A bit on the heavy side
Final Verdict
Coming from such a renowned brand, the Schwinn Skip 2 is quite affordable.
We believe that with a few touches to the step-through frame, seat clamp, and weight, this would make for an ideal balance bike.
Nevertheless, if your child can deal with the somewhat heavyweight and is tall enough to get on and off the bike's step-through with ease, then you have no reason to have any second thoughts about it.
On top of all these great qualities, by buying the Skip 2, you buy your way into a limited lifetime warranty. Yes, you read that right. Schwinn gives you a limited lifetime warranty and honors it – at least from the parents who have run into issues months later after purchase.
Please Rate This Article
SEND