In this Yedoo TooToo Review, you will learn why the TooToo balance bike is designed for performance, versatility, and durability; stay tuned!
If your kid is between 18 months to about 4.5 years and you want to introduce them to cycling, getting them a balance bike or a running bike, counts as the greatest step. There are reasons we are forever against training wheels and pro-balance bikes. Given that every child has their taste, we try as much as possible to review some of the best balance bikes from the top brands in the market.
In this particular review, we focus on the Yedoo TooToo, which is a must-buy balance bike for parents who want value for their money. Built on a sturdy steel frame and considering its weight, it easily takes home the title of the lightest balance bike for toddlers and babies. And the good thing yet is that you get great features that are in-between the provisions of the budget and high-end balance bikes. Admittedly, it is among the best mid-range balance bikes you will come across in the market.
From the handbrakes to air tires, fun colors, and lightness, the Yedoo TooToo is the safest balance bike for its price, but let us find out what is more to it.
Specs of the Yedoo TooToo Balance Bikes
Weight: 8.3 pounds
Tire Size: 12 inches
Frame: High-tensile Steel
Tire Type: Pneumatic tires (KENDA with reflective dots)
Brakes: 1x mini "V" TEKTRO alloy
Hubs: JOYTECH Steel
Colors: Blue, Green, Pink, White, Black
Seat height: 12-18 inches
Best for ages: 1.5 years plus
Weight limit: 110 pounds
Handlebar height: 20.1 - 22 inches
Width of the handlebar: 14.2 inches
Length: 32.7 inches
Rims: Aluminum 12"
Minimum height of rider: 34 inches
Yedoo TooToo Balance Bike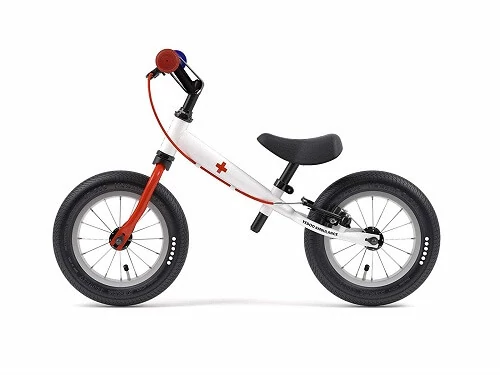 A Yedoo Bikes Brand Cross-comparison
| | | | | | | | | | |
| --- | --- | --- | --- | --- | --- | --- | --- | --- | --- |
| | TooToo | YooToo | OneToo | Police | Ambulance | Fire Rescue | Magic Forest | Little Sailor | Happy Monster |
| Frame Material | High-tensile Steel | Aluminum alloy | High-tensile Steel | High-tensile Steel l | High-tensile Steel | High-tensile Steel | High-tensile Steel | High-tensile Steel | High-tensile Steel |
| Seat height | 12 -18" | 11 – 19" | 12 – 18" | 12 – 18" | 12 – 18" | 12 – 18" | 12 – 18" | 12 – 18" | 12 – 18" |
| Weight | 8.3 lbs. | 7.5 lbs. | 8.4 lb. | 8.2 lbs. | 8.2 lbs. | 8.2 lbs. | 8.2 lbs. | 8.2 lbs. | 8.2 lbs. |
You can get all your favorite Yedoo OOPs balance bikes from WeeBikeShop.
Full Review of the Yedoo TooToo Bike
The Yedoo TooToo toddler balance bike defines elegance, creativity, and innovation bundled up on two wheels. It rides like a dream to enterprising kids, and it could be the reason your child appreciates riding to taking the bus soon as they become school-ready. The TooToo 12" bike by Yedoo comes ride-ready. First, it is ultra-light, meaning kids can run with it anywhere they wish. It also comes with an anatomic saddle/seat, reliable v-brakes, kid-friendly brake levers and handlebars, and kid-specific colors, which make it ahead on the game in creating appeal to the kids. It is no wonder kids say less when they test or see it, and we are sure you are almost buying it and that is why you are here, and that is a smart move!
Unlike other balance bikes that are close to toys, Yedoo TooToo has curved a name for itself as the smallest balance bike for toddlers and babies. It is suited for children between 1.5 years to 4 years who wear pant sizes 2T, 3T, and 4T. Do not confuse the TooToo to YooToo; these are the same brands from Yedoo but different balance bikes altogether, as highlighted in our comparison chart above. Let us get started with the most significant part of the Yedoo TooToo review, won't we?
Ease of Assembly
Parents dread assembling kids' bikes generally. One of the factors we look at when reviewing the best balance and pedal bikes is the ease of assembly. Does the bike come pre-assembled? No, the Yedoo TooToo does not come pre-assembled. However, the packaging contains an assembly manual and assembly tools to allow you to assemble the bike seamlessly by following simple visually illustrated steps. If assembling a bike is not your cup of tea, you can seek help from your local bike shop or a kids' bike mechanic near you.
Seat Height and Saddle Type
The seat post of the TooToo has a range of 11" to 19" making it ideal for kids from 18 months onwards. You can literary imagine yourself on the TooToo saddle. The seat is thick, bulky, and scooped, which ensures comfort as the rider glides around. Besides, the saddle comes customized with the Yedoo brand name over it.
Tires and Wheels
Even though some parents dread balance bikes with air tires, they are amazingly the best. Why don't we have the EVA tires for adult bikes? The answer to the question directly translates that pneumatic tires are a superior feat. The air tires provide better traction on different surfaces but come at the cost of regular repairs and maintenance. The TooToo comes fitted with a pair of premium inflated Kenda tires sitting on a 12" aluminum frame, which is the best for toddler balance bikes. The treaded tires enthuse confidence for the kids to ride on the paves, dirt trails, pump up tracks, and you name it; preschoolers and toddlers will jump anywhere as long as they are on a running bike. And if you though peculiar is just a dictionary term you are wrong, the TooToo comes with six reflective dots uniquely positioned for extra safety. Remember, safety for kids on bikes comes first and Yedoo is leaving nothing to chances. You have the option of upgrading it to the Black Jack tires. The tires come with an angled tube valve, which allows for easy access when pumping the 12" bike tire tubes.
Geometry and Frame Material
The frame is constructed from high-tensile steel, which means strength and lightness combined in a sentence. It can easily take a child's weight of up to 110 lb. the steel construction if for durability.
In terms of geometry, both the handlebar and the frame design are kid-specific and friendly. They allow the young tykes to maintain an upright position and maintain a leaning-forward posture, which is desirable, especially for aggressive and adventurous riders. The geometry also allows for comfort and confidence for the kids. You will be highly amazed by how much your kids will love this running bike. From the pavements, off-paves, rough surfaces, to dirt trails and off-roads, the Yedoo TooToo rides like a dream. The best thing even is that the little cyclists can maintain a natural riding position.
Weight and Brakes System
The Yedoo TooToo is a superlight balance bike for a toddler, as it only weighs 8.3 pounds thanks to its hi-tensile steel frame. It is among the lightest among the toddler balance bikes. Given the weight, it is an ideal balance bike for smaller kids with a sensitivity to bike weight. It easily tops the premium balance bikes collection again, for having included high-performance aluminum alloy Tektro V-brakes, which makes it a balance bike with brakes. The brake has toddler-friendly and short reach levers that easily fit the small hands of kids. The kids can easily activate the brakes for instant stopping without toppling over. Notably, the braking mechanism is above the frame, which is rare but for a reason. It helps reduce accidents due to children scratching their legs when on the run. The brake cables are colorful, which adds some flair to the bike.
Steering/Turning Limiters
Just like Woom 1, the Yedoo TooToo also has a turning or steering limiter, only that the latter has a removable steering limiter. This feature helps in preventing the bike from turning wrongly when the kids pick it off the ground. Unlike some restrictive turning limiters in some balance and pedal bikes, the TooToo limiters smoothly help to handle the bike. Kids are fond of over-rotating the handlebars, but that is a-never with the TooToo thanks to the steering limiter. Even though the turning limiters are irremovable, we feel the permanency is all for a great course, training the kids on how to maintain the right direction of the front fork.
Why Yedoo TooToo Beats Other 12" Toddler Balance Bikes Easily
| | | | | | | |
| --- | --- | --- | --- | --- | --- | --- |
| | Yedoo TooToo | | | | | |
| Seat Height | 12-18" | 10.8 -15.7" | - | 11-19" | - | 13-15" |
| Frame Material | Steel | Aluminum | Steel | Steel | Steel | |
| Tire Type | Air | Air | Air/EVA foam | Foam Rubber | Air | Foam |
| Brakes | Yes | Yes | No | | | |
| Bike Weight | 8.3 lbs. | 7.7 lbs. | 14 lbs. | 6.7 lbs. | 9.81 lbs. | 5.95 lbs. |
Our Final Take!
Without trouble, the Yedoo TooToo should find its way up to the bestselling balance bikes like the likes of Strider 12, woom 1, Chico Red bullet, and Schwinn Skip balance bikes.
TooToo is a high-quality and ultra-light balance bike for toddlers as young as 1.5 years but a great fit for kids two years plus. With its lightness, low seat height, and versatility, both petite and taller kids can ride on it.
If you want to spend a little more and get the right one, the TooToo balance bike should be your choice. It is a terrific first bike to buy 2-year plus kids as a birthday or Christmas gift. Combining the alluring features of the high-end bikes, it slightly sits above the budget bikes as it takes its name. Besides, a high-quality balance bike inspires confidence, as all running bikes should. Also, it is ultra-light, which is perfect for a first bike, especially when you are teaching your kiddo how to cycle. You should as well know that the TooToo is a great balance bike for toddlers, both the petite and the taller kids, thanks to its min and max in-seam heights.
Please Rate This Article
SEND