Every year, dozens of balance bikes for kids are being introduced to the market. This is making it increasingly difficult for parents to choose the best one for their kids. That does not negate the fact that balance bikes are still worth it compared to bikes with training wheels.
However, not all balance bikes are built the same. Some balance bikes are cheap and low quality, while other bikes are high-quality. Of course, the latter offers more room for growth, comfort when gliding around, and everything a kid looks for in their first ever bike in their life.
The Swagtron K3 balance bike is one of the top-quality balance bikes for kids. It is a pushbike bike that is very well-designed. Surprisingly, this bike is not as expensive as it looks. It costs less than $60, unless the price increases with inflation, which is highly unlikely.
The Swagtron K3 balance bike is great for toddlers between 2 and 5 years old who want to glide around, learn how to balance and control their bike, and develop confidence on a bike. On top of that, it is the kind of balance bike that gives you the best bang for your buck. Pretty much a worthy investment given that it comes with an aluminum frame, air tires, and kid-friendly geometry, it is a bike that will leave heads turning.
In this review, you will discover everything important you need to know about the Swagtron K3 bike.
Let's begin.
Specifications
Frame material: aluminum alloy
Weight: 6.5 pounds
Weight capacity: 55 lbs
Recommended age range: 2–5 years
Seat height range: 12.25"–15.25"
Height of seat to ground: 12" to 16"
Tire type: Air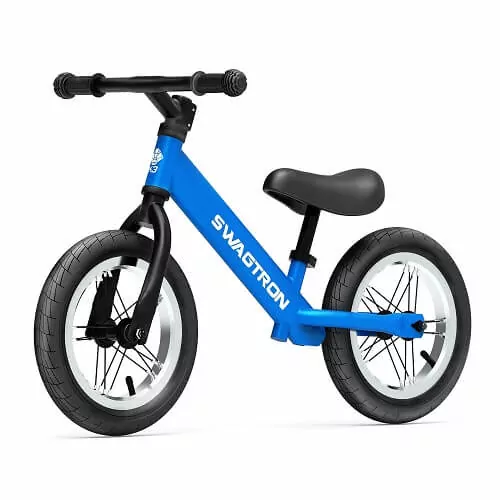 Adjustable seat
Padded saddle
Regular air tires
Non-twisting handlebars
Inexpensive
Extremely lightweight
No brakes
No footrest
Seat adjustment requires a tool
Limited seat height range (just 3inches)
Swagtron K3 Balance Bike: An In-depth Review
The Swagtron K3 is a stunning balance bike for kids. It is well-made to help under 5 kids learn how to balance and coordinate on a bike.
The bike is certainly one of the best and fun ways for kids to correctly learn how to cycle.
In this review, you will learn everything important you need to know about this bike and whether it is perfect for your kid or not.
Go for it if you have a child currently wearing 24m to size 4T pants.
What we like about this bike
Here are a few things we noticed about this balance bike that would probably intrigue you and tickle the balance bike desire of your kids.
Air tires
Virtually all affordable balance bikes have foam tires. However, this is not the case with this bike.
While this bike is certainly relatively cheap, it comes with air tires. Unlike foam tires, air tires provide much more cushioning and traction. Therefore, they make this bike a much more comfortable bike to ride for kids.
The air tires on this bike also make it perfect for riding on virtually all types of terrain. Of course, this is because of the superior cushioning they provide.
On this site, we usually strongly recommend bikes with air tires because they are much more comfortable. However, parents usually don't go for such bikes because they are often expensive.
If you have ever avoided or been avoiding air tire bikes because of price, you will absolutely love this particular one. The reason why is that this bike is about $100 cheaper than the typical air tire balance bike.
One more thing worth noting about the tires of the Swagtron K3 is that they have very low rolling resistance. This makes them very fun and easy to push for kids.
Lightweight frame
The Swagtron K3 frame is made of a special aluminum alloy. Because of this, it is a very light balance bike that weighs 6.5 pounds.
The lightness of this bike is one of its main selling points. The reason why is that the lighter a balance bike is, the easier it is to use and enjoy.
At 6.5 pounds, this bike is even lighter than the Strider balance bike, which is probably the most popular balance bike on the market.
The lightness of the frame of this bike is not the only thing that we like about it. We also like its design and finish.
The design is stunning and the finish is sleek. In fact, the K3 looks so good that many people assume it is very expensive yet it costs less than $60.
Wide handlebars
The Swagtron K3's handlebars are 15.5 inches wide. They are wide enough to ensure improved control and improved balancing. But they are not too wide to make the bike difficult to steer during fast movement.
Because this bike is relatively cheap, people expect it to have a cheap bike headset that cannot truly align the handlebars. However, this is not the case.
The K3 headset is an advanced headset that brilliantly keeps the handlebars in place. It will continue to do this even as your child takes many falls on this bike as expected.
Size
The lowest seat height for the K3 is 12.25 inches, while the tallest is 15.25 inches. What these height figures mean is that the difference between the tallest seat setting and the shortest is just three inches.
What this means is that while this bike's seat is adjustable, it is not extremely adjustable. Therefore, the best time to get this bike is the moment your child is big enough to use it.
If you do this, your child will be able to use it for some time before they grow too big for it.
According to some people, the fact that this bike's seat can only adjust three inches upward is a downside, we also hold this opinion. More could have been better. On the other hand, while this may be true, it is not really a big downside considering most balance bikes adjust four inches upward.
The distance from the front to the rear axle of this bike is 22 inches. It makes this bike big, stable, and perfect for kids to balance.
Sturdy design
As stated earlier, the K3 is made of an aluminum alloy and it is very light. The fact that it is lightweight may make you think it is a weak balance bike. If you believe it is a weak balance bike, you are wrong.
The K3 is a very sturdy and well-made bike. You can almost be certain that your kid will use it for as long as they want.
What we don't like about the bike
Like any other bike in the market, the Swagtron K3 balance bike has its inadequacies. Being the expert bike riders and researchers we are, here are a few things that we saw as a turnoff with the bike.
Seat adjusting technique
The number one thing we don't like about the Swagtron K3 is the seat adjusting technique. If you want to adjust the seat on this bike, you have to use a tool (an Allen key).
This is very cumbersome compared to the easy peasy way of adjusting the seats on other bikes using a lever.
So, if you are looking for a balance bike that can be adjusted using a lever, this is not it.
Seat adjustment height
The K3's seat can only be adjusted three inches upward. This is okay in most cases. But for people who want a balance bike for tall kids, it is not okay. This is because tall kids need somewhat taller seats to be comfortable.
Therefore, if you have a tall toddler, this is not the bike to go for.
Low maximum weight limit
The maximum weight limit on this bike is 55 pounds. While this is certainly a high maximum weight limit, it is lower than the weight limit of similar quality balance bikes.
If you are looking for other budget balance bikes, consider our master review of the most affordable balance bikes that belong to the same category as the Swagtron K3 Balance Bike.
Final Verdict!
The Swagtron K3 is an amazing bike for kids. The most amazing thing about it is the fact that it is a quality balance bike that goes for a relatively low price. We recommend it as yet another good budget balance bike that is great for families working with a strained budget but wants the best for their kiddo.
You will love its air-filled tires, brilliant headset, and adjustable seat. This is a bike that your kid will never grow tired of until they hit 5.
The only thing you may not like about the K3 is the fact that its seat can only be adjusted using a tool (an Allen key). This is the bike's only true downside. Otherwise, it is a wonderful balance bike for toddlers.
Check out our reviews of GOMO balance bike, Banana Bike GT or LT, and other balance bikes for kids between 2 years and 5 years and before you make up your mind.
Please Rate This Article
SEND