The best way to teach your kids how to ride a bike is to get them a balance bike. It works better than training wheels. This is because balance bikes teach the hardest skill to learn when learning how to ride a bike: balance, confidence, and coordination.
In this review, you will discover everything you need to know about the Dimond Miner balance bike. This bike is one of the best balance bikes on the market. It looks stunning, and it is designed to quickly teach kids how to balance and control bikes.
Within a few weeks of getting your kid this bike, they will be very ready to start riding a pedal bike when you get them one.
The most amazing thing about this Dimond Miner bike is how lightweight it is. The lightness of the bike makes it absolutely a joy for kids to handle.
Specifications
Frame material: carbon fiber
Weight: 6.1 pounds
Recommended age range: 2–5 years
Fits kids in clothes size: 2T – 4T
Height of seat to ground: 12" to 16"
Tire Type: Air
Diamond Miner Balance Bike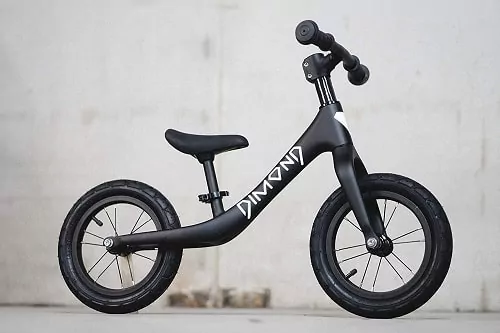 Stunning frame design
Doesn't need a tool to adjust the seat height
Low frame height
Comfy padded seat
Advanced air tires
Super lightweight (carbon fiber)
Adjustable handlebar
Has a brief learning curve
Allows the kids the independence of learning on their own
Strongly built
Expensive
No footrest
No handbrake
Dimond Miner Balance Bike: An In-depth Review
This is the kind of bike that will make other kids envious of your kid when he turns up with it at your local park. This is because it is a stunning balance bike that some call a work of art.
The bike features a carbon fiber frame that makes it very light. This lightness coupled with the bike's low-resistance to rolling wheels, makes this bike very easy and pleasant to ride.
What we like about this bike
Below are the things we like the most about this bike.
Sturdy frame
The frame is the number one thing we like about this bike. This is because it is a carbon fiber frame.
The best bikes in the world are built using carbon fiber because it is extremely lightweight and strong at the same time.
So, when you purchase this bike, you can expect it to be very lightweight. This means your kid will find it easier to push and ride than a typical balance bike.
At the same time, you can expect this bike to be very strong and sturdy. In fact, this bike can fall many times without needing any serious repair because of how strong it is.
Perfect wheels
The Dimond Miner bike has probably the best hubs ever. They are brilliantly designed and have sealed bearings. They are the reason why this bike's tires roll effortlessly and fast when the bike is given a push.
It is said that when the bike is positioned upside down and its wheels are given a spin, they will spin for nearly 2 minutes. In contrast, when this is done to other balance bikes, they usually spin for about 30 seconds.
This shows that in terms of rolling resistance, the Dimond Miner Bike tires have virtually no resistance.
Because this bike's tires have virtually no rolling resistance and they are also air-filled, this bike glides longer when pushed compared to other bikes. Your kid will really love this about it. Riding this bike will be a very enjoyable experience.
Excellent performance
The section above shows the brilliance of the wheels and how they make riding this bike very enjoyable.
In addition to the fast low-resistance wheels, this bike has a highly responsive headset. The responsive headset makes this bike easier to control than most balance bikes.
Now imagine the combination of this bike's fast wheels and its responsive headset. The mix or combination is just pure magic. It makes this bike a masterpiece balance bike that no child will hate.
When your kid begins gliding around with this bike, they will have so much fun, you will be asking yourself why didn't you get it sooner.
And you will definitely be chasing after them because that's how fast this bike is.
One more thing worth noting about the performance of this bike is its lightness. Because this bike is lightweight, gliding on it is a very pleasant experience for kids.
Most parents who have watched their children glide or ride around with this bike say their kids don't get exhausted easily or quickly. Of course, this is frequently the case when kids ride heavier or higher-resistance balance bikes.
Based on the performance of this bike, it is fair to say that it is perfect for kids who love a bit of speed. Kids who are timid or not very aggressive may find this bike a bit too much.
Kid-friendly Size
We also like the size of the Dimond Miner. The bike is perfect for toddlers between 2 and 5 years old. The reason why is that it has a seat with 4 inches of "growth" in it.
It will take some time before your little champ becomes too old for this bike.
In terms of clothes size, this bike is ideal for children wearing clothes between 2T and 4T. For your information, kids between 2 and 3 years old usually wear size 2T clothes, while kids between 4 and 5 years old usually wear size 4T clothes.
Threadless headset
We also like the headset of this bike a lot. This is because it is a threadless headset, which protects kids against danger in case of a crash or a fall.
Moreover, to further protect kids when using this bike, the manufacturer added a rubber cover to the headset. You can remove the rubber cover if your kid doesn't want it.
What we don't like
There are a few things that we found uninteresting about the Dimond Miner. Despite it being a top-of-the-range carbon balance bike, we never liked that it comes with only one-color option and the fact that it does not have a handbrake, but these are some limitations to live with, especially considering that the bike offers a perfect feel for kids starting out to ride bikes.
No color options
While this bike certainly looks brilliant in black, we do not like the fact that it is only available in black. Many balance bikes are available in a variety of colors. However, this one is only available in black.
No handbrake
A fair number of balance bikes do not have a handbrake. This is the case too in this bike. However, while it is usually not a problem for a balance bike not to have a handbrake, it might be a problem for this bike.
The reason why is that this bike is much faster than other bikes. Therefore, there is a need for kids who are using it to be able to stop when they need to.
However, you must remember that the Dimond Miner is just a balance bike and, therefore, it cannot move dangerously fast.
So, brakes may or may not be needed depending on how you look at it.
Final Verdict
The Dimond Miner is a stunning and brilliant bike that is perfect for kids who love speed. It glides fast and effortlessly making it a pleasant bike for kids. It is also extremely lightweight and has a comfy seat. These two things make it a fun, comfy, and pleasant balance bike for kids. We highly recommend this bike for kids between 2 and 5 years old.
Please Rate This Article
SEND