When it comes to training a toddler how to ride a two-wheeler, all parents want to start with a bike that masters in comfort, safety, high quality, ease of use and durability yet still be able to train their kid how to balance successfully.
A child's first experience of the freedom, thrill, and adventure that comes with riding a bike has to be exceptional. "Why?" you might ask. The answer is because it determines whether the toddler will associate riding with having fun or just utter resentment.
For those reasons, finding the perfect bike that will effortlessly do the trick for your kids is very important.
In our quest for the best balance bikes, we have tested over 30 balance bikes over the years, and we dare say the Woom 1 Balance Bike 2019 model is as close as perfect gets for a balance bike.
But hey! There's no need to toot their horn without giving you hard facts. So let's dive straight into why this innovative bike is a must-have for any toddler!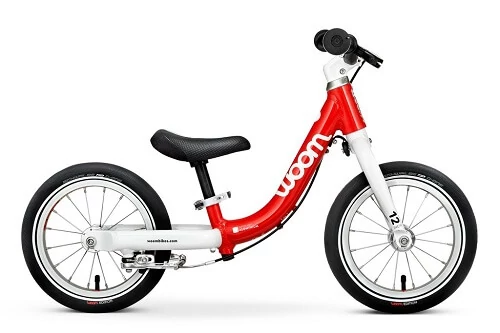 Key Features
Extremely low minimum seat height
Adjustable seat length
Rear hand brake
Air-filled tires
Lightweight, high-quality aluminum construction
Steering delimiter
Anatomically shaped saddle
Flat bolts
1. Kid-perfect size
If you are familiar with balance bikes, then you know that the seat height and the wheel size are very important when scouting for the right balance bike for a kid.
PRO TIP: The seat height is by far the most accurate indicator of how the bike will fit your child. Therefore, you want the bike's seat height to be either an inch or one and a half inches less than your child's inseam so that their feet are not dangling in the air as they prepare to ride.
10-14" Inseam
Although the age of your kid is not much to go by as compared to their inseam measurements, these factors were clearly considered when designing this model.
Typically, most 18-month-old toddlers have an inseam of 11 inches. As we mentioned, the manufacturers of this bike had just that in mind because at the lowest setting, the Woom 1 balance bike has a seat height of 10.16 inches and measures 14 inches on the highest side.
The Woom 1 having one of the lowest minimum seat heights means that at just 18 months your kid can learn to balance a bike. And because the seat can be adjusted, then your kid will have no qualms using this bike till they are three years old.
Not to forget that the bike seat's diameter is 22 cm. We are certain that the Woom 1 will serve your kid diligently as they grow.
12" wheel
Most balance bikes have 12-inch wheels which are ideal for toddlers.
The Woom 1 did not disappoint as it is another '12 inch wheel' bike that is miniature and well-proportioned for children with an overall height range of 32 to 39 inches. Again, you will have the easiest time training your toddler if you want them to learn how to balance as soon as they start to walk.
Padded Saddle
Comfort is key when training a kid on anything. That is why the Woom 1 comes with a padded U-shaped saddle. Not only is its shape perfect for sitting, but the grip of the seat also makes it hard to slide off.
That, my friends, is exactly what every toddler who has a low concentration span and wobbly nature needs, especially when handling a two-wheeler!
Low-step Through Frame
Another feature that proves that Woom 1 Balance Bike was created for kids to start riding as soon as they start walking is its extremely low step-through point.
This, coupled with its high cockpit, which allows a kid to comfortably lean forward while running, hastens the learning process.
You can take our word when we say that the Woom 1 will have your kid ready for a pedal bike in no time!
2. Ultralight High-quality Aluminium Frame
If you thought the Woom 1 had outdone itself with its toddler-appropriate size, then you will be pleasantly surprised to find that this bike is also extremely lightweight; all while maintaining high quality in its construction!
The frame of a bike usually has an impact on its overall weight. Generally, aluminium frames are preferred over steel frames because while the former is the usually lightweight, stronger and rust-proof, the latter is generally heavier and prone to dust.
Most high-end bikes like the Wool 1 2019 model are normally made of high quality 6061 aluminium frame. Needless to say, this frame does an exceptional job at making the bike strong and extremely lightweight hence easy for your toddler to navigate.
Plus, as a parent, it doesn't hurt that you can easily carry this bike by the seat once your kid gets tired and decides to run off
If you are wondering how much this bike weighs, its weight amounts to a mere 6.7 pounds. This weight is pretty impressive, considering the fact that air tires and a handbrake also have a massive impact on weight! But let's not delve into those features just yet.
Just stick around, and we will be sure to expound on that!
3. Great Geometry For A Natural Riding Posture
By just looking at the Woom, you can tell that a lot of thought and detail went into its design. Owing to its long wheelbase and proper seat positioning, our little testers had an easy time gliding through this bike.
Long wheelbase
The structure of this bike was clearly done intentionally and meticulously to encourage correct balance. The wheelbase, which is the distance between the flattest ends of the two wheels, is long enough to ensure stability.
We can confidently report that it was especially easy for toddlers to balance on this bike due to the directional stability they gained from its flawlessly long wheelbase.
Low seat positioning for a lower centre of gravity
Training a toddler how to balance and ride a bike means that they are going to start at low speeds and having a lower center of gravity makes it especially easy to balance at low speeds.
A lower center of gravity is achieved by having a seat positioned such that there is a small gap between it and the rear wheel when the seat is set at its lowest.
Yes, you guessed, right! The Woom 1 Balance bike has a low center of gravity to encourage balance. This great structure definitely ensures progress past the walking stage in no time.
4. Ergonomic Handlebars and Wide Grips
The length and width of the Woom's cranks are states of the art! To begin with, the handlebars are slightly higher to encourage an upright posture for the kid as opposed to having to lean down to reach the bars.
As for the grips, they are not only soft but also wide. The 19mm grips are bumpy and made to mimic the natural contour of a child's palm when gripping the bar. This makes it easier to control, and the riding experience much safer and more comfortable.
5. Easy To Reach And Highly Responsive Hand Lever
You honestly can't beat a company whose main goal is to 'help kids safely discover the magic of childhood on two-wheels.' And true to their words, your child will experience the magic on this particular two-wheeler as the Woom boasts of a short, adjustable, easy to reach hand lever that is light to the touch.
Other than the lever being easy to navigate, it is also easy to identify and fit for small hands for easy and effortless braking.
Although some people prefer teaching their kids to stop the bike using their feet, this is an extra feature that we were pleased to see on the Woom. The hand brake adds as a safety precaution, which is especially important for kids who get bolder as they get older.
You may be reluctant about the hand brake feature, but you will thank us later as it will definitely save the tear on your toddler's shoes as they start to experiment with riding fast!
6. Pneumatic Tires for Extra Traction and Cushioning
Listen, we're not here to hard sell this product but where credit is due, it ought to be given!
Any bike guru will tell you that the frame and wheels of a bike greatly affect its overall weight. Air tires are far much heavier and expensive than foam tires.
Although they are heavier and more expensive, air tires offer more comfort and can flex easily during sharp turns as compared to foam tires.
The Woom 1 is made of high-quality pneumatic tires which offer superior traction and cushioning on bumpy sidewalks.
Even more appealing is the fact that the performance of these air tires on all terrains is unmatchable! They can successfully cushion the impact, for instance, when going down a curb in a way that toddlers are unable to feel.
With a width of 12" by 1.35", the air-filled tires of this machine give us more than enough reason why it comes at the best price tag!
7. Removable Turning Limiter
The Woom 1 features a detachable turning limiter to prevent those dangerous sharp turns and oversteering.
This feature might seem insignificant, but it does a great job at preventing your kid from jackknifing by limiting swerving. Not only that but because the turning limiter is elastic, then the correction can be done very gently.
However, if you feel that the limiter inhibits your kid's ability to learn proper steering, then you can easily remove it and reattach it as you please.
8. Flat Bolts which Ensure no Contact With Legs
Seriously, what's not to love about a bike whose components were strategically placed? More than anything, this bike did just that by aligning features that doubled on its safety and comfort.
The Woom 1 as compared to other budget bikes, has flat rounded bolts that are fully integrated into the frame of the bike. This does a good job at ensuring that your toddler's legs don't get scratched by the exposed metal.
9. Extremely Durable
As touched on earlier, the Woom 1 is constructed with aluminium rims which are more durable compared to the plastic rims found on budget bikes. However, other subtle features increase the durability of this two-wheeler.
Sealed Bearings
Typically, bikes with sealed or shielded bearings experience less friction when spinning. This is because the bearings are successfully shielded from dust, water and dirt that would eventually slow down the tire.
With less friction, riding a bike is definitely smoother, and the overall shelf life of the bike is heightened. What more could you want from a toddler's bike?
10. Easy to Use Guide
The Woom 1 comes with a lot of pleasant features, but perhaps the most pleasant feature of this bike is how easy it is to assemble.
The bike comes with easy to follow instructions, which makes it super easy for in-home assembly. Not only that, but your kid can also make their own customized choice of color from the blue, green, purple, and red colors that the bike comes in!
Add that to the fact that there is also an optional bell and kickstand and you may have just found the perfect balance bike!
Conclusion
While we were spoilt for choice when it came to highlighting the features that make the Woom 1 Balance Bike a best-seller for toddlers, we wouldn't do our job justice by failing to highlight its shortcomings.
The Woom 1 only fails in lacking a footrest. Although kids naturally and instinctively know where to place their feet as they glide, some parents may not be pleased by the exclusion of this feature. However, this feature plays a minimal role in how kids learn how to balance a bike and should, therefore, not affect any purchasing plans you had!
If anything, the Woom 1 raised the bar so high that we cannot imagine a better way of introducing your child to the concept of a two-wheeler.
So grab your toddler Wool 1 and share the experience with other Pros!
Here are related articles:
1. How to choose the best balance bike.
2. Why balance Bikes are the best option when teaching kids how to ride.
3. Major Balance Bike races to consider registering your kids
Please Rate This Article
SEND