The Joystar 16" Striker may be Joystar's first inception into the small world of 16-inch balance bikes but you'd never tell from how well-made it is.
The company has 10, 12, and 14-inch balance bikes for toddlers but the 16-inch is a bold debut into a somewhat underserved market. That is the big kid market who require training on how to balance a bike yet can't fit the smaller-sized balance bikes that dominate the market.
The 16-inch balance bike provides a temporary solution for this training before the child is ready for their first pedal bike.
Let's see whether or not this 16-inch balance bike hits the mark from a performance standpoint.
1
Joystar 16 Balance Bike for Big Kids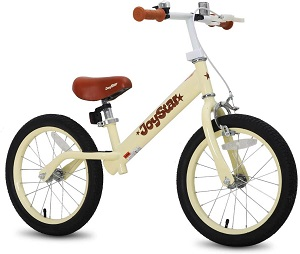 Specifications
Recommended age range - 5 to 9-year-olds (41 - 55 inches tall)
Weight – 13.5 pounds
Tire type – rubber air tire
Wheel size- 16 inch
Frame material – high-tensile steel
Seat height - 18 – 22 inch
Features that Make Joystar 16" Balance Bike a Great Buy
The features of this bike are equipped to prevent accidents and keep the child on the bike so they can learn how to balance and steer it as fast as possible. These include:
1. Pneumatic Tires
It goes without saying that the distinctive 16-inch wheels is this bike's most defining feature. There are far too little 16-inch balance bikes in the market today.
We love that the tires of this bike aren't the regular type you'd get in a budget bike. Instead, the Striker features rubber air tires; which are an upgrade as compared to the 10 – 14 inch versions which have foam tires.
The advantage to this type of tire is that because of the traction and cushion, your little scooter can trail over both smooth pavements as well as rocky, bumpy terrains.
We thoroughly enjoyed the fact that the featured tires are also widened as it translated to better coverage no matter the type of terrain the tires are on.
2. Easy to Assemble
Right out of the box, the bike is easy to assemble; especially for seasoned bikers who will find the process automatic.
As for beginners who are inexperienced in bike assembly; they might be frustrated with the substandard instructions.
3. Frame
Every detail of this bike's frame is made of high tensile steel. As a result, it is very robust and can withstand harsh treatment.
Then again, because the bike is designed to fit kids between 5 and 9 years of age, the weight is kept minimal in order for it to be easier for kids to control.
The lightweight frame weighs 13.5 pounds; which in our opinion is really light for a 16-inch bike!
4. Redesigned Frame
Equally impressive is the fact that the frame of the bike has been redesigned to make the training more efficient and effective.
The Striker has been redesigned with a lower standover height which means that getting on and off the bike won't be as much of a hassle for shorter kids. Additionally, with a longer wheelbase, riding is more stable and the child is able to maintain a more upright riding posture which in turn aids balance
5. Customized Comfortable Grips
We are not too fond of grips that are too slippery or just completely uncomfortable. And that is why we were thrilled to note that the grips on the Joystar 16 Striker are the complete opposite of that.
They are anti-slip, wear-resistant, and entirely breathable.
The grips are also soft to the hold of kids yet still grippy enough that the child's hands won't slip off when sweaty or going down descents.
6. Front Calliper Brakes
This bike is designed with the safety of your child in mind. For reliable stopping power, front caliper brakes are featured on it.
The brake lever is very effective at putting the bike to a stop as it is both easy to compress and very responsive.
7. Adjustable Handlebar and Seatpost Heights
The Joystar Striker really is a one-stop-shop. In addition to the safety and comfort features, it is designed to stay with your child as they grow.
This is thanks to an adjustable seat and handlebar height configuration. The seat height adjusts with a 4-inch range raising from 18 inches to 22 inches off the ground while the handlebar height adjusts from 25.2 to 28.7 inches.
Another thing we love is that the height adjustment is completely tool-free. You can do it anywhere, anytime!
8. Comes in four Colors
Lastly, the Striker is available in four vibrant colors which toddlers will enjoy picking from. The blue, pink, beige, and black color choices won't isn't as limited as some bikes which tend to feature one solid color choice.
Things we did not like about the Joystar 16-inch balance bike
Aside from the faulty manual, the Striker's only other flaw (and it's a small one if anything) is that it doesn't feature a footrest. This means that the kid's feet dangle in the air as they scoot around. That isn't really a problem as most kids do this instinctively; except they are prone to getting tired real fast in comparison to when riding a balance bike with an integrated footrest.
However, that isn't a deal-breaker for us; and we'd still recommend the Striker as a great way to train your child to balance a bike.
Final Verdict
If there's ever a need for proof that simplicity is key then the Joystar Striker 16 proves it so effortlessly.
We feel this model with its redesigned structure for kid ergonomics provides a great balance of functionality. The bike is topped by cool brakes and even cooler anti-slip grips which enhance the overall feel and control the child has over the bike.
Ultimately, there's really not much that we'd change about the Joystar Striker 16". Provided you aren't discouraged by a lack of proper instructions or resting area for the child's feet, this makes for a great gift for kids who are yet to learn how to steer a bike and need the right motivation to do so.
Please Rate This Article
SEND