Bikes have come a long way from back in our days. Back then, you'd gradually evolve from using training wheels to a pedal bike having gained superior command of how to steer and pedal.
But, if you really think about it, something was always amiss during this transition; balance! Every avid rider can tell you that learning how to balance a bike is perhaps the most crucial part of riding.
From this discovery thus came the creation of balance bikes. To be brutally honest, the concept of a balance bike definitely does the job more efficiently as they are engineered to highlight balance and steering for your kid.
Sure balance bikes are efficient but what good would we be if we failed to scout for the best balance bikes out there?
In our quest to look for the best balance bikes, only a number of them were successful in crossing off the ticks in our 'top-level performance' list. And the Strider 12 did just that!
Strider Sport 12 Balance Bike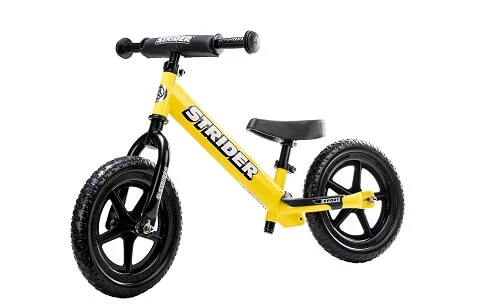 Without further delay, here's how the Strider's features performed in our test.
1. Size
We all know that a balance bike's wheel size and seat height (in relation to a child's inseam) are the most important determinants of the correct fit.
The minimum height of the Strider's seat is 11 inches, and it can be adjusted all the way to 19 inches, with a wheel size of 12 inches. This makes it appropriately sized for kids between 18 months and five years whose inseam ranges between 10.5 inches and 21 inches.
Confused? Well, the math around inseams, seat height, and fit isn't as complicated as you may think.
Typically, the child's inseam (measured from crotch to ground with their shoes on) should be just over an inch higher than the bike seat's height at its lowest setting. This is to allow them to be able to put their feet flat on the ground while sitting and still have room to bend their knees.
If we go by that, then we can conclude that the Strider's seat could be a little lower. However, that should not discourage anyone from experimenting with this well-made bike as the inseam usually ranges from child to child.
Nonetheless, with a minimum setting of 11 inches, a regular toddler with a 12-inch inseam can easily hit and push off of the ground while they are sitting comfortably on the bike.
While we are still on this bike's size, it is important to highlight that not only is the bike's seat adjustable but also its handlebars' height. This means that you need not worry about your toddler outgrowing the bike in a few months as it will surely stick around throughout the years!
The icing on the cake? You don't need any additional tools to make these height adjustments as the bike has super easy-to-use quick-release clamps.
Lastly, it is only fair to mention that although the Strider's seat is decently padded, the padding leans more towards the minimal side. This clearly isn't the strongest point of this two-wheeler, but more amazing features are yet to come. Just read on!
2. Weight
You want your child's bike to always weigh less than 30% of their overall weight. This is to allow them to easily maneuver it and even be able to carry it
On average, most 18-month toddlers weight between 22 and 26 pounds. The Strider 12 Sports Balance bike weighs a mere 6.7 pounds, which is light enough for a toddler to navigate. This science is attributed to the type of frame and tire material used to make a bike. However, we'll delve into that a little later.
For now, this bike being super lightweight is a high selling point as it is optimal for kids.
3. Geometry
Strider prides itself in revolutionizing the first-time learning experience of riding on a two-wheeler for kids. In their own words, they strive to guarantee that their bikes deliver the 'best way to teach balance and improve dexterity, cognitive ability, and spatial awareness.'
Indeed, the Strider is a great learning tool for kids as its construction is engineered towards making the experience seamless for them.
The remarkable performance of the Strider begins with its long wheelbase. We were superbly impressed by how the length between the two ends of the Strider's wheel (where they touch the ground) is adequately long enough to encourage directional stability.
Not only that, but the bike's cockpit has ample space such that your toddler can easily lean into the handlebars for proper steering.
As for the positioning of the seat, the Strider's seat is just low enough to encourage a lower center of gravity. With this bike, your toddler will be gliding around like a pro within the blink of an eye!
4. Tires
We were extremely impressed by the unbeatable performance of the Strider 12 on the neighborhood pavement.
It is made of inflatable tires, which makes them not only puncture-proof but also not susceptible to damage or maintenance issues. Although this feature adds to the high performance of this two-wheeler, it also deducts from its performance as the tires do not grip as well and neither do they ride as smoothly.
All the same, traction shouldn't be an issue as long as your little rider sticks to gliding around your local neighborhood.
5. Brakes
We're just going to put it out there: the Strider balance bikes have no brakes!
And get this, it's not as bad as it sounds because the manufacturers of this two-wheelers put a lot of research into its creation. Here us out because after testing the bike, we too are inclined to support this 'no-brake' concept.
For starters, the reasoning behind the lack of a hand brake is that kids intuitively know that their feet are in control. This means that they naturally know that they can use their feet when they are ready to slow down or stop.
As a parent, you should have no safety concerns over your kid gliding on smooth or flat land on this bike. They just need extra caution on hilly areas.
Additionally, the engineers of this machine argue that the inclusion of a handbrake only adds to the confusion and frustration of a child's experience. They become confused over whether to use their feet or the brake to stop yet essentially the quickest and safest way to stop a balance bike is by using the feet.
If you still have safety concerns, true to Strider standards, they have a foot brake kit which you can add to your toddler's bike as you please.
6. Turning Limiters
The presence or lack thereof of turning limiters in a balance bike has always been a controversial topic.
Those who support their inclusion do so because turning limiters have the ability to prevent the handlebar and the front wheel from completing a full turning radius. However, those who oppose them argue that turning limiters limit the ability of kids to learn how to steer properly.
The Strider 12 features no turning limiters. This means that your toddler remains in full control and has the responsibility of preventing the wheel from turning too far.
However, this shouldn't be a deal-breaker as it also means that your toddler can fully exercise the freedom to roam without reaching a hard stop.
7. Footrests
This is another challenging concept which begs the question "To include or not to include footrests?"
Again, kids will innately know where to place their feet as they balance. However, some parents still prefer the inclusion of a footrest. But even then, the design and width of a footrest are very important!
A poorly designed footbed will dampen your kid's riding experience as there's a high probability that their calves will keep bumping into it. On the other hand, a well-designed footrest is usually tucked under the bike's seat such that it does not get into the way of a child's stride.
The placement of the Strider's footbed is quite impressive as it is not too protruding. Needless to say, out little testers glided seamlessly without having to worry about continually kicking their feet.
8. Bearings
The Strider's performance came short in that its bearings are exposed rather than sealed. This means that the bike is prone to experience friction when spinning.
9. Frame Material
Like we mentioned, the frame material of a bike has a very massive impact on its durability, price, and overall weight.
Metal bikes usually rate the highest in terms of quality and durability. Much like we expected, the steel make of the Strider attributes to its 100 plus dollar price tag.
You can tell that the Strider is built to last as it is sturdy and well made with impressive quality from top to bottom! Not only is it super easy to put together courtesy of an easy-to-follow step by step guide, but also your kid gets the privilege of choosing from the 8 vibrant colors that it comes in.
The only downside to its durable steel frame is that the bike is prone to rust. Other than that, this is a balance bike that will put up an intense fight throughout the years.
So yes, although the bike is a little pricy, this is a case of getting your money's worth!
10. Grips
We believe that the safety of a child is second to none, when gauging the performance of a machine.
And as insignificant as they seem, the handlebars and grips of a bike play an important role in the safety of a child while riding.
Shape and size of the handlebars, as well as the bike of the grips, have to be appropriate in order to protect your kid in the event of an accident such as running into a wall or tree.
The Strider 12 held up its name as its grips are suitably designed for toddler-sized hands. Its mini-grips will definitely not give your little one a hard time to navigate or control. And Strider takes the cake again as the two-wheeler's grips have protective bumpers which offer unrivaled comfort and safety!
Super lightweight.
Great geometry for stability.
Easy to navigate.
Fits great with plenty of room to grow into.
Adjustable seat and handlebar height.
Never flat, no maintenance tires.
No-tool assembly.
High quality steel frame.
Built-in footrests.
Handlebar pad.
No handbrakes.
Minimal padding on the seat.
Exposed bearings.
A bit pricey.
Verdict
We highly recommend The Strider 12 Sports Balance bike as it has mastered the art of teaching a child to balance and ride a bike before they are out of their diapers.
From its kid-friendly make to its high-quality steel frame, long wheelbase, inflatable tires, low center of gravity seat and well-positioned footrest very few balance bike come close to the performance of the Strider!
Without a doubt, Strider is the way to go if you are looking to introduce your child to the concept of riding.
Related articles:
Reasons to buy a balance bike for your kids
Why you need to ditch the training wheels for the balance bikes for kids.
Always remember to put safety first. And when you need to choose a helmet, there are different factors to consider. In our article on how to choose a kids' helmet, you will get some serious advice on how to choose the best helmet.
Please Rate This Article
SEND