Isn't the banana balance bike brand just built for nothing less than fun? That is exactly what you will probably say once you get your kid, either a Banana LT or Banana GT. Verily if you are looking for a balance bike that is superior to scooters, starter pedal bikes, or tricycles, the banana balance bike fills the role. It is also a perfect bike gift for a child or family that loves cycling. While one is an ultimate lightweight balance bike, the other one boasts of being the ultimate cruiser. In the next few paragraphs, we will reveal to you some of the reasons why Banana balance bikes rank among the best balance bikes. We also expose you to some of the salient differences between the LT and GT. Finally, we also do a cross-comparison of banana bikes to some renowned balance bike brands. This is where you get the coffee or whatever beverage makes you alert and read between the lines!
Banana LT Balance Bike - The Ultimate Lightweight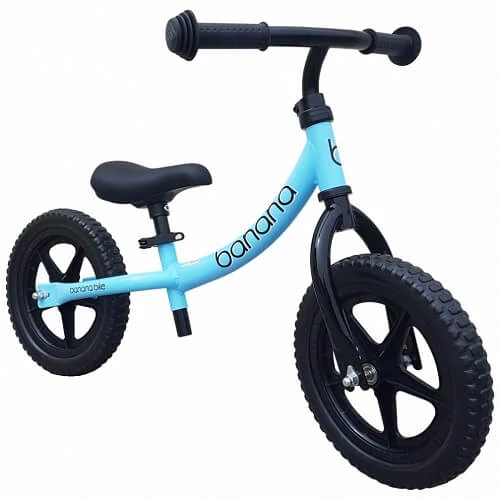 Specifications
Tire Type: 11.5-inches ultra-lightweight puncture-proof EVA tires
Size: 11.5 inches
Exposed Bolts: Yes
Color Options: Blue, Pink, Green, and Yellow
Weight: 6.39 lbs.
Seat Height: 12.2" - 15.7"
Best for ages: 2-5 years
Max Supported Rider Weight: 25kg or 55 lbs.
Wheelbase: 22 inches or 56cm.
Banana GT Balance Bike - The Ultimate Cruiser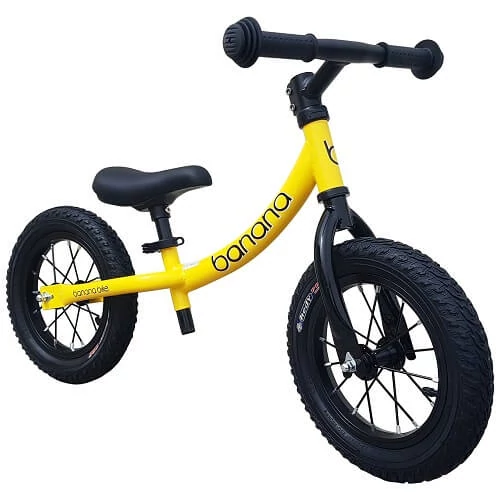 Specs
Tire Type: 12-inches inflatable pneumatic tires
Size: 12 inches
Exposed Bolts: Yes
Color Options: Candy pink, Candy Blue, and Candy Yellow
Weight: 8.16 lbs.
Seat Height: 12.2" - 17.3"
Best for Ages: Smaller toddlers to 5-year-olds.
Max Supported Rider Weight: 25kg or 55 lbs.
Wheelbase: 22 inches or 56cm.
Full Banana Balance Bikes Review
To begin with, it is hard to find a perfect balance bike under $100. Below 100 dollars means you are after the budget range of budget bikes, which even some wooden balance bikes cost higher. This class of bikes is designed and marketed for indoor and single terrain riding. When you compare the likes of banana GT and LT balance bikes to the rest of the budget bikes, you can pat your chest for getting more for less. These balance bikes take on any terrain thrown at them from playgrounds to pump up tracks and rough trails. With constant upgrades, you can be sure that these kid-specific designed balance bikes will hold their place a little longer and help in getting more kids on bikes. These affordable little rides make you a winner parent to your kid. Let us find out what makes the banana balance bikes rad. But for a start, this is a top pick for parents who want a perfect budget balance bike.
Components of the Banana Bike LT and GT
The components of any bike are part of the equation that defines its quality, usability, and performance. Both the banana LT and GT have different headsets. While on the one hand, the GT in its latest models comes with a sealed bearing threaded set, the LT, on the other hand, has a threadless headset.
The threadless headset of the GT comes in handy to ensure every ride is smooth, memorable, and comfortable. Even if your kid takes a fall on their balance bike, it is easier to realign the handlebars thanks to the threaded headset.
The threadless Banana Bike LT headset means that you can adjust the handlebars up, which is a plus in that it grows with the kids, up to 1.5 inches. Furthermore, a raised handlebar implies comfort for the kids as they maintain a great upright posture. However, to adjust the headset, you will require an Allen key to loosen the bolt on the headset, which is a straightforward step.
Tires
As indicated in the highlight above, Banana Bike GT comes with pneumatic (air) tires with aluminum rims. This is an excellent feature you hardly get on balance bikes under $100. Instead, most of the budget balance bikes come with either foam or plastic tires.
The air-filled Banana GT Bike tires have excellent traction and can take on any terrain the kids wish to explore. So, the Banana Bike GT is an outstanding performer on gravel, paves, grass, and dirt tracks.
As for the LT, it comes with a pair of foam tires. Uniquely, the foam tires on the Banana LT bike are constructed from solid foam. Parents prefer foam because it is a low-maintenance tire, which means they forget about flat tires and puncture kits.
Compared to the air-filled beefy tires on the GT, which offer more cushion and traction, the foam tires on the LT offer low to medium cushion and traction, respectively. Nevertheless, for maintenance-free and efficient experience with balance bikes, go for the foam tires.
The wheels are grippier thanks to the tread pattern to make kids safe in slippery surfaces and when it rains. Besides, the bearings are put together with the art of mastery to ensure better spinning of the wheels.
Seat Post and Stand-Over Height
The Banana Bike seats have a quick release system, which adjusts the seat height effortless and tool-less. Both the Banana GT and LT have the lowest height set at 12.2 inches. The maximum height differs though, with GT having 17.3" while LT is having 15.7". For the LT, there is a 2.5 inches clearance from the ground to the seat post, which is ideal for toddlers. It is, however, not so great for kids who ride on rough, uneven terrains. The Banana GT bike has a ground clearance of around 3.25 inches, which is an excellent variation for kids who wish to explore different terrains and surfaces.
The ergonomic design of the Banana Bikes makes them low and snug, which is easy to mount. This is primarily a positive design for smaller kids who are starting on their first bike
Kid-Specific Design
Apart from being lightweight, which distinguishingly makes the Banana Bikes stand out, the lightweight is meant to make kids handle the LT and GT perfectly. Balance bikes are intended to start kids on two wheels and make them master balance and control quicker. The GT and LT are a great choice when seeking a landing point to transition kids to their first pedal bike.
The handles are well spaced to allow the kids to be in control of their bikes. There are no foot holders like the GOMO, probably to improve the performance of the kids and free them from hindrance.
The seat post also gets super low, which is a plus for toddlers and smaller kids. The adjustable seat post also allows the kids to grow with the bike for up to 5 years.
The latest version of the Banana GT comes with a twin bearing headset and is lightweight. Compared to other brands, the bearings allow for smooth steering of the bike, and the two-full bearings bring up the A-game performance of the bike.
The grips are safer, durable, and versatile to keep the kids safe and comfortable.
The narrowness of the handlebars both for the GT and LT bikes coupled with the twin bearing headset is meant to seal the kid-friendliness equation. Not even the copycats of Banana Bike brands have been able to stay ahead of the game on this front.
Comparative analysis of Banana Bikes vs. Other Balance Bikes
The table below shows a comparison of the Banana Balance bike brands against other notable brands.
| Balance Bike | Wheel Size | Seat Height | Weight | Frame Material | Tire Type |
| --- | --- | --- | --- | --- | --- |
| Banana GT | 12" | 12.2"- 17.3" | 8.16 lbs. | Aluminum | Air |
| Banana LT | 12" | 12.2"-15.7" | 6.39 lbs. | Aluminum | Foam |
| Strider Classic | 12" | 12"-20" | 6.7 lbs. | Steel | EVA foam |
| GOMO | 12" | 12" -17.5" | 8.5 lb. | Aluminum | EVA foam |
| Retrospec Cub | 12" | 12"- 16.5" | 9 lbs. | Aluminum | Foam |
| Joystar | 12" | 1.6"- 17.5" | 5.9 lbs. | Aluminum | EVA polymer foam |
Verdict
When your kids set their hands on Banana Bike GT and LT, they will appear as if they are riding other top of the range expensive balance bikes. With all the features we have described in our top pick balance bike list elsewhere, it is a balance bike that will give you the best bang for your money. LT and GT Banana bikes are the best balance bikes under $100. If you are looking for a perfect Christmas or birthday gift for a kid who is yet to get on their first bike, the Banana balance bikes are the best. For smaller kids, the LT does better but for slightly grown-up kids, the Banana GT is the best. To this end, we believe this Banana balance bike review has covered extensively all you need to know about the brand. If you have a question, shoot it up in the comments section.
Please Rate This Article
SEND