With the struggle to keep children off inactive lifestyles buying a bike when they are at a tender age is not a luxury but a necessity. Unless you want your children to be among the childhood obesity statistics, getting them the best bike in the market can work. The Wishbone Design Studio Original 3-in-1 Balance Bike is one such balance bike that serious parents can consider.
It might not be the best there is in the market overall, but most certainly, it scores top in the wooden bikes category. Wishbone Design Studio is a brand developed with the kids in mind. Carefully it has been constructed so much so that it meets the developmental needs at every stage for your child.
In simple terms, the Wishbone Design Studio Original 3-in-1 is a premium wooden balance bike that will serve your children from when they are as young as 12-months to when they are 5 years and ready to transition to pedal bikes.
When purchasing a bike for your kid, there is more than just the appearance and price. In this article, we appraise some of the reasons that should make you a happy purchaser of the Wishbone Design Studio Original 3-in-1 Balance Bike.
Wishbone Design Studio Original 3-in-1 Balance Bike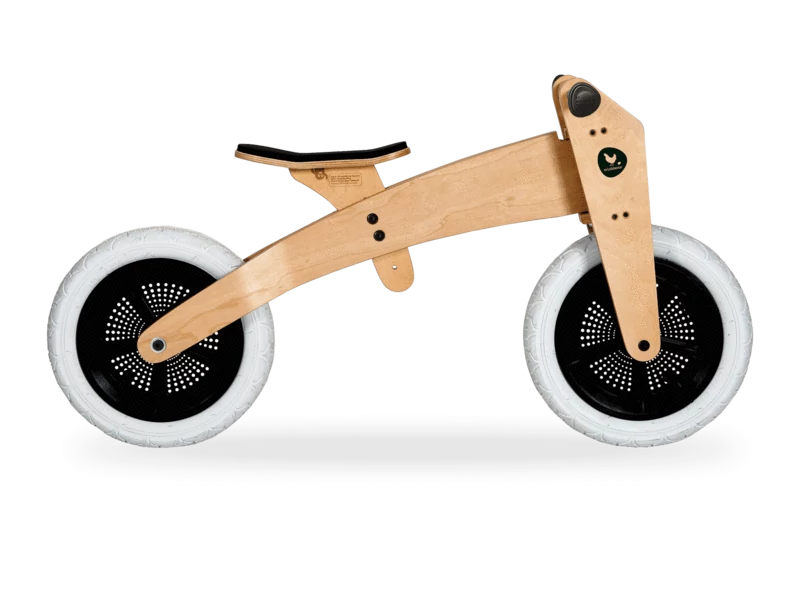 Product Specification/Unique Features
It has two or three wheels.

The frame is made from sustainably harvested birch and eucalyptus wood

Converts from a tricycle to a balance bike

The seat height of 11"-18."

Recommended for 12 months to 5 year-olds

Made with non-toxic and child-friendly materials

Has a pair of air tires for traction and stability

Meets and exceeds the US, European, and Australian Standards

An award-winning balance bike
Wishbone Design Studio History
The Wishbone Design Studio Original 3-in-1 Balance Bike is an ultimate pre-bike. It enables the kids to learn not only to walk and run but also to balance all in a single ride.
The balance bike is designed for 12-month-olds to 5 year-olds. The Wishbone Design Studio Original 3-in-1 Balance Bike is praised as the original learn to ride system for both babies and preschoolers.
It might not be good service if we do not mention that it has been awarded the TIME magazine's design 100. Some people will tell you that it is a pace-setter in the standards world.
The Wishbone Design Studio is a brainchild of two New Zealand parents who live in New York City in 2005. The rationale for creating the first bike was to give ids a wonderful and memorable taste of childhood. Today, the award-winning Wishbone Design Studio is a darling to many parents across the globe and a preference for children who love the class.
Reasons to Purchase Wishbone Design Studio 3 in 1 Balance Bike
During the first days when your kid is only 12 months, the Wishbone Design Studio 3 in 1 fits like a baby walker or a tricycle. However, as the baby grows the bike converts into a peculiar premium balance bike. Finally, as your kid grows, you can convert it into a bigger balance bike by simply adjusting the seat height commensurate to the skill-level and fear levels of the child.
Someone might argue that since it is wooden, it brings destruction to the environment. That is never the case with any of the Wishbone Design Studio bikes; we will see how in a moment. Here are some of the reasons the Wishbone 3 in 1 Design studio balance bike is a crème de la crème in its class.
Eco-Conscious Design
The balance bike tops the list of the eco-friendly designed bikes in the market. Even though made from birch and eucalyptus wood, the manufacturer only uses carefully selected woods. The wood used is from licensed harvesters who in turn plant more to compensate.
Besides, its wheels are also made from post-consumer recycled plastic so that our wonderful oceans do not choke with plastics and microplastics.
Lastly, the Wishbone 3 in 1 is made of a non-toxic glue finish to give it a glowing look. The packaging is also made from 100% recycled material.
The company embraces modularity where it uses materials with minimal waste for longer product life, reparability, and for them to be replaceable.
Customizable Construction
The Wishbone Design Studio Original 3-in-1 Bike features a rugged yet sturdy construction that makes it an all-weather friendly bike. Kids sometimes drop the bike for other things, and this particular bike can take anything thrown to it.
The angle front fork helps prevent the bike from toppling when the little one is in action. When with the 3 wheels and when on 2 wheels, it has a large center of gravity thanks to the long and low base.
Everything attractive in a balance bike is represented in the Wishbone 3 in 1 design. If your lid loves colors, the wishbone comes in different color combinations, and the artistic representation is golden.
Also, you can customize the frame to a range of color that works for your kid. There is a range of stickers that you can purchase separately and make it appealing and attractive for daily rides. See, the Wishbone 3 in 1 Design pretty much solves the screen time battle.
It comes in six wonderful colors, including Red, original wood, Tangaroa, black, and wishbone alphabet limited edition. What a good way to raise art-loving kids.
Versatility
Everything convertible turns heads. The Wishbone 3 in 1 balance bike converts thanks to its three-way adjustability. Kids do grow, and they need the convertibility to keep growing with their bike. Specifically, at age 1, you can use the 3-wheels as a baby walker or a tricycle, which comes with both stability and lightness.
As the child advances in age, you can comfortably convert the balance bike into a low two-wheeled balance bike that meets the height and demands of the kids.
Finally, as the kid grows stronger and more confident, you can flip the wishbone frames, and it becomes a full balance bike.
For the above reasons, it is not only versatile but also eventually serves its purpose.
Pneumatic Tires
Pneumatic tires were quite a good invention. Imagine if we stuck to steel and wooden bone-shaker wheels, what a boring cycling world it would be.
Now, thanks to the 12" pneumatic tires included in the Wishbone 3 in 1 design, the kids can take on different terrains.
The tires are non-marked to increase the thrill and fun for kids during their outdoor rides.
When deflated, you can pump the tires, and you are good to go.
Award-Winning Bike
Everybody loves being associated with tried, tested, and praised products. Wishbone 3 in 1 is such a product. Given its popularity, it is a multi-award winning bike.
In 2009, it won the Dutch Best Baby Toy Awards. The same year, it also won the JPMA Innovation Awards before clinching the 2011 Dr. Toy Best Green Toy. It was also the Best Kids Bike in 2011 at Babble.com.
Topping it up, it has always been a winner of the TIME Magazine's Design 100.
Thus, it has an excellent public reputation.
Other Oustanding Features of Wishbone 3 in 1 Design Studio
Its foam seats are better in terms of resiliency. You can purchase an optional seat cover to ensure your kid is comfortable when riding.
It also comes with an assembly manual to make your work easier once you unbox it.
Concerns Raised by some Customers
Nevertheless, some parents have complained that the wishbone 3 in 1 configuration is somehow inconvenient as the back bar might hold the back of the child's shoe. Sometimes, the frame can also chip off if not well maintained.
Some parents also don't like the idea of twisting handlebars as it can be a distraction to kids. However, you can add some rubber cement to it and fixate it in one place.
Please Rate This Article
SEND