Featuring adjustable handlebars and an adjustable seat, this balance bike is perfect for you if you are looking for a bike your child can grow with.
This is because as your child grows, you can adjust both the handlebars and the seat of this Pello bike to make it more comfortable.
Read more about this bike below to find out if it is the perfect fit for your kid.
Specifications
Frame material: aluminum alloy
Weight: 9 pounds
Recommended age range: 3 – 5 years
Seat height range: 11.25"–15.5"
Tire type: air
Pello Ripple Balance Bike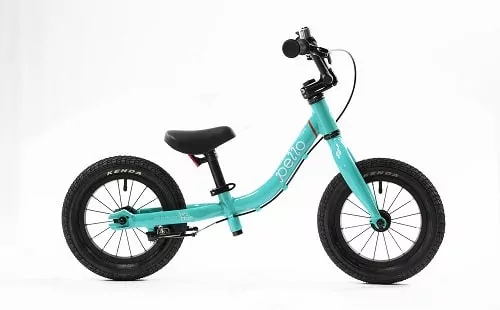 Adjustable handlebars
Adjustable seat
Easy to use handbrake
Wide and stable air tires
Easy to climb and to get off
Heavier than similar high-end bikes
Pello Ripple balance Bike: An In-depth Expert Review
The Pello Ripple is a work of art. It is a balance bike that is wonderfully made and that features the best of the best components.
For instance, it has a Cane Creek headset which is a superior quality headset that allows it to handle all sorts of terrain.
Unlike many balance bikes, this one has a handbrake that makes it safer to use. The handbrake is perfect for controlling speed especially when going downhill.
The fact that this bike has adjustable handlebars coupled with an adjustable seat is important to note. More on the handlebars and the adjustable seats in the section below.
What we like about this bike
Effective handbrake
Most balance bikes do not have a handbrake. Kids are expected to push themselves off and to bring themselves to a stop using their feet.
If your kid is scared, bringing himself or herself to a halt using their feet, especially when moving at high speed is difficult.
This is the reason why you should get them a balance bike with a brake.
The good news is that the Pello Ripple has a quality handbrake. It has a handbrake that will bring the bike to a halt if applied correctly.
Imagine your kid riding the bike on their own at high speed and wanting to stop for any reason and doing it using a brake. Isn't that cool? And isn't it much better than your kid trying to stop the bike using their feet?
The brake on the Pello Ripple is the Tektro v-brake, which is known as one of the best bike brakes. It applies to the bike's rear tire.
The brake's lever can be adjusted using an Allen key to make it easier to pull.
Lightweight aluminum frame
The Pello Ripple features lightweight aluminum construction. In total, it weighs about 9 pounds. It is quite lightweight.
Your little champ will find it easy to pick up, mount, and ride this bike because of its lightness.
Probably the most amazing thing about the lightness of this bike is how it glides. Because this bike is very lightweight, it glides very easily when pushed.
Your young one will find every push to result in the bike gobbling up many feet. It will be such a pleasant experience for them every time they go out with the bike.
High-end wheels
The majority of balance bikes for sale on the internet feature plastic rims and foam tires.
Only a few such bikes have steel rims and air tires. The Pello Ripple is one of them.
It has durable aluminum rims, steel spokes, and Kenda Kontact tires. The tires are 2.5 inches wide.
You will find that they are quite wide and provide good traction. They particularly provide good traction on mild terrains and paved surfaces.
The Pello Ripple tires also provide good traction on muddy and slippery surfaces because they are well tread.
The Kenda Kontact tires on this bike provide gorgeous cushioning especially on mild terrains.
Your child won't feel the bumps and the jumps on the trail or in the park.
To make sure the wheels of this bicycle work for a long time without failing, the engineers at Pello sealed the bearings to keep out dirt, grime, and dust.
Brilliant headset
The headset is a key component of every balance bike. It is what attaches the bike's handlebars to the steer tube.
The headset determines the responsiveness and the maneuverability of a bike.
The Pello Ripple has a special headset known as the Cane Creed Headset. It is made by one of the leading headset manufacturers in the Western World.
The headset is known as a true headset. It is not a cheap replica meant to just hold the bike together.
Because the Ripple's headset is a true headset, it does not get damaged easily. It also does not require repairs every now and then for damage issues.
It simply keeps everything moving ensuring great responsiveness and maneuverability.
Adjustable seat and adjustable handlebars
Balance bikes are usually meant to be used for a relatively short period. Most children use them for about 2 years before they outgrow them.
While old models of balance bikes were not at all adjustable, the new ones including the Pello Ripple are.
The Pello Ripple is designed to grow with your kiddo. This is why it has so many adjustable pieces. You can adjust the height of its seat, the height of its handlebars, and the space between its handlebars, to make it fit the proportions of your child just right.
Rotating handlebars
Pello Ripple's handlebars can be rotated to three different positions. The position you choose for your child will affect their riding position.
If you choose the tallest position, you will ensure your child can sit upright and this will give them confidence if they are timid.
If you choose the lowest position, you will ensure your child is leaning in. This is an aggressive riding position and it is perfect for adventurous and fast-riding kids.
If you are not sure of which position to pick, go for the center position. It usually puts the rider in the most natural position.
What we don't like
Cost
The bike is quite expensive. While this is sometimes not a problem, it is in this situation because there are many bikes of similar quality that are much cheaper.
Final Verdict
The huge number of balance bikes on the market makes it difficult for parents to find the best ones for their kids. If you are such a parent, you should get the Pello Ripple. It has all the things you would expect in a balance bike plus more. Its only issue is that it is a bit pricey.
Please Rate This Article
SEND