Now, you have finally purchased a BMX bike for your child, but there is one catch; you are confused among the many options and probably wondering how to choose the best BMX bike for your little one.
As a parent, getting your kids into the BMX direction can be a great choice. However, choosing the right BMX is never an easy task.
We say this because, as per our research and survey of parents of kids who ride BMX bikes, it is one of the hardest decisions given BMX bikes' unpopularity. That is where we come in; we have compiled this Kids' BMX buying guide to make a choice easier for you.
With a comprehensive and easy-to-follow guide, which we have diligently compiled for you, you can now easily choose between BMX bike brands and BMX bikes themselves.
The best part yet! You do not have to spend an endless amount of time scrolling through different online bike stores or visiting the bike shops in your locality. You can read our guide, decide, and head straight out for the purchase.
Now, here are the bells and whistles.
What is BMX Bike?
BMX is an abbreviation for Bicycle Moto Cross (X). The BMX sports traces its past to the late 70s in California. Riding BMX bikes became popular in the 1980s and is believed to be a pioneer of mountain biking.
Riding BMX bikes is more of a lifestyle and a culture than it is a sport. The sport is officially recognized as part of competitive games in the Olympic Games.
A BMX bike is an off-road sports bicycle, smaller in geometry and appearance, mostly used for racing and doing tricks/stunts. These bikes are fun to ride, robust, and virtually indestructible.
There are two types of BMX bikes:
1. Production BMX bikes
2. Custom BMX Bikes
Production vs. Custom BMX Bikes
Since kids are most likely BMX beginners, it is expected that you will most likely purchase a BMX cycle as a production. However, as they advance, they are likely to prefer a custom-built model.
Production BMX bikes are sold as a complete package, including the chainset, wheels, saddle, seat post, handlebars, grips, chains, frame, and wheels. The BMX bike comes as a complete bike from the producing company.
The production of BMX bikes guarantees value for money since they are bought and used without interference. However, you can customize the saddle position and the length of the stem and crank.
Custom-built BMX bikes come with flexibility. To build a custom BMX, you would need to source individual components from either one or multiple manufacturers. You can choose a chainset, handlebar, or brakes that suit your kid's preferences.
The frame sets' costs differ depending on the material – steel allows frames to be lightweight and cost more. When buying a frameset, you will also need to budget for a fork as BMX framesets do not come with a fork.
So you have to have a good budget when building an ultimate personalized BMX bike for your kid.
What's the Right BMX Size for your Kid?
As the kids graduate from balance bikes, having them transition to BMX bikes can be a great decision. There are size 14", 16", 18", and 20" BMX bikes that can fit kids from 7 years to 14 years and above.
Generally speaking, the best age range for 16" BMX bikes is 5-8 years. Besides, since height is a better indicator of the right bike size, size 16 inch BMX bikes are suitable for children whose height falls between 3.7 feet and 4.6 feet tall.
Unlike the regular kids' pedal bikes, finding an age-appropriate range for a BMX bike is slightly different. True to this, a kid who is comfortable riding a size 20-inch pedal bike will comfortably ride a 16-inch BMX bike. So what is the catch when selecting the best age for a BMX?
Kids' BMX Bike Sizing Charts
According to experts at Bicycles Inc., choosing the right type of BMX bikes for kids depends on frame sizes. In terms of age, the chart below explains the types of BMX bikes you should go for if you are settling for a 20-inch BMX.
Size
Description
Best for Ages
Mini
The low standover height
155-mm cranks
20 x 1 1/8" tires
4-6 years old
Junior
Slightly larger frame than Mini
165-mm cranks
20 x 1 3/8" tires
6-9 years old
Expert
Longer top tube than Junior
170-mm cranks
20 x 1.5-1.75" tires
9-13 years old
Pro
Full-size" frame
175-180-mm cranks
20 x 1.75-2.2" tires
12 years plus
Age vs. Bike Size BMX Sizing Chart
Here is a chart that combines the age and appropriate wheel size for kids.
| Age | Appropriate Wheel Size in Inches | Appropriate wheel size in cm |
| --- | --- | --- |
| 1-4 years | Balance Bike | 70-90 |
| 4-6 years | 12 | 80-100 |
| 5-9 years | 14 | 90-130 |
| 7-14 years | 16 | 100-140 |
| 14+ years | 18 | 130-160 |
| 14+ years | 20 | 155-150 + |
To set the record straight, kids between 1-5 or 6 years are better off with balance bikes. Kids between 5-9 years, whose preference is a BMX bike, can ride size 14" BMX bikes.
The 14-inch BMX bikes are slightly bigger, comfortable, and durable compared to the 12-inch balance bikes. They are also the best BMX bikes for beginner kids as they can start to learn and do some tricks on the ramps.
The 16 inch BMX bikes are suitable for kids who are from 5- 8 or 9 years. The 18-inch BMX bikes are a good fit for most kids aged 7-13 years old. They are a great transition from 16-20 inch BMX bikes.
They are a versatile option for already confident BMX riders who can do some tricks but can't just yet hop on to 20 inch BMX bikes due to the handlebars' height and distance from the seat post. Finally, the 20-inch BMX bikes are appropriate for kids 13 or 14 years and above.
Height vs. size and top-tube length BMX sizing Chart
As you set out to purchase a BMX bike for your kid, be very particular about the kid-BMX bike fit as it will determine whether they will love to ride BMX bikes or ditch them for regular bikes.
Apart from the wheel size, you can also get the right size of the BMX bike for your kid using the frame's length, measured using the top tube measurement. The chart below can further help.
| Size of the BMX Bike | Height of Kid/Rider | Top-tube Length |
| --- | --- | --- |
| 12" | 2-3 ft | 11.5"-13" |
| 14" | 2' 8" – 3' 4." | 12.8"-15" |
| 16" | 3' – 3' 8" | 14.5"-17" |
| 18" | 3' – 4' 6" | 17"-18.5" |
| 20" | 4' – 5' 6" | 18"-20.25 (extra small, XS) |
| 20" | 5' – 5' 8" | 20"-20.5" (Small-Medium) |
| 20" | 5' 6" – 6' | 20.25"-21" (Large) |
| 20" | 6' + | 20.75"+ (XL) |
As you select the BMX bike for your child or youth, consider their level into BMX. They can either be a beginner, intermediate, or Pro.
Most of the kids and youth BMX are categorized as beginner BMX bikes as they are slightly smaller than the standard 20" and are perfect for the little guys who are just starting on BMX riding.
The intermediate BMX bikes offer a mix of affordability and performance, while the pro BMX bikes have various refined features.
The latter are mostly customized BMX bikes that suit the character and profile of the rider. All in all, pro BMX bikes are lighter and have stronger tubing.
Related article: 16" and 18" BMX bikes for Kids and Youth
Types of BMX Bike Riding or Disciplines
Defining the riding your kid is targeting when choosing a BMX bike is important. There are various BMX riding disciplines, including BMX racing, street/park riding, freestyle riding, flatland riding, and dirt jumping. These five main disciplines of BMX riding can be split into two major categories: Freestyle and Racing.
Flatland, dirt jumping, street, and the ramp & park riding fall under freestyle riding, with its style, culture, and tricks. Freestyle BMX Bikes are used for aggressive street riding and vertical stunts in skate parks.
Then there is BMX racing, a competitive riding that involves tracks and is almost similar to motocross. Let us have a brief look at each type of BMX riding.
Flatland BMX
Flatland BMX biking involves performing tricks when riding on a flat surface. It does not require specially built parks or barriers/obstacles.
To be a flatland BMX rider, the rider must hone their skills through regular practice. Flatland BMX riding uses short and light bikes that allow the rider control and easier spinning of the frames.
Most BMX riders participating in freestyle flatland BMX activities use front and rear brakes, while some prefer the front brake.
Ramp & Park BMX Cycling
As a BMX cycling discipline, ramp and park cycling involves a specially designed ramp park made of wood, concrete, or aluminum.
There are various local skate and bike parks, which are safer for riders – share with us in the comments some of the local skate and bike parks that are BMX friendly, that you know.
Expect to see stunts such as flares, 50-50 grind on pegs, and 180 degrees backflips.
Street Riding
Street BMX riding takes place in the streets using road furniture such as ramps or benches. The adrenaline level in this BMX discipline is akin to street skating.
Sometimes, the street BMX riders use rails, walls, and anything else in the streets that enable them to pull off some tricks and jump.
Street BMX bikes are robust and can take in some proper abuse. The bikes come with special designs thanks to the growing love of the sport.
Some bikes have brakes, but riders prefer front or rear brakes. Expect bar spins and 50-50 grinds on ice picks and pegs.
Dirt Jumping BMX Riding
As the name suggests, Dirt jumping takes place in a series of jumps (or trails) or one larger or two jumps. If you search a few videos online, you will notice that it is the most common BMX competition.
One such competition is the Red Bull Dreamline. There are also trails built in woodland with jumps that enable them to do some stunts/tricks. BMX bikes used in dirt jumping are heavier than those used in street, flatland, and park riding.
The weight is expected as they withstand the impact upon landing. These bikes also lack pegs and have 36 spokes. 20-inch BMX bikes are usually a preference for dirt jumping. For added strength, the BMX bikes used for jumping have two-piece bars to increase structural resilience.
Besides, they also have a bracing bar to prevent collapsing on landing, especially on high jumps. Some tricks you can expect in this type of cycling include tail whips, backflips, and 360s. Fun, right?
BMX Racing
BMX racing originates and shares the same aspects as motocross, including the tracks used. However, the tracks are shorter and smoother.
A race lasts between 25 and 40 seconds. The maximum speeds for such races are 35mph, depending on the track's riding conditions.
In such races, the riders are rated using points, and the person with the highest points at the end of the season, championship, tournament, or meeting becomes the winner.
The BMX bikes used in racing have pegs, Giro headsets, and lighter wheels that come with fast-rolling tires to propel the riders across the tracks.
Features of a Kids' BMX Bike to focus on to choose the Best
Here are some important aspects to consider before purchasing a BMX bike for your kid, child, or youth.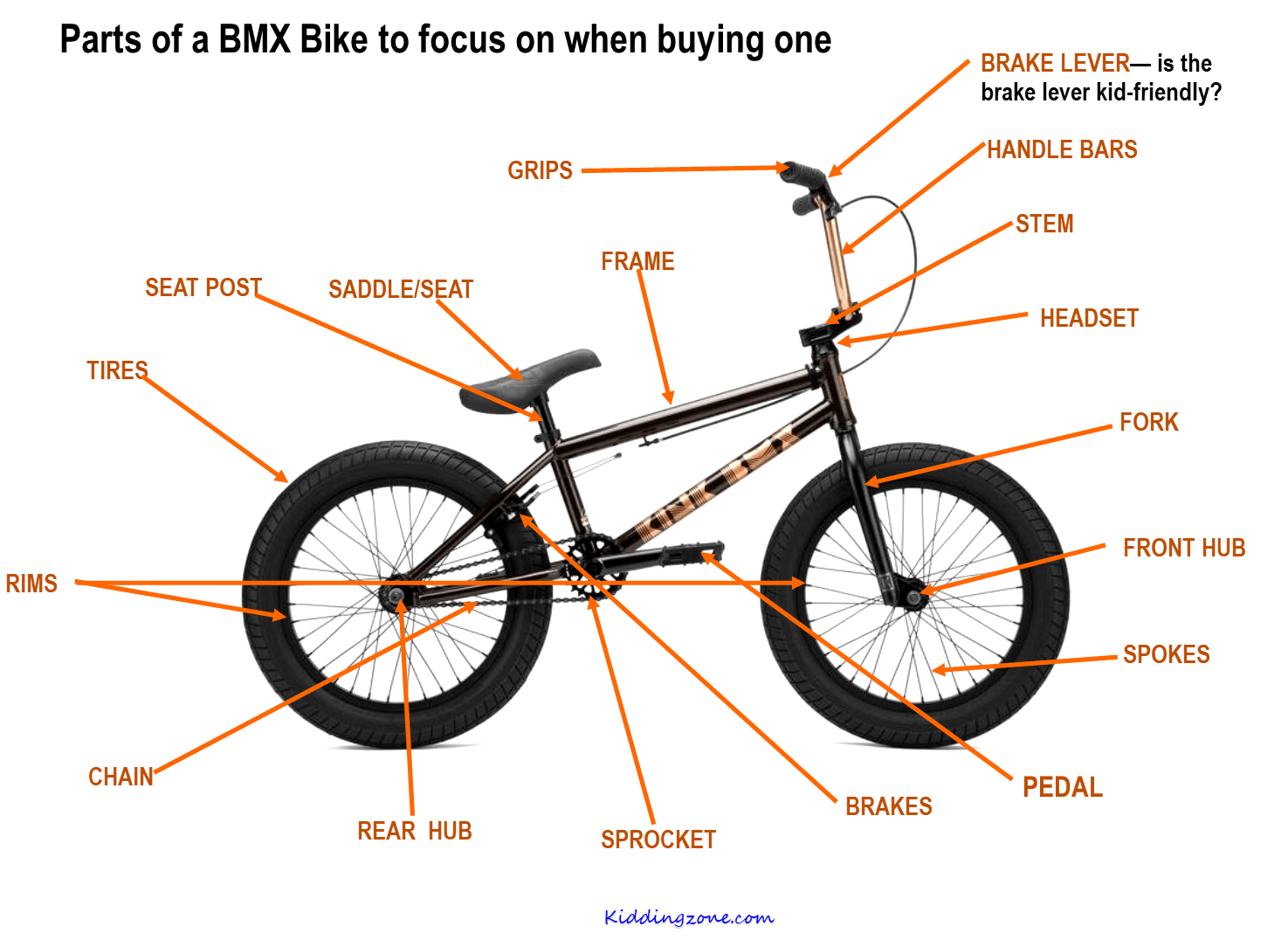 Wheel Size
When selecting any bike, the wheel size always plays a critical role. For BMX bikes, the standard wheel size is 20 inches. However, there are also size 12"-18" BMX bikes that can suit most kids, depending on their sizes.
Length and build of the Crankset
Also, check the length of the crankset, the tubes that connect the pedal and sprocket, as they come in different lengths and are made of different materials and builds.
Chainring or Sprocket
A sprocket or chainring holds the chain between the crankset and the pedals. It has a different number of teeth. It can have 23 or 36 teeth or more, depending on the gearing setup. It is also important when choosing the best BMX bike for your child.
Gear and Gear Ratio
BMX bikes are single-speed, which means they do not have multiple gears. Nevertheless, when selecting a BMX, consider the sprocket and the chainring, which gives you the "gear ratio."
The gear ratio results from the number of teeth on the chainring divided by the number of teeth on the sprocket. The lower the gear ratio, the easier it is to pedal any bike.
A standard gear ratio for a good BMX bike should be 25/9, which most manufacturers achieve.
Unlike road and mountain bikes, the gearing of BMX bikes is slightly different. Taller gearing makes it harder to pedal and requires fewer cranks that enable riders to achieve fast speed.
On the other hand, short gearing is easier to pedal and needs more cranks to get faster speeds.
Here is a video that explains gearing in BMX.
Rims
Rims play an integral role on a bike. The type of BMX rim choice depends on the surfaces your kid will ride. The rims are made of aluminum. Their construction differs depending on the thickness.
There are thicker versions that are double or triple-walled for additional resilience. The double-walled rims are a standard in pro BMX bikes because they give durability and guarantee lightness. Preferably, consider the double-walled rim versions, especially for the rear wheel, which takes most of the abuse compared to the front.
Types of Spoke and Spoke Count
As you purchase for your kid a BMX, consider the type of spokes it comes with. There are butted spokes whose middle is thinner but has a thicker end, ensuring the rims' structural support without compromising weight.
Ensure that you check the spoke count, which adds to the bike's structural strength, allowing it to take any beating. Most BMX bikes have 28-36 spokes. However, if your kid is heavy or well-built, go for as many as 48 spokes.
Tires
The choice of BMX bike tires depends on where the bike will be ridden, either the pavements or dirt tracks. Low rolling resistance is critical for the tracks, which are hard-packed with dirt. In this case, the treads have to offer optimum speed, grip, and traction, which is essential when cornering and accelerating.
The freestyle BMX bike tires are made for pavements and indoor surfaces. For that reason, they are a bit thicker compared to tires used in BMX racing and jump.
Note that premium tires inflate to higher pressures, have a low rolling resistance, increase protection to the rim, and decrease tire deflection chances when the sidewalls are exposed to higher loads, such as when landing with the BMX bike. The dirt jump tires are designed for maximum traction and have beefier lugs because speed is not a factor.
The branded and aftermarket tires tend to be the best.
Frame Material
Are you wondering what BMX bike frames are made of? Well, a frame is an integral component of any bike. It should be a key deciding factor as it equally determines the weight. Most of the freestyle BMX bikes have steel frames, which are preferred for their strength and compliance.
The cheaper BMX bikes will come with high tensile steel or 'Hi-Ten" steel, which does not last as long and is not as light as frames made from aluminum or Chromoly steel/4130 CroMo. The race BMX bikes are made from aluminum, which, apart from being light, is stiff and perfect for fast handling or quick acceleration.
However, aluminum frames are not recommended for freestyle BMX bikes, given aluminum's brittleness, making such bikes prone to damage.
Overall, Chromoly or CroMo is the best choice as it takes a proper beating, especially for high-impact rides such as jumps. Most BMX frames are a mix of 2010 steel and CroMo, which keeps the price within an affordable range. There are also BMX bikes made from carbon, but this only means higher pricing.
Handlebars
Unlike the normal bike handles, BMX handlebars are the most defining features of BMX bikes. They have a tall rise and bucket shape. The handlebars are good for control and are mostly made from steel. Most of the handlebars are butted for optimal strength, which balances weight and structural integrity.
The 4130 handlebars are the best. The multi-butted tubing handlebars save more on weight, where strength is not an issue. 2-piece and 4-piece bars describe the number of tubes making up the bars – the feel and functionality are almost the same with no noticeable difference.
Forks
As you shop for a BMX bike for your child, you should also look at the fork. The fork is as important as the frame as it supports the rider and reinforces the bike's strength. Most of the BMX bike forks are made from steel but reinforced and have thicker tubing. The fork is also accurately welded for aesthetics and structural integrity as they take in a proper beating.
Brakes
The BMX brakes are designed. Some bikes come with detangler or gyro fitted, enabling the riders to spin the handlebars severally without untangling the cable afterward. Most of the BMX bikes have a rear brake, especially for the freestyle BMX bikes. And if the bikes come with both brakes, most cyclists prefer removing the front brakes. Freestyle BMX riders prefer U-brakes while BMXers require stopping power, which makes them prefer the linear-pull brakes.
Forks
The CroMo forks are lighter and stronger compared to the Hi-tensile forks. Go for the CNC'd steerer tubes, which guarantee durability. The tapered legs option will give you aesthetics and have better weight savings.
Hubs
It is also necessary to check the front and rear hub. The high-end BMX bikes come preloaded with hubs that have sealed bearings. The sealed bearings last longer and require less maintenance compared to the loose ball versions. For the front hub, the female axle type has a cleaner look and fits most bikes and forks than the male axle.
There are three variations for the rear hub: freewheel hub, cassette hubs, and freecoaster hubs.
A freewheel hub is more reliable and responsive compared to the rest. The freewheel hubs once dominated the bike industry before cassette hubs being a preference to many manufacturers. Freewheel hubs have a sprocket thread that fits directly into the hub shell. The smallest gearing for freewheel hubs is 13-teeth, limiting the gearing options, especially for freestyle BMX riders.
The cassette hubs operate with the same mechanism as the road bike or mountain bike hubs. They use an independent driver fitted on a hub shell. Comparatively, cassette hubs weigh less and are easier to install, use, and maintain. They are a popular choice for BMX bikes used both in BMX racing and freestyle disciplines.
The cassette hubs have smaller gearings. Notably, they can either be sealed or semi-sealed cassettes. The semi-sealed cassette hubs are good, while the sealed is better but go for the branded aftermarket hubs, which are superior.
Lastly, the freecoaster hubs are standard in higher-end bikes and allow backward movement without necessarily backpedaling. The freecoaster hubs have an internal clutch system that comfortably allows the rider to coast backward. They are also quiet when pedaling but have some clicking sound when one coast. Their intricate design makes them expensive, and they also weigh more compared to the standard cassette hubs.
Bottom Brackets and Cranks
BMX bikes come with two types of bottom brackets (BB). The smaller mid-BBs come with sealed bearing, making them stronger, durable, and good to go with minimal maintenance. On the other hand, the ultra-small BBs, which are the largest, come with unsealed bearings, making them challenging to maintain.
BMX bike cranks receive all the abuse and must therefore be strong enough. Go for tubular cranks or branded cranks.
Pedals
The BMX bike pedals are flat. Most of the BMX bikes will come with branded plastic pedals. There are also alloy pedals that last longer and have better grips but can hurt the shins when one slips besides weighing more than the plastic pedals.
Seat
BMX bikes come with four types of seats: railed, combo, tripod, and pivotal. The combo or railed seats are common on entry-level BMX bikes. The tripod or pivotal seats are common with the intermediate and pro BMX bikes and are easy to install and adjust. They also save on weight and can be replaced.
The railed BMX bike seats/saddles are similar to a road bike or mountain bike saddle and come with rails on either side that seat on a clamp that attaches to the seat post.
The pivotal saddles are connected to the seat post through a bolt that passes through the seat's middle into the seat post. The seat is then filled with cushioning soft material.
Stem
The stem holds the BMX bike handlebars to the forks. There are different types of stems, each with its strength profile. Mostly, the CNC'd stem versions are lighter and are cleaner compared to others. This type clamps the bars from the top loader or the front loader.
Best Kids' BMX Bike Brands
Here are the top BMX bike brands that make great bikes for kids, youths, and even adults.
GT
BMX bikes were the foundation of GT's bike empire. The company's foray into bikes has since driven its passion, which the company follows to date. The GT BMX lineup for kids includes the GT Lil Performer, a 16-inch BMX bike that will inspire confidence and fire your child's passion for BMX cycling.
SE Racing
SE racing is a renowned BMX brand that builds kid-specific and quality cycles durable enough to last an entire childhood and even beyond. A common bike is a size 16 inch SE Bronco, which comes with both a coaster brake and rear V-brake to help kids learn and master BMX riding. The legendary BMX bike brand traces its history back to 1970. Bikes in the kids' SE series include the Bronco bike, which comes in sizes 12", 16", and 20" versions. There is also the Micro Ripper 12".
Mongoose
Mongoose is also a household name in the bike industry; apart from its fame in making MTB bikes, fat-tire bikes, and related components, Mongoose is also renowned for its BMX bikes such as the Mongoose Legion L10, L20, L60, L80, L40, and Title Pro. The brand is known both for its entry-level line of BMX bikes and higher-end BMX bikes. The company prides itself in designing BMX freestyle and BMX race bikes for all ages and riding levels. With a history tracing back to 1974, most pro BMX riders are fond of Mongoose BMX bikes. The company has Legion L16 and L18, which are 16 inches and 18 inches, respectively. The bikes are made from high-ten steel, while some have aluminum frames.
Haro
At the heart of the Haro, Bike Brand is the freestyle or BMX, rooted in the brand's DNA. The brand builds a range of BMX freestyle bikes that help different people enjoy BMX riding. For over 35 years, the bike is also known for its specific frames and forks, making it a leading freestyle BMX bike brand. Some of the notable BMX bikes include the Haro Downtown 16, which comes with a U-brake. The founder of Haro, Bob Haro, is famed as the pioneering freestyle BMX inventor.
Kink
Kink BMX is known for making quality BMX bikes and accessories for more than two decades. Although relatively a newcomer in the best BMX bike brands, Kink is pulling moves that make it a great brand.
The Rochester, NY-based company has innovative and kid-specific BMX bikes as it does with professional BMX bikes.
WETHEPEOPLE
WETHEPEOPLE BMX brand is known for engineering advanced BMX bike frames and frame components. The award-winning BMX bike brand is known for its sponsorship of professional BMX bike riding teams with over 20 riders. Some of the WETHEPEOPLE BMX bikes include WETHEPEOPLE NOVA 2021, WETHEPEOPLE CRYSIS, WETHEPEOPLE REASON, WETHEPEOPLE ARCADE, WETHEPEOPLE CRS 18", WETHEPEOPLE CRS FC, WETHEPEOPLE Justice, WETHEPEOPLE Revolver, and WETHEPEOPLE Trust.
Diamondback
Founded in the 1970s in Kent, Washington, Diamondback started as a BMX bike company before spreading its wings to mountain bikes and road bikes.
Diamondback has some of the most affordable and high-quality bikes on the market. Its mid-range BMX bike line has carved a name that allows both intermediate and pro BMX cyclists to enjoy bikes, categorized by other brands as competitive level BMX bikes, at an entry-level price. A kids' BMX bike by Diamondback is the Diamondback Jr. Viper, which comes in 20" and 12" trims.
With these popular bike brands in mind, you can now narrow your choices to get the best kids' BMX bike based on your preferred brand and a host of other factors we have discussed above.
Commonly Asked Questions about BMX Bikes
What age is best for BMX bikes?
As we highlighted in our bike charts, kids from the age of 5 years and above can comfortably begin learning and rising BMX bikes. However, the process will be gradual, but once it clicks in their minds, they will be doing tricks that even you will love! For 16-inch BMX bikes, the best age is 5-8 years. 20 inch BMX bikes are appropriate for children aged seven years plus but check other factors as well. While age is a factor, the height of the child and the top-tube length also matters.
Why are BMX Bike seats lower?
BMX saddles or Seats are set lower to allow the BMX cyclists' legs to have enough room that minimizes the impacts of landing with force. With the room, the riders can avoid injuries in their lower bodies.
Can BMX bikes be a kid's first pedal Bike?
Some kids prefer having Kids' BMX bikes as their first pedal bikes, mostly inspired by the neighborhood, friends, and TV programs. Once they go that way, they have already chosen the sport. The love for BMX never fades even as kids grow; we have seen this unfold.
Why are BMX bikes smaller?
BMX bikes have standard 20-inch wheels, resistant frames, and a non-geared crank to support riders when doing stunts or tricks. The configuration, shape, and material are meant to provide structural resistance, agility, and necessary speed.
Can kids ride BMX bikes for long distances?
As we intimated earlier, BMX bikes are specifically made for short racing or track performance. Even though they have seats, it is never that comfortable for long rides as road bikes, cruiser bikes, pedal bikes, and hybrid bikes. The frame geometry does not allow long-distance cycling unless you want to torture your kid. However, BMX bikes can be ridden on streets that have barriers.
When is it not good to buy a BMX bike for my Child?
BMX bikes are awesome for doing stunts or tricks, having fun in skate parks and streets, or cruising around the neighborhood. However, if you plan to do long family rides such as bike camping or bike touring, do not invest in a BMX bike for your child for that purpose. Instead, look at other pedal bike options with gears and let the BMX bike be occasional short-distance use.
Bottom Line
There is a special love for BMX bikes, and if you want to select the best BMX bike for kids, you need to be very keen lest you waste your money. BMX bikes are not as popular as regular pedal bikes, which is where we come in.
Our Kids' BMX buying guide comprehensively covers everything you need to know before committing money to either a BMX bike brand or a BMX bike that your kid likes.
With this guide, you can never go wrong in choosing the best BMX bike for your kid and will be amazed at how accurately you will buy a BMX bike as a gift with precision as though you bought it with the kid at the store with you.
Share with us any thoughts or sentiments about this guide – we are determined to improve it for our reader community.
Please Rate This Article
SEND