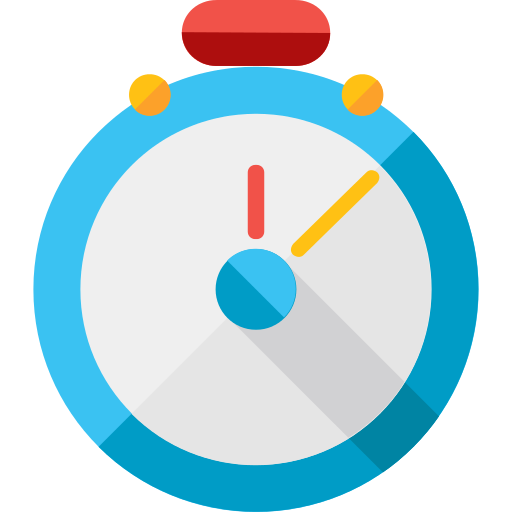 20 Minutes Read
Best Child Bike Seats for Mountain Biking Parents
When we first heard of "front and mid-mounted child bike seats," we, like many, asked ourselves, "Just how practical is this concept?" Could it be another marketing tone adopted for a child seat for bikes?
Thereafter, a series of more profound questions emerged. For instance, is it a safe mode of transportation? Is there an age and weight limit to using these seats and what are they? How comfortable is it to ride with a baby right in front of you? Won't the positioning of their legs affect your pedal stroke? And what about the little passengers, are they ever comfortable? Is there a chance of them falling off?
On and on the questions followed but after hearing so many good things about this concept, we gave in and decided to test out their performance for ourselves. In fact, we based our review off of the concerns we had about this mode of transport - We wanted it to be totally unbiased!
Over the past couple of months, we have taken a deep dive into the multitude of child's seats in a bid to unearth the best because let's face it; front-mounted child bike seats are here to stay.
We have thus outlined an ingenious guide to the most elite front-mounted child bike seats in the market.
Without further delays and icings, here they are.
Best Mid-Mount Bike Seat Child Comparison Chart
| | | | | | | |
| --- | --- | --- | --- | --- | --- | --- |
| MTB Bike Seat | Construction (main-frame) | Mounting Point | Age range (years) | Weight (Pounds) | Load Capacity (Pounds) | Shipped from |
| Mac Ride | Aluminum | Seat post | 2-5 | 3.6 | 60 | USA |
| Shotgun | Steel | Top tube | 2-5 | 3.1 | 48 | UK |
| Tyke Totter | Aluminum | Seat post | 2-5 | 2 | 44 | USA |
| Ur Rider | Aluminum | Seat post | 2-6 | 2 | 100 | USA |
| Do Little | Steel | Down tube | 18months-7years | 2.9 | 61.7 | New Zealand |
1
Mac Ride Child Bike Seat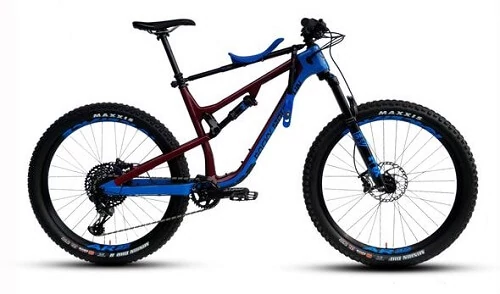 Notable Features of the MacRide MTB seat
American-based Mac Ride has established its name amongst mountain biking parents.
But not for nothing as it's very simple plastic design is fun, interactive, and more secure than one would think at first sight. Let's see how it performed:
Compatibility with an Adult Bike
There are very few exceptions to the compatibility of the Mac Ride, all of which are highlighted on the Mac Ride website.
The adult bike just has to have a 10 mm mounting spacer (common to most) which is then swapped out for the Mac Ride custom spacers to allow the bars to rotate.
Construction
Mac Ride is well-made with 6061 forged aircraft-grade aluminum. Its frame is thus very lightweight, solid, and entirely rust-free.
Age Limit and Size
Mac Ride boasts of an appropriately narrow seat. This minimal seat is just right for kids between 2 and 5 years of age. As for the adult rider, he or she won't have to ride bow-legged thanks to this narrow setting.
Additionally, the higher positioning enables you to hold them in a protective position between your arms without compromising your riding stance.
However, this high seat position can also be disadvantageous to adults who sit with their saddle bottomed out as it could interfere with their view.
Ease of use and fitting
It literally takes less than a minute to install the Mac Ride once you figure it out.
No additional space is needed on the steering bar to mount it as it comes with 2 standard front mount spacers. All you have to do is swap out the 10mm spacer for the custom spacer.
After that, the handlebars and foot straps are adjusted, and the seat can be attached or detached within minutes.
This bike seat's easy adjustability makes it an excellent choice if you have kids of different ages and sizes and would like to make quick adjustments to the seat to suit them.
Weight
In comparison to other mountain bike child seats in the market, the Mac ride is super light. It weighs 3.6 pounds which; although heavier than most of the bike seats that made it to our list, is not hard to carry.
Its sturdy construction can hold a maximum weight of 60 pounds, a figure that is quite high. This means that a broader range of kids' sizes can be accommodated!
Safety
For the safety and comfort of your child, the Mac ride comes with footrests that are positioned in such a way that there is sufficient front wheel clearance. Additionally, the footrests are equipped with silicone rubber straps to keep your child's feet in place so they won't come off mid-ride.
Another great thing about the stirrups is that they adjust front and back. Both the straps and saddle of this bike seat can be modified so if you have more than one kid; they can be lengthened or shortened to best suit them.
Our only hesitation is that the seat has an open harness-free design which means that it is your responsibility as the adult rider to ensure that the child is safe between your arms.
Comfort for adult and toddler
Many things can be said about this apparatus, but we can all agree that the saddle contributes largely to the comfort level experienced by the kid.
Although the Mac Ride saddle is less padded than most, it is incredibly comfortable. It does everything you would want from a toddler's seat, mainly because it is made of rubber, a material that makes them very grippy. This means that there is little to no chance that tots can fall off the bike.
As for the adult rider's comfort, the seat is positioned further forward than most meaning that that you have sufficient knee room to pedal effectively.
Furthermore, this gear's U-shaped saddle is made of high-quality silicon rubber that does an excellent job at cradling the child's bottom in place.
Lightweight and portable.
Very easy to install and swap from one bike to another.
Sufficient knee room for adult riders.
Height adjustable footrests keep feet in place.
Ergonomic and comfortable saddle.
Open design does not secure the child's upper body.
Child seats are averagely higher on the bike which might affect the view for shorter parents
OUR VERDICT!
This frame-mounted MTB seat takes the crown for being the best fit for mountain bikes. Not only will it save most on money as due to its universal compatibility, but it is the surest way to reduce screen time for kids instantly.
But sores can be a turn-off for the little ones. However, the Shotgun bike seat designers thought this ahead though. The Shotgun is by far the only MTB bike seat for children with thick padding to protect the little sprogs' butts.
Even though the padding can add some height to the tyke compared to other mid-mounted seats, it is something you will have to adjust around.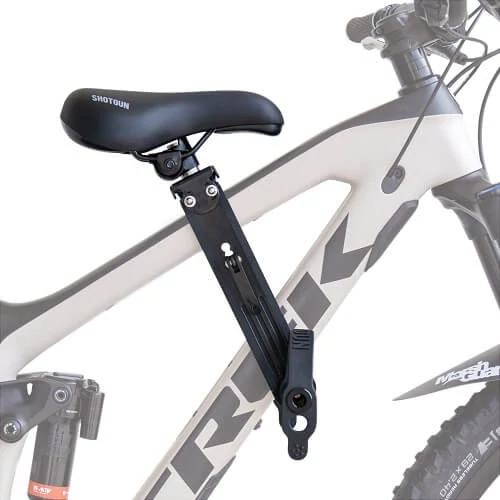 Full Review of the Shotgun MTB Bike Seat for kids
The Shot Gun Bike Seat smoothly landed a spot in our list as it is designed specifically for mountain biking.
We can assure you that this solid black, extraordinarily comfortable and sturdily constructed bike seat will make your youngster take to mountain biking after the first ride!
Here's how it performed against its competitors.
Compatibility with Adult Bike
The Shot Gun kids' bike seat boasts of a very versatile clamp with a fully adjustable width and angle to fit top tubes 35-68mm wide and down tubes 35-100mm wide. This range makes it compatible with all adult mountain bikes.
In addition, the apparatus has molded rubber padding that grips securely and protects the adult bike frame.
Construction
The construction of this bike seat is hard to beat as the high-quality steel frame is extremely sturdy.
Age and size
If your child is aged between two and five years and their weight is well within 48 pounds, this is just the bike equipment for them.
Ease of Fitting
The setup of the Shot Gun Bike Seat is very straightforward.
The seat and accompanying handlebars, which can be positioned in a variety of ways, takes very little time to install. This is owing to the quick release fitting system, which enables not only easy installation and removal but also secure attachment.
Frame Protection
Another best thing about the Shotgun Kids seat is that it won't damage your frame thanks to the full rubber protection that cushions your frame. So, you don't have to go easy on the Shotgun Seat for fear that your expensive carbon frame will get a scratch. No, not a single.
Versatility
The Kids Ride Shotgun child bike seat for MTB prides itself as the most exceptional universal fit for mountain bikes. With its fully adjustable design and ability to fit on both sloping top and flat top tubes, it fits in all adult mountain bikes.
Weight
This seat's sturdy frame can easily hold up to 48 pounds of weight without weighing you down.
Safety
For safety, the Shot Gun is equipped with adjustable rubber foot straps that keep your little one's wandering feet away from harm.
However, the child seat is unrestrained. This lack of shoulder straps makes the seat more suitable for older toddlers who have a better grip when riding.
Comfort for Adult and Toddler/Baby
The location of the seat has no interference with your bike control in terms of knee room. Additionally, you are bound to having a smooth ride as the view of the trail will be uninterrupted.
The manufactures of the Shot Gun offer optional mini handlebars to eliminate the need for little toddler's stretching to hold onto the adult's handlebars. The mini-set that fits on top of yours encourages a more upright sitting for them.
The seat positioning offers an unobstructed view for your child that you will appreciate as their guaranteed endless chatter will allow you to see the world from your child's eyes.
Lastly, thanks to this appropriate positioning, you also won't have to worry about your child's helmet, continually rubbing your chin as you ride.
The seat is fully adjustable and designed to fit both flat and sloping top tubes.
Fits snugly on the bike's frame.
Easy, straightforward installation saves on time.
Padded adjustable saddle is super comfortable and accommodative of different sized kids.
Adjustable straps on foot-pegs secure your child's feet in place.
Optional mini handlebars are a great learning tool for kids.
Footrest height is not adjustable.
OUR VERDICT!
This frame-mounted MTB seat takes the crown for being the best fit for mountain bikes. Not only will it save most on money as due to its universal compatibility, but it is the surest way to reduce screen time for kids instantly.
But sores can be a turn off for the little ones. However, the Shotgun bike seat designers thought this ahead though. The Shotgun is by far the only MTB bike seat for children with thick padding to protect the little sprogs' butts.
Even though the padding can add some height to the tyke compared to other mid-mounted seats, it is something you will have to adjust around.
3
TYKE TOTER Front Mounted Child Bike Seat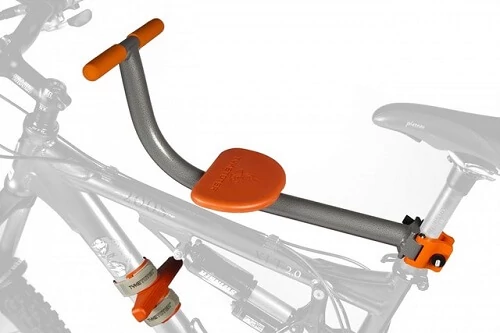 Full Review of the Tyke Totter Child MTB Seat
The Tyke Toter is an American created and manufactured seat designed to give your Sprog the best riding experience right next to you.
Let's take a look at how it help up on the road.
Compatibility with Adult Bike
This bike seat is compatible with just about all standard bike seat posts as its clamp fits all sizes up to 1.25 inches in diameter.
It just requires about 2 inches of seat post-clearance for attachment, and you are ready to hit the trail.
Construction
The frame of this bike is sturdily constructed with aircraft-grade aluminum. Not only is it solid but the aluminum make is dust-free and durable.
Age and size
This bike seat is well-made for children between two to five years of age who are yet to learn how to pedal and steer a bike.
Ease of Fitting
The installment of this bike seat is perhaps the easiest we have witnessed.
It takes less than a minutes and does not require any additional tools. The extra fitting time is eliminated by the fact that the handlebars are already attached to the frame.
Weight
The Tyke Totter Bike seat is very lightweight.
Weighing only 2 pounds makes it portable hence great for those lengthy family escapades.
With a weight limit of 45 pounds, the apparatus is not hard to carry as the child's weight is well-taken by the horizontal tubing.
Safety
This bike seat has foot pegs for foot placement. The footrests, however, lack straps to keep them your child's in place.
Comfort for Adult and Toddler/Baby
The Tyke Totter seat is super comfortable. Together with handlebars which the child holds onto, they do a great job at securing the little passenger in place.
Additionally, the sufficient knee room offers by its positioning ensure that your pedal stroke won't be interfered with.
Easy and fast installation and detachment.
Packs and stores well.
Comes with child's own handlebars keeping them away from yours.
Very affordable as compared to other effective options in the market.
Foot-pegs lacks a strap to secure feet in place.
OUR VERDICT!
If you are going to be continually switching it between you and your partner, then this is just the ideal bike seat for you as it is straightforward to attach and detach off a standard bike.
Believe you us, the memories you will make with this bike seat will make it worth every penny.
4
UrRider Child Bike Seat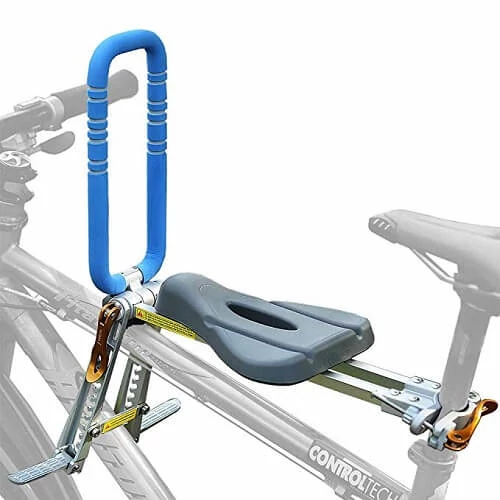 Full Review of the UrRider MTB Bike Seat
Ur Rider Childs bike seat is available in two bold blue and orange colors. However, what is striking about this child bike seat is the innovative bionic design that resembles a running jaguar after installation.
Not only does it look crisp, but the seat is very sturdy and correctly positions tots where they can fully appreciate the scenery.
Compatibility with Adult Bike
Ur Rider's rear clamp hinge fits all seat posts whose diameter is within 1.4 inches 35.5 mm.
Additionally, both the handrail and front fork arm are foldable and adjustable; a factor that makes them compatible with bikes with a variety of specs.
Construction
This bike seat boasts of a solid construct as its main frame is made of aircraft-grade 6061 AL alloy and A380# Al Alloy. The whole gear is thus durable and rust-free.
Age and Size
Compared to the aforementioned contenders, Ur Rider Bike Seat has a wider age range as it accommodates kids of up to 6 years and up to 4 feet in height.
The adjustable handrail and fork arm of this bike seat enables this accommodation.
Ease of use and fitting
Fitting is quick and super easy as this bike seat is equipped with a quick-release handle and does not require extra tools for installation.
It is also extremely portable as it folds into a small size for compact packing.
Weight
The portability of this equipment is further enabled by the fact that it only weighs 2 pounds.
But what is astounding is that fact that it can support a load capacity of up to 110 pounds. This weight capacity is unmatchable and is what makes this gear stand out.
Safety
Ur Rider has a u-shaped handrail whose frame is made of aircraft-grade 6061# aluminum alloy and wrapped with soft NBR tube with anti-slip stripe. This supporting point ensures your child's safety in case of a collision.
Comfort for adult and Toddler/Kid
This bike seat is definitely worth the 100$ price tag as it is equipped with a thick, soft, well-ventilated and super comfortable saddle.
The thick make of the saddle made it a favorite among our little testers. The saddle provides an unrivaled grip as it employs PolyUtherane foaming processing technology in addition to undergoing surface anti-slip treatment making.
The most impressive feature of this saddle, when put against its contenders, is that it has a well-placed hollow and grooves for breathability. You know that uncomfortable wetness you sometimes experience after a long ride? Thanks to this feature, your child won't experience it.
OUR VERDICT!
The Ur Rider bike seat is an excellent accessory for family riding. Its wide weight capacity, bionic design, and breathable saddle make it a must-have for adventurous parents.
What is the other great way to indulge in your shared love for nature could you ask for?
5
DO LITTLE Front-Mounted Kids Bike Seat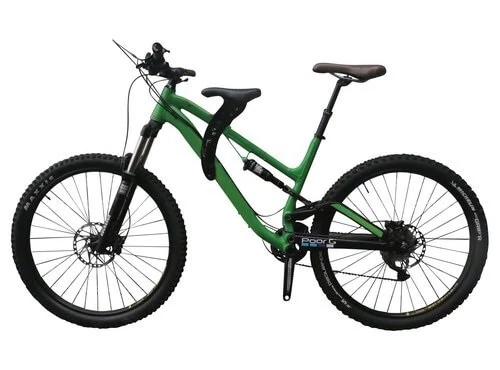 Full Review of the DoLittle Bike Seat
Your little one is bound to fall in love with this top-notch matte black bike gear that comes all the way from England.
In their own words, Do Little has undergone years of refinement to become the world's most durable, most stable mid-mounted seat.
Let's see whether the years of refinement has been worth it
Compatibility with an Adult Bike
The DoLittle bike seat comes with 2 different adapter fittings which enhance its compatibility. In fact, it is compatible with almost every double-tube frame in the market as it fits top tubes up to 50mm (-2 inches) and down tubes up to 85mm (-3.5 inches)
It also has durable rubber pads that protect the bike's frame at every contact point and improve hold.
Construction
The Do Little's mainframe is robustly made with high-quality steel frame. Thanks to this sturdy make, the gear will surely stay with you throughout your child's growth spurts.
Age and size
If you thought the Ur Rider Bike seat accommodates the widest age range of kids, you would be pleasantly surprised by the fact that this gear is made for children between 18 months and 7 years of age and between 2 foot 5 inches and 4 foot 7 inches in height.
Ease of use and fitting
Super easy installation of this seat only takes minutes, and you can hit the road.
Weight
DoLittle merely weighs 2.9 pounds and is engineered to hold up to 61.7 pounds which is one of the highest weights for this type of mid-mounted seats
Seat positioning usually affects the weight distribution and overall center of gravity. However, the unique mid-mounted design of this bike seat maintains the weight distribution as well as the center of gravity so you can ride confidently.
Safety
Originally a mid-mounted child bike seat concept birthed in the MTB world; this bike seat is also endowed with full-surround stirrups that not only secure your child's feet from slip but also encourage proper riding form. Not only that, the sturdy metal foot rails also protect your child's feet from your front tire.
Additionally, the 3-point bolt anchor system of the frame ensures maximum stability. However, its lack of shoulder straps means that you need to be extra careful about securing your kid.
Comfort
DoLittle further features an ergonomic padded saddle that maximizes your child's comfort. It best fits for your cruiser bike, hybrid bikes, and full-suspension mountain bike.
Ultra-light.
Very easy and quick to install.
Anti-slip framework for safety.
Anti-slip handrails ensure steadiness.
Comfortable due to thick well-padded saddle.
Anti-slip handrails ensure steadinessHighest passenger weight rating.
The saddle is ventilated for breathability purposes.
Foldable and easy to store.
Adjustable handrail and fork arm.
Comes with a free package bag.
Very close to the adult handlebar.
OUR VERDICT!
This 2.9-pound gear can hold the broadest range of kids. Its high-quality steel frame construction is very sturdy. Without a doubt, the DoLittle Bike seat is a game-changer for mountain bike adventures.
Criteria for Choosing the Best Mid-Munt Child Bike Seats
Mid-mounted MTB child bike seats are becoming a common sight on the trail for numerous reasons.
For starters, they are the best way to ride together as you get to interact with your toddler as opposed to merely dragging them along. Kids also get to actually enjoy the scenery as opposed to being posted on rear bike seat where they only get side glances. The best part? You don't need to find a sitter as you can actually enjoy riding together.
With that said, there are a couple of questions that you need to ask yourself before choosing one from the sea of mid-mount bike seats in the market
Adult Bike Compatibility
Is the bike seat suitable for your bike's frame?
Most websites have information on compatibility, so be sure to confirm before purchasing.
Ease of Fitting
How is easy or hard is it to install and how much appropriate time does it take?
Some bike seats take time to fit but once you get the hang of it becomes super easy
Weight
How much weight can your bike's frame hold as well as how much weight can the bike seat itself accommodate?
What about you, can you haul the additional weight?
Pushing up an additional 30-40 pounds is not an easy task so you need to make sure that your bike can hold up the weight.
Comfort
How comfortable is it for you and your kid?
Will the additional gear and its positioning affect your balance?
Your child's comfort should come first when riding. The saddle and positioning of the frame can either increase the comfort level. For instance, padded saddles are by far more comfortable than non-padded ones.
Knee Room
Does the gear impede your ability to ride?
You need to have sufficient legroom in as much as a toddler is seated in front of you so that you do not suffer while riding.
Safety
Are there any security features that will keep your child from harm's way?
Straps both attached at the shoulder and feet secure the child in place. The more, the better.
Price
Is this gear worth its price tag? Consider the features it has and weigh them against the price tag. Always go for value.
Additional features
Are additional safety features such as a protective windscreen a deciding factor? If so, then find one that incorporates these features.
With these questions and our in-depth review to ponder over, we guarantee that finding a mid-mount child bike seat that best suits you and your child will be the most natural thing you will ever do.
Now, get off the fence and join the mid-mount child bike seat bandwagon!
Conclusion
Front-mounted MTB child seats are just the game-changer mountain bike parents have been waiting. Not so long ago, we would ask ourselves if there could be a mountain biking child bike seat safe and versatile enough to take on rough and bumpy rides.
Today, it is effortless for a 12-month-old baby to feel the thrill of speeding over terrains and emulate the courage with which their parent takes turns around bends. No doubt, with the fact that child front-mounted MTB seats enable you to share cycling experience, there is never a better way to bond.
The child can sing their happy song; you can both chat, or even let them be the keen passenger. You will only hear of the stories of other kids pressuring their parents to buy them MTB bike seats too.
The upper weight limit of MTB child seats is 15kgs, and the minimum age indicated by the brands for safety is 12 months. Safety is never a gamble though, even with the seat straps and the handles, you need to get your child the best helmet, just in case. And from here, we leave you to decide your fun!
Please Rate This Article
SEND