With the dual disc brake system and an optional set of training wheels, the NiceC BMX kids' bike is an excellent bicycle for beginners. Some of the words that best describe this bike include ultra-lightweight, good design, good looking, kid-specific design, kid-friendly bike, perfect first pedal bike, and great value kids' bike. All these are well-founded, as we shortly explain in this NiceC BMX kids' bike review; stay tuned!
NiceC BMX Kids Bike with Dual Disc Brake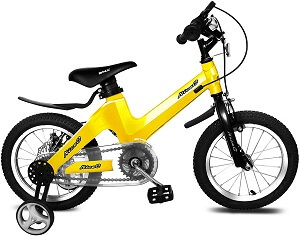 Features that Make NiceC BMX Kids Bike Stand out
The first feature that you will notice about the bike is the design and the dual disc brake. The bike also comes with many innovative features: a single-piece frame, training wheels, kid-friendly brake levers, great resin pedals, a high-quality saddle, and soft grips that make any ride smoother than expected. Here are some of the things that we, as experts at KiddingZone, think are great on this bike.
The Innovative Single-Piece Frame
The NiceC BMX bike's single-piece frame makes it an adorable bike that every kid will love to take outdoors for both the show and performance. It further makes it worth every penny.
The innovative frame design eliminates any screws or joints that connect the frame. Instead, the frame is cast from the materials and carefully shaped, reinforcing its stability and resilience.
The one-piece frame design explains why the Nice BMX Kids' bike is comparatively durable than its competitors. With no screws and too many nuts, you should not worry about your kids having dents and scratches on their skins.
Dual Disc Braking System
Coaster brakes are great but not for kids who are learning how to ride. Since the NiceC BMX bike is a preferable first pedal bike, having the dual handbrake system makes it a great kids' bike.
The Nice C BMX bike has both the traditional V-brake system and a disc brake for the rear wheel. The dual braking system allows for smooth and efficient braking.
The disc brake offers precision when stopping, which also trains kids who will later grow to love road bikes with disc brakes.
Ease of Assembly
The bike comes pre-assembled out of the box, and the assembly does not require so much expertise. Besides, the bike comes with detailed assembly instructions that can make the process fast and smooth.
High-Quality Materials and Extras
The NiceC BMX Kids' bike frame is made from high-quality magnesium alloy metals that offer both lightness and durability.
The high-quality and premium design makes the bike aesthetically attractive. The different color variations also shout of a quality kid's bike. And with the stickers on the box, the kids can customize the bike to make it rad.
The packaging sometimes consists of a bell and compass that add extra value as they enable kids to orient themselves to safety and reading compass directions.
Ultra-Lightweight Bike suitable for Kids
The NiceC BMX bike weighs only 14.2 lbs, making it one of the lightest kids' bikes on the market. Lightweight bikes encourage kids to cycle and ensure that they maintain a proper balance and control of the bike as they kick in some miles.
Excellent Quality for its price
It is sincere to say that although dominant kids' bike brands like Guardian, Islabike, Woom, Pello, and Prevello, among others, have perfected the art of making lightweight and quality bikes, NiceC BMX kids bike offers more for a bike its price.
Specifically, the size 16" NiceC BMX bike comes with a pair of handbrakes and weighs less than 15 lbs. The fact that it is unisex also makes it a worthy purchase.
High-Quality Tires
The NiceC BMX bike comes with a pair of thick tires that offer better traction and grip on the ground. Thus, you are sure that your kid will have stability when cycling. The tires have multiple rubber layers that offer better shock absorption that cushions the kids from the bumpy surfaces.
The layers also offer better durability as they prevent wear and tear, unlike the conventional tires. We can surely bet that the tires are long-lasting and functional in different terrains. Besides, the bike also comes with training wheels as an accessory.
Even though we are against training wheels and advocates of balance bikes, they might satisfy the curiosity of parents who prefer training wheels - but by now, we've won the hearts of many to change to balance bikes!
Grows with the Kids
Because kids grow faster, the NiceC BMX bike has room for adjustment, which is excellent. It comes with adjustable handlebars and seat heights that allow parents to adjust the bike to fit the child's height and reach, depending on the preferred size. Safe to say that the NiceC BMX bike is made for kids with kids in mind because it also comes with a page of fun stickers that young riders can use to accessorize their bikes to their custom feel.
For the kids of different sizes and ages, the Nice C BMX comes in various sizes as outlined in the table below:
| Size | Appropriate Age | Seat Height | Handlebar Height |
| --- | --- | --- | --- |
| 12-inch | 2-4 years | 17-22 inches | 21-25 inches |
| 14 -inch | 4-6 years | 19-23 inches | 23-26 inches |
| 16- inch | 6-8 years | 20-24 inches | 27-30 inches |
| 18 inch | 8-10 years | 21.5-27.5 inches | 29.5-32.5 inches |
What more makes NiceC BMX bike the best?
There is no doubt that the NiceC BMC kids bike is a kid-friendly BMX bike that is safe and fun to use. The bike comes with a chain guard that prevents kids' clothes and shoelaces from getting to the chain. The feature also helps in preventing cycling shoes and clothes from being greased in the process of cycling.
Furthermore, the NiceC BMX bikes come with non-slip resin pedals that allow kids to enjoy smooth pedaling. The pedals have reflectors for safety. It also comes with TPR soft grips, making it easier for kids to grip on the handlebars.
Its kid-friendly design features shiny alloy child-size brake levers that can comfortably be adjusted by kids' small hands. It also features a one-piece foam saddle that ensures the comfort of the rider.
Durable and lightweight
Dual brake system for easy braking
Easy to assemble
Premium components and features
Optional training wheels for timid beginners
Bottom Line!
The NiceC BMX Kids' Bike comes in different sizes ranging from balance bike to size 18 pedal bike. The design is unique, and its innovative components and features wrap the deal as a great first pedal bike and a balance bike.
The impressive lightweight build, one-piece frame design, and powerful dual brakes are but a few price points for the NiceC BMX kids bike that make it a worthy purchase. The durability gives you value for your money, eventually.
The NiceC BMX kids' bike with a dual braking system also comes in different sizes from 12 inches to 18 inches, and there is also a balance bike option.
Be sure to check our bike sizing chart and pedal bike buying guide as well as our reviews of other bikes as listed below:
Please Rate This Article
SEND