Whenever we spot a perfect kids' bike in the market, we swing into research, testing, and subsequently writing a comprehensive review. For now, it is our turn to review the Belsize 16-Inch Belt-Drive Kid's Bike, which if we were to describe in one word it would be "Phenomenal!" It bears the same features as the Belsize 20-inch bike, meaning this review serves a dual purpose, to some extent.
The Belsize 16-inch belt-drive kids' bike is a lightweight premium pedal bike that will entice kids aged 3-7 years to stay outdoors kicking in some miles each time they are free. Besides the belt-drive feature, the BELSIZE 16 also comes with other premium features such as V-brakes, soft saddle and grips, and an ultra-lightweight frame that will you value for your money.
If chains are a problem to your kids – greasing, noises, and sometimes snapping, a belt-driven bike would be a perfect choice, which BELSIZE 16-inch bike is.
It comparatively gives Raleigh Rowdy, Woom 3, Early Rider, and Guardian ethos and original a run for their money. If you have not made up your mind to buy it already, let us find out some of the outstanding features of this kid's bike.
Belsize 16" - A Luxurious Kids' Bike with a Belt Drive System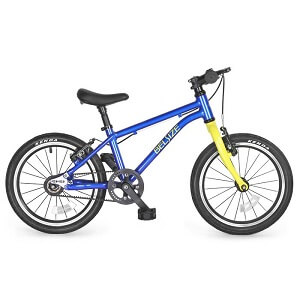 Why Belsize is the Perfect ultra-lightweight premium kids' bike
In a nutshell, here is why you should choose Belsize over other bike brands its size:
New style belt drive system
Ultra-lightweight bike
Kid-specific geometry
Top-quality branded components
Great pricing
Dual handbrakes for safety
Easy assembly
And there is more, let's dig into it!
Adjustable Dual Handbrakes
As safety comes first, the Belsize 16 comes with adjustable handbrakes that activate a pair of V-brakes as opposed to coaster brakes, which makes it a great first or second pedal bike to purchase for your kid. The handbrake has the advantage of offering strong and efficient stopping power that applies to both the front and rear wheels. It also means that an accidental backpedaling does not stop the bike as is with coaster brakes.
Handbrakes further make it easy for kids to take off their feet from the pedals as they stop or when learning how to stop bikes. It also ensures the safety of the kids, unlike accidentally pedaling backward that can activate a coaster brake.
The front and rear brakes have a freewheel hub.
One great thing with the BELSIZE handbrake grips is that they can be adjusted to be small enough to fit various small hands of kids. The handbrake is also adjustable, which makes it a premium bike to purchase as you can adjust them to fit the kids' hands.
If safety does not give you value for your money, what does?
Ultra-lightweight Bike
The Belsize 16 weighs only 13 pounds in weight, which enables kids to maneuver easily. The bike frame is made from a robust and smoothly welded aluminum alloy. The frame alone weighs 12.57 pounds, the extra weight is for the components and tires.
Lightweight bikes allow the young riders to gain confidence, have a sense of balance, and maintain control soon as they transition from balance bikes. Compared to the bikes its size that are heavy, buying the Belsize 16 makes it possible for your child to enjoy the rides on paves and some trails.
Since the bike is incredibly light kids can pick it up faster and ride over hills without being exhausted. It is simply the most solid bike for your kiddo. It is a celebrated first pedal bike for kids between 4 and 7 years.
Kid Specific Design
Like most of the premium bikes with narrow Q-factor, the distance between the pedals, the Belsize 16 comes with the same. As we mentioned on our ultimate kids' pedal bike buying guide, a narrow Q-factor prevents splaying, which increases the efficiency of pedaling. Further, it males pedaling comfortable and more natural.
The Bottom Bracket (BB), is also fairly lowered which lowers the center of gravity, meaning that the kids can balance and control the bike easily. The arrangement also allows for more space between the pedal and the seat, which helps the little riders maintain an aggressive riding position - it makes it easier to pedal.
The Belsize bikes also have the seat and the handlebars fairly apart which increases efficiency as the kids are not cramped on the bike, making it easier to maneuver.
Innovative Belt Drive System
Compared to the conventional chain drive, the belt-drive bicycles have the advantage of durability. The belt-drive is a longer-lasting drive system when compared to the chain-drive. This is another premium feature that makes the Belsize 16-inch bike a perfect kids' bike.
The new innovation has gained popularity in the cycling industry and community with most bikes now shifting to belt-drive systems. Belt-drives are easy to maintain. The belt-drive system also means that kids' socks and cycling clothes will not be stained with lubricants used to lubricate the chain-drive.
The rubber used to design the belt-drive system is also durable, which means it lasts longer before being replaced. There are readily available belt drives that can be purchased online. The comfort of riding a belt-operated bike is next level, and your kid will testify to this fact sooner or later.
Apart from being maintenance-free, the belt-drive system also makes a smoother ride. First, it limits the noise that is sometimes common with the chain-drive systems. Secondly, it does not come off easily or snap. There is also a smooth operation of the rubber on the crank.
The bike also comes with a belt guard system that operates the same way as the chain guard, to protect the kids' shoelaces and dress from getting caught in between the belt and the crank.
High-End Branded Components
The Belsize 16-inch incorporates bike components from premium brands renowned for producing quality bike parts. It comes with a pair of Tektro adjustable handbrakes and a pair of Kenda tires, which are among the top quality components that make the bike worth every of your coin. The belt drive is made by Continental and is easily available online.
The best part yet! The high-quality components are branded. Imagine the pride that comes with owning and riding such a bike. Even with the weight, the Belsize bike is designed to consider top quality in every detail. The quality components mean that the bike has a long service life, and can be passed down from child to child.
The superior texture and outlook of the bike components make it stand out from its competitors such as Early Rider, Giant ethos 16, Woom 3, and Raleigh Rowdy.
Ease of Assembly
The bike comes 96% assembled before packaging, which means you will only take a little time installing the remaining components.
Your work is to remove the foam material wrappings, install the handlebars, front wheels, pedals, and the chain guard, and the bike is ready to go.
The packaging comes with all the tools and accessories you need to assemble the bike, including a guide.
The assembly instructions are clear in case you find the assembly process challenging, but most parents admitted that the assembly process took less than an hour.
There are five steps of assembling the bike, and that's simply it!
Saddle and Seat Height
For extra comfort, the Belsize bike comes with an ergonomic saddle made from black soft leatherette. The seat height is 18" - 22", which makes it perfect for kids with different inseams. This further makes it a perfect first pedal bike for a balance bike graduate. Our testers who are 46 and 47 inches tall with sneakers on were able to enjoy the bike while comfortably seating on the adjusted saddle.
Other good things about Belsize 16 Kids' Bike
The bike has a gain ratio of 3.4, which is far much higher compared to Woom 3 and other bikes of the same size, which means that it allows kids to cycle faster.
Belsize bike has a flat handlebar, which allows for aggressive riders, who are out for fun and adventures on two wheels. It allows the kids to perfectly lean forward as they wish, which can be a pro and a con at the same time. Parents boast of Belsize 16 as the best deal they have stumbled upon in their quest for the best pedal bike for their kids, and that is reason enough to put it on your list of considerations and eventually purchase it.
Kid-friendly design and components
Premium Kids' bike at an affordable price
Ultralightweight kids' bike
Comes in different appealing colors
Handbrakes for better transitioning from balance bikes
The steering wheel height is not adjustable
Does not come with a kickstand
Our Verdict!
From our surveys with parents who have bought the Belsize 16-inch bike, it emerged that it is a preferred alternative that will make your child skip size 14-inch bikes. Technically, given its design, geometry, and the fact that it is ultralightweight makes it a good choice for kids transitioning from balance bikes. For its incredulous price, if you have browsed through several kids' bike brands of the same size, this will be the most fitting bike to buy for either your son or daughter.
If your daughter loves it much, there are many ways to accessorize the bike, such as adding a handlebar bag. On the other hand, a good bike basket would make it a complete bike for your daughter.
You get to enjoy premium bike qualities at an affordable cost.
Check our review of other perfect 16-inch bikes for kids.
If you have trouble assembling the bike, you can reach out to the sellers via the A11NSPORTS website.
Please Rate This Article
SEND