Ultra-safe, high performance, affordability, reliability, and fun are some of the best characteristics of the Guardian Airos 24-inch bike. The Guardian bike company was founded less than a decade ago, making them relatively new in the kids' bike industry.
The founder, Brian Riyel, had initially created Sure Stop Technology, which prevents a bike misapplied front bike that prevents flipping of the bike. He and his co-founder then ventured into manufacturing safe bikes for kids using the patent Surestop braking system.
Guardian bikes fit the classic recreational bikes category. The aim is to ensure families have a good time exploring trails or biking around the neighborhood. Their 24-inch bike is available in two models: the premium Guardian Airos 24" and the affordable Ethos 24".
The Airos Guardian 24-inch bike is great for kids, weighing just 23.2 lb., with a fully-adjustable seat and handlebars, giving the best possible fit for smaller kids.
We will cover the Airos model and see whether it's worth the hype.
The Airos 24-inch
Originally known as the Guardian Original, the Guardian AIROS makes true the promise of Guardian Bikes to build world's safest kids' bikes. We highly recommend it for an everyday rider wearing at least size 8 pants and want to own a reliable and durable bike. Let's have a look at some of the outstanding features of the AIROS 24.
Brake System: Surestop Dual hand braking system
Weight: 2 lbs for AIROS and 26 lb. for Ethos.
Frame Material: Aluminum alloy gram
Gear: 7-speed mega range
Gain Ratio: 2.3-2.6 (stats for bike nerds)
Height: 49 - 57 inches
Guardian Airos 24-Inch Kids' Bike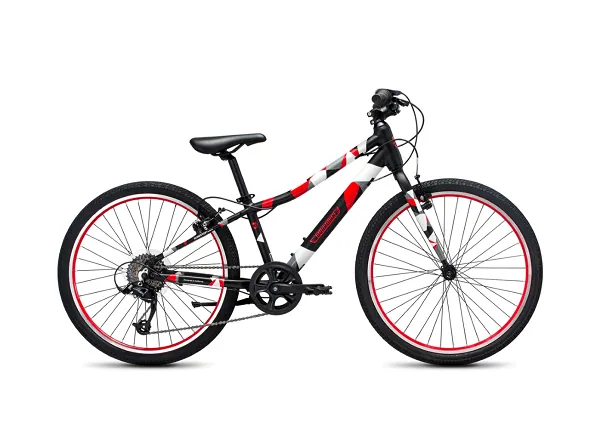 It comes in four extremely attractive color combinations
Clear instructions and tools for assembly
It has a sleek kickstand
It has an aluminum alloy, making it highly durable and a great long-term investment for kids.
The bike has the Surestop braking system, which prevents the rider's being thrown over the handlebars during a sudden stop.
Some users/parents found that the paint comes off easily.
Guardian AIROS 24-Inch Kids' Bike Review
Having heard all the good news about the AIROS and Ethos 24-inch bikes, we were stoked to put them to the test. Well, as usual, we expected to experience a wonderful bike for kids aged 8, 9, and/or 10 years. And we were not surprised that Guardian Bikes keeps its promise with every bike it releases.
It is a bike they would be happy to bring for family rides, take to some light trails and pump tracks, ride the neighborhood, or even commute to school. Guardian bikes always consider bikes as part of childhood that should only be made of wonderful memories. Let's see what the 24-inch Airos packs under its sleeves.
The Bike's Geometry
All Guardian bikes, including the 24-inch, are designed for children from the ground up. As you are aware, kids and adults are different. They don't just require small bikes but also those designed specifically for them.
Airos 24-inch has the right proportion, smaller grips, and the right distance between the pedals. It also has shorter crank arms and a low center of gravity, making the bike easier to control and balance.
Airos also comes with a steering limiter which prevents it from jack-knifing and the front wheel from making a 360-degree turn. The feature is great as it ensures your child's safety by preventing the handlebars from overturning when leaning on it.
The bike also has a fully adjustable seat to ensure a comfortable fit. There is also a quick-release Seat post collar, making it easy to adjust the seat up and down. To set the height easily, the bike has a measurement indicator. This also means that they can easily share if you have more than one child within the same age range.
Braking System
The 24-inch bikes, like the other Guardian bikes, use the Surestop braking system, a highly intelligent technology that allows the distribution of the right amount of braking power to both wheels.
When the rider engages the brakes, friction between the brake pads and rim tires is created, pushing the pad slightly forward. This results in the bike pad sliding forward, pulling on the attached while triggering the front brakes to engage. When this happens, the bike comes to a stop faster without causing head-over-handlebar accidents.
Surestop technology makes the bike a great choice for novice rider's as it provides more control on a single lever braking. This means they can cruise around without wondering which brake handles to press because rear and front brakes are activated sequentially using one brake lever.
Cool Aesthetics
Your kiddo will love the cool aesthetics of the Airos 24-inch. The bike is available in silver, yellow, green, black, red, or any other pretty color. Your child will dig the amazing and unique graphics, which will turn heads on the streets. However, its aluminum alloy frame comes with just a flat paint finish. While this may sound unappealing, it will grow on you; it makes it more unique compared to the glossy shine on most bikes. The welds which hold the bike together are also done beautifully.
You will also love the unique shape of the tubing. The tube's top and bottom are flat but feature rounded sides. Resting on the top tube becomes easy. In addition, riders with shorter builds can comfortably mount and dismount.
The Bike's Internal Cable Routing
Airos has an internal cable routing which is a smart, watt-saving, front-end tidying feature that is not only ideal but a must-have for kid's bikes. The internal cable routing design involves housing the brake cables and derailleur cables—inside the bike frame keeping everything clean and tidy.
The internal routing is much better than the exposed cables running above or below the frame, leaving them open to dust, dirt, or rainstorm.
Bike's Sizing
Guardian uses the RideSizer, sizing tool to determine the best size for your young rider. While other online tools will help you do the same, this tool is more specific. It will guide you by offering a series of questions on the various tricks to measure their size properly. Some of these questions include the child's athletic abilities and whether or not they have used a balance bike.
Once all the information has been calculated, the tool will determine the best size and model for your child, like in our case, the 24-inch Airos.
Lightweight and Simplicity
It's common for many 24-inch bikes to come with a standard suspension fork; however, Airos only has a rigid fork without suspension. Compared to other bikes its size, the AIROS 24 is slightly lighter.
Guardian opted for this because they have already provided what your rider needs in the bike. So, the rigid fork looks snazzy and lightweight.
This means your child doesn't have to deal with unnecessary weight, which can be too much for them.
Affordable Cost
Airos 24-inch will cost you $529, while its counterpart, the Ethos, will cost $429. This may seem expensive at first, but you have to consider all the amazing features and thoughts put into the design and engineering of the bike; it is fairly priced.
Quick Assembly
One of the best things we liked about the Airos 24-inch is its quick assembly which only takes 10 minutes.
The bike is shipped in a large box revealing the content, which are broken down into six pieces. Moreover, it comes with clear instructions to guide you throughout the process.
You can even allow your child to help with the assembly, as our tester did most of the work.
Carry-on Luggage
Airos 24-inch is not just a bike for trailing around neighborhoods or streets, it is equipped with a basket to help the rider with a few of their stuff. They can carry a water bottle or a few snacks as they venture into the world.
Tires and Traction
Since your child will likely be riding on pavements or packed gravel trails, this should be their ideal bike as it comes with standard tires. If your child wants more trail biking, you may need to consider another option, as it is not advertised. However, it has a standard-sized double-walled rim making it more durable and a good investment.
Smooth Shifting
The bike uses a Shimano shifter, which will only take your child a few minutes to master. The 7-speed grip shifter, controlled through the RevoShift twist grip shifter, provides clean and intuitive shifting on hilly and flat surfaces.
Final Verdict
Airos 24-inch is a great bike and perfect for children between 7-11 years old. After unboxing and the 10-minute assembly time, your rider will only take a few hours to master everything from changing gears to engaging the brakes. We highly recommend this bike, especially if your child is a beginner, because of its safety features. It also comes with a 30-day trial and lifetime frame to give you and your young one peace of mind.
Please Rate This Article
SEND