Purchasing a kid's bike is not a walk in the park when considering their growth spurts. You may dig deeper in your pocket to get them the right bike, only for them to outgrow it in a year or two. The solution is getting them a bike with room for growth, precisely what Specialized designed.
Specialized Jett kids' bike was launched recently to solve the dilemma of a growing child. Jett comes in sizes 16", 20", and 24", and you can expect everything from an ideal kid's bike in these sizes.
The manufacturer, Specialized, put more time, research, and investment into adding unique kid-specific features, including narrow q-factor cranks, adjustable handlebars, ergonomic saddle, narrower grips, and short-reach brake levers.
The goal for the design was simple– design and make bikes that grow with kids. This "neighborhood" or "recreational" bike solves common flaws in many modern bikes. It is for your everyday rider who cycles on pavements or commutes to school. But is this true? Read the following review to learn more.
Specialized Jett Kids Bike Overview
Stand over height - 51cm
Seat height: 58 to 75cm
Weight for the 20": 3lbs
Gears: 7-speed (20″) 8 speed (24″), and single speed (16″ and 20″ single)
Shifter: microSHIFT trigger shifter
Braking system: Standard v- brakes
Tires: 2.0″ wide Specialized Pathfinder Sport on all models
Specialized Jett 16", 20" and 24" Review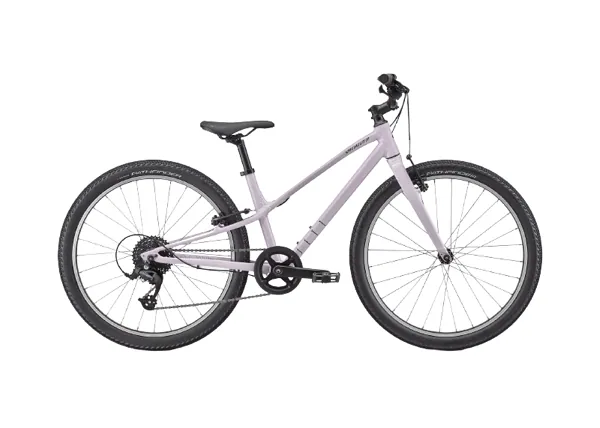 The trigger shifter is easy to use, even for a small rider
It has a quality built, making it an excellent long-term investment
The bike has a narrow q-factor which allows efficient pedaling
Extremely easy to assemble
Its tires provide plenty of cushion and traction
A bit expensive but worth it
Specialized Jett Kids Bike Review
The Specialized Jett Kids' bike models are unique, making them stand out from other kids' bikes in the market. The bike's design and geometry scream better and have longer performance, and it is a bike that never brings boredom or frown due to frustrations on the bike.
Given its adjustment features, you can adjust it to extend its service for 2-3 years post-purchase. The longer seat post height and adjustable handlebars make Jett stand out from the competition.
Kids of different heights can adjust their reach and ride comfortably. Specialize even boasts that kids fit correctly on the Jett 50% longer than they would with other kids' bikes of the same sizes. This means it is a bike that might be ridden three consecutive summers without complaints.
The bike is also super lightweight and built with kid-friendly components. You would easily match it up with Pello, Cleary, Guardian, Trek, Prevelo, or Woom, world-class kids' bike brands. Let's find out what more checkboxes the Specialized Jett ticks.
Designed to Grow with the Child
The design of the Jett bikes allows them to fit the child at each stage of their growth. Specialized conducted research and realized that children between the age of 5-12 experience growth faster on their arms and legs than their torso. Thus, they designed each component to make a wider set of adjustments easier than the standard bikes.
Firstly, the bike has a taller seat post providing more height for taller children and allowing easy adjustment for shorter riders.
Secondly, the u-shaped handlebar can rotate to make it easy for shorter kids to reach and also rotate back up as they grow.
Thirdly, the 20″ and 24″ versions come with unique dual holes in the crank arm to increase the crank length as the child grows.
Finally, it has a specialized fit tool for fine-tuning the three adjustment points to fit the child properly.
The research data collected during 'Bring Your Kids to Work Day' from their own kids were then optimized during the design process to achieve the following:
Increase comfort
Eliminate common pain points
Prevent any enforceable injuries,
Improve the child's potential performance
You may be wondering how or whether this is possible; in our assessment, we found out that Jett provides three inches' room for growth for shorter or younger kids extending its longevity; for instance, the Jett 20' has a 280mm seat post.
Specialized Jett Fit Tool
If you constantly find it challenging to determine the correct size for your child, Specialized has its online fit tool to determine the exact size of the child.
All you have to do is measure your child and input the measurement on the tool. It will then determine the result of the crank length, handlebar rotation, and seat height. The tool will also instruct you on correctly setting up the bike based on your provided measurements.
After putting the tool to the test, we found that it was easy to use, and it provided us with video demonstrations on how to measure the child precisely. Once you have entered the measurement, it will give you the exact settings for all the 3 points of adjustment.
However, we discovered that the provided settings were a bit off. For instance, the standard seat height fit was too low, and the advanced fit was relatively high for our testers. We also found out that the handlebar adjustments required a bit of tweaking for different testers, some needed a bit of forward movement, and others a back movement than the app suggested.
Comfort
One of the biggest worries you may face as a parent is whether the bike you've just gotten is comfortable enough for the child. Since it is designed for growth, specialized ensures that it fits children so that they enjoy riding it.
Combining the child-specific saddle and the lateral distance (14cm) between the pedals (the narrow Q-factor) also adds to the comfort, allowing knee and hip alignment. This prevents knee injuries or pain and increases pedaling power, allowing the riders to ride much further.
At 19.3 lbs, Jett 20, unlike other specialized bikes, is exceptionally lightweight. The weights for the other bike sizes are as follows:
Jett 16 SS: 15.2 lbs
Jett 20 SS: 17.6 lbs
Jett 24": 20.5 lbs
These weights are easy for children to handle, and it also helps them get more incline. This also increases the child's independence as they can carry it around when necessary without the help of an adult.
Dual Handbrakes and No Coaster
Coaster brakes have been standard on kids' bikes in previous years because there were claims that kids did not have the coordination to handle handbrakes and were downright dangerous. However, things have changed, and parents have realized coaster brakes can make it difficult for children to learn and can add unnecessary weight.
The Jett is equipped with easy-to-pull and easy-to-reach brake levers, which is great for younger kids. The bike also has V-brakes, though not disc brakes; they are just as powerful and suitable for riding in neighborhoods. These will teach the child the necessary skills in pedaling, especially in off-road or hilly areas.
Unique U-Shaped Handlebars
The Jett bikes come with a unique U-shaped handlebar compared to what other bikes of the same class and taste offer. The handlebar is also wider, which gives the rider better stability and inspires confidence as they ride.
With the dip rise and the U shape, you can quickly adjust the reach of the bike by rotating the bar. If rotated inwards, the reach shortens so the younger and shorter riders can fit nicely on the bike and comfortably reach the handlebar grips.
Then as the child grows and requires a wider/longer reach, you can twist it back up so they can ride with maximum comfort. The good thing is that there are four settings marked on the handlebar that helps you to adjust the bar without over-rotating it slowly.
High-Quality and Adjustable Ergo Grips
The grips on the Specialized Jett bike are ergonomic and narrower, with flanked ends to allow additional wrist support. The grips guarantee comfort to the rider as they are made of soft and grippy material that absorbs vibrations. The flanked ends also prevent the wrists from fatigue as kids do longer rides. You or your child can rotate the handlebar grips to the correct position by loosening the screw at the bottom of the grip and locking it back into its rightful place.
Double Pedal Insertion Points
The crank of the Specialized Jett bikes tells that they are after saving parents from closely purchasing bikes soon as the child outgrows a size. Besides, this feature comes in handy if you have kids of different heights and prefer riding the same bike.
You can raise or lower the pedal by inserting it into one of the available insertion points on the crank arm. While not in use, you can seal the space using a special plastic cover that screws into place.
Trigger Shifters
Specialized equipped the Jett 20 with Microshift trigger shifters. While they may require a little more time and effort to learn, they usually are light. It will require the kid to use different fingers, which means their wrist will remain stationary, and the light action won't affect their fingers.
Jett has a good range of gears for your young rider to cruise around the town: the 20″ multi-speed drivetrain has seven gears while the 24″ has 8.
The Microshift derailleur and shifter make for a clean shift. But you should know that the derailleur doesn't have the clutch found in higher-end derailleurs, but this isn't a deal breaker as it is not necessarily a requirement for a "neighborhood" bike.
Being a neighborhood bike, Jett is well suited for paved roads and bike paths and a bit of dirt. It is equipped with Slick Specialized Pathfinder 2.0″ tires which offer good traction on paved roads.
Jett also comes with a rigid fork that is low maintenance and lightweight. The rider will also become more in tune with the trail they are riding on.
Final Verdict
No more unnecessary spending getting your child bikes of different sizes at each stage of their life. The Specialized Jett is a great bike that will grow with your child. Whether you get the 16-inch, 20-inch, or 24-inch specs, you can hold up your kids' bike expenditure a little longer. It guarantees performance, stability, comfortable rides, durability, and screams quality!
The bike is designed for riding in the park, around the neighborhood, and commuting to school, which most kids cherish. The Jett is not for you if you are after a high-performance or mountain bike-style kids' bike. We recommend getting this bike if you want years of use and a lifetime warranty on the frame and fork.
Please Rate This Article
SEND