If there is ever going to be the best gift stories, they will all begin and end with kids narrating how they received the Woom 4 during their 5th birthday. Words cannot describe what kids feel when riding on Woom 4.
It is a top of the range 20" bike that is well equipped to take on any terrain thrown to it. Its low center of gravity makes timid riders gain confidence in no time. It is a bike your kid can transition to from their 16" bikes.
And if your little ones are in love with colors, it is still the best choice. Visualize buying your child a Woom 4 bike as getting them the most coveted car as their first, glamorous isn't it? You automatically join the happy parents out there, and when you encounter your likes in parks, you all will share an incredible ", Woomy story."
Talk of versatility, performance, speed, power, and lightness, it is what Woom 4 offers, and many more.
The Woom 4 is fourth in the Woom 1-6 kids' bike series by Woom. Also known as "the intro to gears." Trust this dynamic bicycle that will take your child's cycling love to the next level.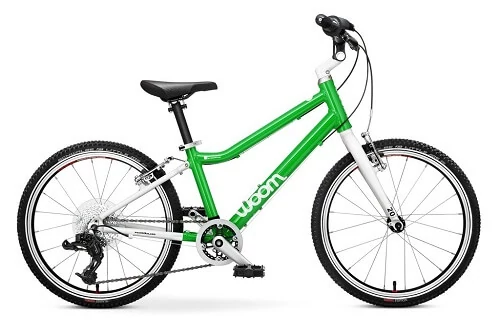 What makes the WOOM 4 stand out as an excellent bike for kids?
The frame is designed from a superlight AA-6061 to allow, which makes it the lightest 20" bike for kids. It weighs 16.09 lbs.
It has a lower center of gravity by design.

Super light rims on the wheels.

All-terrain light yet tough all-terrain Schwalbe tires for better traction and firm surface grip.

Quick-release system on the seat post clamp and the wheels.

Comfortable standover height, for beginners and intermediate riders.

8-speed gears for easy climbing.

The seat height of 22.1-28 inches.

20" wheel size

SRAM X4 8-speed shifter

Dual hand brake system, which is kids' friendly.

Grip shifters

V-shaped breaks

Different colors (Green, Blue, Yellow, Purple, Red)

Hassle-Free Assembly.
Size
The Woom 4 has a seat height of 22.1-28 inches, which is the lowest in the 20-inch bike category. Combined with its light-weight, Woom 4 is just the best bike for kids between 6 and 9 years old. As long as the children are within 45"-51," they can comfortably ride this bicycle.
When choosing your kid a bike, remember to check their inseam and not their height. There is a likelihood that kids the height above can find it hard pedaling on Woom 4. Ensure that the seat height is set 2-3 inches from the inseam for comfort when pedaling.
If you are unsure of the next Woom bike series for your kid, use the Woom height and growth chart.
Saddle Comfort
The saddle is supported by a seat post that has a quick-release post stamp for easy height adjustment. Given that the lever is long, it is child-friendly.
Woom 4 comes fitted with a Woom saddle, which is designed with the comfort of the child in mind. Remember, the saddle is the major contact point the kid has with a bike, and poor design can make them hate or love a bicycle from the onset.
The seat post angle offers the best rider position with the best posture for stability and confidence when riding.
Gearing System
Gears make family cycling easy and fun. Children riding single-speed bikes often lag and hold the entire family from hitting more miles. Woom 4 has it all covered. Coming with gears and shifters, your little ones can ascend a hill without breaking a drop of sweat. Woom 4 is what we'd call a worthy investment.
It comes with SRAM X4 8 gear-shifter that makes young riders challenge their limits. Its versatility and lightness make it a preference for long family rides, commuting, riding on trails, and just around the neighborhood. It comes mostly with 29 teeth in the front and 11-28 teeth in the back.
Hassle-Free Assembly
The thought of assembling a kids' bike elicits mixed feelings among children. With Woom 4, worry less about the assembly because the TX-based designers and expert mechanics have the parents in mind.
The packaging comes with everything you need for a hassle-free assembly. The packaging will include an easy-to-follow assembly manual and any tool you need for assembly.
All-Terrain Type of Bike
Woom 4 is a multi-use bike that can fit a timid yet adventurous kid. We recommend it for beginners and intermediate riders who are open to trying different terrains.
It has a carefully constructed lightweight frame and a thought-out geometry for safe handling, stability, and confidence for the young cyclists.
It also comes with an ergonomically designed crank system that fits with the bodies of kids fit to ride it. The grip-type brakes have kid-friendly levers and coordinate a v-brake that is accurate and stops with minimal braking effort.
Woom 4 has a pair of Schwalbe all-terrain light tires that are fit for trails, gravel, streets, and pavements for better grip. The tire is fitted with a reflective stripe for easy visibility in low light conditions.
Handlebar Stem Design
Everything about Woom 4 is just amazing. Woom 4 comes with a stem design (vario stem) that allows the bike to grow with your child.
The 2019 Woom bike models all come with adjustable height stem that allows you to adjust the height of the handlebar.
You can simply use an Allen key to adjust the handlebar to the height and position the child is comfortable. This comfort feature lets you adjust the handlebar to fit the best posture and position for your kid.
Unless you want them complaining about their backs, please do not make it too leaned forward and upright as that might affect their backs. Just adjust the handlebar to the middle position that allows better weight distribution while on the go.
Moreover, if you are dealing with a child that fears cycling, set it to the lowest stem setting where they adopt the upright cycling posture.
Geometry
The Woom 4 frame is designed for kids between 6 and 9 years. The frame is slightly shorter than the conventional 20" bikes in the same category. The build is informed by the need to build bicycles that have narrower components and fit kids for comfort and fun when riding.
It is easier to pedal on the Woom 4, even for kids who are learning to off-saddle.
Let us get technical for a moment. Woom 4 has a narrow q-factor, the distance from the inside of the pedals, which defines its efficiency when pedaling. It makes the kids not spread their feet to pedal, which can affect their balance. The narrow q-factor makes it easy for kids to push the pedals directly without putting their legs at an angle.
Woom also has a lower bottom bracket that makes it have a lower center of gravity. The lower bottom bracket makes it easy to adjust the seat to a position where the kids can pedal with more power and gain speed faster.
Bottom Line
You can trust WOOM bikes as they are designed and manufactured by a kids' centric company. Therefore, every design is tested and works best for kids. It brings the Woom experience and a nostalgia for the kids who have passed the age of using the Woom bike series.
Woom 4 is safety, security, and comfort wrapped in two wheels. You can have some add-ons to the bike such as the optional kickstand, which is used for parking the bike. It is carefully designed for the forgetful kids such that the bike will move and the stand will disengage when in contact with a raised surface.
Comparatively, Woom 4, Clearly owl, and Prevelo Alpha Three are among the 20" best pedal bikes for kids. The trio is a high-end bike group that comes with performance. However, Woom 4 stands out as a top all-terrain 20" bike for kids
While some might argue that Woom 4 is more spendy than other 20 inches kids' bikes out there, it serves you and your young one to the very last penny. It is a worthy investment for families that understand the benefits of cycling for kids.
Get the Woom 4 for your kids and see them love cycling!
Please Rate This Article
SEND