If ever there is a kid's bike that will forever make it to the list of the best high-quality bikes built for kids, it is the Cleary Owl 20 inch bike. Fathers, mothers, and grandparents love the do-all kid bike, but not because it is a kids' bike. Instead, it is because the Cleary Owl 20" comes all-terrain ready. Kids can ride it to school, in the dirt tracks, and on the paves, wherever they wish to get the fun between their legs.
With a single-speed gearing ratio of 32×19, front and rear V-brakes, and 20-inch wheels, this light bike will make your 6-11-year-olds ride until they cannot ride anymore.
All these praises are for a reason. Cleary Bikes take the name after Jeff Cleary, who was an avid triathlete and mountain bike racer, mostly with single speed bikes. And for it to make it to the best bike brands for kids, it has designed some other exotic bikes for kids including Cleary Gecko 12", Scout 24", Scout 26", Owl 20" 3-Speed, Meerkat 24", and the Hedgehog 16" 1-speed.
If asked to describe the Clearly Owl 20" Mountain Bike, anybody would call it an amazingly lightweight and quality bike to inspire confidence and cycling zeal in kids. Let us see what makes it stand out.
Specs of the Cleary Owl 20 Inch Bike
Frame Material: Lightweight 1020 alloy steel frame and fork
Seat Height: 21-26.4 Inches
Grips: Cleary grips
Seat: Vegan Leather Saddle
Tire Size: 20 inches
Tire Type: Kenda 20 x 1.9" all-terrain tires with Schrader valve tubes
Bottom Bracket: FSA sealed Bearing
Freewheel: Sunrace 19-tooth freewheel
Brake System: Dual Tektro Junior V-Brakes and brake levers
Available Colors: Orange, Sorta Pink, Astro Tuff Green, Deep Blue, Red
Cleary Owl 20-inch Single-Speed Bike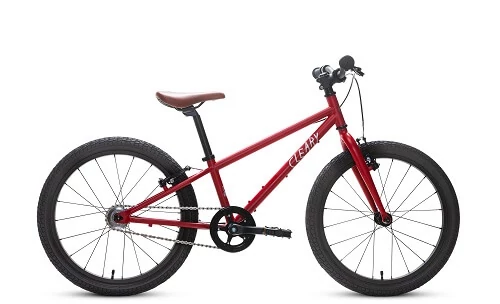 Full Review of the Cleary Owl
The Owl 20" 1-speed mountain bike is a perfect 20-inch bike for early grade schoolers. The owl accelerates faster and stops faster. It is also carefully designed with the internal cable routing and rigid fork that makes it lightweight, sturdy, and sleek for the trails and roads.
The 20-inch tires offer excellent traction and clearance that the kids can do bigger stair drops comfortably. The same also allows for thrilling adventures and bigger jumps for the little daredevils on two wheels. It is no wonder many kids start to bike-pack with the 20-inch Cleary Owl.
The Cleary Owl is a great bike designed for riders with an inseam of 19-23 inches. As long as the kid has a long torso and arms to reach the handlebars and their inseam height fits the range, they are good to go on the Owl.
Ease of Assembly
Now, not everyone took a trial with the bike assembly fun when growing up. In fact, a top worry for most parents is how to assemble a kid's bike post-purchase. As if Cleary Bikes figured that out already, the Cleary Owl comes, 90% pre-assembled and you will just have to follow some five easy steps to art it up to a complete bike off the box. Cleary Bikes also has a wonderful support manual that highlights the steps to assemble the bike off the box. Otherwise, if you cannot fully assemble it or dread assembling it, you can have a kids' bike mechanic from your local bike shop assemble it for you. You will have to do the brakes, chainring, and ensure the wheels are well balanced.
The entire process should be much easier with the short assembly video guides and the instruction manual book. You should be proud enough to assemble the Cleary Owl, as it is already fun brought home in a box. If you hit a snug, you can reach out to the Cleary Bikes customer service; they are ever on and can help as well.
Seat post, Height, and Saddle
The Owl comes with a 25.4mm x 250mm Alloy Seatpost. The seat post adjusts to fit kids with an inseam of 19-23 inches. A kid rider with 21-inch inseam can sit on the Owl with their bottom on the saddle, flat-footed on the ground with the seat in its lowest position the same as kids with an inseam of 19 inches. If your kid is slightly below the inseam range described above, you can get them the Cleary Hedgehog, which is 16-inches.
20-inch bikes are typically the best cut as kids' second or third pedal bikes, and they should have comfort features such as seat height and saddle that comfortably allows them to reach the pedals and pedal smoothly. Trust us; the last thing a kid wants is a saddle interrupting their fun. The Cleary Owl comes equipped with a Vegan leather saddle, which is comfortable for the little riders.
Wheels and Tires
The wheel of the Cleary Owl features an alloy front hub that comes with an Allen style QR, Sturmey Archer S-RF3 3 speed internal gear hub, and 19-tooth sprocket. It additionally incorporates Allen style QR, Alex rims with stainless spokes. The 20-inch wheels provide the best ground clearance that allows the kids to have a higher jump when doing stunts, stair dropping, and when looking for bigger fun on trails. The Kenda 20 x 1.9" all-terrain tires and Schrader valve tubes, gives an otherworldly off-roading experience. However, if your kids are taking the Cleary Owl for dirt trails, you might need to change the tires to knobby and beefier tires.
Geometry -Built for Kids
The geometry portrays a bike built for kids, with kids in mind. As we highlighted before, Cleary designed kid-specific bikes. The design of the Cleary Owl and the components it comes with are kid-specific. To begin with, they have engaged the expert bike geometry that centers the weight of the bike on the hands and seat to bring stability, confidence and quick handling, and comfort to the kids, as Cleary Bikes states on its website. Besides, the handlebars are positioned well-enough for the reach of the kids while maintaining an excellent cycling posture.
The handlebars are positioned on lower on the body to maintain a lower center of gravity, which means better balance, stability, and control of the bike. We believe that by the time a kid transitions to a 20-inch bike, they have power, balance, and confidence all sorted out.
The handlebar inspires the aggressive-position of the young cyclists, which makes it an excellent choice for enterprising kids out to find the thrill in the trails and off-road terrains.
Apart from it having the FSA sealed bearing, it is also lower, which allows for better extension of the legs. Therefore, even if this bike is single-speed, the kids do not pant out their breath as they stroke the pedals.
Weight, Brakes, and Gearing
For a 20-inch steel kids' bike that weighs 19 pounds, lightweight is the only best description to the Cleary Owl. It earns the title of the lightest 20-inch kids' bike in the market. Even though not as light as other high-end bikes, the extra weight helps in maintaining stability and spread the fun, especially for petite and taller kids.
Cleary Owl has two versions; the 1-speed, which we have reviewed herein, and the Cleary Owl 3-speed. The single-speed bikes are specifically designed to make kids have fun without struggling; we all did that before the invention of gears. The Cleary Owl 1-speed is a great bike for climbing moderate elevations, off-road adventures, and dirt terrain riding. In all these terrains, the Cleary owl rides as smooth as cotton. Kids riding on too steep terrains might do well with the Cleary Owl 3-speed bike, which is slightly pricier but worth your dime.
Lightweight 20-inch bike
Dual V-break system for faster and safer stop
All-terrain kids' bike
Internal cable routing makes it rad
Single-speed means low maintenance and simple operation
Single-speed limits the elevation kids can ride
Narrow handlebar
Our Final Take!
Our overall rating for the Cleary Owl 20-inch kids' bike, suitable for both boys and girls, is 4.4 out of 5. We find it a very cool and high-quality 20-inch bike for kids. From the onset, kids will love it, and when they test ride it in the terrains, they will most likely love it more. If you are looking to put a smile on the faces of 6-11 years riders, get them the Cleary Owl. Even though priced slightly higher, it is all worth the price tag. The lightweight single-speed bike is easy to ride for young cyclists. It also comes with kid-friendly components such as grips, handlebars, brake levers, and tires. If your kids are just entering the mountain biking fun world, the Owl is a great choice. However, you will need to upgrade the bike tires to beefier and knobby tires for it to comfortably take on the dirt trails. And if you are for the geared type, you could try out the Cleary Owl 20-inch bike 3-speed.
Please Rate This Article
SEND