There are a plethora of reasons why many people love cycling.
However, one of the reasons that easily slips off of people's minds is that they continue to cycle because they probably had an outstanding first riding experience. And because of that, they continue to participate in the exhilarating experience that comes with turning pedals.
Our little testers had much fun putting the Alpha one to the test. Let's jump straight into it and find out whether or not it checked off all the boxes in our top-level kids' pedal bike performance list.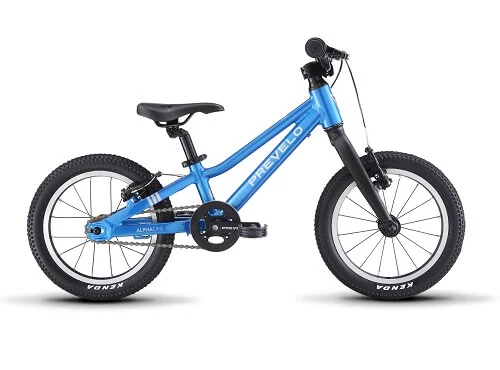 At a Glance - Reasons the Prevello Alpha One Checks all the Boxes
Age: 2.5 – 4.5 years
Height: 37-43 inches
Colors: Speed silver, Power purple, Braap blue
Weight: 14.4 pounds
13.5 pounds (with freewheel option)
Inseam: 15-19 inches
Saddle height: 15.6 -17.5 inches
Bottom bracket height: 6.7 inches
Frame: 6061 aluminum frame with custom formed tubing
Gain ratio: 3.7
Wheel size: 14 inches
Wheelbase: 26.3 inches
Effective top tube length: 13.7 inches
Head angle: 69°
Seat tube angle: 70°
Chain stay length: 10.7 inches
Braking system: Tektro mini v-brakes
Just the Right Size
When it comes to size, Prevelo got it 'just right' with this model. One of its most magnificent selling points is its miniature size and child-appropriate components.
The Alpha one is one of the smallest pedal bikes from Prevelo but even more interesting is that it is one of the most kid-sized bike in the industry.
To begin with, the Alpha one has a low step-through frame. This means that kids can easily hop on the bike without the assistance of a grown-up. We don't know about you, but for us the end-goal is to have a bike that kids can manage on their own.
Other than an impressive low step-through frame, this bike features small grips that are just right for tiny toddlers' hands. Amazingly, this small frame makes them easy to handle, and because the grips are made of Kraton rubber they are also super comfortable to hold.
Another factor that the Alpha one got right is its super-low minimum saddle height that is almost unmatchable. At 15.6 inches, even the Woom 2 (our very own proclaimed 'king' of kids' bikes) comes short with a minimum seat height of 16 inches.
The low saddle height and overall small frame of the bike make the Alpha one the best fit for most 3-5-year-olds with an overall inseam range of 15 to 19 inches. Not to mention that the saddle is not only size-appropriate but also padded hence very comfortable.
This low seat height means that toddlers can comfortably seat astride the saddle with their feet flat on the ground. Notably, this makes braking much easier for them especially as they are just getting accustomed to pedaling.
Our only reservation was that while the Alpha one's seat height is commendable the narrowness of the seat height adjustability pushes its performance a step back. Its seat height can only adjust within 2 inches. Even though this may not seem like it's a big deal, it becomes a concern when compared to other high-end bikes such as the Woom 2 that has a seat height range of 4 inches.
What does this mean for most parents? For one, the bike will serve your toddler for a short time as they will quickly outgrow it. However, that shouldn't be a concern for parents with multiple kids as the bike holds up well and can eventually be passed down.
As for single child parents, the excellent construction of the bike makes it worth the purchase, and hey, you can easily lend it to younger relatives or even sell the bike once your toddler outgrows it.
Geometry
It is easy to tell that a lot of thought went into the construction of this bike.
Like we mentioned, the Alpha one has an unmatchable minimum seat height and narrow range of adjustability. Typically, this means that even at its highest setting, the seat height is still low.
Scientifically, a low seat height results in lower center of gravity, which is vital for balance, especially at low speeds.
As you may know, balance and stability are essential when handling a bike. While the lower center of gravity encourages balance, the length of the wheelbase plays an active role in maintaining stability.
The Alpha One has a long wheelbase (26.3 inches) which allows a comfortable, stable, controlled and balanced ride. The geometry further plays a role in encouraging a natural riding position which is upright yet slightly leaned forward.
The extended wheelbase further coincides with cockpit space making the bike have ample space for the rider's arms to be stretched out. The feature then makes room for comfortable riding as it allows the rider to maximize their ability to control the steering.
Another great factor that the Alpha one boasts of is low bottom brackets and ultra-narrow q-factors.
The ultra-narrow Q-factors (131mm apart) may seem like an insignificant factor, but they play a critical role in encouraging a natural and comfortable riding position. With wide q-factors the rider's feet are drawn further away from each other making the ride simply uncomfortable.
We'll let you know for free that the great geometry of the bike makes for the best riding experience!
Quality and Weight
Remember how we talked about most riders having an excellent first riding experience?
Here's where it comes in. You always want to get the weight of the first pedal bike right as it inevitably sets the tone for the following riding years.
When a bike's weight overwhelms the kid, it is easy to assume that your kid can't ride when in reality the weight profoundly affects one's ability to control the bike.
The frame material of a bike plays a substantial role in its overall weight. Prevelo does not disappoint as the Alpha one's 14.4-pound weight is attributable to its light aluminum frame.
The lightweight feature is critical as it is one of the things that make the transitioning from a balance bike to a pedal bike easy.
Although the Alpha one isn't the most lightweight 14" bike out there, it beats quite a number of 14' inch bikes. The problem with such bikes is that their steel frame makes them weigh much heavier. In fact, most of them weigh close to half a child's body weight, and this makes it hard for kids' to navigate o their own.
As a rule of the thumb, the bike shouldn't weigh more than 30% of a child's weight. The manufacturers of this bike clearly took this into consideration because while the bike weighs just 14.4 pounds with coaster brakes, it weighs a mere 13.5 pounds with the freewheel option.
The latter option makes for smooth, independent, and confident riding as the lighter the bike, the easier it is to push off the ground. It is also important to note that the freewheel option is an additional security feature that not only sheds the weight off of the bike but removes the confusion and danger that comes with coaster brakes.
While testing the bike, it also became apparent to us that it is not limited in terms of terrain. Our little testers wandered off with full confidence regardless of the terrain.
From paved flat roads to steep climbs and even gravel paths, the Kenda 14" by 1.5" tires with a gain ratio of 3.7 were fast and capable. Most of all, the tires have great traction, especially handy on dirt and gravel.
Tell you what, the excellent quality of the bike does not end there. Apart from good quality wheels and a gain ratio that makes it convenient to start and ride the bike, the Alpha one prides itself in smooth-rolling aluminum hubs with sealed bearings and high-quality stainless spokes.
That sealed the deal for quality matching the price tag for us!
Performance
Honestly, when it comes to first pedal bikes, the Woom, Spawn, and Prevelo have really raised the bar!
Right off the bat, the bike was effortless to put together as it comes 95% assembled. So all we had to do was install the handlebars, seat post and pedals and the two-wheeler was ready to take off.
Another thing that pleased us is that for its price, there was no need to purchase extra tools for assembly. The package comes with all the necessary tools.
As soon as the bike is set, you will realize that the handlebars are easy to reach while the seat post can easily be adjusted with a quick-release clamp. These are factors that attest to the ease of use of the bike.
When we said that Prevelo thought about every feature of the Alpha one down to the last detail, we meant it. This two-wheeler tops of its performance by featuring a double chain wheel guard. This guard does a dual job of protecting your child's clothes from contact with grease as well as protecting the chain against dust and weather conditions.
The Alpha one's easy to reach and exceedingly responsive dual hand levers are another great security feature of the bike that upped its performance. The Tektro aluminum v-brakes are short reach meaning that toddlers can easily brake and prevent accidents. Now, that's a safety measure that I can take!
Take away: The Alpha one is one of the best beginner bikes for balance bike graduates. If you are looking for a bike that is packed with features that ease riding, then this is just the bike for you as it provides seamless transitioning from balance bike to pedal bike.
Final Words
The Prevelo 14" Alpha One Bike is a super light, superb quality, and great kid's 14-inch bike. Prevelo comes with a confidence-spiking narrow and low geometry that guarantees low center of gravity. Its lightweight aluminum frame that is famous for its custom formed tubing is something great to look for in a kids' bike. Still, the Alfa One features a lightweight aluminum alloy fork that has chromoly steerer. It also has an easy to reach and child-friendly designed brake levers that coordinate the front and rear v-brakes. Another thing to look for in the Prevelo Alfa One 14-inch bike is its custom made cranks that are specifically sized for every model bike, down to the millimeter. And when you think the great features are over, Prevelo surprises you with its three-piece crank that comes with a squared taper bottom cartridge bearing bottom bracket and a super narrow Q-factor. Better yet, the double chain guard for extra safety and comfort makes Prevelo Alfa One a bike to spend a dime on. Finally, you need not to worry about assembly as it comes 95% pre-assembled leaving you with the task of installing only the pedals, seat post, and handlebars upon unboxing this best kids' 14" pedal bike. If you want a perfect gift idea for its fitting age-range, Prevelo Alfa One should be top of the list. It is a darling for kids for it is made for kids with kids in mind. With all those component, the price is really something to reward the Prevelo engineers for their mastery of craft!
Please Rate This Article
SEND