Everyone is talking about how spectacular this bike is, and you are itching to know just what all the fuss is about. Tell you what, you've come to the right place!
First things first, we can confirm that Woom 2 bike is one of the best kids' pedal bikes in the industry.
Just how sure are we? Well, we worked with ten kids between three and five years old to test their impression of this gear.
Our little riders pedalled through different terrains, both uphill and downhill over a couple of months at their parents' side and their feedback was extremely impressive.
That, coupled with our expert knowledge in the mechanism of bikes, helped us gauge the performance of this machine.
Without further ado, let's find out what makes the Woom 2 one of the best kids' pedal bikes in the industry, shall we?
Woom 2 Balance Bike 14-Inches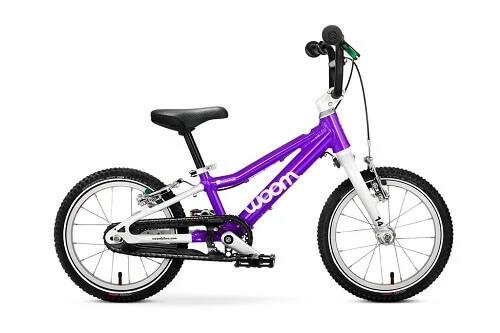 Specs/The Woom Numbers
Age: 3- 5 years
Child height: 37-43 inches
Inseam: 16-19 inches
Seat height: 16-19 inches
Wheel: 14 inch
Weight: 12.3 pounds
11.2 pounds (with freewheel option)
Frame and fork material: aluminum 6061
Gears: single speed
Wheelbase: 25 inches
Things to Expect from the Woom 2 14-Inch Pedal Bike
The first and most striking thing that caught our eye about the Woom 2 is its fantastic paint job. Next, we noticed that the bike has such modern styling that we wanted to test this bike ourselves!
Naturally, we appreciated these eye-catching features and were, of course, bummed that we were too big to ride the bike ourselves. However, after taking a more profound look, other features started to become even more appealing, and just like you, more questions loomed our minds.
1. Is the bike kid-friendly?
When it comes to bikes, finding the right size can be a bit confusing, right? Even after scouting for and finding the right size, you still want to ensure that the bike's features are designed specifically to fit your kid.
If that's the case, then it will please you to know that the founders of the Woom were once as frustrated as you may currently be. This frustration fueled their need to design a high-quality child-specific bike.
The Woom 2 has child-sized and Kids friendly components
It is easy to tell that the ages and size of kids were taken into consideration while designing this bike.
The bike is endowed with ergonomic handles (Woom Ergogrip) that offer optimum handing for those teeny toddler hands. Not only that, but the 19mm bumpy grips also offer maximum grasp, and because they mimic the natural contour of a child's hands, the hold becomes very comfortable and natural for kids.
The handles are made of pollution-free material and the handlebar has extra-large diameter for protection.
The crank has a freewheel hub and does not have a coaster bike that allows the kids to launch the pedals from any position.
The best way to determine if a bike a will fit your kid is to consider its seat measurements. The whole point of this is to ensure that at the minimum setting, your child can place their feet on the ground comfortably enough to stop the bike with their feet as they would on a balance bike.
We can attest to the fact that the Woom 2 seat height is kid-compatible. At its lowest setting, the Woom 2's seat height is 16 inches, which is appropriate for kids with a height ranging between 37 and 43 inches and an inseam range of 16 to 19 inches.
The standover height of the bike is befitting of both a 3-year-old and a five-year-old. So yes, your child can comfortably grow with the bike!
2. How comfortable is it?
Other than the ergonomic grips, another kid-appropriate component of the bike is its U-shaped saddle which is well-constructed with quality material that is not only comfortable but would also be hard to slide off.
The saddle fits a child's hip anatomy and is further extended to accommodate a parent's hand in the event that their young one would need a push.
The Woom 2 also boasts of wide upswept handlebars that encourage an upright riding position. This riding position is appropriate for kids as it ensures smooth steering and maximum control of the bike.
Additionally, the handlebars are positioned such that there is enough cockpit space and no chance that a toddler's knees would keep bumping into the handlebars. That way, they can easily focus on riding the bike without being uncomfortable.
3. Just how good is the construction?
We were extremely impressed by the proprietary design that the manufactures of the Woom 2 put into the bike.
There definitely needs to be a lot of attention to detail when constructing a bike as strategically positioning specific components could either encourage or discourage balance, stability, and the overall feel of a bike.
From its long wheelbase to the low center of gravity, the manufacturers of the Woom 2 did not disappoint with its construction.
An extended wheelbase offers directional stability which is especially important for an upright rider who would otherwise be cramped and unstable riding a bike with a short wheelbase.
As for the center of gravity, the low seat height as well as the standover height of the Woom 2, encourage a lower center of gravity. This lowered center of gravity is categorically essential as it promotes safe balancing.
Additionally, the bike has a knee-friendly stem that has no protruding bolts due to the integrated handlebar clamp design.
The positioning of the plastic pedals of the Woom 2 is just right! The distance between the two pedals is narrow enough to encourage a natural body position.
The excellent engineering of this bike does not stop there, as its bolts are fully integrated into the bike. This means that there is no chance that your child's knees would get hurt through contact between them and the bolts.
With a gain ratio of 3.7, it is easy to get started on the Woom 2, and the little rider can easily maintain it at high speeds. Higher gear ratios make it harder to start the bike, a factor that may discourage kids from riding.
Fully enclosed chain guards
Woom 2's construction is intentional down to the details! You can clearly tell this from its fully enclosed chain guard, which does a double task of protecting the chain from dirt as well as protecting the rider's clothes from catching grease.
4. Let's talk safety matters!
As a parent, it is a fact that your child's safety comes first. Otherwise, there is no point in indulging in outdoor activities that would endanger your kid.
Clearly, the Woom 2 designers were keen to this fact as they incorporated a host of security features to ensure that the riding experience of kids is not only fun but also safe!
Color-coded dual hand levers
The dual hand brakes of the Woom 2 are well within reach as there is just about 2 inches between the handlebar and the brakes. The hand levers are also very responsive as our little testers required little lever pull to engage them.
Although the brakes are easy to reach and squeeze, the most exciting feature of the mini V-handbrakes is that they are conspicuously color-coded so that one easily tell front from back brakes.
The brakes are painted green for the front and right with black color for the rear and left. This completely removes the confusion from a toddler and enables them to grasp the concept of braking pretty quickly.
At this point, we should state that in the U.S it is a standard requirement that kid's bikes should have coaster brakes. However, a lot of manufacturers and parents disagree with the safety measures offered by coaster brakes. Instead, they believe that the backpedaling mechanism of coaster brakes is quite confusing to kids and would necessarily cause them more harm than good.
For those reasons, some manufacturers (like the Woom 2) offer a freewheeling kit that disengages the braking system when pedaling backward. Parents can thus purchase this kit separately and provide maximum security to their kids as they please.
The Woom 2 also has turning/steering limiter to prevent oversteering of the wheel and encourage the rider to ride straight. The limiters also do this correction very gently and can be easily detached if one feels like it limits steering.
Lastly, the reflective sidewall of the bike is another safety feature on its own as the visibility it provides offers kids protection from other road users. I don't know about you, but for this type of safety for my child, I would gladly pay for this bike.
5. How much will it cost you and why?
At a premium but affordable price, the Woom 2 is definitely a high-end bicycle but not for nothing! But for the fun your children's way, the amount is just anything a parent would sacrifice for their child's fine.
High-quality aluminum frame
The Woom 2 takes the cake for being weight-optimized with high-quality aluminum frame construction.
Its frame is made of 6061 aluminum, which is light, durable, and rust-proof. However, the solid construction of the bike does not sacrifice on its weight as at 12 pounds the bike can easily be carried and maneuvered by a toddler.
The icing on the cake? The Woom 2's freewheel option sheds off a whole pound from the bike making it weigh just 11 pounds!
Can handle different terrains
The Woom 2 is a real bike with air-filled tires that offer great traction on all terrains, be it gravel, pavement or muddy trails! The pneumatic tires further offer unmatchable cushioning against impact.
The 14 by 1.5-inch wheels are also endowed with smooth-rolling aluminum hubs with sealed bearings and high-quality stainless spokes.
It is no wonder that with such high-quality components, the bikes is quite expensive. However, this is an exceptional case of getting your money's worth!
6. Will little Kev or Maggie have a hard time using it?
The Woom 2 has convenience written all over it!
From the easy in-home assembly which takes a mere 10 minutes and requires no mechanical knowledge beforehand, this bike easily checked off all our boxes for 'ease of use.'
The bike comes 90% pre-installed, so all you have to do is adjust handlebars, seat and brakes then install the pedals, and your bike is ready to take off. You also don't need to purchase any assembly tools as all the necessary tools come with the bike.
When the bike is set, just use the quick-release clamp to adjust seat height. It really doesn't get any easier than that!
As a bonus, you can skip on installing the pedals, and your kid can use the bike as a balance bike before they get the feel of it and are ready to pedal away. With such a seamless transition from balance bike to pedal bike, it is no wonder; the Woom 2 is one of the best beginner bikes out there.
7. To buy or not to buy?
We highly recommend the Woom 2 14" kids' bike, which comes in four appealing colors; sky blue, purple haze, Woom red and sunny yellow, Woom green for you kid to choose from.
It also features a kickstand which unlike most, is placed further back such that it doesn't interfere with the stroke when pedaling
If you need further convincing, then the upscale program should do the trick. With this program, you can easily trade-in your bike for the next size within twenty-four months from the date of purchase.
Here is a highlight of some stunning features of Woom2 Bike. Go through them and decide if this is the right bike for you!
Mouth-Watering Components of the Woom 2 Bike
Seat post clamp: The seat post clamp is made of aluminum and has a quick release. It has a long lever that is very easy to use and does not twist when tightened.
Age-specific Saddle: The saddle is non-toxic and ergonomically designed for kids. Besides, it is well protected to cushion it when leaning on the wall.
Tires: The 14 by 1.5"low-resistance tires offer low rolling resistance, grip, and have a good damping. The tires have a car-type valve that is easy to fill even in service stations and most hand-pumps.
Wheels: The wheels sit on ultralight SOOPA-DOOPA-HOOPS aluminum rims. The aluminum hubs come with a sealed bearings and 2x laced 16 stainless spokes for the best movement of the bike.
Seat height: The seat height is 16-19" suitable for kids between 37"and 43"tall.
Crank: The crank is light, has a narrow Q-factor, and has a beginner gearing of 25 x 15T. The crank comes with a sealed cartridge, freewheel hub, and plastic pedals.
Handlebars: The handlebars are ergonomic, light-weight, and risen (BMX style rise bar), with a large diameter for protection. It features screw handles for a fixed hold.
Fork: The bike's fork is a light unicrown fork forged from aluminum. It is also self-aligning for easy steering.
Extraordinarily lightweight.
High-quality aluminum construction.
Color-coded dual-hand brakes.
Freewheel kit option.
Woom upscale program.
The steering delimiter prevents oversteering of the front wheel.
Hassle-free assembly (thanks to the assembly manual and latest video demonstration).
Pricey (But for all the good reasons).
Final Verdict!
With all these features at the tip of their fingers, we are not surprised that Woom is the market leader for kids' first pedal bikes. If we had to craft our own bike for toddlers, it would surely be close to the Woom 2!
The Woom 2 14-inch pedal bike is the real deal and the SI unit for the best bike for young riders advancing from pedal bikes. It genuinely makes the transition remarkable, seamless, and eventful!
Check out our review of the best bike grips for kids' bikes if you need to upgrade them and make them rad.
Please Rate This Article
SEND