If, unlike us, you are a fan of training wheels and want an excellent first pedal bike after your kid transitions from a balance bike, you have the Mobo 14-inch Cruiser bike to buy. Or at least it should be among the 14-inch bikes list you intend to purchase.
To us, discovering this new bike brand was magical. We are excited to introduce you to the MOBO 14" kids' pedal bike. It is quite an incredible discovery as MOBO offers kid-friendly bikes. Not only on two wheels but some on three wheels.
Boasting of kid-friendly geometry, excellent kid-friendly components, and friendly pricing, it easily takes the tag of the best 14-inch kids' pedal bike.
Find below our full review of the bike, including its pros and cons. If you are lucky enough to find it in stock, it is worth consideration because they fly off the shelf. Let's find out why.
MOBO 14" pedal bike in a nutshell
Recommended age: 3-5 year-olds (36"-47" Tall and up to 60 lbs.)
Weight: 19 lbs.
Brake Type: Coaster brake
Training wheels: Comes standard (removable)
Colors: Blue, Red, Pink, and Green.
Tires: 14" air tires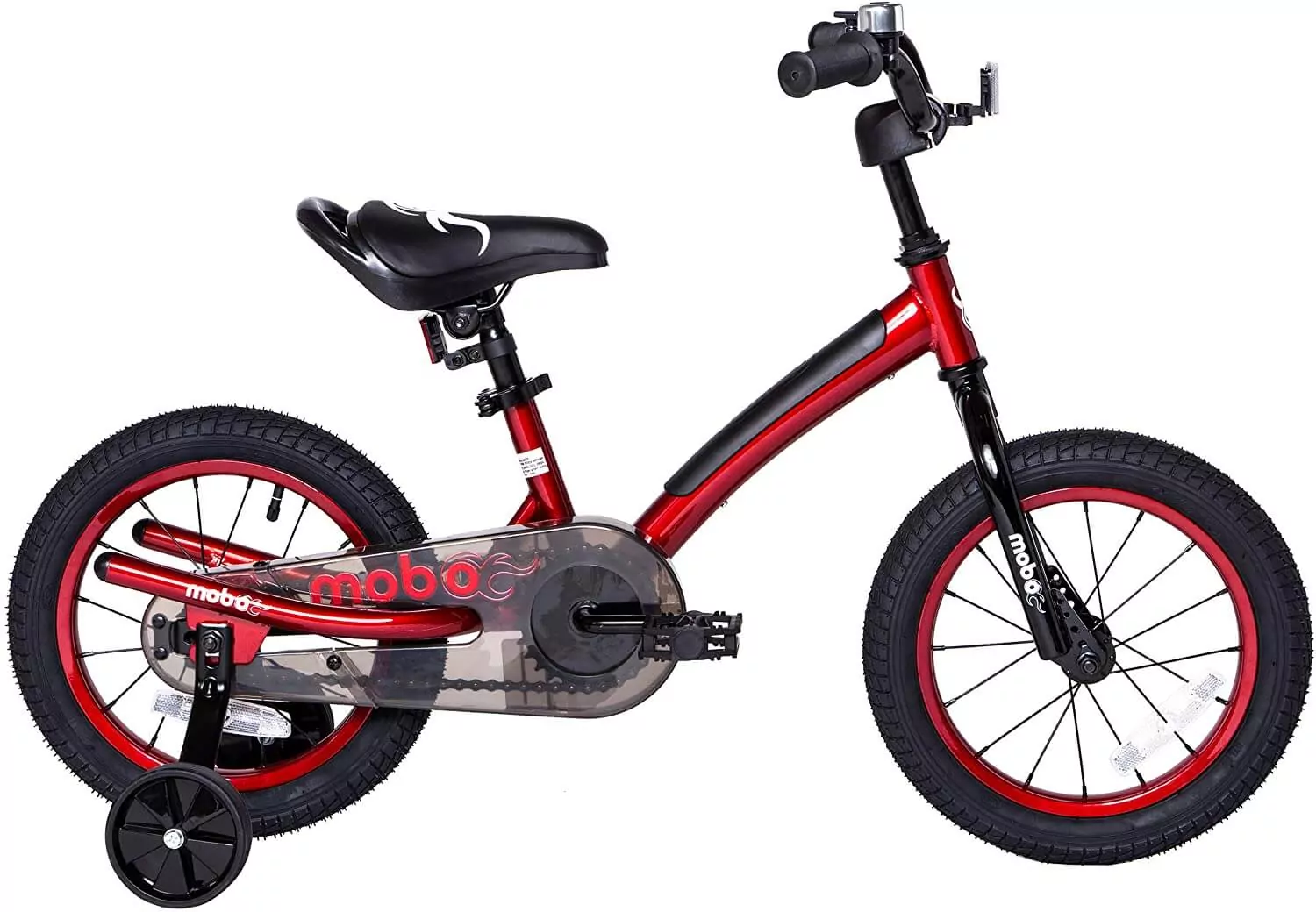 Outstanding features we love on this bike
Here are some attributes about this starter pedal bike that swept us off our feet. We only disliked the fact that it exclusively comes with a rear-wheel coaster brake, which is a plus to some parents.
Age Range and Type Diverse Target Riders
If you wonder who is best suited for the Mobo 14-inch cruiser pedal bike, then here is something to ruminate on. The bike best suits balance bike graduates who have an inseam of 19" to 22."
Balance bike graduates
Our tester, aged three years with an inseam of 18.5" and a height of 40", rode the bike comfortably. He was comfortable on the saddle at its lowest seat height. Another rider aged five years old with an inseam of 19.5", who is a daredevil on pedal bikes, was able to fit when the seat height was set to maximum.
The Mobo 14" bike is for balance bike graduates who need to transition to a small pedal bike. It is among the smallest affordable bike in the market if you ask us.
You only need to remember to set the seat such that your child has their feet flat on the ground if they are first learning to pedal. Compared to other high-end 14 inch bikes, the likes of Guardian ethos 14, Prevelo Alfa 2, and Woom 2, the Mobo 14 inch bike is comparable to the likes of the Btwin 14 inch bike.
In simple terms, the Mobo 14 inch pedal bike is among the best budget-friendly start pedal bike for balance bike graduates.
Timid first pedal bike riders
The bike is also suitable for timid first-time riders, given that it comes with standard training wheels. Even though we are against training wheels and believe that kids are better off with balance bikes, some parents gravitate towards the training wheels option.
Mobo 14-inch pedal bike comes with training to give the kids a memorable first encounter with a first pedal bike. The 14-inch starter bike for toddlers and kids has a pair of training wheels you can attach and detach using an Allen key. The sturdy, high-quality training wheels help to keep the kids balanced.
Check out our ultimate guide to kids' bike sizes for the perfect decision on the suitable bike for your kid.
Excellent safety Features
One would automatically argue that the Mobo 14-inch first bike is designed for the safety of the kids. It comes equipped with a thick handlebar stem pad, padded frame, and soft rubber grips that, apart from guaranteeing safety, also make the riders comfortable.
For kids who forget to wear the correct cycling jerseys, shoes, or shorts, it comes with a chain guard that protects the kids' clothes from getting drawn into the chain. The chain guard also protects the kids' clothes from grease or other chain lubricants.
The bike has 6 safety reflectors that make the kids visible on the trails, pave, or around the bike parks to wrap it all up.
Relatively Lightweight
As a rule of thumb, a child's bike should be less than 40% of the kid's weight. Considering that kids riding their first pedal bike are timid, Mobo Cruiser and Asa products, the company behind Mobo 14-inch first pedal bike, designed and engineered the best possible starter bike for kids.
The bike weighs 19 lbs. and can support a kid weighing up to 60 lbs. within the age range. Comparatively, it is light compared to RoyalBaby Freestyle, which weighs 21 lbs. as such, it makes it easier for kids to learn how to ride efficiently, especially for kids young enough to jump on 14-inch bikes.
14" Air Tires for comfortable rides
Like the Btwin 14-inch bike, the Mobo 14-inch pedal bike comes with a pair of 14-inch air tires ideal for riding on paved trails or surfaces and sidewalks. The tires seat on a 16-spoke 14-inch rim. The bike has basic wheels and hubs that provide fair rolling resistance so kids can sprint quickly.
The tires come with a Schrader valve that allows you to easily pump the tire.
Related Reading: How to measure PSI for kids' bikes.
Kid-friendly Grips and Pedals
The Mobo 14-inch bike is designed to give kids a memorable riding experience while maintaining fun and safety while on the bike. The starter bike has small grips that fit within the small hands of kids and toddlers.
Additionally, the pedals are also proportional to the size of the kids targeted to ride the bike. So if you feel like your kid needs wider pedals, you can easily swap the standard pedals for aftermarket kids' pedals.
Ease of Assembly
It took us 5-8 minutes to assemble the bike. Aligning the handlebars, installing the pedals, and ensuring the tires have the right pressure is all you have to do, and it is all set up for a great ride.
It is almost fully assembled right out of the box, and you don't need expertise and complicated tools to complete the assembly process.
Saddle and Seat Post
Adjustability defines the design of this 14-inch bike. It has a quick-release seat post that allows you to adjust the seat to a suitable height of your kid. The feature also allows the bike to grow with your child. The good thing is that the handlebar height is also adjustable.
The saddle is designed from high-quality materials and offers comfort to the rider. However, having padded cycling shorts for your child can prevent troublesome saddle sores.
Coaster Brakes
We hate coaster brakes for their ambiguity because if your kids' feet slip off the pedals, they automatically engage. This might not be a good experience for beginner riders and might as well be the beginning of their hate of bikes. But, of course, bikes like Woom 2 have it anyway, fulfilling the CPSC regulations for sidewalk bikes.
If well trained, the kids can stop easily using the coaster brakes. If only Mobo had optional hand and coaster brakes for this bike, it would solve the quagmire surrounding coaster brakes on kids' bikes. But so be it, it was the only feature that turned us off, although you can live with it.
It rides like a dream.
We have always looked the other way on cheap size 12 or 14-inch bikes. Therefore, when the opportunity came to test and later review the Mobo First 14-inch bike, we were overly optimistic of what good it had in store for us and our test riders.
We were curious to test it on different surfaces, including paved sidewalks, rough terrains, and a local skate park. A confident beginner 3-year-old and confident five-year-old testers were amazed by how smooth the bike rides. They could make the turns, maneuver the obstacles, and find their way down the steep ramps.
The fact that they rode faster than we expected made us want to write this review and have it up as soon as possible. We are in the middle of the pandemic, and any cost-saving kids' bike buy can greatly help a parent/guardian, or so we thought.
Compared to the other affordable 14-inch bikes, the size we have tested and reviewed, we feel this bike earns its place on the high table. It can also save you some coins because sooner or later, your child will outgrow size 14 bikes and need bigger options like size 16-inch bikes, so spending on or being stupefied by a brand does not cut it - let's be logical; here, once and for all!
Unique frame design
Given the adjustability of the handlebar, we were amazed at how well-designed the Mobo First 14-inch starter bike's frame is. The frame has some uniqueness, which is apparent at the first glance.
The frame design is such that the overall geometry is more kid-friendly, both in aggressive and relaxed riding positions. In addition, the frame is carefully painted and engraved with the maiden Mobo logos.
The chainstay does not have exposed bolts that could harm the kids. If your kid is adventurous, they could have their friend stand on the chainstay as it is designed as if it is like a footrest.
The downtube is also padded with a material that cushions the kids and offers durability to the frame.
It comes in many great colors
Kid-friendly design and geometry
Excellent safety features
It comes with training wheels
Final Remarks
If not cumbersome, too heavy, or awkward to ride, it is hard to find a great size 12" or 14-inch kids' starter pedal bike that rides like a dream. For under $150, you will get a kid-friendly 14-inch starter pedal bike for your toddler. And if you are a fan of training wheels, you will have a bike with training wheels suitable for 3-5-year-old kids. Therefore, this is a great option if you are cash-strained and want a bike for your kid. We would, however, recommend balance bikes over training wheels, for the balance bikes have benefits over training wheels. The choice is yours to make. And for the purchase, you get to access the Mobo Ride with Confidence program, which ensures a seamless experience with the bike and other products - a unique customer-centric satisfaction model.
Please Rate This Article
SEND