If you have shopped before for a bike trailer, you will probably be aware of the Thule bike trailer line of products. Thule bike trailers are known for their kid-specific design that focuses on ease of use, performance/functionality, and safety.
To add to the features, the Thule bike trailers are multisport trailers that can be used as a stroller and as a jogger or cross-country ski pulk, but the latter requires purchasing extra accessories. Specifically, the Thule Chariot line doubles as a multisport trailer.
In simple words, the Thule bike trailers are made with precision and have a combined beauty that makes them beasts in performance.
Thule has different bike trailer models: Thule Cadence, Thule Coaster XT, Thule Chariot Cross 1 &2, Thule Chariot Lite 1&2, and Thule Chariot Cheetah XT 1.
The Thule Chariot trailers double as bike trailers and multisport strollers, joggers, and ski hike. All the other Thule trailers with no 'Chariot' are only bike trailers and not multisport.
Top 7 Reasons to Love Thule Bike Trailers
Having compiled a comprehensive bike trailer buying guide, researching, and testing some of the Thule Chariot trailers, we can conclude that various reasons will make you love the Thule bike trailers.
Thule is a renowned bike trailer brand
High-quality and durable bike trailers
Easy to assemble and fold
Excellent protection of kids from the elements
Versatility in functionality/performance
Kid-specific safety and comfort features
Ten great bike trailer models
1. Thule is a renowned bike trailer brand
For over 75 years, Thule has been known for creating a memorable outdoor experience. The company develops smart, stylish, and high-quality products geared towards sustainability. From bike racks to child bike seats and even car top carriers, Thule had carved a name.
In the world of bike trailers, Thule further stands out for its products. Coming in different models and trims, the company boasts of years of making kid's bike trailers that inspire parents to share their passions for the outdoors with their kids.
2. High-quality and durable bike trailers
When you mention Thule, the thought of exceptional quality chimes in mind. Like many other Thule products, the bike trailers from Thule can be passed down the family tree - from child-to-child and family-to-family. Surprisingly, these bike trailers maintain their sleekness and glow for many years.
Since kids are precious cargo, getting a Thule branded bike trailer can help you share your cycling passion. The bike trailers, especially the Thule Chariot models, have high standard designs, exceptional resilience, and durable safety and comfort features to look up to.
If you are a hoarder, the Thule trailers are a product that will indeed collect dust in your garage if it does not pass to another kid or family, and that is great for all it is worth.
Over and above, the Thule bike trailers have a rad and appealing look. They are sleek and polished. It is all about the quality sourcing of materials, and for this, Thule bike trailers win the hearts of many parents - it is a fact!
3. Easy to assemble and fold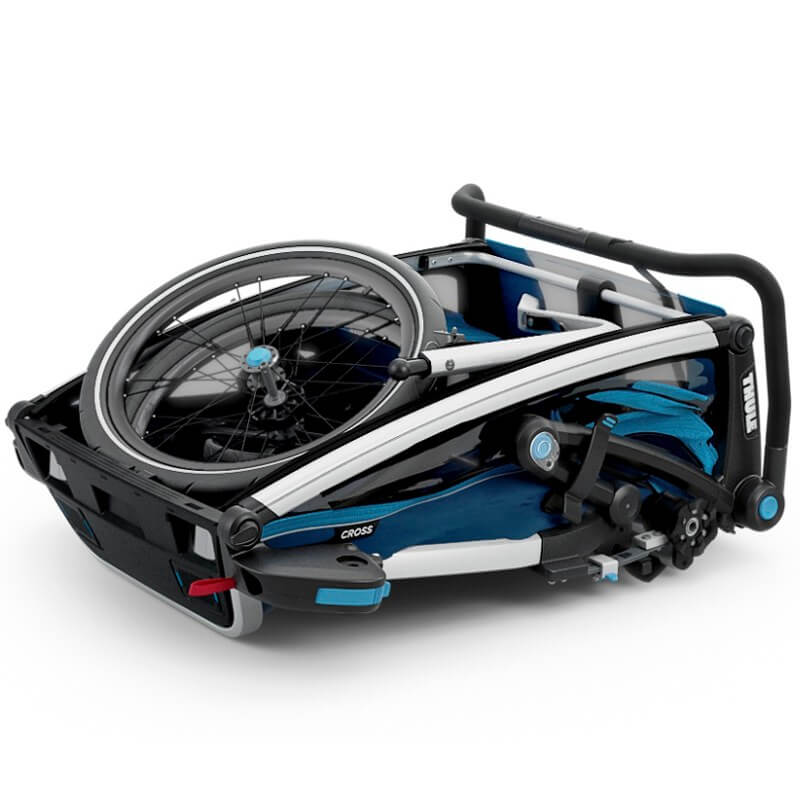 While other bike trailer brands offer foldability, you read it right; the Thule bike trailers come with a simple push-button, which collapses down the trailers, making them easy to store and transport.
When folded, they maintain a compact shape that takes less space. Imagine this, even the trailer arms and the jogging wheels can be stored together with the trailer.
However, we noticed that the Cadence and Coaster XT need a little more energy to fold. You will eventually get used, but it is challenging to fold them at first.
4. Excellent protection of kids from the elements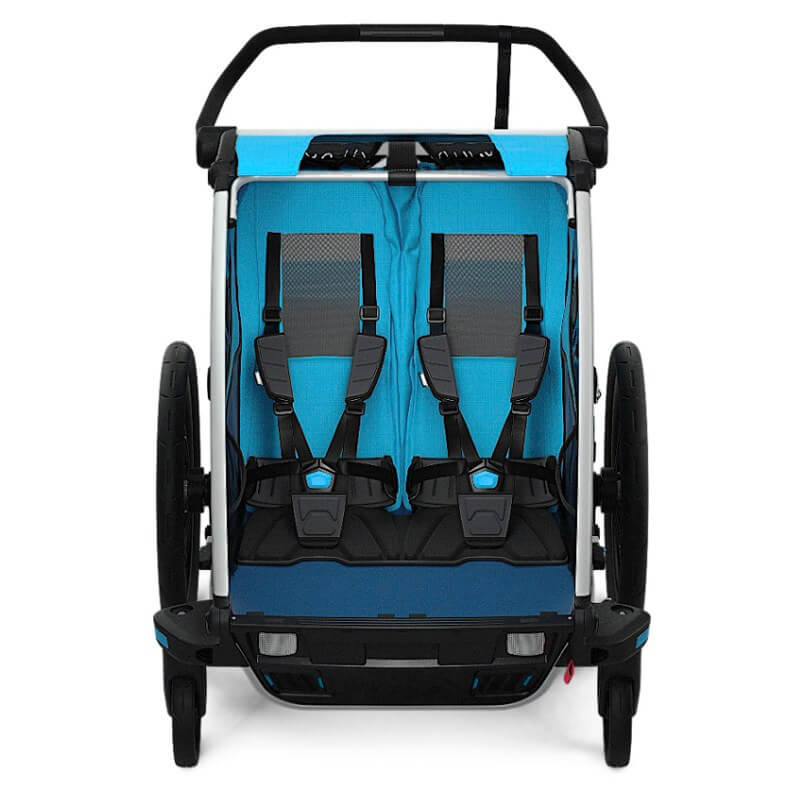 The Thule bike trailers come with great features that protect the little passengers from rain, wind, and UV rays. The trailers have a standard sunshade and rain cover, which we found helpful on the Thule Cross and Thule Lite trailers. Be keen enough to set up the sunshade and the rain cover as it is not integrated to the trailer's front, as is the case with Burley trailers.
The covers also double as covers from wind, which can affect the comfort of the kids riding in a trailer. During cold weather, the rain cover raises the trailer's warmth, which is excellent considering that kids sometimes fear cold weather. It also gives you the confidence to ride in light showers because your kids will not be rained on anyway.
In the Thule models, the sunshade moves up and down, which means easy foldability and ease of use.
The bike trailers also come with a five-point harness system, are roomier, and reclining seats that make it easier to load the kids and unload them off the trailer. The seat cushion is also thick, and the shoulder straps have padding for extra comfort and safety.
5. Versatility in functionality/performance
As we indicated before, some of the Thule bike trailers read Thule Chariot Lite, Cross, and Cheetah are multisport bike trailers. This means that the bike trailers can convert to strollers, joggers, and ski pulk, making them versatile.
Typically, these are the high-end Thule bike trailers, but they are worth a dime, given performance, serviceability, and quality.
Even though you might need additional add-ons supplied by Thule to convert the bike trailers, it is a worthy investment if you are a parent who actively engages in outdoor activities, including hiking, camping, jogging, and skiing.
This capability sets Thule bike trailers from other bike trailer brands such as Burley and Hamax.
6. Kid-specific safety and comfort features
Thule being thoughtful of toddlers, introduced an infant sling that can be used in the stroller mode, which can accommodate kids as young as nine months. Although this might be a game-changer, especially for new moms, you should consult with your pediatrician before carrying a toddler less than one year in a bike trailer. Besides, some states are strict that only kids above one-year-old can be hauled in bike trailers.
If on stroller mode, the infant sling can help the new mother exercise around with the baby but mind the speed.
Another essential feature is the baby insert that can keep kids below three months warm as they ride in strollers.
7. Thule has Five great bike trailer models that come in different trims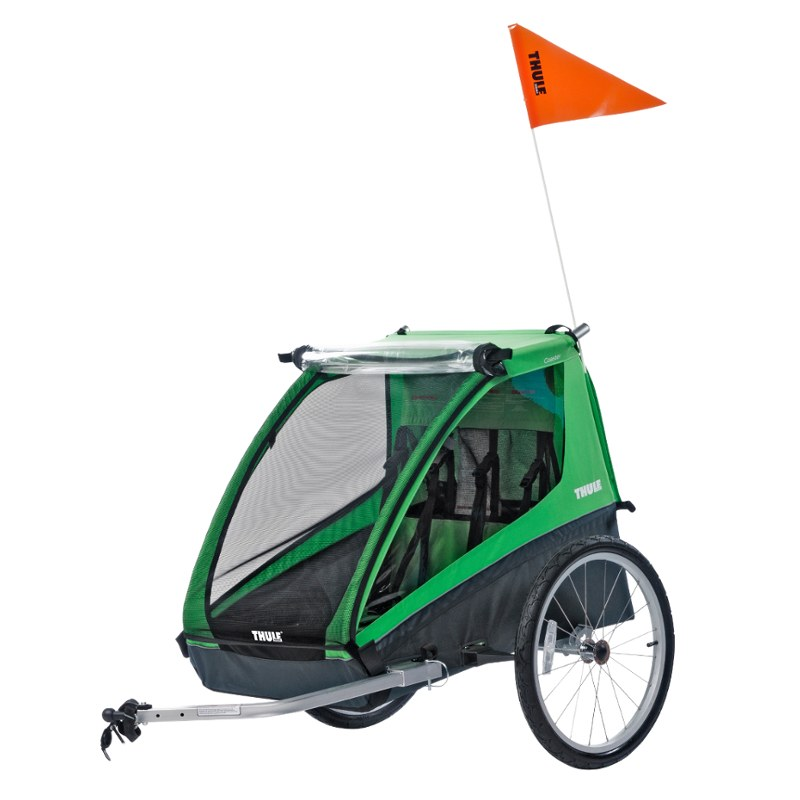 The Thule Cadence bike trailer is also a basic Thule trailer. Although similar to the Thule Coaster XT, the Cadence lacks a stroller kit, making it exclusively a bike trailer. However, it comes with a variety of well-engineered and top quality components like other trims. It has a double capacity, which means you can carry two children in it.
It also comes with the eZ Hitch system and has extra storage space that can be used to haul kids' extra luggage and necessities. It easily folds and has comfortable seats.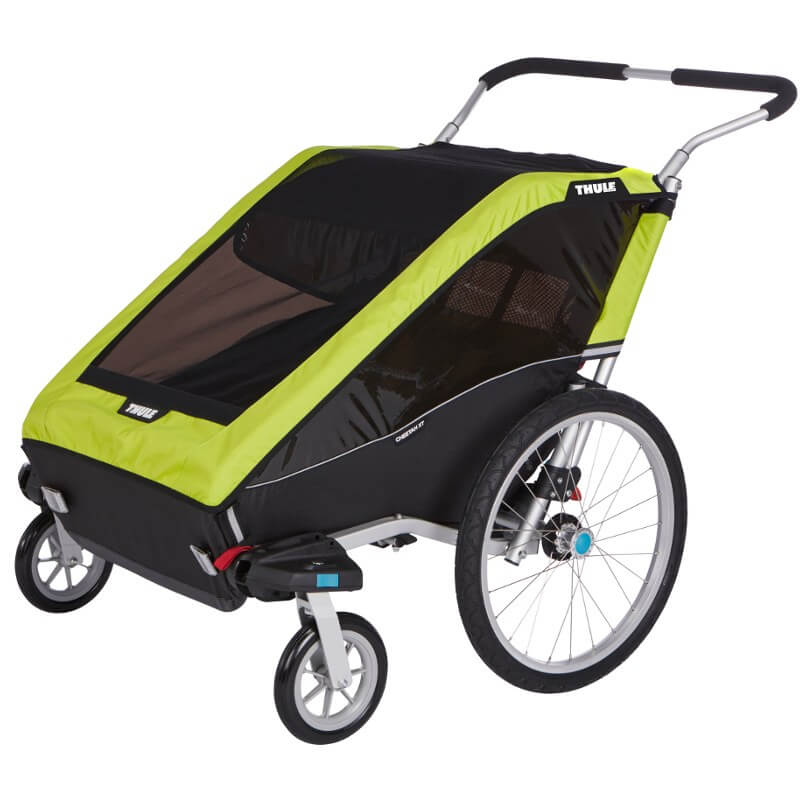 The Thule Chariot Cheetah XT is among the most affordable bike trailer models in the Thule bike trailer models. Although it is not as luxurious or comfortable as models such as Hamax and Burley, it is lightweight, which is a score if you asked us.
If you often take on hills, the saved weight matters. The weight is sacrificed with the suspension system, which means comfort is not that much assured to the little passengers riding in it.
However, you get to enjoy the great features of a multisport bike trailer. At only 26.5 pounds, its aerodynamic design is something to look up to. Besides, it also comes with adjustable handlebars that come in handy on stroller and jogging modes.
It also comes with a bike trailer kit and a strolling kit, which is a plus.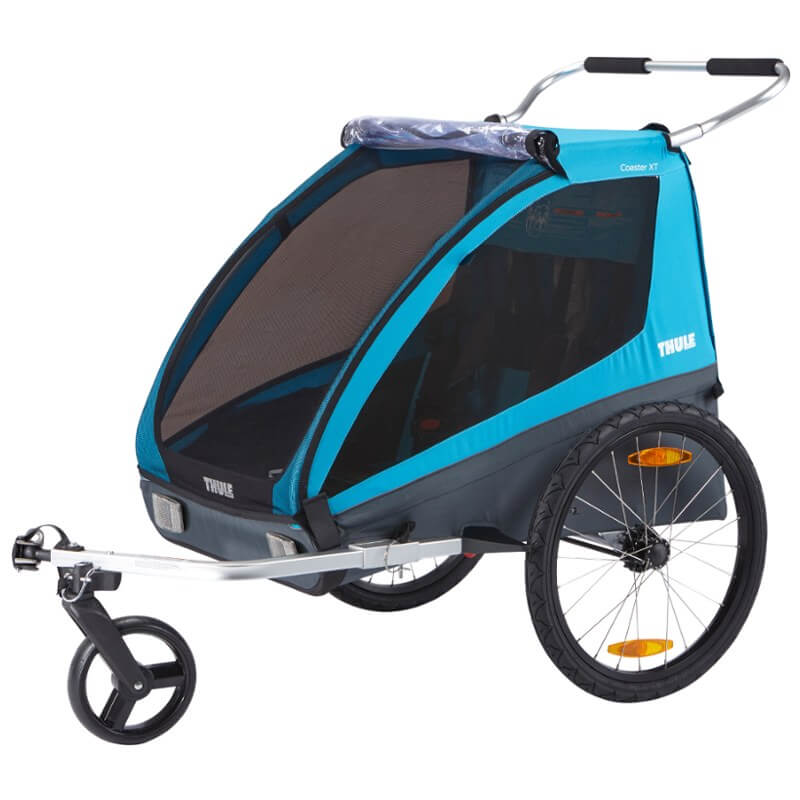 The Thule Coaster XT bike trailer offers easy conversion from cycling to strolling and vice-versa. It also comes with a secure attachment to the adult bike, which features the eZ Hitch system patented by Thule.
It further comes with an adjustable handlebar for the parents' comfort as they stroll the kids around. Although a basic trailer, the compact and reliable design, durability, and protective/comfort features make it worth a dime. It also has a capacity of 100 lbs.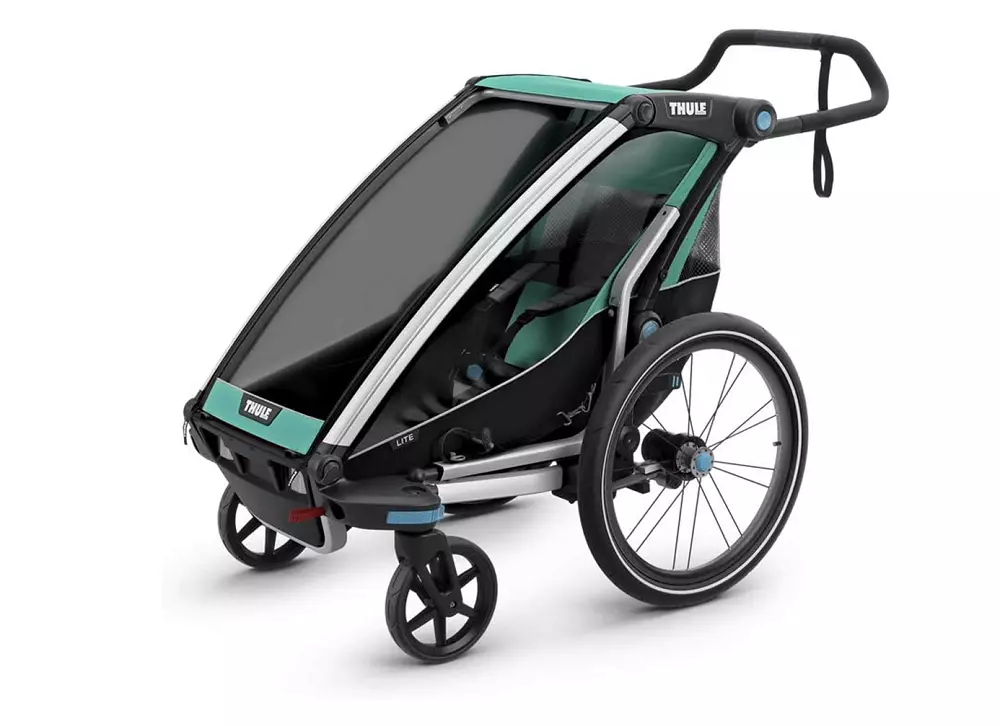 The Thule Chariot Lite comes in two trims - the single-trailer and the double-trailer. The trailer is designed for jogging, strolling, skiing, and biking. It folds compactly, which makes it easy to fold and unfold.
It comes with the Thule VersaWing system that makes it easier to convert between different activities. It equally has a suspension system that maintains the safety and comforts of the little tots.
It has a Click n' Store feature from Thule that makes it convenient to store the cycling, jogging, and strolling kits.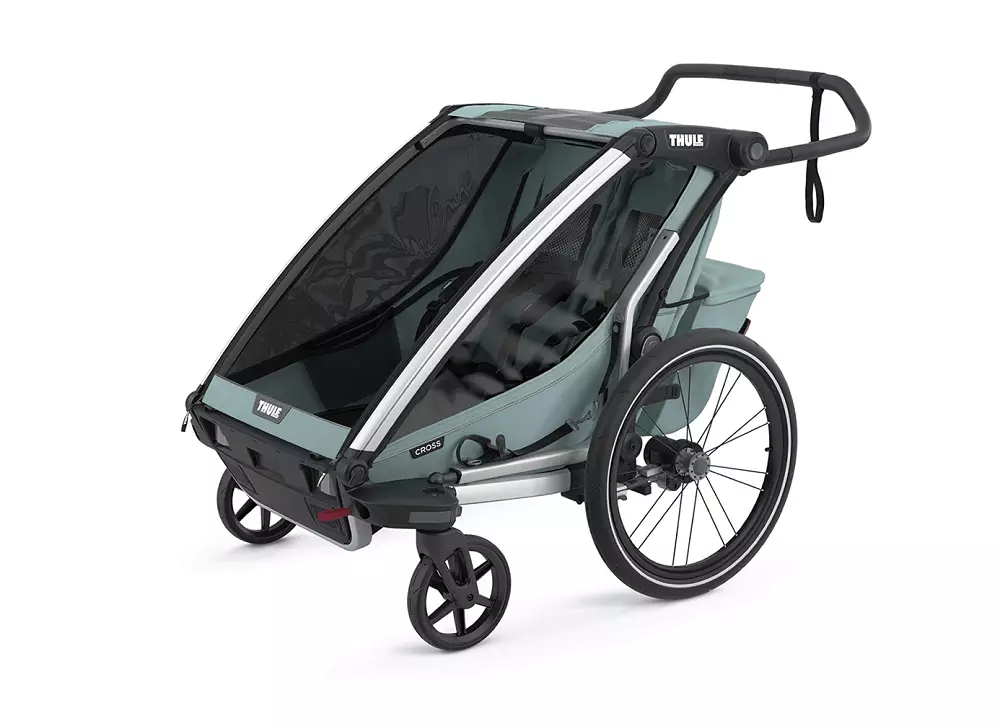 Competing with Hamax outback, Burley D'Lite X, and the Burley Cub X, the Thule Chariot Cross is among the most treasurable bike trailers that, if you have the money, you should consider buying.
With top performance and top-notch safety and comfort features, it is a trailer that you can pack kids into and ride without worry.
It comes preloaded with an adjustable suspension, easy-to-open by zipping cover, and reclining seats as well as UV windows, sun shield, rain cover, and a horde of other features.
With its single and double capacity, you can make a choice depending on the kids you intend to haul around. For a multisport its kind, any parent would milk their pockets to the very last coin. You get to have a compactly -folding trailer with one-handed recline seats for those comfortable naps on the go and versatility.
Bottom Line
Thule makes the most appealing and versatile bike trailers that any cycling family will love. When we compared the Thule Chariot and the Burley D'Lite, the same class trailers, the Thule Chariot Lite won, hands down.
We do not in any way mean that Thule bike trailers are best compared to Burley - each bike trailer brand has unique components, features, and capabilities.
We have done single reviews of each of the Thule bike trailers, which can help you if you are in doubt. If you are after a specific model, read these reviews and make a sure purchase.
Whichever choice you make, Thule bike trailers are exceptional, versatile, durable, and sleek! So, your choice, at the end of the day, is the best!
Please Rate This Article
SEND