We have been through the discussion of age in our previous articles. A quick reminder though, bike trailers can ONLY carry children from 1-6 years of age. Below that, the American Academy of Pediatrics cautions against the use of bike-towed trailers, as the shaky movements can affect brain development in kids. Furthermore, all bike trailers have a weight limit that ranges between 85 and 125 pounds. If you stretch beyond this limit, it is possible to tamper with the structure of the bike trailer. We are talking of having ground clearance lowered to the extent that the kids' bike trailer becomes useless.
Most parents worry whether bike trailers are safe for their kids. Well, at least through research and evidence-based data we can assure you that bike trailers for kids are safe compared to bike seats. In a study on Tikes and Bikes that involved retrospective data analysis, it emerged that bike trailer injuries are a rare occurrence. Another contentious issue is on wearing helmets while on board a trailer. According to experts, bike trailers have enough safety features. Thus, only when extra safety is required should the children use lightweight helmets. But it is not a must!
Agreeably, choosing the best bike trailer is challenging given the brands and product options available. In this fantastic article, you will learn:
The different types of Trailers (by size and type);
What to consider when choosing the right bike trailer for your kids;
Any facts you need to know about bike trailers for kids.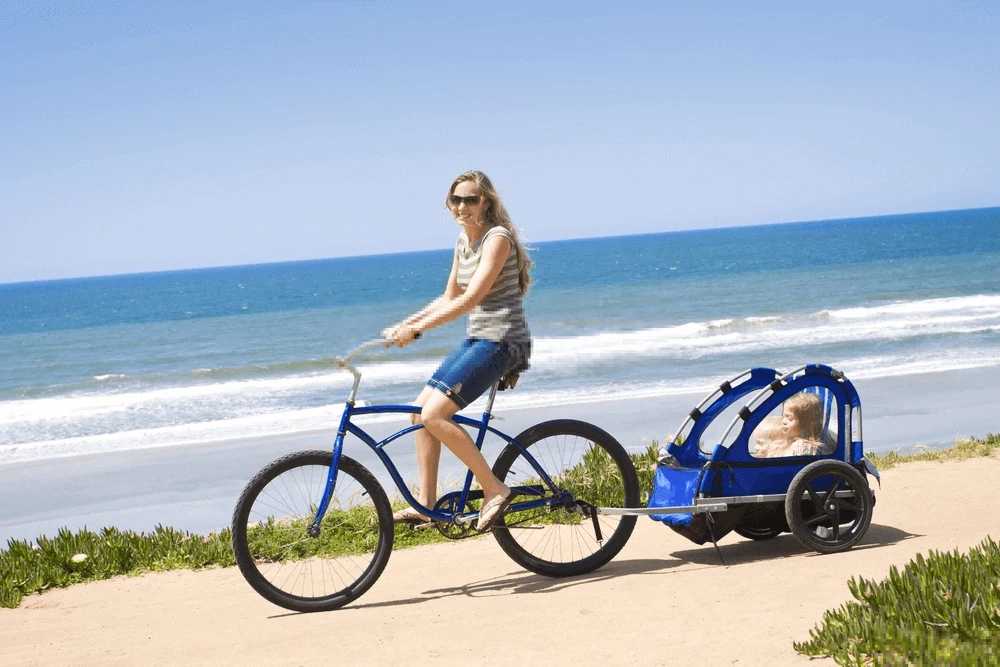 Classification of Bike Trailers
Bike trailers can be categorized by the trailer type and by size.
Size of the Trailer
The size of the trailers is defined by the number of kids it can accommodate by default. Depending on the number of kids you wish to take to a ride, there are two types of bike trailers:
Double child bike trailer/ two-child trailers
Single child bike trailer/one-child trailers
In short, there is either a single or double-capacity trailer.
Single trailers accommodate one rider or passenger and are by far the best. From our test and customer surveys, it has the advantage of being lighter, affordable, and aerodynamic (due to being narrow).
On the other hand, the double trailer, as the name suggests, can accommodate two riders or passengers. However, the two should not exceed 85 to 100 pounds. Advantage-wise, it has more storage compared to its single capacity counterpart. Regardless, it is weightier, extensive, and comes at a higher price. If you have a family with twins or one that is growing, it can come in handy.
Type of the Bike Trailer
The objective of buying a trailer should be the first parameter to guide your choice. When selecting a bike trailer for kids, always remember that there are those that you can convert into joggers or strollers. You can opt for multi-sport, trailer plus jogger/stroller, or trailer only. The difference is how many wheels each has. There are accessories to convert a standard trailer into either of those.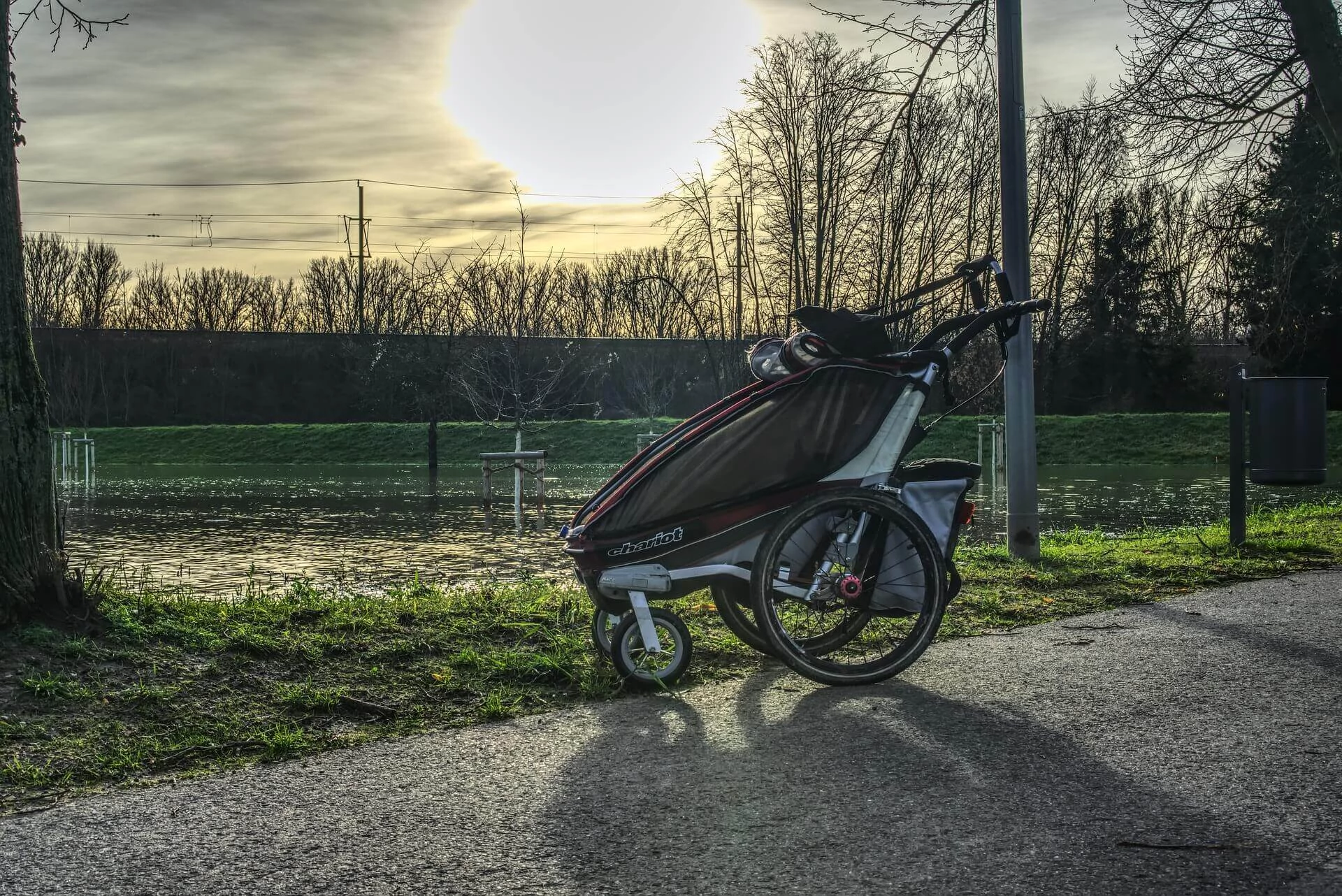 The multi-sport trailer is high-end bike trailers and can convert into both joggers and strollers. The second batch is the trailer that comes with a stroller or jogger wheels. This group suits the parents who only use trailers as strollers or joggers occasionally. The trailer only category comes as a flat trailer with no additional attachments. It is always good to go for the high-end models due to superior qualities such as padded seats and large wheel sizes.
When purchasing a multi-use trailer, choose one which can allow you to convert the trailer into either a stroller or a jogger. In this case, you will have to purchase the stroller attachments and the jogging wheels.
Compatibility with your Bike
Before even thinking of a bike trailer, we should always consider the adult bike. Even with the best trailer, incompatibility with the adult bike to be used in rigging the trailer can render the trailer useless.
Luckily, most of the recent bike trailers designs can work with different adult bike brands. However, this does not necessarily mean that yours will correctly work with your bike. When assessing the bike-trailer-fit, you should focus on the hitching mechanism of the bike trailer. Different brands have different hitching systems and incompatibility could only mean modifications or buying a compatible adult bike.
Some of the gear trailers come with exchangeable hitching systems that make them compatible.
How much are you planning to spend?
Warning, some bikes cost more than your best dress or dinner! Your budget is also an aspect that should guide your choice. While your budget is a personal affair, our thoughts can be helpful in your decision-making process.
As we live in an economically difficult time, considering durability and budget is not optional. Most of the trailers range between below $100 and $1000. Mostly, the highly priced trailers come with a performance and quality advantage.
It is true that premium trailers win when it comes to safety and comfort features. It is also true that they make the ride smoother. However, like the adage, good things like high-end trailers come at a substantial cost.
On the contrary, the low-end bike trailers afford most of the families riding on flat surfaces and pavement the pleasure of riding with babies on board. Nevertheless, the low cost comes a compromise in safety, quality, and performance capacity. Therefore, mid-range and high-end trailers any day, for a parent that prefers safety over the economy. Remember, budget buys can come in handy if your kids are likely to outgrow the trailers faster.
Like any other product, always check for the warranty. It could be the only difference that can make you overcome the chooser's dilemma.
The Terrain you will be riding on
Although overlooked, it is always good to go for trailers that can handle the terrains you frequent with your kids. Like bikes, different trailers can work well in different landscapes.
If you are one parent who loves long off-road adventure with kids, a good choice would be a trailer with the suspension system. Consider the trailers with inbuilt suspension systems that make them easy to tow. Furthermore, the suspension also makes the ride smooth for the passengers. Off-road trailers perform well if they have a wheel size of 20", which negotiate rough terrain with ease. The 20" wheels absorb bumps on the rough roads better. They are also mostly metallic-rimmed and durable. Also, these 20" wheels have a maximum speed of 15mph, which is fairly fast compared to 16" wheels.
Our test with 16" wheels on rough terrain did not go quite as planned. One shortfall of the 16" wheels is the warping and cracking of the plastic rims. Besides, the 16" does not do well in rough terrains. Still, it only has a maximum speed recommendation of 10mph. However, if your preference is daily commuting, or rides on smooth pavements and roads, the 16" will serve you just fine!
Handlebars and Suspensions
When converting the bike trailers into joggers, it is essential to check the handlebars. Most trailers come with an adjustable handlebar. Depending on the types, some handlebars swivel to adjust the height. So, if you have different heights and are strolling and jogging in turns, go for one with swivel handlebars as it offers multiple heights.
Like bikes, the bike trailer suspensions delineate a smooth from the bumpy ride. Kids love smooth rides. If you have a nagging kid, such rides can only make them sad. That is not what cycling is about, that has never been the case. Thus, to avoid the fuss, it is essential to consider a trailer with a suspension system, especially for those riding in off-road terrains. Whether it is a double suspension or not, it makes no difference. However, choosing an adjustable suspension can help if you are carrying children with different weights in turns.
Cabin Dimensions
As part of the safety check, assess the internal cabin dimensions. Different trailers come with different sizes. If you are shopping for older and tall riders, a difference in one inch could determine whether you pick a given brand.
Some trailers are designed to have a smaller cabin. In this case, the headspace and the shoulder space for riders are small. Only the high and medium end trailers come with the largest cabins.
When checking the headroom, consider the height from the seat to the top of the trailer. There are 23" to 30" variations to choose from, depending on the height of the child.
As cabin dimension controls the weight, it is also pertinent to check the weight capacity of the trailer. Most of the trailers have a weight capacity of between 80 to100 lb.
You should also check the distance from one shoulder to the other. They vary between 22" and 25.5". Your choice of the best brand should be guided by the ability of the trailer to offer the best shoulder room for comfort. The next thing then is the type of seats on the kids' trailer you are choosing.
Some cabins come with baby and infant inserts, which can offer room for babies.
The Seats in the Bike Trailer
Seats are a comfort factor in bike trailers for kids. Whether you are planning for one kid or two, always go for the best seat. The weight of the kid should control the type of seat you consider. There are three types of seats at your disposal:
Buckles and Harness trailer seats. This variation offers extra comfort for the kids. It is a preserve of the high-end bike trailers and comes with padding attached on the buckle. The shoulder straps also have padding.
Hammock-type trailer seat. It is mostly found in the low-end trailers. It comes with pure nylon or plastic straps that attach and support a nylon or canvas set that is non-padded. In this design, comfort is sacrificed for volume. If you get this, be sure of your kids being squished. However, it can be an excellent choice for a single rider.
Bench-type trailer seats. Again, for high-end trailers, you can be lucky to get the bench with padding to give resilience. They are the most comfortable, as per our tests. Besides, they offer a large legroom for the kid (s).
Remember, the type of seat on your child bike trailer defines the strength of the trailer. If you want comfort for your kids, the high-end variations are the best choice. Children love eating stuff. Therefore, ensure that the straps of the bike trailers are made of non-toxic materials.
Clearance of the Trailer and Material
The space between the ground and the bottom of the trailer also matters. Mostly, this could be a factor more dependent on the type of tire. We cannot insist more on which tire to choose as we already covered that up there.
Now, the other factor to check is the material used to make the bottom. Nobody wants their stuff or child popping and hitting the ground due to poor choices. Most of the trailers have the base made of nylon fabric. Therefore, when choosing, the thickness of the material is what you should target. Notably, the low-end trailers come with thin fabric, which compromises durability. The converse is true for high-end trailers.
Storage Capacity/Volume/Shape
Nobody wants to pull a bike trailer and have a back park. Instead, when pulling trailers, parents should be as free as possible. Manufacturers and designers figured this out and included some storage space behind most of the trailers.
If you have to carry some essentials, consider buying trailers with storage space. However, we can bet you that the weight will be increased. These storage compartments can carry anything including camping materials.
When choosing the storage compartments, go for the best shapes. Some can affect how you stride, especially if you plan to stroll or jog with the trailer. Some trailers provide additional add-ons on the trailer handles. You could consider the consoles for the handlebars to extend your storage space.
Other Factors to Consider
It is advisable to go for folding trailers if you are looking for easy-to-store trailers for kids. This is mainly a good choice for the parents with limited storage space or wants to transport the trailer un-detached.
Consider the types of wheels of the trailer. With advancement, any parent would prefer those with quick release wheels for easy detachment. Also, consider the hitch system as it defines the smoothness of the journey in the trailer. Always choose one that flexes easily.
Another critical factor is the brake system. If you are planning to convert the trailer into a stroller look at the type of brakes, it comes with, if they can allow you. Although brakes make little difference, the presence of one is an additional safety feature.
No one can predict the weather. Therefore, also check the trailer covers. Some come with plastic rain covers. It is also recommendable to check whether the trailer has a sun cover. If the trailer has an option of attaching those, you can purchase them as add-ons.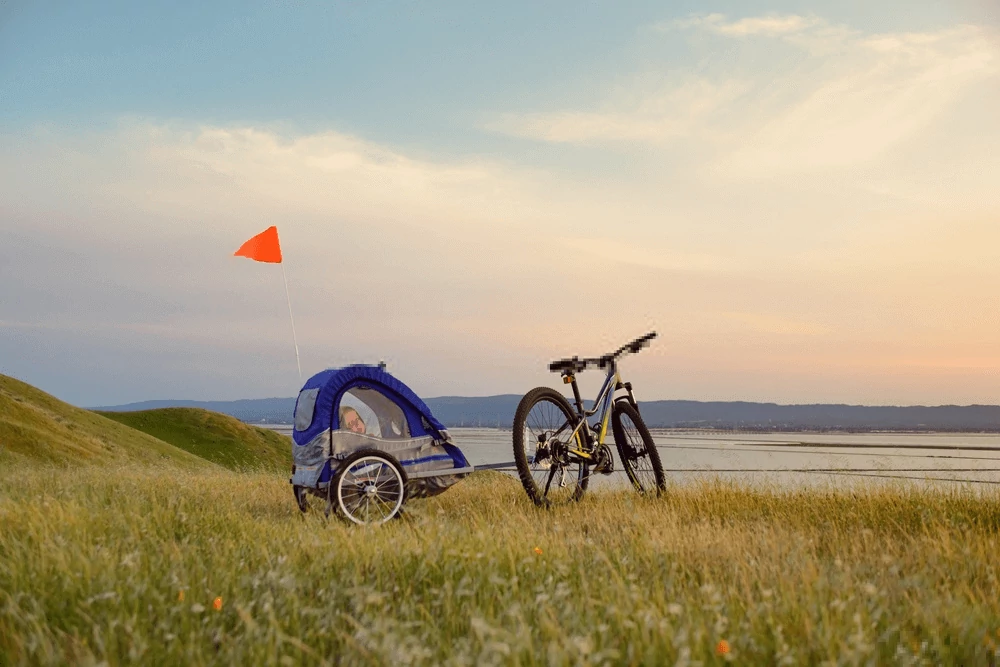 Benefits of Owning a Bicycle Trailer
Congratulations on purchasing a bike trailer for kids for your family. If you are yet to make that decision, here are some reasons to buy one:
Eco-consciousness. You have the choice of using a vehicle. However, cars bring convenience at the expense of the environment. A bicycle trailer, on the other hand, helps you navigate and appreciate nature and still leave it in its pristine form. A few weeks of cycling saves on gas and makes you an advocate for environmental conservation. Besides, the little ones also get to be eco-conscious.
Leave no one behind. Owning a bike trailer raises your confidence in taking the long-planned family ride with everyone. As long as the toddlers have attained between 1 and six years, they can always join the rest on a trip. Technically, everyone will enjoy the bike parking during the holidays. Some will suffer, we all know who, the one with the trailer! Altogether, it is fun, so go for it.
Active lifestyle. Training the children to enjoy the outdoors will make them active. As we continue to advocate for more outdoor time and less screen time, bike trailers can be a start. As soon as they develop their love for outdoors, you can consider graduating them to balance bikes and other bikes as they grow. In the end, you will have a family that loves cycling.
Family time. If you are one of those parents nagging one another of change in routine after parenting got in the equation, adding bike trailer in the mix can help. The whole family can resume riding, nature visits, and fun evening walks and runs. After all, the new family member can always enjoy when in the bike trailer.
Cons of Owning a Bicycle Trailer
Despite the appealing benefits, bike trailers for kids also have their downside.
There are age restrictions. Beyond 1-6 years, your child can no longer enjoy the trailer rides.
Trailers also come at a cost. However, all bike riding families view the price as a worthy investment.
Some terrains do not work for bike trailers. We are talking of narrow paths, sidewalk curbs, bumpy grounds, and wet trails. Riding through such ground can be a hassle.
Bike trailers are also cumbersome by default. They are bulky and cause a problem for first-time
Since the kids are always behind, if they are not yet the talking age, you will still ride with a worried mind.
Over to You!
We are already jealous! Imagine the frustrations we went through as parents trying to get the best bike trailers for kids back then. Given a chance, I would use this comprehensive bike trailer guide to make the best decision.
Bike trailers are a wonderful invention and a significant investment for families. We have researched, tested, and synthesized information for you. All you have to do is to read through and make the best choice. A brand is just a name if it never has features that satisfy you. These features are some of the most pertinent when shopping for a bike trailer.
Bile trailers are good for bike parking; adventure rides for new moms; family rides, and bike tours with baby-on-board. However, remember to always attach a flag behind the trailer for visibility.
In a nutshell, budget, storage space, ground clearance, covers, and all the features discussed should guide your choice. Caution! We only advise you on what to look for when buying. However, the decision is between you, your spouse, and the pocket. All the best!
Please Rate This Article
SEND