With the rate at which parents purchase the InStep Quick N EZ double bike trailer, we can attest that this tow-behind bike trailer, which converts to a stroller, is one of the best-selling double bicycle trailers in the market.
InStep bike trailers have made a name: Popular, reliable, and affordable! In this review, you will find out whether they are a great ride for the kids. However, off the bat, we can only advise you to buy this bike trailer for occasional use, given the 16-inch tires that rest on plastic rims. The chances of wear and tear after an extended or frequented use can become a frustration. Above all, this bike trailer performs well on paved trails and smooth terrains.
Let us see what sets the InStep Quick N-EZ Bicycle trailer apart.
InStep Quick N-EZ Double Bicycle Trailer/Stroller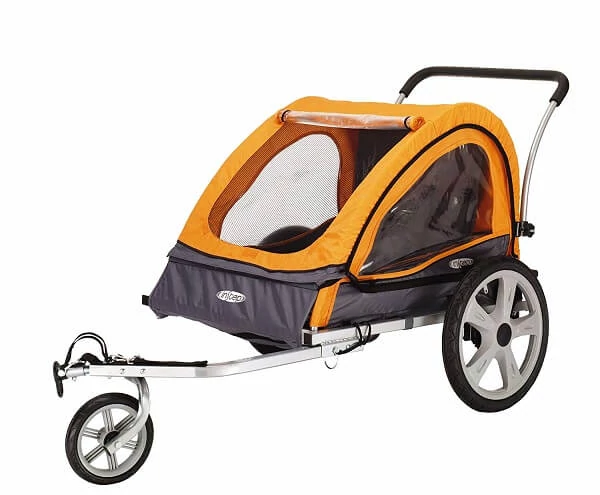 Specs of Quick N-EZ Trailer/Stroller
Weight: 33 pounds
Maximum weight Limit: 80 pounds
Number of riders: 2
Carrying capacity: 100 pounds
Conversion kits: Stroller (included)
Wheel size: 16 inch
Material: steel
Colors: green, teal, orange
Full Review of the InStep Quick N EZ Bike Trailer
Trailers have been making a name for themselves lately. With the ease of hauling and the comfort and security they provide for little passengers, it comes as no surprise that various brands have had their hands at creating their own versions of the best trailers out there.
Sure, the Burley's, Thule's, and Croozer's are great brands but one thing we can say for sure is that for being a lower-end brand, Instep really got it right with the Instep Quick N EZ.
If you cannot tell already, we are big fans of making the most with minimal features that manage to do the job just right. And while we can assure you that you won't find a better trailer for the same price, here's how the Instep Quick N EZ actually performed.
The Quick N EZ boasts of a straightforward set-up. Right off the box, the trailer can easily be assembled without the need for additional tools. Just secure every function (wheels, tow arm, etc.) in its place and you will be good to go.
Multi-functional trailers are by far the best kind of trailers as they save on space that would otherwise have to be used to store both a stroller and a trailer.
As a trailer, the Quick N EZ functions phenomenally. It comes fitted with a tow arm and coupler that is compatible with just about any bike style.
The universal coupler is not all this trailer has to offer as the Quick N EZ can also be easily converted into a stroller through the swivel 12-front inch front wheel and handlebar that it comes with.
The swivel front wheel design is great in terms of maneuverability of the three-wheeled stroller that it creates. Further, the handlebar handles well in a way that most adults are okay with.
As for conversion, the transition from trailer to stroller and vice versa could not be seamless. Trust us, if you are not towing your child behind the bike, then you can easily push them and equally get your workout through a stroll.
Only one word describes this stroller capability; convenient!
Ample Cabin Size and Storage Capacity
As we said, Instep really got it right with this one. Of all the Instep trailers, this is the most spacious of the group.
This trailer can comfortably haul one or two children with a given of just about 40 pounds each. What's more, there is additional space in the rear for about 12 pounds of cargo.
Although the interior is not as roomy as what you get from top-scorers in the trailer industry such as the Hamax Outback, for its price, it is excellent that two kids can comfortably fit inside.
We are confident that it will hold its own in the unlikely event of a crash or fall. This is because the steel material used to make the frame of this trailer makes it extremely sturdy.
The durability of the bike is definitely assured as this bike can hold up well against wear and tear over time.
The Quick N EZ comes with two 16-inch air-filled rear tires.
The shockproof pneumatic tires guarantee a smooth ride due to the exceptional traction they offer.
Not to mention the molded rims, which add an effortless touch of style and top performance. Further, the wheels come with a quick-release feature, which makes them easy to disengage for easy storage.
However, the Quick N EZ is not without its faults.
Our only qualm about this trailer is that because it lacks suspension, rocky and bumpy trails can be quite tricky to maneuver, especially if the kids just so happen to not have their helmets on.
So be sure always to stick to even/ paved trails and you will enjoy the performance of this trailer.
What is a stroller without a proper braking mechanism? Phony, that is what.
Equipped with a highly secure parking brake for use in the stroller function, you can rest assured that when you decide to take a break, your kids will not roll away as long as the brake is engaged.
As expected, the Quick N EZ features hammock-style seats as opposed to the beach-style seats you would spot in higher-end trailers.
The seats are quite comfortable, but we are sure that they are prone to sagging over time, as they do not offer as much support for the kids. And although some adjustments can be made, there is no guarantee that the support will be the same.
The padding on this two-seater is sufficient to ensure that the little riders are comfortably seated within the trailer.
In addition, the Quick N EZ comes with a 2-in-1 canopy bug shield and weather screen. Insects definitely remain at bay, and even when the elements (wind, sunlight) are not cooperative, the protection and comfort of your precious cargo is a given.
Moreover, the rear window offers excellent ventilation that works well to prevent the kids from being overheated inside. We all know how stuffy kids can make the riding trip take a turn for the worst.
Security and Safety Features
Other than a weather and bug shield to ensure a cozy ride, the Quick N EZ further features a five-point harness system that secures the kids in place. It comes with shoulder pads that ensure that while the kids are held in place, it isn't at the expense of their comfort.
What we loved the most about this security feature is that it is easy and almost natural to engage as it mimics the buckle system of a toddler's car seat.
Therefore, whether they are in tow or stroller mode, falling off and hurting themselves is out of the question.
For further protection (especially important when sharing the road with others), the trailer is equipped with a safety flag, which makes your presence on the road rather obvious and saves you from a ton of accidents.
The Instep Quick N EZ collapses into a smaller version when not in use.
This is an excellent feature as the collapsible frame makes for the easiest transportation and storage of the trailer. We, however, noticed that in comparison to other Instep trailers, folding this particular trailer was a bit of a hassle.
All the same, the folding design is much better than other trailers within the same price range.
InStep Quick N EZ vs. InStep Sierra Double
| | | |
| --- | --- | --- |
| FEATURE | | |
| Product | | |
| Capacity | Double | Double |
| Weight limit | 80 pounds | 80 pounds |
| Trailer type | Trailer/Stroller | Trailer/Stroller |
| Weight | 33 pounds | 32.5 pounds |
| Frame material | Steel | Steel |
| Seat type | Hammock style | Supportive Bench |
| Wheel size | 16-inch pneumatic tires | 20-inch pneumatic tires |
Final Take!
The thing that really sells this trailer for us is its ability to serve all its functions exceptionally.
The little passengers can comfortably fit in the cabin, the tires roll smoothly, the children remain safely secured in place within the trailer, a weather, bug screen shields them from the elements, and the trailer doubles as an equally functional stroller.
Imagine getting all this at a price that won't have you digging deep into your pockets. That sounds like a dream, but it is not. The InStep Quick NEZ Double bike trailer falls among the best budget bike trailers in the market. What more could you possibly ask for from such a reasonably priced trailer?
Forget about the deal-breakers, the InStep Quick-N-EZ double tow-behind bike trailer carrier is a high-performance budget-friendly bike trailer. This multifunctional bike trailer converts into a jogger, meaning it is also an excellent gift for a sporting family.
If you are after a bike trailer to use frequently on all surfaces and terrains you had better consider the Burley Bee, Trailblazer, or the Schwinn Echo Bike trailers; you can thank us later!
Our team of reviewers awards it 4.5 out of 5 stars.
Please Rate This Article
SEND