Burley designed three tires of trailers: recreation, sport, and performance bike trailers. We already reviewed the Burley D'Lite X, which belongs to the performance category. We also wrote a comprehensive review of the Burley Honey Bee, which is a recreation bike trailer, and now we are here with the Burley Encore X trailer review. The Encore X is a mid-range double trailer/stroller/jogger that combines design, versatility, and durability to drive safety, comfort, and fun home.
If you are after an excellent performer when it comes to smooth rides and everything you want featured in a high-end bike trailer, go for the Encore X. This multifunctional bike trailer converts into both a stroller and a jogger, just like the Thule Chariot Cross and the Hamax Outback.
Encore X is one of the most luxurious bike trailer that is a darling to both kids and adults. If you are looking to gift or have an active sporting family, this will be the best, as you will have a bike trailer, stroller, and jogger, at a premium price for premium qualities.
Burley Encore X Multisport Bike Trailer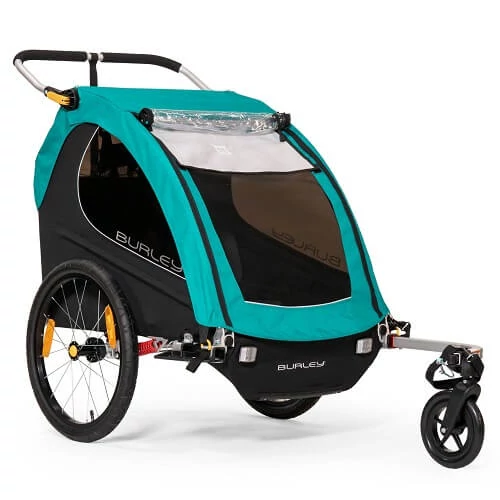 Specs of the Burley Encore X Bike Trailer
Weight: 24.7 pounds (double)
Number of riders: 1 or 2
Carrying capacity: 100 pounds
Wheel size: 20 inch
Included: Trailer arm stroller (3W)
Conversion kits: Jogging kit: (available as upgrade), 4W stroller (upgrade)
Internal seat width: 22.5 inches
Interior Seated Height: 24 inches
Handlebar Height: 30-50 inches
Seated Leg Room: 21.5 inches
Folded dimensions: 36 x 31 x 12 inches
Window UV Protection Rating: UPF 30
Cargo Space: 60 liters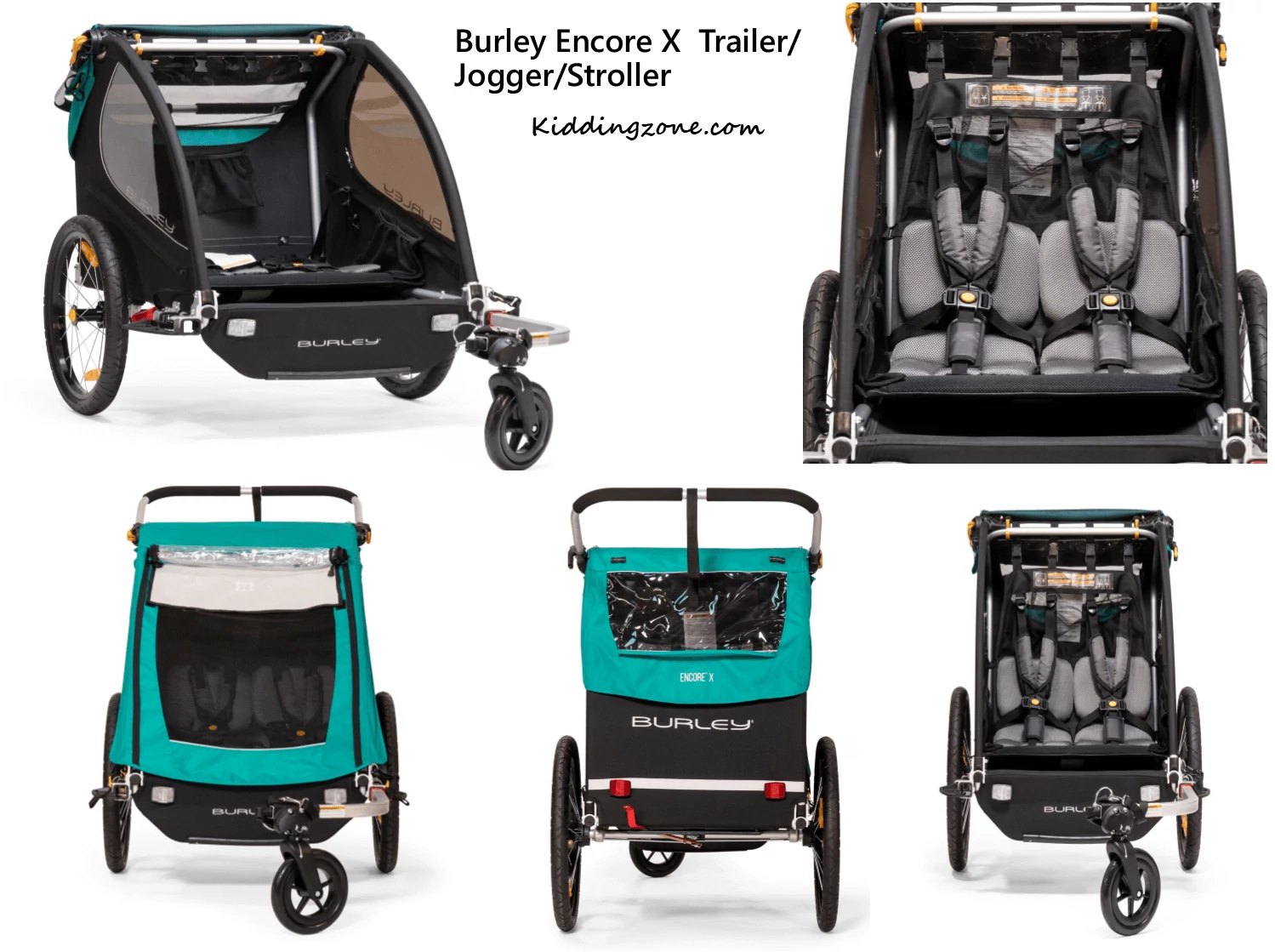 Full Review of the Burley Encore X Multisport Trailer
When it comes to trailers, Burley always does it right!
The Burley Encore X allows you to explore all kinds of terrain as it is packed with features that allow you to ride with your kid(s) comfortably in tow.
For those who want top-quality and high performance, but are willing to sacrifice luxurious features such as adjustable suspension and reclining seats, this mid-range trailer offers so much more for its price point.
If you come from a multi-sports family then you will be thrilled by the fact that this trailer is all-kit compatible. This means that with the purchase of Burley jogging or skiing kits, the trailer can easily be converted into a jogger
The Burley Encore X comes standard with a bicycle tow bar and a one-wheel stroller kit which allow for use as a bike trailer and stroller.
The trailer arm is convenient as it allows the trailer to remain upright and the bike to tip over for easy loading and offloading of the little passengers.
The trailer rolls smoothly on gravel or bumpy roads and after arriving at your destination you can easily turn it into a stroller.
As for use as a jogger, the trailer can easily be converted into a jogger through a fixed front wheel that tracks extremely well.
Furthermore, the conversion takes so little time it doesn't come as an inconvenience to both passenger and rider.
Here's how it functions; the stroller wheel attaches to the trailer's arm and can easily be flipped up when planning to use it as a trailer so to put it on stroller mode the wheel simply has to be flipped down.
While stroller wheels that are attached to the trailer arm usually present an issue with sticking out too far from the stroller, the Encore X's stroller wheel functions well and sticks out fairly away from the stroller.
Additionally, because four wheel strollers are known to track better than there-wheeled strollers, Burley Encore X avails the 4-wheel stroller option as an upgrade. If you are willing to pay an extra couple of bucks for the extra convenience then you can easily opt for it.
Whether you are biking, strolling, jogging or skiing, the Burley Encore X is one of the best ways to maintain an active and happy lifestyle
Sufficient Interior/ Cabin Size
The interior of the Encore is wide with plenty of room for 2 kids to seat snugly.
As long as long as the kiddos are within 41.25 inches of height they will have no qualms when it comes to head and leg room. As for shoulder room, the Encore beats most trailers though it's lack of bowed-out windows make the more expensive Burley D'lite a better option for kids with wider shoulders.
Burley trailers boast of spacious, flat-bottomed cargo area that is gigantic compared to the average trailer's storage area.
The encore X spots a large trunk on its rear end where you can fit a lot more than you would in any other trailer! From a small cooler to a large diaper bag and even backpacks if you are hauling kids to and from school.
There's two additional mesh pockets at the top of the cargo area where you can toss small items such as keys or a water bottle and the kids can hold their own sippy cups in the internal mesh holders.
What's more, the carrier can easily be converted into a cargo trailer by detaching the seats and then converting the interior into a full cargo trailer. Although a lot of people don't typically go for child bike trailers for this reason, it is a pretty cool feature to have especially if you live in the city where you might have need for a cargo carrier.
The encore X comes with two rear 20-inch premium push button wheels that easily and quickly detach and reinstall for conversion between kits.
All you have to do is simply press the yellow button to the center and the wheels pop off easily.
Moreover, the 20 x 1.75" wheels offers a smooth ride for rider and passenger on paved and dirt trails.
Burley Encore X comes with a hub-engaged parking brake that conveniently holds the stroller in place when you need a stop.
Comes with seat pads that enhance the comfort of the little passenger. Being detachable, the seats can be easily cleaned
The comfort of the parent is just as important as the comfort of the passenger whether in biking or stroller mode. When in stroller mode, the handlebar allows for reasonable height adjustment with multiple settings
The handlebar further doubles as an additional roll bar when folded forward while biking
Located at the top of the trailer is a sunshade that protects the kids from the sun's glare on bright days. Our only complaint about this sunshade is that its length only allows it to act as a visor. Nonetheless it conveniently folds under when not in use in cooler temperatures.
The suspension of this trailer is one other great factor that sells it and distinguishes it from the Burley Encore. Any kid who has ridden in the Encore X will love the bumpy but fun ride, thanks to the suspension that absorbs most of the shock.
The suspension system is convenient as it is entirely solid and enables the trailer to ride smoothly over bumpy areas.
The encore features bench style which hold an advantage over hammock style seats in that they are sag-free. That means that the child can sit comfortably without their bottoms sinking into the ground even if the trailer is put to use for years on end
For protection in wet climates, it comes standard with a built-in water-resistant cover that can be zipped down when it gets rainy or zipped up to leave a mesh cover for hotter days.
The rear window ventilation is an added feature that makes this trailer a great investment. It pops open when the trailer is in motion to allow airflow and only presents a challenge when riding in hotter temperatures.
True to Burley style, it has tinted side and rear windows that are wide enough to feed curious passengers and have UV protection to shield them from the sun's harmful rays.
Its five-point harness system is easy to buckle and unbuckle and secures the child in place
Lastly, it comes with a safety flag to alert other road users of their presence on the road. With these features, you can keep pedaling without worrying about your child's comfort and security behind you.
If there's one thing that Burley products have on lock, it's the ease of folding the carrier down for easy storage. The trailer collapses easily into a sub-compact form that makes it easy to travel with the trailer.
Final Take!
The Burley Encore X is an easy-to-pull trailer packed with loads of comfort features to ensure the rider remains cozy.
From its supportive bench-style seats to its swivel-adjust handlebar, ample storage room and a great suspension system; there is very little that can be said negatively about this trailer
It earns 4.8 out of 5 stars from our panel of reviewers.
Please Rate This Article
SEND