The InStep trailers are by far some of the most popular bike trailers among parents who love to ride with their kids.
And we've figured out the reason for that. It's simple; these bike trailers are a very affordable means of towing behind kids, but more importantly, they are very functional as well.
The simplest trailers from InStep are available in two different models: the single version is known as the InStep Sync and the double version known as InStep Take 2.
Both models are very remarkable in their single role as trailers, but what more is there to like or not like about them?
Let's find out.
InStep Bike Trailers (Sync and Take 2)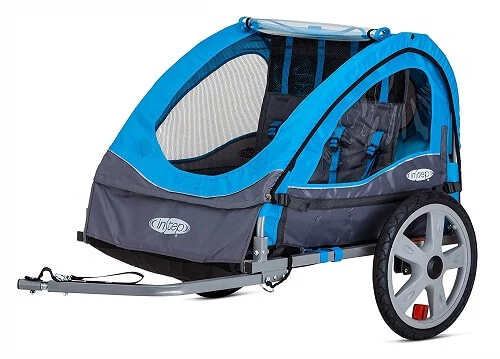 Are they easy to set up?
One of the things that greatly impressed us about the InStep trailers is that they are both straightforward to set up.
Unboxing and assembly take less than five minutes whether or not you are experienced in gear assembly.
This is thanks to the straightforward manual that comes with the trailers. The wheels, canopy, and tow bar were in place in no time with no need for additional tools to set them up.
It truly was a delight to get on and going minutes after getting the package.
Will the trailer fit your bike?
Both the InStep Sync and the Take 2 come with a universal coupler that attaches to just about any bike.
The tow arm easily fits within the coupler and is secured in place with a pin that then attaches to the rear axle of the lead bike.
Just like that, almost every bike can be used to haul the trailers.
Will your child/ children fit?
As we mentioned earlier, the InStep Sync is the single version, while InStep Take 2 is the double version. This basically means that the main difference between the two trailers is in their carrying capacity.
The InStep Sync can comfortably haul one child with a maximum weight of 40 pounds while the Take 2 has a maximum weight limit of 80 pounds (2 children each weighing a maximum of 40 pounds). Of course, there are some exceptions where for instance, one of our reviewers was able to tow a 50-pound child in the Sync single trailer comfortably. Nonetheless, we highly recommend sticking to the recommended weight limit.
On to matters weight, the Instep trailers are some of the lightest trailers you will ever come across! The Instep Sync weighs 21.5 pounds while the InStep Take 2 weighs 24.5 pounds.
Given, they are light because they lack some of the features found in higher-end trailers, it is still great to know that their lightweight nature makes them extremely easy for any adult to pull the trailers.
With such weights, the trailers can comfortably haul 40-pound children. Just ensure that the child is within the recommended weight limit, and you will be good to go.
As for the comfort within the cabin of the trailers, we loved the fact that children of a wide range of sizes could comfortably fit within.
This is because compared to other budget trailers, InStep trailers boast of a widely spacious interior.
With an interior height of 26 inches and equally great width inches for both trailers, kids have ample space to flex as opposed to being cramped up as with most budget trailers.
Are they durable?
The InStep bike trailers have some of the sturdiest frames.
Both made of highly durable steel, it is very unlikely that the trailers or kids within will succumb to an accident as the sturdy metal does a great job at protecting the kids within.
How smoothly or roughly do they pull?
Here's where these trailers somewhat failed us.
Both trailers are equipped with 16-inch pneumatic tires on plastic rims, which is both advantageous and disadvantageous.
The tires roll very smoothly and with very minimal rattling on paved surfaces. If you plan to stick to the local neighborhood's paved roads, then this is just the bike trailer for you and your little one.
Additionally, the 16-inch wheels have a maximum mph of 10mph as compared to the 15mph with 20-inch tires found on more expensive brands.
If subjected to rugged or bumpy trails and especially at such high speeds, then your child will definitely feel the effect of the bumps. This is due to the type of wheels and lack of a suspension system to cushion the impact of bumps.
In comparison to more expensive trailers, most of which have 20-inch wheels and metals rims, the smoothness of the ride and durability of the InStep 16-inch wheels and plastic rims is incomparable.
So while they roll smoothly, their performance cannot be compared to that of higher-end trailers such as Thule or Burley.
Sticking to kid-friendly routes such as paved roads would thus be the best choice for these trailers.
How much cargo can they hold?
The storage pockets of the InStep trailers is located in their rear end.
The compartments are great for storage of baby and toddler essentials such as diapers, and while the rear storage can safely hold many items, we would not recommend storing valuable items there as the Velcro holding it can easily come undone if not well aligned.
How safe are they?
The InStep Take 2 double bike trailer and the Sync single bike trailer are both equipped with a five-point harness system to secure your child in place.
Being cheaper trailers, we did not expect the comfort levels of more expensive brands that are attributed to their padded straps. All the same, the system is exceedingly functional in terms of preventing accidental falls as you ride ahead.
One major difference of the harness system is that although height-adjustable, the buckles only have three adjustment settings for a great fit. This is totally different from the continuously adjustable harness system seen in more costly trailers.
To ensure protection from the elements, the trailers are equipped with a 2-in-1 canopy that functions as both a bug screen and a weather shield.
The multi-use canopy shields the child from those pesky bugs, and in the event of rain and strong winds, the child/ children remain secured inside. What's more, the front canopy can be opened for an even better view of the scenery.
Moreover, the trailers come with a safety flag attached to the back of the trailers to make the trailer more visible as you pedal ahead. This is great for night protection when sharing the road with other users.
Are they comfortable?
Many features add to the comfort of a trailer. Both InStep trailers score high in terms of ample interior space. Here's how the other features performed.
The exterior covering of both trailers is made of nylon material. The nylon is flimsy, especially compared to the thicker and more durable materials used to make the covers of Thule and Burley trailers.
While the nylon covers the sides and front, the rear has a mesh opening for ventilation.
They serve a tremendous protective role against mud-spurts but do not expect them to be as durable as the aforementioned trailers.
The trailers further spot hammock-style seats.
Hammock-style seats entail a piece of fabric stretched out from one side of the trailer to the other.
This style of seat is quite comfortable although not as supportive as the more reinforced bench-style seats. The lack of a reinforcement system in hammock-style seats usually makes them susceptible to sagging under the weight of the child.
This is especially noticeable in the InStep Take 2, which seats two children who eventually end up being sunken in the middle with their bottoms almost touching the ground. The InStep trailers, however, have nylon straps that can be tightened to prevent sagging.
Ultimately, the seats are still prone to sagging, although we will say that the sag is much less than that experienced in other budget trailers.
The trailer bottom of the Instep trailers is roomy enough for leg and feet placement. However, we recommend extra care when stepping in and out of the trailer as it also isn't supported
The trailers further spot a mesh layer located on the upper side of the seat for supporting the back of a child's helmet and thereby prevent the child's head from being pushed forward by its weight.
Our only qualm about this helmet recess is that its setup starts higher than most (15 inches above the bottom of the seat), thus not ideal for younger/smaller riders whose heads won't fit that height.
What about storage?
These trailers were clearly designed with user-friendliness in mind as they are very portable.
Both InStep trailers boast of a collapsible frame and quick-release wheels.
This folding nature is great because not only is it easy to fold and unfold the trailer when necessary, but it also makes the trailers easy to transport.
From fitting small storage spaces to enabling easy transportation, the Instep Take 2 and InStep Sync is great for family riding escapades.
What other differences exist between the InStep Sync and the InStep Take 2?
The greatest difference between the Instep Take 2 and the InStep Sync is that one can only carry one child while the other can accommodate two passengers.
Puts the Instep Take 2 at an advantage in that it can accommodate a growing family as opposed to the Sync, which can only fit one child and would, therefore, have to be replaced if you intend on hauling two kids.
Another difference is the obvious width difference whereby Sync's sleek design makes it a great bet for small spaces. Take 2, which has an interior width of 25 inches, is somewhat limited.
But the width isn't much wider than most double trailers s it all works out well in the end.
Comparison of the InStep Sync and Take 2 Bike Trailers
| | | |
| --- | --- | --- |
| FEATURE | | |
| Product | | |
| Capacity | Single | Double |
| Weight limit | 40 pounds | 80 pounds |
| Trailer type | Trailer only | Trailer only |
| Weight | 21.5 pounds | 25 pounds |
| Assembled Dimensions | 52.5" L x 25.25" W x 31"H | 52.5" L x 32.5" W x 31" H |
| Folded dimensions | 32.5" L x 25.25" W x 15.5" | 32.5"L x 32.5"W x 15.5"H |
| Frame material | Steel | Steel |
| Seat type | Hammock style | Hammock style |
| Wheel size | 16-inch | 16-inch |
Final Take
A lot can be said about these InStep trailers, but we can all agree that these budget trailers are an excellent option for anyone looking to start riding with their kids but isn't quite ready to make a considerable investment or anyone who is looking to stick to riding on paved roads.
If that is your case, then purchasing either one of these trailers depending on your number of kids will be one of the best decisions of your life.
Our rating for this product is 4.4 out of 5.
Please Rate This Article
SEND