You will appreciate the creation and work of Thomas Weiss, a Swiss Inventor, who came up with the FollowMe Tandem bike adapter or coupler when you want to cycle with your kid while both of you are on their bikes.
Have you always wanted to tag along with your kid when going to your evening bike session, commuting, or during a long bike tour? Maybe you have two kids, but one has a bicycle, and you would like to add them to your riding expeditions? Or maybe your kid wants to learn how to ride (pedal) a bicycle.
Kids have this habit of being afraid of traffic and getting tired of climbing some sections. And as parents, we want kids closer to us, especially on busy roads with danger hanging low. So, although there are many alternatives to tag your bikes, If you are looking for a fun way to tow your kid while they either pedal or as passive passengers, the FollowMe Tandem is your perfect match for a towing device.
This tool is fantastic and flexible in that you can attach and detach it in seconds. It is also compatible with almost all types of bicycles.
Overview of the FollowMe Tandem
Let's have a quick look at the FollowMe Tandem: Here are some quick facts:
Can be used concurrently with goods carrier or rear kids' carriers
Attaching or detaching takes up to 60 seconds
Weighs 5.5 kilograms
It has an extensive mudguard for security
Compatible with 12 to 20 inches kids' bikes
Works well with the standard front wheels with wheel nuts
You will need an extra adapter if the front wheels have wheel bolts or a QR skewer for kids' bikes
It also works standard with adult bikes with QR skewers
Adult bikes with wheel nuts, thru-axle, and hub gear need an adapter
The frames from alloy material make it rugged and durable
It supports a maximum weight of 45 kilograms
It fits the adult's wheels of between 26 and 29 inches, including E-bikes
FollowMe works perfectly across all types of bikes
The Tandem Works best with an average down tube on the child's bike.
It provides more balance compared to other concurrent systems.
The kid is more stable and front-wheel almost on the ground.
Artistically falls back to the rear of the adult's bicycle when not in use.
FollowMe Tandem for Parent-Child Bicycle Coupling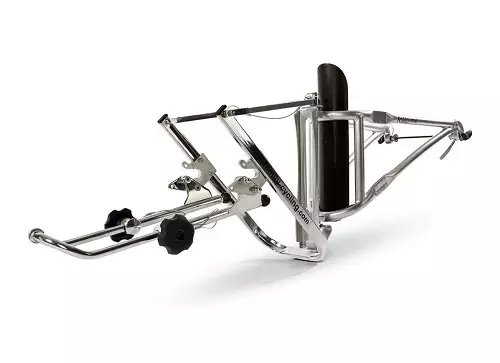 Paragraphs and descriptions here.
Durable construction and high-quality design
Compatibility with all bikes and e-bikes
Smooth, secure, stable, and flawless rides
Easy to install and maintain
It tows a variety of kids' bikes between 12 and 20 inches
It is safely kept on the parent's bike when not in use.
FollowMe Tandem is costly, but it is worth the price.
It cannot tow a bicycle and kid weighing more than 50 kilograms.
FollowMe Tandem–An in-depth Review
We can summarize the review by simply stating that the FollowMe Tandem is excellent towing equipment. It is a cheap lifesaver and is a must-have to all bikers with kids. It allows you to tow them as they enjoy watching the surrounding environment.
With an investment on the FollowMe Tandem, your kids can simply ride their bikes independently, and you can couple them along when they are tired. Primarily, this makes it a must-have towing device for families that go for longer bike tours.
When the kids are tired, you can attach their bikes to yours and go faster instead of slowing to keep up with the pace of the little slow riders. At the same time, it helps bring kids closer to you, which is practically safe when bike commuting on busy roads.
With the FollowMe Tandem, the fun gets started when some see the end! It makes you cycle without the worry of leaving behind your kid who is enthusiastic not only about the outdoors but wants some sort of independence. The piece of art makes the continuation of cycling possible, which ideally every parent looks up to.
And there is still more left to desire about the FollowMe Tandem. So let's see what is packed in this masterpiece of innovation.
Durable Construction
Being an innovative towing device of its kind, the FollowMe Tandem is well built. Its frame is made from Chromoly Steel, which absorbs vibrations on the roads, making rides smoother and stable. The material is also sturdy and lightweight. If you purchase it today, you can be sure to pass it down many generations and still fetch a reasonable price when selling it second hand. And while the build is strong, it is not so good at resisting some weather elements. In addition, it can rust, although that depends on how you treat it.
The construction inspires confidence in both your child and yourself. Because you will be settled that your kid is safe, stable, and closer, you can focus on pedaling efficiently. And you can do that confidently because you want to show your kid how it's done.
Weight and Weight Limit
The coupler weighs 5.5 kilograms, making it easier to carry on an adult bike when not in use. The FollowMe Tandem can support the weight of forty-six kilograms comfortably. This weight means you can tow either the luggage or your kid's bicycle without demur.
The alloy frame material makes it more complex, and you can climb hills comfortably. When attached perfectly, it keeps kids tagged carefully behind you when riding in traffic jams. However, if you happen to tow weights of more than 50 kg, it may result in damage to your FollowMe Tandem.
Compatibility
The FollowMe Tandem allows you to couple a bike with a wheel size between 12- and 20-inches wheel size. Unfortunately, it is not compatible with towing 24-inch bikes and 26-inch Kids' bikes. The coupler is also compatible with adult bikes that have rear child seats or rear racks attached to them, making it an excellent choice for parents who have a bike seat for the smallest kiddo and a bike for slightly grown kids.
If your kid's bike has wheel bolts, as is with Woom 2 or 3 bikes, a quick release skewer like the one that comes in woom 4, you will need to invest some extra money on an adapter kit to attach the FollowMe Tandem to your bike. Besides, you must adjust the FollowMe Tandem so that the front wheel of the child's bike is lifted to allow a clearance of 6-8 cm from the ground.
Check out the various accessories for the FollowMe Tandem that you might require.
Versatility
FollowMe can be used on murram roads, tarmac roads, climbing hills, racing downhills, and surfaces with fine soils. The FollowMe Tandem is flexible hence can be used on all bicycles without causing any hitches. It fits parent's wheels with diameters between 26 and 29 inches perfectly. It is adjustable to tow kids' bicycle wheels of diameter between 12 and 20 inches. You can also attach child carriers or luggage bags to it depending on the weight of your goods.
Excellent safety Features
We expect your child to be wearing a kid-specific helmet, cycling gloves, cycling shorts, cycling shoes, cycling sunglasses, and other cycling gear to make them safe while using the FollowMe Tandem. First, however, it is important to look at the structural safety of the tower.
Luckily, the FollowMe Tandem takes into consideration the safety of the riders and the speed of the bicycle. The axle adapter connecting the rear axle and the frame ensures that your tower is fixed tightly to the parent bike. This adaptor works with all axles and is easy to fix. However, some bicycles have to be fixed with a quick-release axle to connect to the adapter.
For your kids' bicycle, reinforce nuts after FollowMe Tandem is attached to it. The reinforcement ensures that the bike is safely secured and does not sway. If your kid's bicycle has an unlike kind of axle on the front wheel, then you will have to buy either the quick-release hinge extension or the hollow-axle extension as add-on parts. The kids' front wheel should be between 12 and 20 inches for you to connect your bike perfectly to FollowMe Tandem.
When not in use, there is a minor spring and strap that allows you to keep your folded tower when the young rider wishes to push some meters on their own. This improves safety in that you are sure that it will get home. Besides, it doesn't loosen to let the tower drag as you ride on your own.
When your wheel is in the middle, it increases the balance and reduces the energy you put in to ride your bicycle. The wheel can only be in equilibrium if the distance between the fork tubes and the wheel's rim is equal in both directions. These spindle extensions can work as wheel nuts only when they are firmly attached. So, it is vital to check on the spindles from time to time to check on their tightness.
A frame-fitting kit installed on the down tube holds the kit ideally and does not move an inch when fitted correctly. Other than that, you have to certify that your kid's bike is operational with the regular down tube.
When FollowMe Tandem is fully mounted, 1-1.2 cm of the thread must hang about free in the quick release skewer end section. If the thread is shorter or longer, the threaded bolts' size should reduce to fit in.
Stability
Compared to tag-along bikes that are usually wobbly during rides, the FollowMe Tandem sits pretty during rides. Its design, build, and dimensions make it stable than any other trailer cycle you will opt to buy. It is easier to manage when you have a kid within the recommended maximum weight limit.
Allows Independent Riding
Kids are always enterprising beings; they always want to try out new things. Unlike some trailer cycles, the FollowMe Tandem allows the child being towed to ride their own bike. You will be leading the pedaling as your kid follows suit, much like a tandem bike, only that each of you is on their bike.
If your child is already comfortable pedaling on their own, they can begin the ride on their own then; you can attach them to your bike when they are worn out or when you need them close as the traffic builds up.
Portability
Storing and transporting the FollowMe Tandem should be the least of your worries. First, the FollowMe Tandem can take up little space in your house or garage with its entire build and foldability.
When not in use, for example, when not attached to a kid's bike, you can either remove it entirely or fold it and attach it to an adult bike. It comes with two quick-release pins on either side of the adult's bike axle. When you remove the pins and loosen the black knobs, you will be able to pop off the coupler. The process is fast and efficient and becomes even easier the more often you use the towing device.
Additionally, you can fold it up and attach it to the adult bike. You will need to secure it in place by attaching a hook-up strap to the rear rack or saddle rails. Compared to trailer cycles that are most likely cumbersome to carry around, you can fold the FollowMe Tandem forward and carry it around. You can haul your kid to school, ride with them home, and quickly fold it if you are lazy to attach and detach it every day.
Easy to Connect and Disconnect
Although attaching and detaching the FollowMe Tandem is easy, quick, and straightforward, the initial assembly might take an hour or two. Fixing it slow ensures that you follow all the steps to it to avoid future issues. The time is ideally worth it to ensure that the tower is ever ready for use after the assembly. If you are not good with assembling things, you can use your expertise at your local bike shop.
The packaging comes with an instruction booklet with a manual about how to assemble the FollowMe Tandem. Although the booklet might confuse you, you can also take advantage of installation video guides online.
You will need some tools that are not included in the packaging. For instance, you might need a hacksaw or metal sheers to cut the metal strip. However, for tool and machine freaks, the process seems enjoyable.
As indicated before, if there are incompatibility issues between the adult or child's bike and the adapter, some necessary adjustments must be made, some of which come at additional costs.
For instance, if your kid's bike has a quick-release skewer in the front wheel, budget for an adapter. You should also ensure that the adult bike towing the FollowMe Tandem has 26" to 29" tires with a 2-inch width; otherwise, budget for that as well. If the adult bike also has a thru-axle or bolt-on axle, budget for an adapter. Check on the compatibility requirements for the kids' and adult bikes before committing to make a purchase.
Easy to Maintain and Clean
The FollowMe Tandem does not have any fixed moving parts that require greasing or frequent maintenance. You only need to keep it clean through routine cleaning, just like you clean a bike. You can clean it with standard washing products and a soft scrubber; cleaning it regularly with rust protection ointments increases its span. Do not forget to apply lubricants to the movable parts. When riding on dirty tracks without your kids, you can carefully remove your tower and keep it in a dry place.
Experience when in Use
You will not even notice that you have the FollowMe Tandem attached because it makes hauling kids on their bikes easier, comfortable, and stable. In addition, the ride quality, according to many parents and kids, is superb.
Even on rough terrains, one can ride much faster compared to other tag-along bikes. You better be fit enough for the hills because you probably would be doing the heavy work of getting the both off you to the top. The good thing is that it does not alter your normal cycling habits. You can offsaddle, squat into an aerodynamic position, or zig-zag on the climbs. And thanks to the turning circle, you are able to negotiate barriers too.
Performance
This incredible tower works well when it is supporting a bicycle weighing less than 30 kilograms. The parent can ride at maximum speed as the kid pedals with no effect. FollowMe Tandem is also adjustable to fit all types of bicycles and provide enough support to your kid's bike.
FollowMe Tandem shows exemplary results when used on adult bicycles with a quick-release adapter. However, if your bike has a hollow axle, wheel nuts, you can still use this tower but with some minor adjustments.
If your bicycle has a different axle type, like a solid or hollow spindle, you will have to purchase a suitable adapter. Without the adapter, the FollowMe Tandem will not function as required or may result in breakages if you modify it. Therefore, regularly check that the solid spindle adapters are firmly tight, preferably before every ride.
Slide the short release spear and position the safety catches in the hollow on both sides to fix it perfectly. Slowly slide in the spindle in place, and rotate on equally spindle extensions. Make sure that they are firmly closed so that it won't slow you down for a few minutes. The solid spindle adapters also function as wheel nuts.
If a "soft" feeling comes up when riding with the FollowMe Tandem attached, then your bike is possibly not all set to go. You will have to recheck it before continuing with your journey. When FollowMe Tandem is not in use, it slowly falls and retracts back towards the parent's bicycle. You will have to attach a rope between the carrier to hold its place, and you're the FollowMe Tandem.
Who is the FollowMe Tandem made for?
This coupling tool comes in handy when you want to couple your adult bike with your kid's bike. The process of assembling the coupling mechanism is so fast that you can do it in the middle of a ride. You can easily carry it on the adult bike and attach it when the kiddo is tired to pedal on their own, when you drop the kids at school, or when you are about to start a challenging climb. And thanks to the solid build of the FollowMe Tandem, parents can use it to tow kids all the way – to and from wherever your cycling demons demand you go.
FollowMe Tandem is a perfect towing tool that lets families enjoy riding a bike. It makes cycling together limitless. If you love the outdoors on bikes with kids tagged along, such as bike tours, bike camping, or bike backpacking as a family, this should top the list of devices you should purchase.
In a nutshell, the FollowMe Tandem is perfect for:
Urban riders with kids, especially those who bike commute with kids
Upcountry riders with kids
Riders with kids who are just learning how to ride and you want to skip the training wheels.
Cyclists with two kids plus luggage. Yes, the FollowMe Tandem is compatible with rear child bike seats and rear racks as well as cargo bikes. This means that you can tow other kids on bike seats and one who is confident enough on their own bike.
Caution: Before setting out for a ride, ensure that you speak to your child concerning braking. If they instantly brake, they might land all of you into trouble. Your brakes alone are okay when in operation. As a caution, you can deactivate the kids' bike brakes in case the little tots decide to be crazy.
Again, for the safety of both of you, get your headlights and get the kid some good bike lights for kid's bikes. When you are visible, you reduce the chances of drivers running into you on rides.
To spice up a ride, you can get the little one a bike bell for communication, and who knows, they can ring it when they need your urgent attention. Of course, you need one too for your bike or a whistle to caution other road users that you are passing.
Parting Shot!
Thus far, you now know that the FollowMe Tandem is a couple that attaches a kid's bike to an adult bike. It allows you to haul the bike with a child on it. The child can either pedal along or rest themselves as you do the heavy work.
Although it is slightly expensive among the towing options, it serves its purpose right, making it a worthy purchase for parents who love cycling with their kids. And did we mention the social points it adds to you as a parent? Well, when you use the tool, you look like that rad, caring, and adventurous parent whom everybody wishes they were.
The FollowMe Tandem is crafted to fit almost all bikes. The coupler attaches to the adult bikes using a quick-release skewer that fits on the rear wheel. If your bike does not have a quick release, you have the option of buying adapters. It is an ideal solution for riding with a kids' bike attached to an adult bike. It saves on time and energy, especially when your kid is tired and you are deep off-road.
You have to choose between the baby and the bike; this is where the tower saves you. This tool is a must-have for all cyclists with kids. FollowMe Tandem is versatile and primarily used in uphill climbing, urban roads with traffic, country trails, and other places. It is also easy to wash and maintain. FollowMe Tandem is the best tool for bikers with kids.
Please Rate This Article
SEND