Ever thought to yourself, "why do kids love those loud squeaky shoes?" For the same reason, they love bike bells! They are fun, loud, and get people's attention, which defines bike safety for kids.
Bike bells are the Midas touch that adds pizzazz to a kid's bike!
If nothing else, consider that they are one of the most crucial safety accessories on a bike.
Since most roads are busy, small cyclists must have a bell to alert other road users of their presence and eliminate potential accidents. Although there are no bike bell laws, it's an extension of personal responsibility, perfect for the neighborhood, commutes, and trail rides.
That said, to let you have more cycling time, preserve your effort and generally ease your task of identifying the most suitable bell for your kid's bike, we have compiled a catalog of 14 of the best kids' bike bells in the market for you. Our all-inclusive summary lays out the strengths and weaknesses of every bike bell to help you determine the most suitable one for your child.
In addition, we have included a concise buying guide to aid you if you don't know what to consider in a kid's bike bell.
Here's our trusted list of 14 of the most functional yet fun bike bells for little riders without wasting time.
Comparison table of the best kid's bike bells
Bike Bell Brand/Name
Material
Fits handlebar diameter of:
Why it appeals to many Kids/parents

1. Accmor Classic Bike bell

Aluminum and plastic

21 – 22 mm (0.83 – 0.86 inch)

- High quality make

- Crystal clear sound

2. Greallthy Classic brass bicycle bell

Brass

22.2 – 25.4 mm

- Brass construction is long-lasting and accurate for mountain biking

3. MARQUE Classic Ringer Bike bell

Aluminum and plastic

22.2 – 25.4 mm

- Classic look

- Traditional ring

4. SportOut Copper ALLOY Bike bell

Copper alloy

22.2 – 22.8 mm

- Compact size

- Highly durable

5. Kickstand Cycle Works Classic Beach Cruiser Bicycle Bell

Metal

22 - 24 mm

- Available in a wide variety of colors

- Delivers clear sound

6. Bell 7071179 Spiderman 3D bell

Aluminum/ plastic

22.2 mm

- Superhero theme

- Clear ringing sound

7. Surmoler Classic Aluminum Bell Bicycle Accessory

Aluminum

19 – 22mm

- Batman theme

- Very responsive ring

8. Trail This Cheeseburger Bicycle bell

Plastic

21.7 – 26mm

- Fun design

- Loud and clear ring

9. Mirrycle Incredibell Jellibell Bicycle Bell

Plastic/metal

21 – 22.5 mm

- Translucent design

- Left and right-hand-side oriented

10. Firm, strong classic beach cruiser bicycle bell

All-metal

22.2 mm

- High quality

- Classic bike ringing sound

11. Coolrunner Bugle horn

Stainless steel

22.2 mm

- one of the best and most responsive horns

12. Paliston Kid's bike bell

Plastic/ metal

22mm/ 0.86 inch

- Girly flower design

13. Childhood kids bike horn

Plastic/ metal

20 - 23 mm

- Fun horn for girls

14. Hello Kitty 3D bike bell

Rubber

N/A

- Cute Hello kitty 3D design
Best Kid's Bike Bells - An In-depth Review
1
Accmor Classic Bike Bell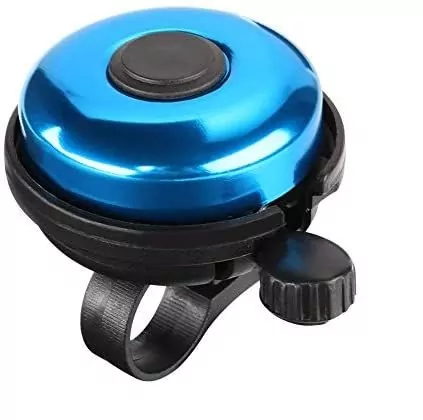 The Accmor classic bike bell takes the cake for being a high-scorer both in performance and design. This bike bell has the timeless look of a well-built bell and the distinguished skill of a well-crafted tool.
Its durability is top-notch as it is made of high-quality aluminum and engineering plastic that is anti-aging and anti-rust. And while the material assures you of long-lasting performance, we find its lightness especially attractive, seeing as it adds very negligible weight to the bike's overall weight.
The Accmor produces a crisp, loud ringtone that is distinctive and can be clearly heard even on busy roads when it comes to the sound factor. It is also easy to ring, so little hands have an easy time operating it.
This bell comes in seven colors and can be fitted simply by using a screwdriver to tie its bracket to the bike's handlebar. We also like that it can be fitted on standard kids' bikes as it is designed to fit outside diameters between 21-22m (0.83 inches - 0.86 inches).
It is worth noting that the Accmor has a tendency to jingle and ring on bumpy and rough terrain. Although the sound can irritate some riders, we don't think it deters this bell from being up there with the best bells in the market.
Try it on flat roads, and your child will definitely milk the safety-oriented upgrade to their bike.
Stylish but durable design
Produces a loud and crispy ringtone
Installation is fast and easy
Comes in seven different colors to choose from
Prone to produce an unsolicited jingle on some bumpy and rough terrains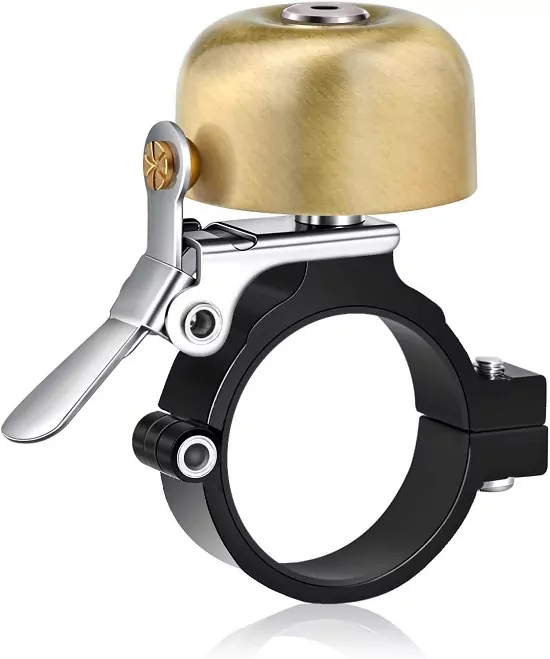 If you are on the lookout for an anti-aging bike bell for your child, look no more.
The Greallthy bell is a brass-made bike bell which means that it's one of the toughest options out there!
It works with high-strength springs and a light, strong alloy bracket to make for a highly durable bike accessory.
Because its sturdiness is hard to beat, this bell is an excellent option for MTB riding as it will definitely withstand the constant bumps in rugged trails.
The mounting bracket fits handlebars between 22.2 – 25.4 mm, but the best part about this bell is that it is compatible with both left- and right-hand side orientation. The choice is simply yours!
We also love how the bell's minimized size takes a small share of the handlebar space. Even better, the manufacturers include a protective pad in the packaging to prevent the mounting clamp from sliding down.
As for sound, when in place, it produces a loud and crystal-clear tone. However, we will warn that it takes a bit more effort to press the lever far enough to hit the bell. Save for that, this bike bell is a winner.
Classic retro look
Compact size
Premium brass material doesn't wear fast
It can be installed on either the left- or right-hand side
The package includes a protective pad.
Lever requires a bit of effort to activate
3
MARQUE Classic Ringer Bike bell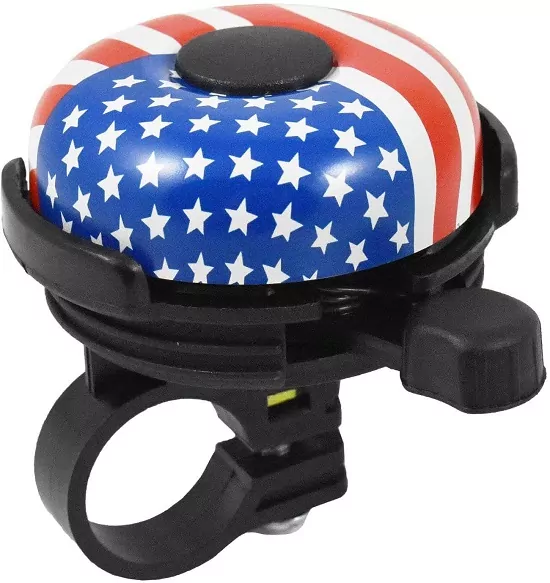 The Marque Classic Ringer bike bell may not have the extra graphics or design that appeal to the youngest riders, but this bike bell will perform its role as many parents would love it too.
It is a highly durable bike bell that boasts of lightweight yet sturdy aluminum and plastic construction. Like the Accmor bell, the lightweight is perfect as it won't overwhelm kids.
This bike bell's profile is so it won't interfere with any other handlebar devices. In addition, the small profile makes it an excellent choice for smaller-sized kids' bikes or 'busy' handlebars.
Another plus is that it effectively alerts other road users of your child's presence through a thoroughly audible ring.
That said, we especially love the wide range of compatibility for this bike bell. It is designed to fit handlebar diameters between 22.2 and 25.4mm, which means that this bell fits a great majority of kids' bikes.
If you have bikes and scooters and want that added level of security, this is an option that we'd highly recommend.
Made to last with premium high-quality aluminum and plastic materials
Compact size
Small profile is child-oriented
Lightweight and durable
Delivers crystal clear sound and fits most bikes
4
SportOut Copper ALLOY Bike bell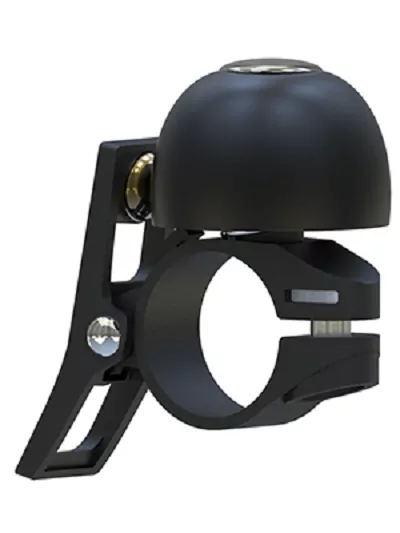 The SportOut Copper alloy bike bell is a neat little accessory.
Made from high-quality copper alloy coupled with anti-rust and aging-resistant coating, this bell offers excellent longevity of use. We love this feature because even on rainy or snowy days, having the bell out won't result in headaches from any kind of damage.
Another thing we like about the Sportout bell is that it is a beautiful and small-sized bell (0.8 inches); despite the compact size, it offers a traditionally clear and crisp sound of the bell, which accurately alerts other pedestrians of your approach.
Additionally, to make the operation of this small-bodied gear seamless, it features an anti-skid finger dial. This assures that the child's finger won't slip and keep them from notifying other road users of their presence when they want to.
And unlike some bike bells, the Sportout is further designed for both left and right-handed operation!
Given a chance, there's not much we'd change about this bike bell other than its adaptability to a wider range of bike handlebar diameter. For these reasons, we find the SportOut bike bell a great addition to any child's bike.
The light-touch anti-skid button is very responsive to ring
It can be used on ski poles and hiking sticks
Small profile
High strength springs and light, strong alloy bracket enhance durability
Not fit for thicker handlebars
5
Kickstand Cycle Works Bike Bell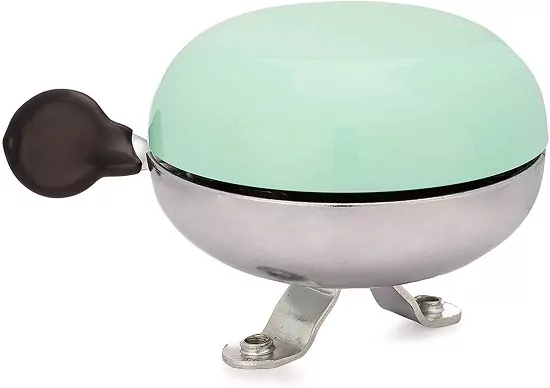 Available in 18 different color options, the Kickstand Cycle Works bicycle bell is one of the easiest-to-customize bike bells.
It's a simple choice with an attractive design that sits well on every handlebar it is placed on.
This bell easily installs onto bicycle handlebars as it only requires a standard screwdriver to tighten screws, but it won't fit bars thicker than 22- 24mm
However, what it lacks in terms of variety of fit it makes up for with both left- and right-hand operation. That's right; the Kickstand Classic Bicycle bell can be installed on either the left or the right side of the handlebars, so you are free to make the decision!
Your child's safety on the road is further guaranteed as the bell issues a clean, bright 'ding-dong' sound.
Not to mention, it comes with a 90-day money-back guarantee, so you can be refunded if the product doesn't satisfy you!
Designed with both right and left-handed cyclists in mind
90-day money-back guarantee
Wide variety of color options
Delivers crisp, clear sound
6
Bell 7071179 Spiderman 3D Bike Bell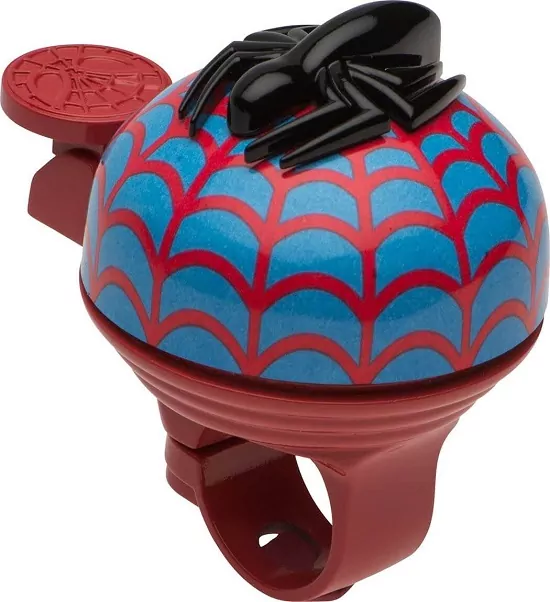 The Spiderman 3D bell has one of the most appealing looks of all the bells we have reviewed. It will have your kids marveling when on their cycling adventures, especially if they are superhero fans.
The best-case scenario would be using this bell as a finish on a Spiderman-themed bicycle!
Another thing we really like about this bell is that its colors make even a simple bike look sporty.
That aside, this bell comes in an aluminum housing, and its other parts are plastic, making it light enough to allow your kid's total control of the handlebar. Furthermore, its design allows small hands to ring the bell while still holding the handlebar
Another cool feature of this bell is that it produces an audible but not too loud tone, and it easily rings by pressing the red tub. We also like that it fits on small bikes like a glove.
But while we found the Spiderman 3D bell to be elegant in terms of looks, we were concerned with its durability. There were a number of complaints about how easy it for the bell to come undone.
Optimal sound level
Easy to ring and install
Stylish Spiderman themed design
Lightweight
7
Surmoler Classic Bike Bell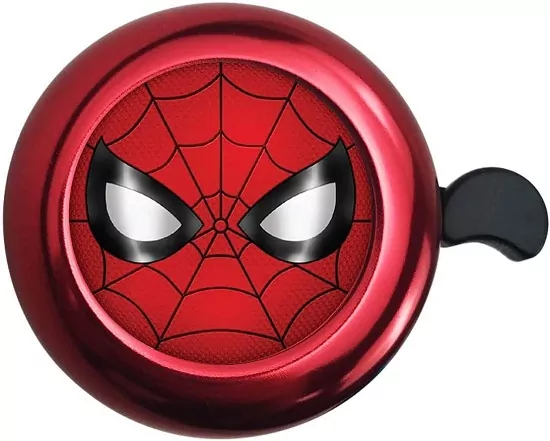 If your child is a superhero fanatic, they will also love the batman graphics on the Surmoler Classic bike bell.
While kids will love the batman theme, parents will love the high-quality aluminum and plastic material make of this bell.
Made for right-handed use, this bell installs easily to satisfy right-handed riders. The fit is sized for bike handlebars with a 19-22mm (0.75-0.86 inches), making it perfect for a great majority of kids' bikes.
We love that while its ring is piercing enough to catch the attention of other pedestrians, it isn't to the point of irritation. In fact, people turn around with a pleasant demeanor as the ring is unobtrusive.
However, on the downside, it does take a bit of effort for little thumbs to work the bell.
But that notwithstanding, the harmony of all its other features makes the Surmoler Classic Bicycle bell a kid and parent-approved cycling accessory.
Superhero theme
Universal fit for most kids' bikes
Clear and loud yet unobtrusive sound
Made for right-handed use
More of plastic than metal
A bit hard to ring
8
Trail this Cheeseburger Bicycle bell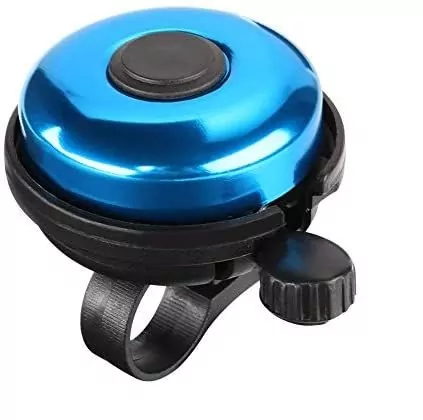 Talk about tasty, fun, and funny! The Trail This Cheeseburger bell is another fun bell that will have heads turning and lighten the atmosphere whenever it is activated.
Not just one for the tasty looks, this bike bell delivers work just like it's meant to. Its ring is elaborately loud and clear enough to grasp the attention of other road users.
We also love that the bell itself is of high quality as it boasts of a plastic exterior and metal insides that are both highly durable and functional.
The bell is also compatible with a wide range of handlebars! Because the mounting bracket mounts to handlebars with a diameter of 21.7mm to 26mm, it can fit a wider number of bikes in comparison to most of the bells we reviewed.
Additionally, its weight is not so bulky that it would adversely affect the bike's functioning or the child's navigation of the bell.
The manufacturers of this bike bell also went the extra mile to include a fun Trail on this bicycle sticker. So, if your child is fond of accessorizing their bike in a fun way that makes it more personalized for them, then they will definitely love this.
All in all, the Trail this Cheeseburger is a fun, well-made, and highly functional bike bell for those who have a sense of humor or a ravenous appetite.
Funny and appealing aesthetics
Loud and clear ring
Wide range of compatibility
9
Mirrycle Incredibell Jellibell Bicycle Bell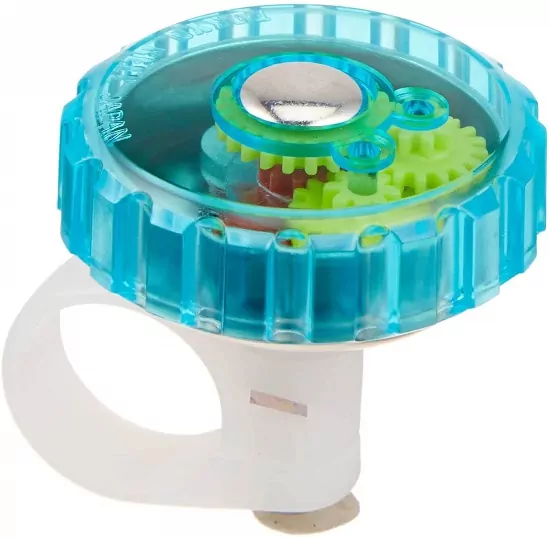 Definitely, a tongue-twister for a name, the Mirrycle Incredibell Jellibell bicycle bell has a unique design to match its name.
This bicycle bell is made of plastic. However, the most distinguishing factor about this bike bell is that it features a transparent cover which, much like a watch, allows you to see the cogs and gears at work within the dome as the bell rings!
Genius, right?
Apart from being see-through, the bell enclosure is weatherproof, so you can trust that no matter how clumsy your child is, they won't get water or dirt within it.
Additionally, the Jellibell can be mounted on both the left or right grip of the handlebar as it can be turned from either direction.
Another unique detail about this bell is that the user rings the bell by twisting the colored dial to produce a sweet sound. And no more than a single ring is required for people to acknowledge the oncoming bicycle.
The workings of this watch are genuinely fascinating, so if you happen to like it as much as we do, then you will love that it is available in 5 different translucent colors to satisfy the different color preferences among young cyclists.
The only reservation we have about this bell is that the plastic cogs are prone to breaking, which automatically means that while it is durable, it isn't like some of its competitors.
Unique, see-through dial
Weatherproof housing
Available in a variety of colors
Plastic cogs are prone to breaking
10
Firmstrong Classic Bike Bell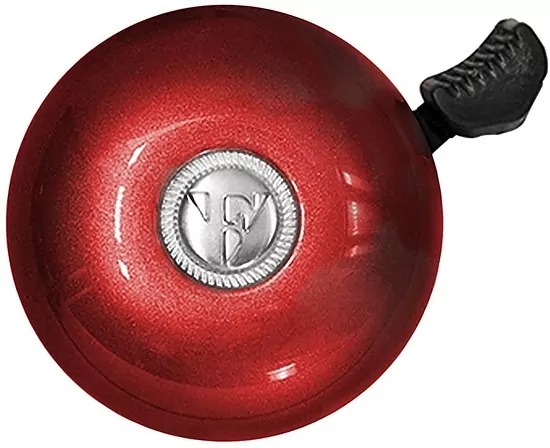 Simply made, highly functional, and with no fancy embellishments, it is easy to see why this bike bell is such a popular choice. It does the job that is required of it!
The Firm Strong bicycle bell is a simply-designed yet highly effective bell that ensures you are one finger flick away from a classic cheerful ring as you cruise down the sidewalk.
It is steady even on rough terrain. That means that it won't shake or ring even when you hit a bump and will only respond when your child wants it to.
We also love how the all-metal construction and shiny shellac finish on this bell and clamp make it withstand many elements and, in turn, ensure long-lasting use.
If you already have a themed bike and don't want to clash it with another theme, this is a classic choice available in up to 18 colors. It is impossible to miss something that will satisfy your child's taste.
The only blemish to this shiny bell is that the paint is easy to chip off. For the best experience, we'd advise laying the bike down carefully to prevent scratches.
Stylish retro design that is still durable
Steady on rough terrain
Easy to ring and produces a cheerful classic ring sound
Mounts and dismounts effortlessly
Comes in a wide variety of color options
Paint covering is easy to scratches easily
Limited to standard thick handlebars
11
Coolrunner Buggle Bike Horn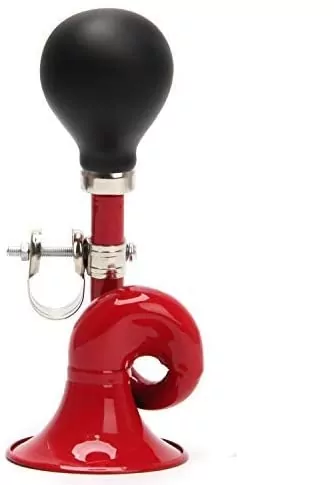 A clown's horn goes "beep, beep!" and while this bell has a look and feel of a clown's horn, it goes "honk, honk!"
If there's one thing, we are sure of, it's that the Coolrunner Bugle horn will catch the attention of passers-by. It's definitely a 'looker.' In fact, of all the bike bells we reviewed, we'd say this one was the most child-oriented.
The manufacturer had the child's safety and fun in mind as they designed this bike horn so that little hands can squeeze it with ease.
So long as your child has the coordination to momentarily grip the horn with one hand while the other remains on the handlebar, they should be good to go. If not, they will only use this horn when the bike is at a standstill.
But regardless of how they use it, the bell produces a loud and clear sound that is highly effective.
This bike horn's only downside is that because it lies on the larger end of the size scale, it fits best on 20-inch bikes going up.
The only other concern we have about it is that the metal pieces that attach the horn to the bike's handlebars are made of cheap metal. Thus, it is prone to scratching the handlebars.
But it's not that much of a downer as the problem can easily be solved by attaching a thin strip of rubber over the handlebars before attaching the mounting pieces.
Great sound
Steady on rough terrain
Easy to compress
Not the best size for the smallest bikes
12
Paliston Kids' bike bell
Expect to get so many compliments for the attractive and girly design of the Paliston kid's bike bell. In fact, any cyclist will tell you that this would make for the ultimate girl-bike combo with a fancy bike basket.
Designed to fit handlebars with a diameter of 22mm/0.86inches, the adorable bell will make a home in a great majority of little girls' bikes.
That said, we also found that the installation for this bike bell couldn't be easier! Just mount it on the right grip, tighten the screw over the handlebar, and in no time, the child can push the lever forward for the first time!
And when it comes to its most important role, the bell delivers an amplified sound that will keep the child detectable by other road users.
So what's the bummer?
Although the flower is made of plastic, the body of the bell is metal. And while the feel of it is solid, our reservation about this bike bell is that its metal top tends to come off easily.
Away from collision, the material is pretty intact, so if you don't plan to use it for mountain biking, then this bike bell will work well for you.
Adorable flowery design for little girls
Crisp, clear sound
Designed for right-hand operation
Incredibly easy to mount
The metal top won't hold up to mountain biking
13
Childhood Kids' Bike Horn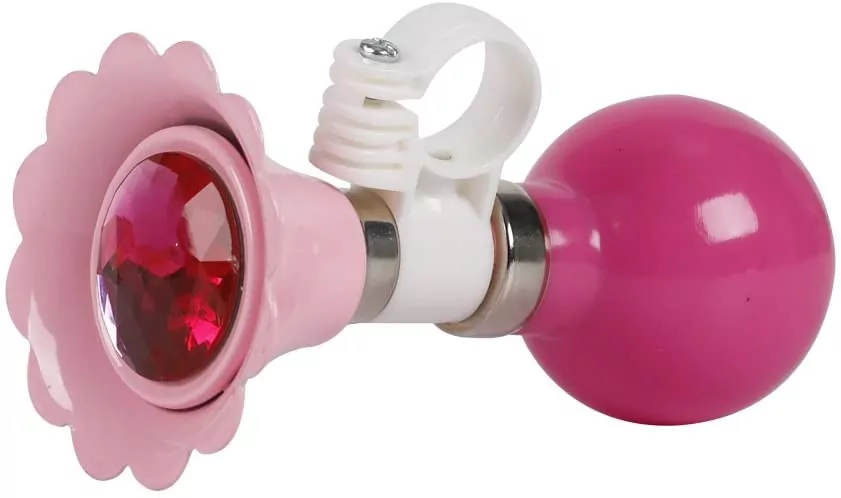 The childhood kid's bike horn is an excellent treat for little girls as it is designed with them in mind. It comes in an exciting bright pink color with a sparkling gem at the front to top it off.
But don't let the girly look fool you as its mouth is made of high-quality metal and strong plastic, while the rear is made of high-quality rubber.
By just squeezing the rubber horn, it produces a funny yet loud enough sound that accurately alerts pedestrians of the oncoming bicycle as intended.
Like the other bells in our review, this bell is quite simple to install and only uses a screwdriver to fasten it to the handlebar.
The only 'flaw' (it's a small one) is that its pink design makes it a perfect match for small girls, but it is not suitable for unisex use. This limits its use to one color preference.
Nonetheless, because the childhood kid's bike horn is one of the easiest to use bike bells, we highly recommend it for little girls.
Bright pink sparkling design
Uncomplicated installation
Funny, loud honk
Loud sound alert
14
Hello Kitty 3D Bike Bell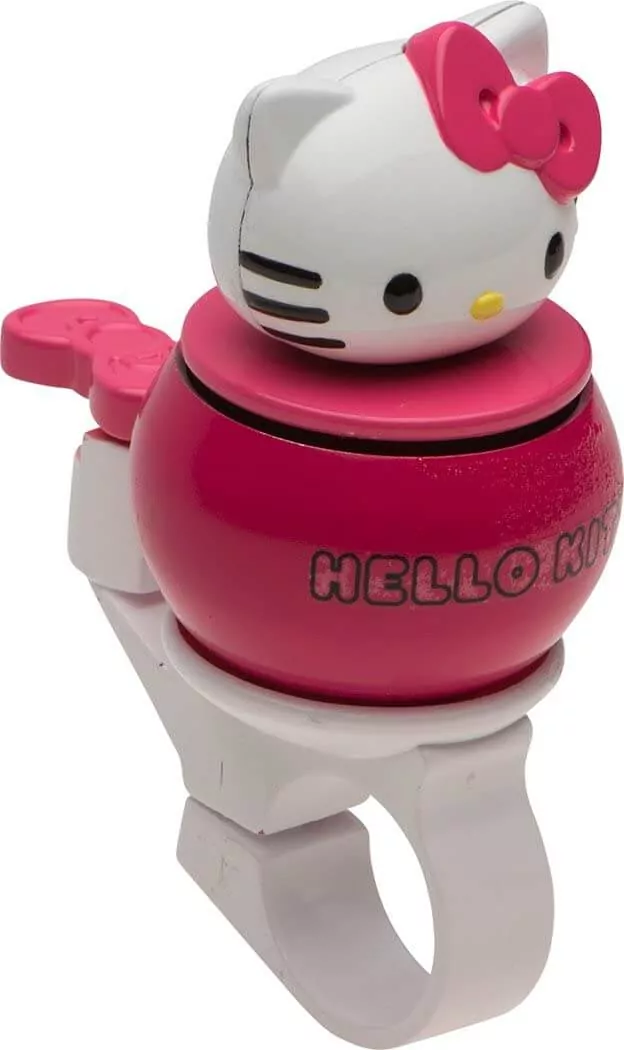 Last but definitely not least on our list is the hello kitty 3D bell.
Needless to say, it is among the most loved bells by kids as it features the hello kitty character in 3D design. Furthermore, it comes with a matching protective helmet to complete the security-loaded look for the young rider.
The Hello kitty bell is easy to operate as the lever easily rings when flicked. Furthermore, the ring produced is both loud and clear enough to deter any likely accidents from occurring.
The only downside to this product would be that it is a bit fragile. We find that it won't fall apart when the bike is intact, but we can't promise the same if the bike falls.
That notwithstanding, we still find this bike bell a cute little accessory that will brighten up the day of small cyclists.
The stylish, hello kitty design theme
Comes with a protective helmet
Clear and loud ring
Lies on the fragile side hence prone to damage
Kids' bicycle bells buyer's guide (How to choose)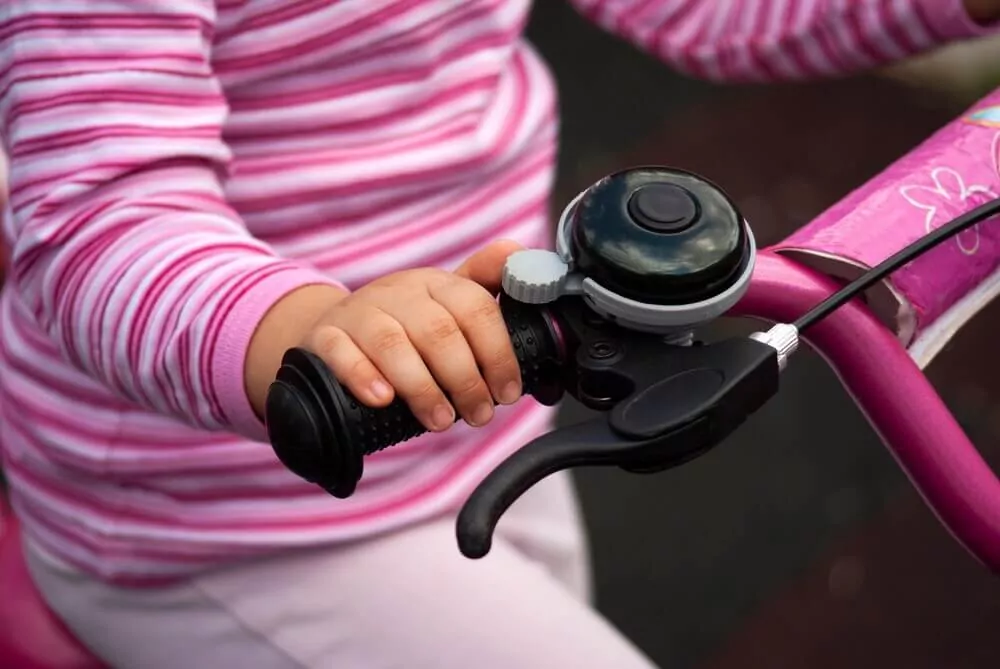 You never really know how vast the options in the market are until you are tasked with looking for a particular product. That goes for bike bells too, which is why we have written this guide on how to choose the best kids' bike bell.
Other than how pretty or appealing the bike bell's aesthetics are to the young rider, there are several essential features to consider when choosing the best bike bell for your child.
In our candid experience, these are the key factors that you should look into:
Sound level (Loudness)
Consider the following: How loud is the bell? How far does the sound travel? Is it barely audible? Because that'll be of no use.
The fundamental goal of a bike bell is to catch the attention of other road users.
You will find that many cheaper options have a weak sound while the more affordable and higher-end on have a more solid sound. As such, you should determine the accuracy of a bike bell's volume by considering how loud it would be on a busy road.
Size
The size of the bell should correspond to the bike's size. You do not want something that will occupy too much space on the handlebars. On the contrary, the right-sized bell will fit in well with other handlebar accessories such as brakes or a handlebar cup holder.
The size also affects how easy it will be for the child to control the bell. The larger it is, the harder it will be for a small-bodied child to operate it.
All in all, be sure that it isn't too large or bulky for the child.
Fit
Ideally, with the use of a screwdriver to tighten the mounting clamp onto a bike's handlebars, the bike bell should be able to fit.
And in our experience, bike bells usually deliver an excellent fit for most bikes.
However, if the fit is not to precision, attaching a thin strip of rubber between the handlebar and the mounting clamp can be used to help cinch the fit.
Ease of engagement
Kids who can hop on a bike are usually already great at grabbing equipment. For example, they can easily hold their drinking bottles and have a firm hold on other materials.
Bike horns should be easy to compress, while bike bells should be easy to press.
It shouldn't be a hassle to get the bell to ring as it will be very much needed during emergency situations. As such, the engagement should be automatic and quickly responsive to the hold of a child's hands.
Left- or right-hand orientation
Bike bells can be designed to be placed on either the right or the left grip.
A child with a right-handed bell uses the right thumb to press the lever, which activates it. Likewise, the left-hand bell is designed with the lever nearer to the left-hand thumb.
Most bike bells usually feature right-hand or left-hand orientation, but you will find others such as the Incredibell Jellibell, providing the child with an option to choose which side they prefer.
Typically, pressing from either side is usually the same regardless of whether the child is right or left-handed. This is because the force of energy required to exert pressure onto the bell and result in a ding isn't usually much.
However, the direction that the bell faces can be impacted by the number of tools on that side of the bike's handlebars.
Coordinating both the brake system and bell from the same side can be more of a hassle as compared to parting the two systems so that the child automatically knows that the right side, for instance, is for braking while the left side is for ringing the bell.
Additionally, because grip shifts of bikes with gears are typically installed on the right, it becomes easier to coordinate the gears from the experience of having the bell to the left side and reserving the right for other essentials.
Materials
The material that a bike bell is made of has an adverse effect on a number of factors.
Typically, bike bells ought to be made of sturdy and durable material.
Metallic bells produce better sound, which is the most common materials used in the making of bike bells are aluminum, steel, brass, and alloy.
To start with, aluminum is a common material used in making bike bells simply because the material is extremely lightweight, easy to obtain, and affordable too! However, it is not the best material for heavy use as it is more durable than other metals.
Brass is used to making the strongest bike bells. These bells can withstand the roughest of treatment, so they are ideal for children who are notorious for throwing their bikes carelessly as they hop off.
Other than being extremely sturdy, brass is also cheap. However, all this comes at the cost of extra weight.
Likewise, steel bells can be expected to outlast years of use and abuse, so they are suitable for heavy use.
Alloys have the advantage of hitting the sweet spot of weight and strength as they combine the lightweight of alloys with the durability of other metals.
Usage
The type of riding can also play a role in the type of bike bell you end up with. Daily commuters, for instance, just need a bell that is loud enough to attract the attention of other road users.
However, while mountain bikers consider the sound level of the bell, they need to place extra emphasis on the durability of the bell. The bell's materials need to be tough enough to withstand bumps and shock without disintegrating easily.
Durability
Choose a bike bell that is made to last, take a beating from the kids, and endure the extreme weather elements. As kids view these bike bells as toys rather than bike accessories, select something they would likely want on their bike for a long.
Ease of Installation
A good bike bell should be easy to install on any kid's bike. In fact, the kids should be able to install them without any guidance if they are at the age when they know their way around stuff. In most cases, bike bells are installed by tightening a screw to attach the bell to the bike's handlebar. There are bike bells that come with a mini-screwdriver in case you do not have one around you.
Style
When selecting a bike bell for your child, it is best to engage them throughout the process. It is somewhat painful to buy a bell that they will not love. Kids have different tastes and preferences. Some bells come with famous cartoon characters, while others have unique shapes, which appeal to different kids. Furthermore, manufacturers are always ahead of the game by offering bells with unique color combinations to help you choose your kid's favorite color when purchasing a bike bell for them.
Type of Bell
When buying a bell for a kid's bike, you need to understand that tab-style and gear-style bells are two common types.
The tab-style bell produces more ding dong sound while the gear-type bells produce the rrring sound. Besides, a gear-style bike bell is better in warning pedestrians in just a single pull as it produces a prolonged ring. So, if your kid often rides in places with pedestrians or commutes a lot to school on their bike, get this ringer.
However, any bell type can work for young riders who predominantly ride in parks, neighborhoods, and at home. The tab-style bike bells are, however, durable and easy to repair.
Bike Horn Vs. Bike Bell
From our observation, young riders love bike horns. Kids between 2 and 4 years habitually love the multiple sounds which bike horns produce. Unlike the bells restricted to one sound, the bike horns have multiple sound effects and settings.
Bike horns are a little louder compared to bells. However, bells deliver their work as they alert the road and trail users that someone is coming. However, a horn might attract the attention of drivers and pedestrians effectively.
Regardless, both bells and horns are a fun factor. Therefore, you must consider which of either will appeal to your kid.
Bottom line
Bike bells aren't just a necessity for the smallest riders. The reality is that even adult cyclists are safer with a bike bell to alert pedestrians of their presence and possibly prevent accidents.
Related Reading: Steps for choosing a cycling glove for a kid.
As a parent, you're safer choosing a bike with a bell or purchasing one separately for your child. If your child rides on the streets, at the park, or around the neighborhood, consider fitting their bike with the best kids' bike bells for their safety. If you plan a family cycling or bike camping, consider it an essential item.
We've established that it's worth the extra coins because this small accessory may not only encourage your child to get on their bike, but it may also be the deciding factor between a safe bike ride and a dreaded accident. After all, bells for kids' bikes are cheaper as finding a good one will not break the bank.
Even so, there are several factors to consider when exploring the market for bike bells.
As a guardian, you must contemplate," Is the bell easy to ring? How loud is it? How is it installed? Will it fit on the handlebar? How durable is it? ...and so forth."
This is why we hope our guide will be beneficial in your quest to find the perfect bike bell for your child's bike. We've covered things to consider when choosing a bike bell for your kid, in depth and width.
So, what are you waiting for? Get your child one of these!
Please Rate This Article
SEND