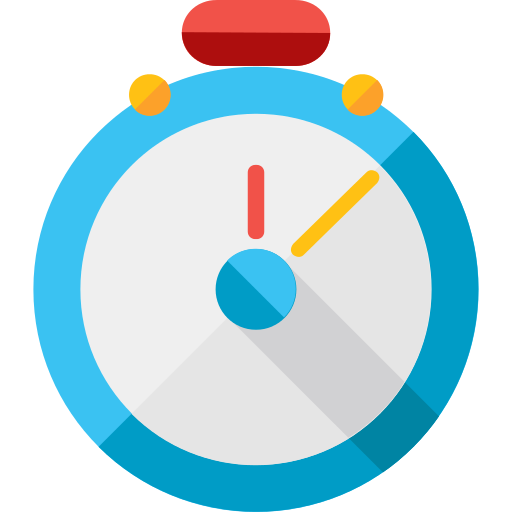 12 Minutes Read
Best Cycling Hydration Packs for Kids
Don't you just hate it when you have to lug extra water bottles for your fellow riders *read children* during your excursion?
What about when taking a muddy terrain, and the mud spouts get on the water bottle that you have to drink from? Eew!
It becomes even more frustrating when you have to make several stops mid-cycling to hand over the water bottle. And your kids are confused about why you're annoyed, yet they are just thirsty after working up a sweat.
Now you're frustrated. They're frustrated. No one is having fun!
Well, the problem is that proper hydration is a very important component of cycling. And kids are not exempted. If anything, the results are magical for them.
With the best Kid's hydration packs, their stamina improves significantly, and they end up stopping less and riding longer.
With that said, what good would we be if we didn't find the best hydration packs for kids in the market? Exactly; no good.
Here are the top kids' hydration packs for cycling in the market today.
Comparison table for the top 5 hydration packs
| Hydration Pack | Capacity | Weight (pounds) | Insulated tube | What makes it stand out |
| --- | --- | --- | --- | --- |
| CamelBak Scout 2016 Kid's hydration pack | 1.5 liters | 1.05 | NO | Crux reservoir delivers 20% more water per sip, anti-microbial bladder, lightweight, kid-sized. |
| Osprey's Moki | 1.5 liters | 0.44 | No | Removable BPA-free bladder with a magnetic valve. |
| CamelBak Mini M.U.L.E | 1.5 liters | 0.45 | NO | Kid-optimized size and features, Crux reservoir, delivers 20% more water per sip, anti-microbial bladder, lightweight. |
| CamelBak Skeeter | 1.5 liters | 0.22 | NO | Crux reservoir delivers 20% more water per sip, anti-microbial bladder |
| Water Buffalo | 2 liters | 0.38 | Yes | Compact design, insulated bladder with built-in caps on shoulder straps. |
1
CamelBak Scout 2016 Kid's hydration pack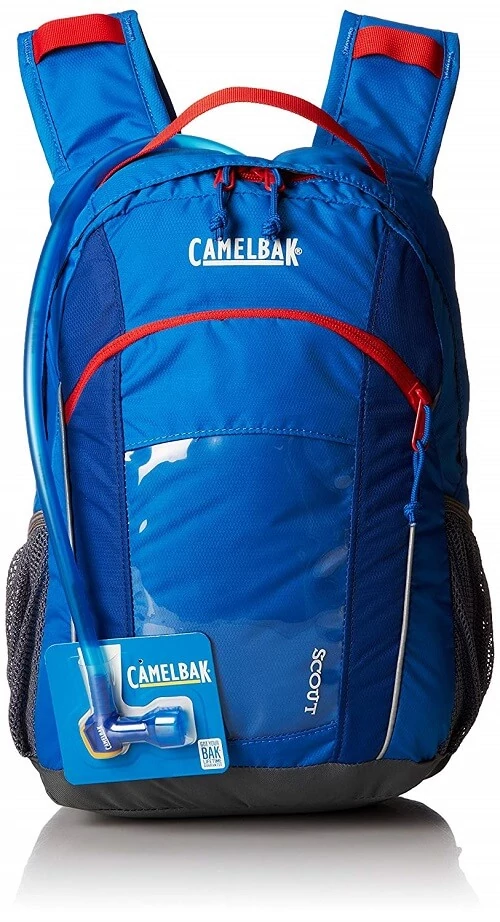 If your child is a lazy drinker and you want to keep them hydrated on the go, then this is just what you get for them. The CamelBak Scout bladder delivers 20% more water per sip as compared to the average hydration pack!
If you target and care to keep the kids hydrated between stops, this true workhorse is exactly what you should look for.
Measuring 15 by 10.6 by 2.6 inches and weighing 16.8 ounces (1.05 pounds), it is just the perfect size for kids between 6 and 12 years who may have outgrown the slightly smaller CamelBak Mini M.U.LE and can't quite fit the adult-sized packs.
The 11-liter cargo capacity is enough storage space for most of their gear, although it might prove detrimental if filled up entirely.
Back to the Scout's highlights, not only does it come in vibrant colors, but it is also packed with useful features such as a breathable mesh back panel to combat perspiration, sternum strap to keep the load in place, reflective strips to accentuate conspicuity in low light settings and a safety whistle.
As for the reservoir itself, its cap closes easily and tightly enough to prevent sloshing, in addition to being wide enough for easy cleaning, filling, and refilling.
As it goes, the tough polyurethane-coated Ripstop nylon material used to make this pack allows it to serve your kids for years despite the beating it might be subjected to.
What we loved most about it
The technology of CamelBak packs delivers 20% more water per sip, so kids definitely remain rejuvenated. Plus, the bite valve's on/off mechanism ensures no leakages after flicking it off.
Lastly, the drinking tube having an anti-microbial hydro guard coating inhibits the growth of bacteria within.
Lightweight for kids.
Sufficient storage space in inner and outer storage compartments.
Breathable mesh back panel.
Adjustable straps.
It can double as a backpack due to the removable bladder.
The tube is non-insulated, although you can fit cubes to keep liquid cool.
The reservoir might be difficult to remove.
Verdict
The CamelBak Kid's Scout Hydration pack is in its own league, given its salient features. First off, it is lightweight, and your kids won't feel the additional weight when pedaling. It is also perfect for kids between 5-12 years, given its short torso. Still, the kids can bring all they want to the family cycling trip, including extra gloves, rain jackets, or snacks. The bladder is also easy to operate and removable, giving this hydration pack the best bang for your money. For what it is worth, this is among the best biking hydration pack for kids. Our ratings ticked all the boxes, making it the best hydration overall for young kids from toddlers to 12 years.
2
Osprey Packs Kid's Moki 1.5 Hydration Pack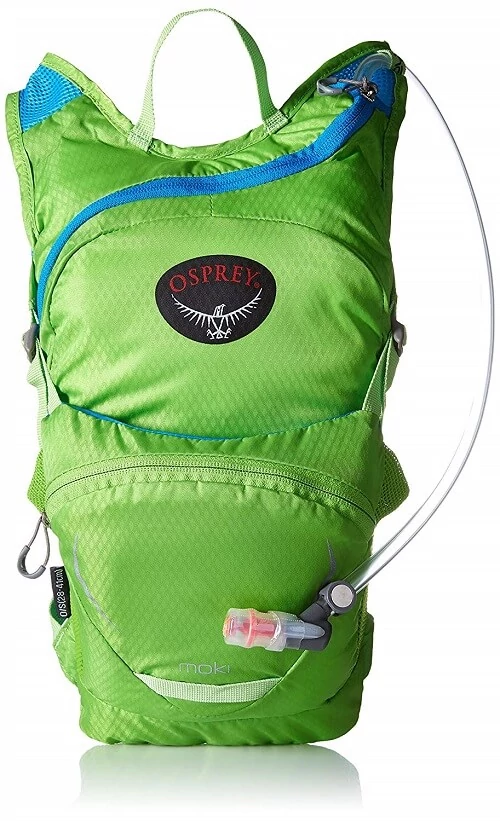 There's a reason why Osprey's has survived in the hydration pack industry since its launch in 1974.
The quality of their products to the durability and their ability to meet customer needs with preciseness speaks of the brand's accomplishments.
The Osprey's kid's Moki is a true exhibition of quality, innovation, value for money, and a commendable way to equip kids with the same features that an adult pack has but in a more tailored version for them.
It measures 13 by 8 by 3 inches and weighs a mere 0.44 pounds meaning that one less thing for your kid to worry about is their speed as the light load will boost it.
The pack has a small external pocket to add to the front shove-it pocket through which you can easily access the main compartment for essentials. Plus, it hangs exceptionally well on the back so that that discomfort won't be a problem.
Near the base of the front panel is an attachment area where you can clip a blinker light for extra visibility at night.
Ultimately, if your kid likes to travel lightly for short trips, this removable and altogether replaceable BPA-free bladder is just what they need to provide proper on-the-go hydration.
What we loved most about it
The make of the Osprey's reservoir is one of the main things that separates it from the competition.
Its drinking tube, attached to the chest strap, has a magnetic attachment that works by self-closing the mouthpiece after a sip. This means that the child doesn't have to close the hose after drinking from it, a factor that also saves them entirely from the entry of dust and other particles.
Not to mention that the attachment of the mouthpiece to the hose is convenient as there is no chance of the kid choking on it.
This pack also takes the cake for being one of the toughest backpacks. Put it to the test, and the tough nylon material, which is not only durable but also entirely lightweight, will surprise you!
External zippered pockets offer improved access.
Front shove-it compartment ideal for a quick layer change.
Compact and highly breathable.
Designed with panel load access to load and unload gear easily.
It has a blinker light attachment point to enhance nighttime visibility.
Compact, lightweight design.
The drinking tube is non-insulated.
Reservoir not located in a separate compartment hence prone to damage from other goods in the pack.
Minimized storage space is not ideal for older kids.
Verdict
Compared to the Camelbak, the Osprey Moki is well-suited for smaller kids. The chest strap easily and comfortably cinches down. Besides, its magnetic bite valve makes it rad. It also comes with an attached safety whistle, which is great when cycling with kids who like dragging their feet on the pedals. We highly recommend the Osprey Pack Kids Moki hydration pack for young small kids who have the courage to cycle.
3
Camelbak Mini M.U.L.E Kids Hydration Backpack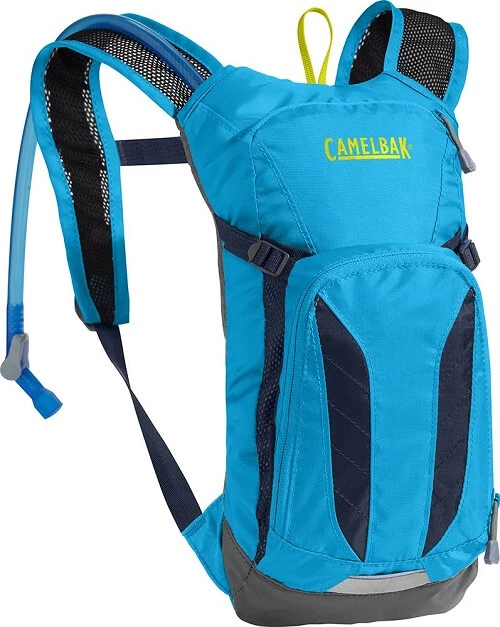 The Camelbak Kids Mini M.U.L.E is a hit among younger kids!
Not for anything, though; if this pack is anything to go by then, Camelbak has really created a good name for itself in the industry.
Measuring 14 by 7.5 by 7.7 inches, the mini M.U.L.E perfectly fits the torso of younger kids.
What's more, with an almost negligible weight of 7.2 ounces (0.45 pounds) and a cargo capacity of 1.5 l / 90 cubic inches, even when full, the weight of the pack won't weigh the kiddo down. More so because of the pack's low-profile design and the straps hold securely to stabilize the load.
Away from that, this pack is further ideal for the youngest riders is because, in comparison to CamelBak Scout, it is not only smaller in size but also has fewer storage compartments. The compartment is, however, sufficient enough to fit all kid's essentials.
What we loved most about it
The most appealing feature of the Mini M.UL.E, as with other Camelbak products, is its hose. The mechanism of the reservoir's hose, as aforementioned, delivers more water per sip, so there is no risk of the child suffering dehydration at the mercy of the heat of the summer.
Additionally, the bladder has an ergonomic handle, and its mouthpiece is detachable, meaning that you will have the easiest time washing and filling the reservoir.
Lastly, this multi-sport pack comes in 5 different and equally attractive colors for your kid to choose from.
Trust us; this could well be the best purchase for your kid.
Grown-up features in an ideal size for young riders.
Very lightweight at 7.4 ounces.
Compact and highly breathable.
The drinking tube features an anti-microbial hydro guard that is BPA and BPF free.
1.5liter Crux reservoir holds sufficient water without inconveniencing the young carrier.
Little to no water sloshing.
The bike tool organizer pocket allows storage of bike essentials.
Reflective strips and sternum strap whistle for safety and visibility.
Backed by Camelbak lifetime guarantee.
The bladder can be a bit difficult to unhook for cleaning and refilling.
The lack of an attachment area for the mouthpiece leaves it dangling when in motion.
The tube is non-insulated, although you can fit ice cubes.
Verdict
Even though the Camelbak Mini Mule won our hearts over during the tests, subsequent encounters had us lower it in the hierarchy in terms of rating. First, we must acknowledge that it is highly durable (some parents stated that they had used it for many years and it maintained its life). It is easier to operate as well as the water comes quickly without straining. Kids can easily drink from the Camelbak Mini Mule on the go when on their bikes. And, it also doubles as an exceptional kid's hydration pack for hiking. However, the chest strap is rather long to fit petite kids who easily find Osprey Moki appealing. Also, if you live in hotter climates, you need the Osprey Moki since it has better ventilation.
4
CamelBak Kid's Skeeter Hydration Pack, 50 oz.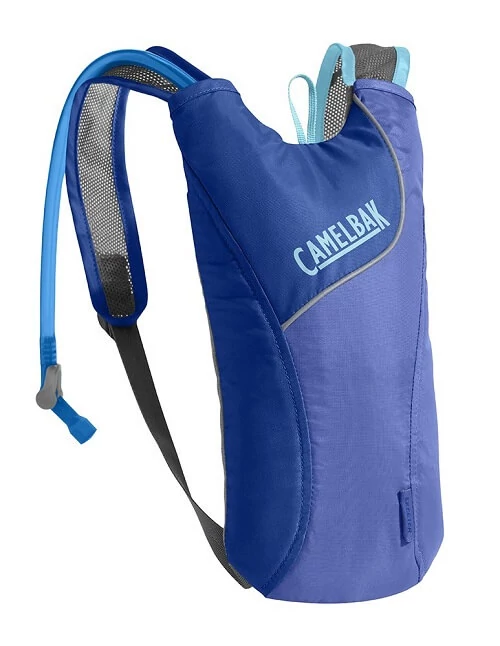 Listen, if your kid needs water to quench their thirst, then this is what you get for them.
The CamelBak Skeeter is the perfect minimalist pack with just enough room for the bare essentials. Thus ideal for beginner riders or shorter trips.
The pack measures 13 by 7 by 1 inch and weighs 3.52 ounces, and is perfect for small kids who don't have much to take with them.
As usual, CamelBak products have been upgraded with a bladder cap that is extremely easy to loosen or tighten after a refill. Needless to say, this makes for easy cleaning as well.
If you ride in the dark, spotting your kid won't be a problem as their bag is endowed with reflective accents.
What we loved most about it
Low profile build settles the weight off the shoulders.
Its bite valve being bigger than most enables more water intake per sip.
Very practical for shorter trips where all you need is water or for smaller kids who don't have much to take with them.
Very lightweight weighing only 3.5 ounces.
Minimalist design is ideal for young riders.
1.5 liter Crux reservoir delivers 20% more water per sip.
Ventilated back panel enhances comfort on the go.
Reflective strips enhance visibility.
An ergonomic handle allows easy refilling.
On/off lever prevent leakages.
Fabric mesh nylon material enhances the durability of the pack.
Low profile design.
Backed by a lifetime guarantee.
Lacks storage compartments for extra gear.
The reservoir is non-insulated, although it accommodates ice cubes.
Verdict
This kid's cycling hydration pack easily earned a spot on our top five best hydration packs for kids. It is lightweight, which is a plus for kids who do not like being troubled when cycling. It is also well ventilated, comes with a lifetime warranty, and has reflective strips, making it a great kids' hydration pack. It is indeed a great investment for a family that cycles or hikes with kids.
5
Water buffalo Hydration Backpack Roadrunner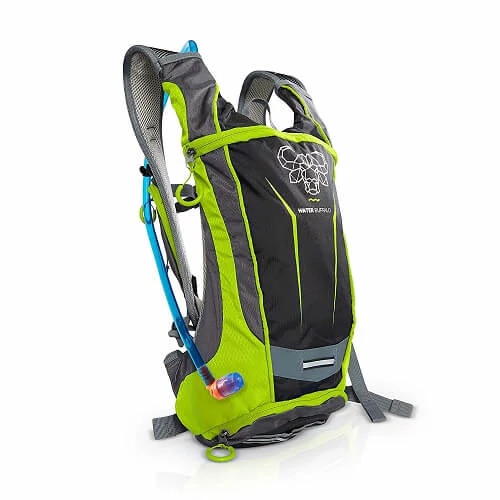 Lightweight, compact, and with sufficient storage space for a day in the trails? Add that to a pack that conveniently ensures hydration? Uuhhmm… where can we sign up?
The sleek profile of the Water buffalo road runner hydration pack is what sells it. The pack contours to the rider's back in such a way that they don't even feel like they have it on.
This is thanks to the ultra-light Splash-resistant ripstop nylon material used to make it and the chest straps that do a good job at distributing the weight of whatever load you put in the pack.
The pack's comfort is further enhanced by its well-padded and well-ventilated shoulder straps that ensure the rider remains dry and comfortable.
Like Ospreys, this pack has a quick access Velcro pocket where you can stash a kid's sunscreen or an energy bar. But that isn't all there is to it.
There truly is ample storage for biking essentials in the roomy main compartment, inner sleeve, and bungee.
The pack hosts a 2-liter hydration bladder whose tube is capped off with a locking on/off valve that is entirely immune to leakage.
What we loved most about it
No matter how high the temperatures go, the BPA-free and insulated reservoir keep your body safe from harm, all while ensuring that the water remains cool and refreshing for hours on end.
The built-in clips on the pack's shoulder straps ensure that the tube remains within reach. And all these features are available at a price that you won't even have to break the back for?
Leak-free and BPA-free bladder.
Compact design.
400D nylon honeycomb Ripstop is durable and splash-free.
2L water bladder capacity.
It comes in 4 colors- arctic blue, black, blue, red/white.
Well ventilated and padded shoulder straps.
Visible reflective strips plus safety whistle.
Adjustable bungee cord straps.
30-day guarantee & lifetime warranty.
Too compact for older kids or longer rides.
Verdict
Your kids aged 6 plus will love the Water Buffalo Road Runner because it is light on their backs. Its size is definitely made with the kids in mind. They can easily store their ware on the Velcro front pocket securely. Its cushioned shoulder straps and a backrest further add to the comfort features your kids will likely enjoy. With a 2L bladder capacity that comes with an insulated pack and dual tube clips, what more would you like in a top-of-the-range hydration pack fit for kids? It is also splash-proof and comes with reflector strips and an attached whistle, which can come in handy when riding at wee hours. Since it offers similar features you will most likely find in other hydration packs that retail at a higher price; we consider it the best bang for your buck.
6
Osprey's Packs Hydrajet 1.5 Kid's hydration pack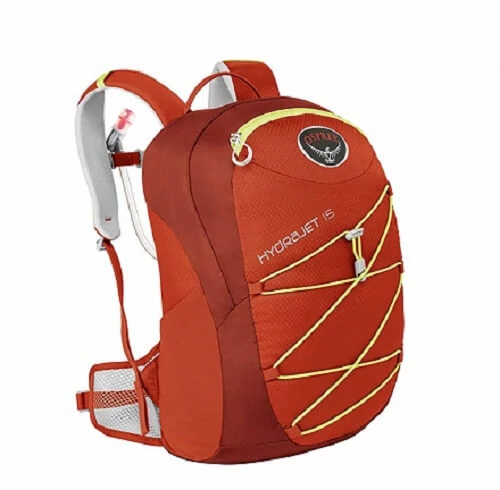 Measuring 15 by 10 by 7 inches and weighing 12 ounces, the Osprey's hydrajet is one of the biggest packs we have enlisted! Needless to say, this pack is more suited for older kids.
The pack perfectly delivers on-the-go hydration thanks to the new reservoir design, makes for easy emptying, filling, and refilling, plus its magnetic bite valve ensures the tube isn't left dangling mid-ride.
The hydrajet boasts of one of the best storage capacities. Its main compartment is large enough to accommodate an extra layer and is backed by dual external mesh side pockets where water bottles or snacks can also be stashed. It also has a mesh pocket inside where small and delicate items such as sunglasses or phones can be secured.
The main compartment; accessible through the front panel, making for easy loading or offloading from the pack.
It is just the ideal pack for long rides or hikes as in addition to great compartmental storage, the hip belt and sternum strap help distribute load even when in full motion.
The mesh back panel allows air circulation on a hot summer day of hiking or biking.
What we loved most about it
It has the advantage of having more storage space than Osprey's Moki. Thus, it can accommodate more layers.
The large pack size and adjustable straps ensure that a wide variety of riders can fit it.
Bungee provides easy access to things you might need on the trail while in a hurry.
Hydraulics lt 50 ounces reservoir.
External reservoir sleeve.
Front panel access to the main compartment.
Front panel bungee.
Accommodates a wider age range.
Great room for storage in larger compartments.
Leakage-free bladder.
Magnetic water tube helps prevent dragging on the ground.
Integrated safety whistle.
The larger pack is not convenient for younger kids.
More expensive as compared to other packs.
7
Mubasel Gear Insulated Hydration Backpack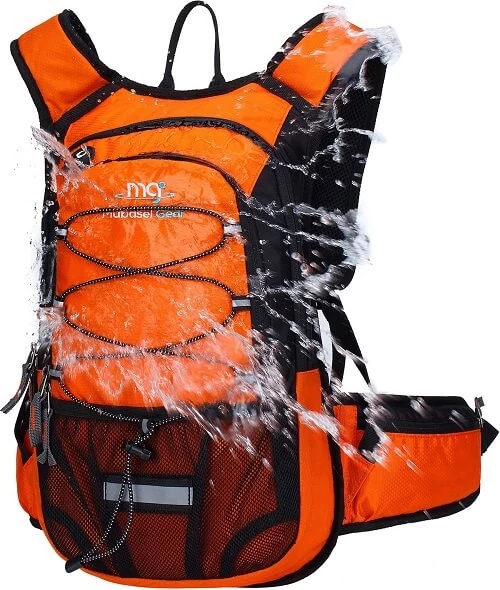 If a hydration pack works to quench thirst, then the only thing that would make it better is if the water delivered is cool.
Here's the thing that makes the Mubasel hydration backpack a worthy investment; it has an insulated hydration bladder!
This means that despite high temperatures, the water within always remains cool for long hours!
If that isn't enough, the pack's breathable mesh padding further ensures airflow when the rider works up a sweat.
The lightweight pack has great volume, inclusive of three storage compartments and front stretch mesh pockets.
In addition, adjustable shoulder, chest, and waist straps not only ensure a proper fit but also work to bear the load and prevent bouncing mid-movement
The pack further boasts durability and water resistance thanks to the material used to make it.
What we loved most about it
The bonus tube brush cleaner is a welcome addition to the package that many manufacturers usually overlook. So we were glad to spot one with this pack!
Thermal insulation is one of our favorite parts about this pack as it keeps liquids cool for up to 4 hours. However, the extendable bite valve it has is also a winner in our books as it enables easy reach. This means that the rider doesn't have to strain to drink and can concentrate on riding entirely!
What's more, the pack is available in 13 different and equally appealing colors for kids to children to choose from!
2L BPA-free bladder.
Large opening for easy filling, emptying, and cleaning of the reservoir.
Leak-free technic ensures dryness.
The fast flow valve delivers sufficient water per sip.
The pack is comfortable and reliable.
Ergonomic design mesh padding.
Chest straps with a safety whistle.
Not big enough for older kids.
8
OutdoorsmanLab Hydration Pack Bike Backpack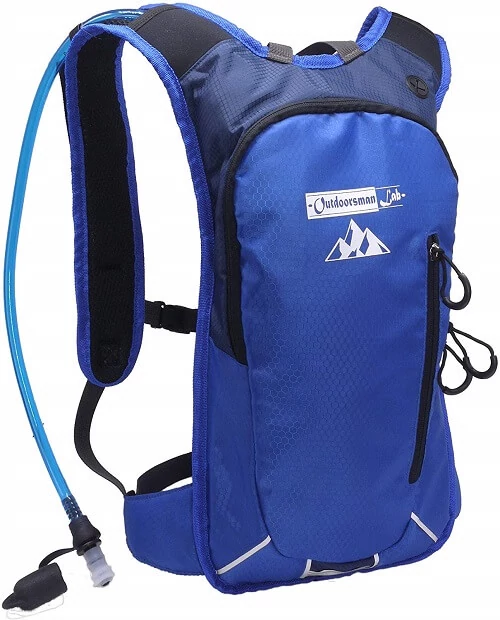 Like CamelBak products, the OutdoorsmanLab Hydration pack's bladder has a mouthpiece that delivers high water flow.
This enables faster quenching of thirst per sip, which is perfect for kids riding for long distances and is not too keen on constantly having water stops.
Plus, they can stay on the saddle longer without having to worry about the weight of the load weighing them down.
The pack is lightweight and perfectly sized for both kids and adults, with chest sizes ranging between 27 and 50 inches.
Thanks to adjustable shoulder chest and waist straps, the pack remains bound to the rider and does not impede their movement. And with the added paddings, superior comfort is guaranteed.
You won't have to worry about dehydration or the safety of your other gear, as the bladder is leak-free!
What we loved most about it
Not only are the storage compartments are exceptionally roomy, but they also keep the gear exactly in place.
It also has extra-thick padding on the back that works as a great shock absorber, while the breathable mesh ensures the young rider stays dry even on a hot day.
50 ounces/ 1.5 liters BPA-free bladder.
The bladder is leakproof.
Snug fit owing to chest and waist straps.
Shoulder strap reflectors enhance visibility.
The ripstop finish is ultra-lightweight and durable.
Non-insulated bladder, although its wide cap can fit ice cubes to keep the drink cooler
9
Osprey's Packs Women's Verve 9 Hydration Pack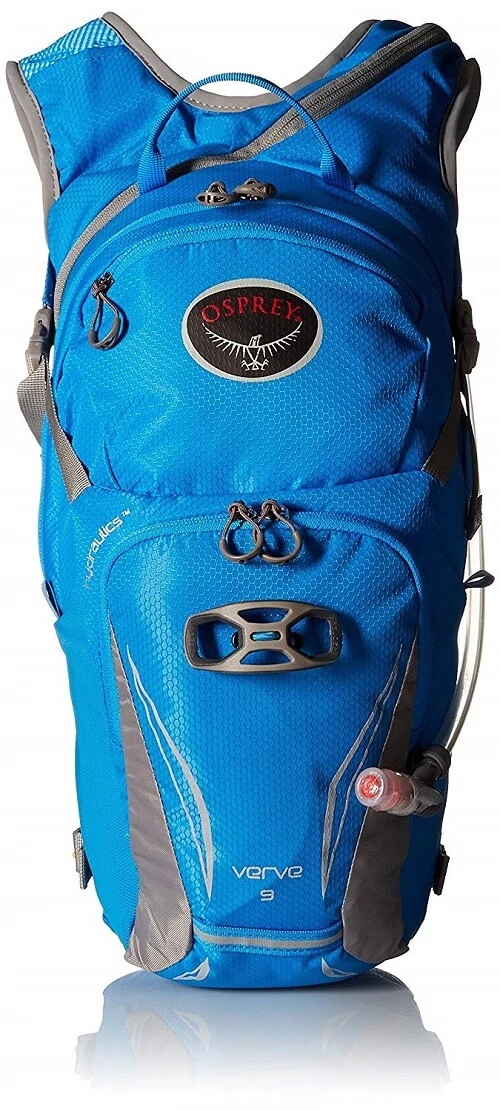 There's no need to break stride mid-ride as this pack has everything you could need from a hydration pack!
Right off the bat, the Osprey's Packs Verve 9 Hydration Pack's storage speaks for itself. The pack is packed with 3 interior pockets and 4 exterior ones.
The zippered front panel offers easy and quick access to essentials, while the dual side meshes harness pockets are perfect for small items.
Moreover, the pack's Hydraulics LT 2.5 Liter reservoir keeps dehydration at bay. At the same time, its magnetic bite valves ensure that once you're done sipping, your hands can remain on the handlebars without having to attach the tube back into place.
Weighing a mere 1 pound, this pack will surely be a must-have for any young outdoor adventure.
What we loved most about it
The pack is made to carry weight in an upright position, so if you are carrying extra weight, upper compression straps lend extra load stability.
The Lidlock Helmet attachment is an additional factor that speaks of how far the manufacturers went to meet the needs of bikers.
Scratch-free slash pocket for storage of delicate items such as a phone or sunglasses.
Hydraulics LT 2.5 liter reservoir.
Lightweight.
Magnetic bite valve retention.
Sufficient storage room for riding essentials.
Quick access to small items through side pockets.
The breathable back panel provides a contoured fit.
The bladder is non-insulated.
10
Camden Gear Zeyu Hydration Backpack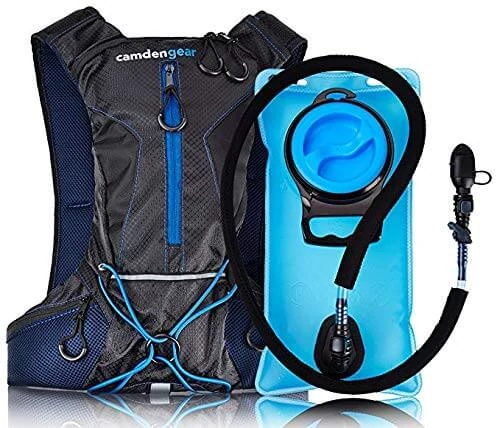 If the black/blue colors that this pack comes in don't denote the simplicity and elegance of this pack, then nothing else will.
This pack is a spot-on fit for riders with a chest size range of 17 to 50 inches. With the help of chest straps, the pack fits both teenagers and adults and stays in place as they ride.
Moreover, the pack is endowed with a 1.5 liter/50-ounce BPA-free bladder whose screw cap, like most, is wide enough to accommodate ice cubes. Thereby, the liquid within stays cooler for longer.
As for the make, the diamond RipStop nylon material serves to keep the pack dry and long-lasting.
What we loved most about it
Not only is the bladder functional at keeping the rider hydrated, but it is also removable and replaceable, meaning that the pack can double as a backpack!
Available in 1.5/2 l bladder sizes.
Easy opening, cleaning, filling, and refilling of the bladder due to its wide cap.
Adjustable shoulder/chest straps ensure a perfect fit.
Detachable and replaceable bladder.
Multifunctional for camping, hiking, biking, and fishing.
Its hydration bladder is non-insulated.
Cross Comparison chart of Reservoir Features
When choosing a hydration pack, you need to counter-check against a proper buying guide that outlines everything you need to look for in a pack, be it for an adult or a kid.
Since hydration packs are sought entirely for their ability to relieve the burden of carrying water bottles and having frequent water breaks, some of the most important variables that distinguish one hydration pack from the other are the reservoir's features.
As such, here are a few guidelines that you should look out for in that bladder:
Is it insulated or not? A bladder that keeps the drink cool would be better than a non-insulated one, as a cool drink is just what every rider needs after miles on the trail.
Is the bladder user-friendly? - This covers everything from how easy the bladder is to open, empty, fill and refill.
Is the bladder safe health-wise? BPA-free bladders are advised as they
Is the bladder detachable or not? - If the bladder is removable, that means that the bladder will be easier to clean, and the pack can double entirely as a backpack.
Is the bladder susceptible to leakages or not? If the bladder is prone to leakage, other gear stored in the pack is at risk. As such, you need to look for a bladder that screws tightly.
What type of valve and opening does it have? Does it have a magnetic or an on/off closing mechanism, and where does it attach? We prefer the former as it is more automatic and protects the mouthpiece from dirt and dust.
How secure is the bladder's tube? Packs with clip-ons that secure the tube in place are more advisable than those that hang freely because they eliminate the annoying dangling of the tube after drinking.
As you can see from our chart, the Mubasel takes the cake for having a BPA-free, insulated bladder that gas a fast flow for water delivery. So if those are the features you are looking for, this would be the best fit.
However, the Mubasel is dethroned by other packs in terms of comfort, fitness, durability, and availability of additional features such as a safety whistle and reflective strips for enhanced visibility.
Final Words
Hydration is a very vital part of any outdoor activity. We consider the kids' hydration packs as a game-changing invention. Hydration packs teach kids independence as they carry their water when heading out for a long bike ride. And, they can squeeze in some of their necessary essentials therein. Some, like the Camelbak hydra jet come with many pockets for such, while some, like the Moki, is specifically for smaller kids by way of their design. The Camelbak Skeeter also makes a good choice for younger kids owing to its small pack size that easily fits on the backs and shoulders of the tots. As such, hydration packs are the perfect and coolest way to equip kids with water on the trail.
Feel free to pick one from the assembled hydration packs for your kid.
You might also be interested in our guide for choosing gloves for kids who cycle. Also, check other kids' bike accessories you might want to purchase for your kid that rides.
Fill it up and ride confidently!
Please Rate This Article
SEND