There are a wide variety of bikes as there are child bike seats and child bike trailers. Both trailers and child bike seats allow you to haul the children with you when going for bike rides, both short and long distances.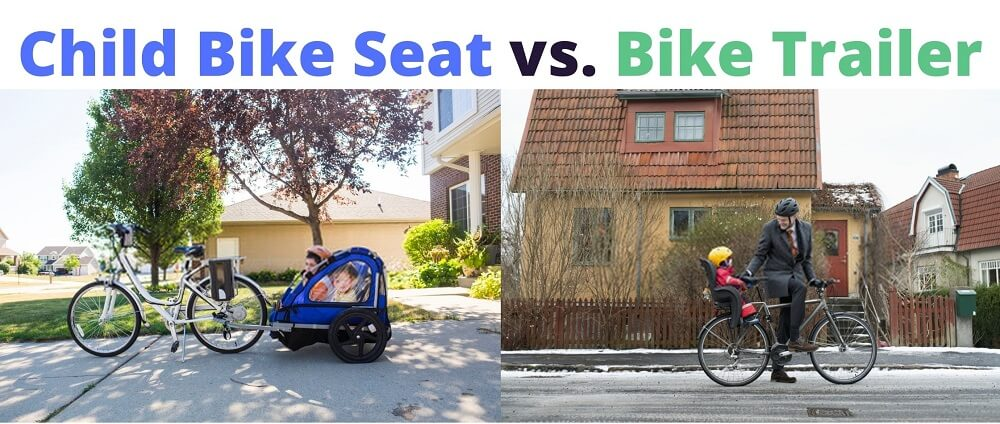 For sure, when it comes to balancing hobbies or passions with family time, both options give you value for your money. Having both means you can juggle between one and the other when you want to bring kids along.
Nevertheless, like any other comparative goods, choosing the right option depends on a variety of factors. Probably, the best place to begin is to understand the different types of each category.
What are Bike Trailers and why should Parents consider them?
Bike trailers are motorless and wheeled frames that have a hitch system that attaches them to a bike to allow the transportation of either cargo or people, in this context kids.
Trailers can either be single-wheel or double-wheel. In the cycling industry, especially the kid-specific versions, come in two wheels.
In the recent past, trailers are increasingly becoming a popular choice among cycling parents and families. They are considered as little sidecars that are attached to the rear end of the adult bike through a hitching system that allows hauling of kids without the worry of exposure to the elements and falling.
Bike trailers come in different sizes, shapes, and weight capacities. At the same time, there are also different bike trailer brands, which is also a distinguishing factor.
Pros and Cons of Bike Trailers
Trailers have different advantages and disadvantages. If you find these advantages of bike trailers as standing out, you definitely incline towards choosing a trailer as opposed to the child bike seat.
Lower to the Ground
Trailers come in two bicycle-type wheels and a hitching arm that allows them to attach behind an adult bike. Mainly, the trailers ride lower than the bike, which makes them potentially safe in case of an accident. The lower configuration further reduces the chances of the trailers toppling when the bike and the trailer are moving.
chances of the trailers toppling when the bike and the trailer are moving.
Protects the child from the elements
Bike trailers come with covers that protect the children from the elements. Bike trailers such as the Thule Chariot Cross, Burley D'Lite, Hamax Outback, or the Allen Sports S2 bike trailers come with windows on the sides that allow the kids to enjoy the scenic views. At the same time, these windows protect the kids from the elements such as dust, pollen, wind, UV rays, and rain, which further boost the safety of the kids riding in a trailer.
Comfort and Safety
Trailers incorporate different aspects of safety and comfort. However, the extent of the comfort features increases from the budget bike trailers to the high-end bike trailers. The latter has a variety of comfort features including reclining seats, and suspensions. Apart from windows, trailers also come with rain covers such as the one on the weatherproofing rain covers on the Burley Encore X and the Burley D'Lite versions. Some trailers, especially the high-end trailers like Cub, Thule Cross, and the Burley Encore also have a standard canopy/sunshade.
With the kids enclosed, strapped, and seated in a zippered compartment, bicycle trailers are a safer option compared to child bike seats. Trailers are also hitched to the adult bike, which reduces the chances of the trailer toppling when the adult bike falls. Furthermore, trailers have a much cabin room that allows the kids to wear helmets for safety.
Easy to Maneuver
Trailers attach to the back of an adult bike making it easier to pedal compared to some of the front-mounted or the rear-mounted bike seats that can sometimes hinder the movement of the legs as the adult pedals.
More passengers
While a child bike seat only accommodates one child, a bicycle trailer can accommodate either one or two children, depending on the capacity.
Cons of Bike Trailers
Even though the bike trailers have advantages, they also have a downside.
The Low Configuration Disadvantage
The low configuration and the weight make it difficult to ride in rocky terrains or trails with rugged surfaces. As well, the low configuration also limits the negotiation of sharp corners or challenging surfaces by the parents. They are also cumbersome to back up and park.
Limited Braking
Given its weight, braking a bike trailer can be cumbersome, especially when the conditions are slippery. Most parents riding with trailers in the wet trails have complained about having trouble braking with the trailer attached.
The child being too far
If you are an avid mountain biker, you appreciate the value of being closer to a kid and actually having a conversation and sharing jokes on the trail. Well, that pleasure is sacrificed when you choose a bike trailer over an MTB bike seat or a child bike seat. In plain terms, a bike trailer increases the distance of the child from the parents, which can increase the loneliness of all parties. As such, it limits the full pleasure of outdoor cycling.
Closer to Traffic
Given their wide width, when using trailers on roads near traffic, the trailers and the kids by extension are more close to traffic. Coupled with the low positioning, which places them at the blind spots of most drivers, it is safe to say that trailers are not versatile. They are only practical in areas where there is no traffic.
Even though bicycle trailers have been portrayed by angry parents as something dangerous to purchase, they are not a death trap many people purport them to be. Bike trailers are the safest way to carry a baby or toddler when the safety procedures including wearing a helmet, strapping, and observing weight limits are followed to the letter. That way, you get to have an absolutely amazing ride with your kid(s).
What are Child Bike Seats and should Parents Invest in them?
Child bike seats are a special type of saddle mounted on either the front or rear of the adult bike, specifically meant for hauling kids between the age pf 1-5 years.
Like bike trailers, the child bike seats allow parents to tag their kids along when riding. These child carriers are preferred by parents who do bike camping or bike touring, especially in areas with low or no traffic such as parks with designated trails.
There are different types of child bike seats. They can be categorized into:
Front-mounted child bike seats
Rear-mounted child seats (frame or rack options)
MTB/Mid-mounted child bike seats
Given the three categories of child bike seats, there are two ways to look at the advantages and disadvantages – from the perspective of the front-mounted and the rear-mounted bike seat arrangements.
Pros of Child Bike Seats
Whether front-, mid-, or rear-mounted, child bike seats come with different types of advantages.
Pros of Front-Mounted Child Bike Seats
Front-mounted child bike seats allow you to keep an eye on your kid as you both enjoy the ride.
You can always speak with your child, share jokes, and have educative sessions as you cycle together
Your child will enjoy the scenic views without being hindered by you being an obstacle. You can bond with your baby as you ride.
You are always able to anticipate the shifts in weight along the way, which means greater response time to avoid mishaps
With the kid in front, you get to be more careful with branches of trees and can both anticipate a bump
Pros of Rear-Mounted Child Bike Seats
Being on the rear of the bike, rear-mounted bike seats are comfortable as they come with reclining capability, helmet recess, side supports, and head support, among other nifty features.
Rear-mounted child bike seats are also supportive of children who are longer, especially those that can grow with the child, like the Hamax Caress
With the child bike seat on the rear, it is easier for the parent to steer the bike better, which is an excellent feature for novice cyclists
Rear child bike seats also improve the concentration of the parent on the road rather than on the child, which can lead to accidents in the case of front-mounted child bike seats.
Since you are ahead of the kid, you protect them from dust and the winds
They come with a suspension system that absorbs the shock from the rides, protecting the spines of the kids and making rides smooth and comfortable.
Pros of MTB or Mid-Mounted Bike Seats
The MTB or mid-mount bike seats are attached between the handlebars and the seat post of the adult bike. They are appropriate for kids aged 2-5 years.
It is fit for older kids
It is a safe option for aggressive riding
Since the child is cradled between the arms, they are safer, especially on bumpy rides
It takes less space on the front cockpit, which further reinforces balance.
Cons of Child Bike Seats
There are as well different disadvantages of child bike seats that you should be aware of as you debate between them and child bike trailers.
Cons of Front-Mounted Bike Seats
The bike seat attached on the front raises the center of gravity, which increases the chances of a bike toppling over. It further makes pedaling, handling, and dismounting challenging
Sometimes, if the child is stubborn, they can voluntarily or involuntarily meddle with your steering, which is not quite a good experience.
With the child bike seat attached on the front, it means less knee-to-pedal legroom, which affects your experience as a parent.
Cons of Rear-Mounted Bike Seats
You cannot keep an eye on your co-passenger
Limited conversations, especially if the child is pre-occupied with the scenic views
It can affect the balance of the bike, which can make dismounting the bike difficult.
Cons of Mid-Mounted or MTB Bike Seats
They do not always come with a harness, so the kid must hold onto the docking system or handle provided, which can sometimes affect pedaling or comfort of the adult cyclist.
Overall, child bike seats do not protect the kids from the elements. They are also raised, which means that the impact would be much compared to the lowly configured trailers, in case of a fall.
The Big Debate: Child Bike Seats or Bike Trailers
Cost
When making purchase decisions, personal finances are a priority factor. It is central to planning a family bike camping or bike tour with the family. Ideally, you would want to make a choice that does not slough your finances in the name of family time – just something cost-effective enough to get the fun going.
Now, compared to bike trailers, which cost a little more, bike seats do not cost as much. If you are to purchase a trailer, you would need more cash compared to when purchasing a child bike seats. Note that there are variations of the prices of trailers and bike seats depending on the brand and whether the particular item is considered budget or high-end.
Weight
The front-mounted seats are meant for kids aged 1-3 years with a maximum weight limit of 35 lbs. while the rear-mounted bike seats are meant for kids from one year and above up to 45 lbs. depending on the brand.
On the other hand, single trailers and double trailers carry a slightly higher weight limit compared to the bike seats.
Versatility
Both child bike seats and bike trailers have their own advantages and disadvantages when it comes to using. While child bike seats allow you to move together with your kid anywhere you wish, even in slippery conditions, child bike trailers have proven unreliable in wet conditions – they are difficult to brake.
As well, trailers have a way of getting to the blind spots in traffic compared to the child bike seats that are at the same level as the adult cyclist.
Safety
Another distinct feature that can affect your choice is the safety of each option. Some of the safety features included in a trailer include five or three-point harness systems, shoulder and foot straps, reflector flags or reflector, low height configuration, and brakes, which makes kids safer while riding in trailers.
In a similar vein, the safety features common in child bike seats include reflectors, suspension systems, three-point and five-point childproof straps, foot restraints, and windscreens. It is again up to you to choose your right kind of poison as both have good safety features. Nevertheless, trailers are comparatively safer for kids.
Comfort
Comfort determines whether the kids will love to ride with you again or it will be a one-off thing. Suffice to say that both bike trailers and child bike seats come with different comfort features. There are child bike seats that come with padding, helmet recess, arm support, reclining capacity, and head support, which make them an option worth considering.
On the other hand, trailers also come with comfort features such as reclining seats, adjustable suspension, pneumatic tires, premium suspension, tinted windows, and rain covers. It is for you to decide which safety features you prefer the most.
Ease of Assembly and Use
Trailers get attached to the adult bike through hitching, which is simple and straightforward. As long as the trailer and the adult bike are compatible, you are good to go. Most trailer companies such as InStep, Allen Sports, use a standard hitch while the higher end brands like Hamax, Thule, and Burley use unique hitches that fit precisely. It is generally easy to fit and use a trailer because they come with installation manuals.
Likewise, child bike seats also have mounting brackets that help in attaching them to the frames or the racks of the adult bikes. In our experience, attaching some child bike seats can be cumbersome even with the installation manuals. Nevertheless, once you master the installation and detachment process, it all flows smoothly. This means that this alone cannot affect your choice of either a trailer or a bike seat.
Storage
Another important priority in the age of frugal living is storage space that an item occupies. With garage spaces growing smaller and smaller, as a matter of preference, people consider not to buy cumbersome items.
Well, as you have already guessed, bike trailers can occupy comparatively much space compared to child bike seats. However, note that child bike trailers come with the foldability option, which means that when folded they occupy as much space as can the bike seats. So, again this is not a factor that you can rely on to singly decide on what to buy – trailer vs. child bike seat!
Bottom Line!
In the quest of answering which one is better between bike trailers and child bike seats, we have identified different distinct aspects of each. From the above discussion and analysis, it is evident that bike trailers are superior over bike seats.
Do not buy into the stories that make bike trailers and child bike seats something cooked up in the hottest part of hell. They are both a system that allows mobility with the children as you cycle.
Unquestionably, opting for either of these child bike hauling options will depend on your personal and family needs, budget, number, age, and weight of the kids, and the terrains that you plan to tag the kid(s) along.
Whether you choose to purchase a bike trailer or a child bike seat, you are still an eco-conscious parent at the end of the day. With climate change being a global issue, you are undertaking your parental duties as you save the planet kudos to that.
We have reviewed the best kids' front and rear bike seats, best MTB child bike seats, and best bike trailers, which can be an excellent starting point in your journey as a parent who cycles their passion out as you commit to your parental obligations – family time.
You are free to share your thoughts and opinions in the comments section so that we can enrich our community of readers, who are probably at a dilemma with the two options.
Please Rate This Article
SEND