As long as you have settled for a baby (child) bike seats, the variety of child bike seat brands in the market will most likely overwhelm you. Finding a bike seat for a child that suits your bike, riding plans/style, and your child can be a bit challenging. Well, count yourself lucky that we got your back, now on!
After in-depth research, tests, and surveys with parents who are actively cycling with their kids, we have come to note a few distinguishing factors of these toddler-, baby, and child bike seats, which we share here to help you find the best child bike seat for your family or if it is a gift you are searching.
By now, we know that if you want an option to have your kids on a ride but they are not old enough to ride, you only have the option of enjoining them as your passive passengers or riding buddies. Well, a child bike seat can do the magic trick for you. These unique baby saddles are an innovative means that allow parents to get out and about with their toddlers or even preschoolers.
Bike seats come in all varieties. Brands, size, mounting styles, compactness, and color are distinctive features to separate one's taste of a baby bike seat. However, not just any seat can fit on any bike. That is why we have put up this comprehensive guide to help you choose the most appropriate child, toddler, or baby bike seats from the many options in the market.
What is a Child Bike Seat?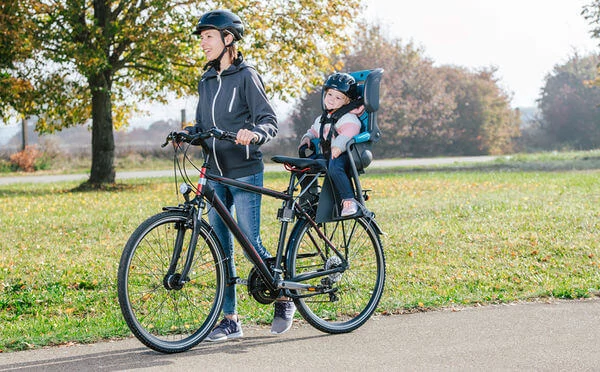 A child bike seat is a special type of bike seat specifically made to allow adults to haul toddlers, kids, and babies on adult bikes. Child bike seats are an affordable means of bringing babies for a ride and exploring the outdoors on a bike. Simply, they are children-specific saddles that are mounted on adult bikes.
Like bike trailers, the child bike seats come with kid-specific safety and comfort features, which dictate pricing. Besides, there are different child bike seat brands in the market.
Child bike seats accommodate kids from one year to 5 years old. If you are in for fun together with your kids, get the best child bike seat in the market just for that.
Elsewhere, we have tackled the child bike seat versus bike trailer debate, where we bring to perspective reasons to buy one, although both are an excellent means of carrying kids and babies when on a ride.
Now that we have a clear picture of what a child bike seat is, how do we choose the best? Let us find out.
Four Key Steps in Choosing the perfect baby or child bike seat
If you are in a dilemma on what bike seat to get for your toddler, baby, or kid, let us take you through some simple steps for making the right choice.
It does not matter whether your child is six months or five years old or they fall in between the age bracket; kids' bike seats remain among the best options to haul them around on your bike. The other option is a kid's bike trailer.
From our tests and research, the center-mounted front bike seats, otherwise called MTB baby bike seats, emerged as the best child bike seat option. However, some parents prefer either the front-mounted or the rear-mounted child bike seats for one reason.
With that in mind, let us now delve into the steps taken when finding the best child bike seat for your bike.
Understand the different types of child bike seats
Check the compatibility of the selected bike seat options with your bike
Check the features of the child bike seats and eliminate
Narrow down to a preferred bike seat based on price and reviews
1. Understand the Different Types of Child Bike Seats
There are three types of child or baby bike seat configurations, hugely defined by where the bike seat attaches to the adult bike. Let us have a look at each.
1. Front-mounted or front-fitting bike seat
The front-mounted bike seat for a baby or child is comparatively the smallest baby bike seat among the three. The bike seats are suitable for babies between 9 months and 2.5-3 years old.
2. Center-mounted or mid-mounting child bike seats
The center- or mid-mounted child bike seats are the best fit when cycling with aggressive, thrill-loving, adventurous, and confident kids aged between 2-5 years. They are mostly a preferred baby bike seat for parents who ride mountain bikes. Unlike the front and rear bike seats, they do not come with a harness. Instead, they have a handlebar that the kid clings on as daddy or mommy does the cycling. The bike seat type helps the parents balance the bike and hold the little passive passenger between their arms, and the fun goes on. Center-mounted bike seats have the benefits of a front bike seat, and they equally improve the balance of the bike, given their position.
3. Rear-mounted child bike seats
The rear-mounted baby bike seats are larger and bulkier compared to the other three. Rear seats are appropriate for kids aged 12 months to those weighing 48 lbs., regardless of the age, but be keen on the height as it can affect a ride.
To know what bike seats are, your inspiration could most likely have come from seeing a rear bike seat as they are a common type of bike seat in the market.
The rear-bike seats can either mount on the seat tube post or the rack of the adult bike. From our experience, the frame-mounted bike seats perform better and are more stable.
Summary table of the salient features and use of child bike seats
| Type of Bike Seat | Suitable Age | Mounting position on an adult bike | Why select this type? | Reviews of baby/child bike seats |
| --- | --- | --- | --- | --- |
| Front-mounted bike seat | Twelve months to 48 lbs. | Below the bike handles | Best for hauling babies and toddlers as well as kids who need constant supervision | A review of the front-mounted bike seats |
| Center-/mid mounted bike seat | 2-5 years | Between the handlebars and the seat post - comes with a top tube mostly | Best for older kids who can comfortably hold the handlebars and enjoy bumpy/adventurous off-road rides | A review of the best MTB or center-mounted kids' bike seats |
| Rear-mounted bike seat | Nine months to 3 years/33 lbs. | The bike frame | Best for long-term use. Can be passed down to the family. | Review of the best rear-mounted baby bike seats |
Having looked at some salient facts about each baby bike seat, it is vital to look at the advantages and disadvantages of each type.
Note that rear child seats are long perceived as the traditional bike seat. Even with its set of disadvantages, people still prefer it. It could be a matter of not understanding the front and center bike seats.
After reading this review, you will make a choice on which type of bike seat to purchase. All the same, it narrows down to your preference and intended use.
Pros and Cons of Front Mounted Seats/Front Fitting Seats
As the name suggests, the front-mounted child bike seats are compatible with children from 9 months to 3 years. The child in question should be weighing 33lbs and below.
These bike seats are suitable for young toddlers riding with an average to tall adult. Mostly, they are mounted below the handlebars. Some of the front-fitting bike seats are made of plastic.
Apart from the molded plastic seats, there is the option of saddle and footrest type. The latter is for older children who can afford to hold themselves.
Pros
Your child can see more. When at the front, they get to experience nature and surroundings.
It is easier to converse with your child.
Your child won't bother you by pulling or clinging on your clothes or hair.
Brings a better bike balance, especially when taking corners and on bumps.
You can take the chance to explain to the child different things — types of cars, traffic rules, and what is ahead.
It makes getting on and off the bike easily.
Cons
Front-fitted seats expose children to headwinds or wind chill.
It is possible for a tired child to slip or let their feet dangle into the front wheel causing problems when riding.
It comes with the risk of raising the center of gravity of the bike. When you push the brake suddenly, it is likely that the child will take much of the fall.
If too wide, it can make cycling cumbersome. Imagine cycling with your knees all spread.
The Advantages and Disadvantages of Rear-Fitting Child Bike Seats
There are two types of rear-fitting seats: the rear frame-mounted seat and the rear rack mounted seat. The former is mounted on the seat tube of a bike while the latter is on the rear carrier bike rack. There is another option where the bike seat is directly fixed to the seat stays and the seat tube.
Most of the rear frame-mounted seats are made of big plastics with two bolt holes to hold them to the seat tube. Two-pronged racks then support the seat. Some do not have the racks and can slightly bend forward or recline.
The seats fixed on the rear career always slide and lock on the top of the rack. They come with a safety strap, some mechanical some magnetic, around the seat tube or post for additional safety.
Those fixed directly to the seat tubes and seat stays come with long legs bolted to the seat stays. They are bolted using quick release and a bracket that holds onto the seat tube to eliminate back and forth movement.
The rear-mounted seats are suitable for 9-12 month-old toddlers weighing close to 48-60lbs. They are suited for tall kids aged nine months and above. It is an option to consider when going for longer rides where there are chances that the baby might sleep.
Advantages
They can recline and are best fit for taller and older children.
Because they are suspended the cushioning from shock is excellent.
If rising in the wild or bike parking in the woods, it is likely that a branch won't hit your child. Here is where you take the hit for the one you love:-).
They protect the child from debris, headwind, and any oncoming particles.
Good for parents with long legs as they allow comfortable pedaling.
Disadvantages
Just like front-mounted seats, the rear variation affects the bike balance.
It is sometimes hard to mount and dismount.
You cannot see your child as you ride.
Communication is also hard sometimes, especially when it is windy. It makes conversations difficult.
Observably, most of the new rear bike seats that are being manufactured are frame-mounted. Therefore, they directly attach to the frames of the bikes compared to those that attach to the carrier racks. They are the cheapest version of rear-fitting seats as there is no need for buying carriers.
2. Check the compatibility of the selected bike seat options with your bike
Your choice of a particular child's bike seat is hugely influenced by the type of bike you have, among other significant factors we are yet to discuss. You must understand how to check the compatibility of a child's bike seat and your bike.
Ideally, most adult bikes can accommodate a child bike seat. This means that your choice will be based on where you would like to position the child on the bike.
The four common types of adult bikes include mountain bikes, hybrid bikes, cruiser bikes, and road bikes.
For adult road bikes and some gravel bikes, with drop handlebars, rear bike seats seem practical as the rider has to bend slightly forward to maintain an aerodynamic posture, at least often. A great example is the Hamax Caress or Hamax Kiss bike seats.
The most suitable child bike seat for adult mountain bikes is the center-mounted bike seats, which fit better even on suspension adult MTB bikes. A good example would be the Kids Ride Shotgun bike seat.
We recommend front baby/toddler seats for adult cruiser bikes, given that they have enough space between the rider and the handlebars. An iBert Safe-T baby bike seat and WeeRide Kangaroo bike seat would be the best in this case.
As you check for compatibility with your bike, be sure to check the bike tube and the cockpit of the adult bike.
Checking for compatibility of adult bike and Front-Fitting Bike Seats
The type of headset
There are two major types of bike headsets for adult bikes: quill or threaded type headsets and the ahead or threadless headsets. The threaded headsets are compatible with most front-fitting seat mounts.
Most of these mounting brackets that clamp around the stem can be from 0.5-15 inches tall, which is the same space you need to fit the bike seat.
The threaded headsets have special locknuts that tighten them, compared to threadless headsets without locknuts.
Fitting seats into the threadless headsets is done through adapters. The Hamax Observer and Thule Yepp Mini have the best threadless headset adapters to allow you to fix a child bike seat on an adult bike with a threadless headset.
However, too wide handlebars might affect the fitting of the mounting bracket.
The distance between the stem and the seat tube
Most front-mounted seats take close to 10-11 inches of the space between the saddle and the bike stem holding the handlebars.
Too close distance means trouble controlling the bike as the set will be directly on your chest.
The type of bike you use matters. If it is the mountain bike, cruiser, or hybrid, you are guaranteed some distance.
However, road bikes give you close contact as you have to lean ahead to reach the handlebars.
Space to mount the bike seat
It is recommended that you consider this space as the mounting brackets fit there.
Most mounting brackets are between 0.5-1.5 inches thick. Essentially, the thickness of the mounting bracket dictates the space required.
You can always consult with your bike mechanic if spacers can be added to your bike.
Bike Tube Compatibility
Usually, rear frame-mounted bike seats like the Hamax Kiss, CyclingDeal US, or Thule Yepp Maxi bike seats attach to the adult bike's bike seat tube through the mounting bracket. The seat tube is the part of the bike frame that holds the seat post.
As such, it is vital to ensure that the seat tube:
Is round to enable the mounting bracket to fit properly
Has 4-6 inches space where the mounting bracket would fit
Does not have studs for the water cages, free from wires, and does not have wire mounts, which might interfere with the installation of the child bike seats
With its versatile design, the Hamax Caress easily fits on tubes with wires that go down to the front derailleur, common in most modern bikes.
However, if you insist on a rear-mounted bike seat, you can consider a rack-mounted rear child bike seat as it needs to attach to a carrier and not the already unsuitable seat tube.
The distance of Saddle and Frame (Your Cockpit)
Unfortunately, you also have to consider the position of the saddle from the seat tube or frame. Sometimes, if you are unlucky, you might have a frame that has proper space to mount the mounting bracket. However, if the saddle is only an inch or less to the bike frame, you will find it challenging to mount a rear child bike seat.
In this case, the baby will be so close to the seat, which will limit their comfort. Most of the child bike seats in the market require close to 2-2.5 inches clearance/space between the seat and the bike seat's mounting poles. That is why brands like Thule have a low-saddle adapter for the Thule RideAlong bike seat.
If you are ready to pick a bike seat by this step, check the table above for links to our articles where we have reviewed the best front-mounted and rear-mounted baby/child bike seats and Best center-mounted child bike seats. Otherwise, we have to orient you on comfort and safety features to check when buying a child or baby bike seat.
The considerations above are for the rear-fitting bike-tube mounted child bike seats. Here are some more specific considerations.
Compatibility of adult bike and the Rear-Rack or Carrier Mounted Seats
Not all adult bikes come with a carrier/rack. In this case, you will need to factor in the costs of a bike rack/carrier. This might attract extra costs that can go beyond the budget you have set for a
Does the adult bike have disc brakes?
We can conclude that only bikes with disc brakes have a large rotor on the tire hub. This we have seen from our tests, observations, and research.
Therefore, they are compatible with most bike racks. However, there are specific bike racks that you can buy from the market that can fit most of the standard adult bikes.
Are there eyelets for rack mounting on your bike?
Although people ignore this, most of the bikes do not have eyelets for mounting the racks. They are the only way to attach a bike rack to your bike. The eyelets on the frame come in pairs. They signal a bike compatible with a rack.
Remember, if you have no bike rack, your option will be narrowed to the rear-tube mounted bike seats, which are by far the best and most comfortable.
3. Compare the Features of the Bike Seat that sets each Apart
Shopping for a bike seat for your child can be extremely disappointing. Why?-You are spoilt for choices, already! It is always good, to begin with, the first things first. Here is a list of 14 features of a baby/child bike seat that you should consider before buying one.
1. Accessories needed for the bike seat
It is also imperative to consider the taste of your kids. There are various add-ons that you can include on the front-mounted bike seat. Accessorizing the front seat for your child is a way to make them comfortable. Mostly, the accessories are meant to throw in some fun and make the kids happy.
You can decide to purchase front-mounted seat handlebars if your child is grippy with stuff. Ordinarily, if you are those parents that push the pedals with adrenaline, you might want to consider the handlebars. The child can cling to the handlebars for comfort.
Besides, since the chances of meeting headwinds and other debris or particles is high, some manufacturers have little windscreens for the front bike seats.
If your kid is a superhero fan, you can get them their superhero figure dolls to spice up the ride. I mean, anybody would do anything to make their kid happy. Another add on would be using child bike seat waterproof covers or child bike seat padding.
2. Suspension
The suspension is the most critical part of the bike seats. Fundamentally, it is equivalent to the mountain bike suspension, and thus it cushions children from shocks from the bumps.
Rising over speed bumps or rough terrains can be unpleasant to the baby on board. So, the suspension brings much-deserved comfort for the honorable passenger. Mostly, only the rear-fitting mounted seats have suspensions. It also features on the rack-mounted bike seats.
Mainly, rack-mounted baby bike seats have a set of springs located in the mounting bracket, which flexes to allow the seat to move up and down. The rear frame-mounted seats attach to the metal mounting bars attaching the seat to the bike frame. Generally, the suspensions stretch to allow the seat to absorb any stress and forces.
Related to suspension is the ability to recline. Reclining child bike seats such as the Hamax Caress come in handy when the kids fall asleep. Ordinarily, when going bike parking with kids or on bike tours with kids, they can sleep just the long rides.
In this case, the reclining seats prevent exhaustion on their necks by relieving the tension. Yes, it makes them ride like a boss! If your child is one of those kids who sleeps the entire way when riding, consider buying seats that can recline. Note that this is a feature for the rear-fitting bike seats.
3. The 3-Point or 5-point Harness Systems?
As you narrow down to your best child bike seat, it is crucial to check the harness's design.
Mainly, the three-point harness system has all the straps meeting at the buckle. On the other hand, the 5-point harness system has both the waist and shoulder straps meeting at the buckle.
In terms of safety, both are compliant with the minimum standards. However, the 5-point harness system can offer more protection in certain critical conditions as it has waist straps that act in the same way as the car seat belts if the shoulder straps are off.
Go for a harness system with a buckle near the baby's chest area to avoid the slipping of shoulder straps.
4. The shape of the Bike Seat
Child bike seats come in different shapes. Like the suspension, the shape also defines the comfortability of the seat. Some bike seats have a lower seat back height to allow the straps to pass to the front. Others have taller backs to secure the shoulder straps and support the child's weight, especially when they are asleep.
Some bike seats feature bumpers to prevent the arms or fingers from scratching nearby objects. It is a design feature for additional safety.
Still, it is essential to look for the helmet pockets, also known as helmet recess. As a safety and comfort design feature, the helmet pockets prevent the child's head from being accidentally pushed by inertia towards your back or towards the bike's front. Thus, it makes rides smoother and prevents the risk of hitting their heads on the saddle or your back.
5. The Height of the Bike Seat's back
Even when the shape matters, the height of the seat's back also plays a crucial role. It might be that one factor that causes a hit or miss on comfort.
Front-mounted bike seats with low back, such as the iBert Safe-T seat, have shoulder straps with little support of the back, which makes them prone to slipping off the kid's shoulder, which can be perilous. Such low back child seats also fail to offer support and comfort should the kid fall fast asleep.
Comparatively, the seats with taller backs have enough support for the shoulder straps, which supports the kids when asleep and holds them to one place. However, this is a distinctive feature that you must focus on for the front-fitting bike seats.
6. The footrests
Some baby bike seats come with the option of either having a footrest or sacrificing it for lightness. Footrests are also a design feature that supports the feet of children when aboard a bike.
They can be incorporated both for front and rear-mounted bike seats. Some footrest includes locking straps for securing the child's feet in place.
It is essential to consider them for the front-mounted seats as they prevent children from accidentally shifting the gears with their legs.
Mainly, the footrests in the rear-mounted bike seats prevent kids from inserting their feet or their laces in the rear wheel. Notably, the fact that the feet can reach the handlebar can cause problems when cycling. It is better to be safe than sorry!
The good news yet is that some bike seat footrests allow you to adjust their height depending on the length of your child's legs.
7. Shoulder Strap type and adjustability
The design of the shoulder strap should also be a deciding factor. Shoulder straps are the first critical safety factor on bike seats. They help secure the child on the seat through the shoulders. For this reason, shoulder straps should fit well when the kid is in position.
You should also consider the ease of adjusting the shoulder straps. Mostly, the shoulder straps that need rethreading through the buckle can be challenging to operate compared to the pull-to-adjust shoulder straps that can be adjusted using one hand. Notably, shoulder straps that need rethreading other than sliding adjustments are hard to operate.
To make the best choice, you should always consider straps that are easy to operate.
Furthermore, consider the shoulder straps that allow you to adjust vertically depending on the kid's height (the height-adjustable shoulder straps). We noticed that high-end bike seats such as the Thule RideAlong and Hamax Caress easily adjustable shoulder straps to various heights. Others like the Thule Yepp Maxi require rethreading, which means putting the straps in the vents provided at the back. Lowered bike seats like iBert bike seats do not allow for height adjustments.
8. Reversible Seat Covers
Bike seats come with the option of changing the seat cover. In this case, you need to purchase a reversible seat cover. It helps give the seat a new color, probably for every ride.
9. Adjustable headrest
This feature helps ensure a perfect fit for the kid's bike seat. The headrest and harness can be adjusted to different positions depending on the height of the child.

10. Adjustable backrest
This is the same as the recliner, as explained above. It helps to hold the kid to a comfortable sleeping posture and position.

11. Shoulder Pads
Magnetic belt locks come with shoulder pads to secure the child in the seat for safety and comfort.

12. Protective spoke cover
Some seats come with a protective spoke cover for protecting clothes and feet from getting entangled on the spokes of the wheel accidentally.

13. Safety Standards of the Seat
Another critical thing to consider when purchasing a kid bike seat is the ASTM 1625-00 Safety Standard (USA).
4. Finalize with your Budget and the Customer Reviews for each Bike Seat
All websites will offer glittery reviews, but the customers who use a product will be more genuine in their feedbacks. As you narrow down to a bike seat, know that a good bike seat can be passed down from child to child or family to family.
Therefore, it is better if you find a seat with good reviews from the customers and one with spares and a good warranty.
Sometimes as seat parts such as straps, buckles, and covers age, they look odd and unlovable. In this case, choose a bike seat whose parts are readily available.
Apart from reviews, also consider the budget that you have set apart for acquiring the bike seat. Go for a bike seat that falls within the budget and does not strain you.
If you are lucky to have one within your budget, purchase and enjoy the fun. Otherwise, either tone down on your minimum requirements and buy a lower-end child bike seat or save up some more for the high-end or budget child bike seats.
Frequently Asked Questions about Child Bike Seats
Which is the safest child bike seat?
The Hamax Caress ticked our list of safety features for a child bike seat. It comes with a five-point harness system, recliner, sliding backrest, spoke guards, helmet recess, childproof safety buckle, and ergonomic armrest.
Even though it fetches at a premium price, you will only feel a tad pinch for spending on a child bike seat. Some of the runners-up in terms of safety include the Thule RideAlong Mini, Thule Yepp Maxi, Schwinn Deluxe, and Bellelli Pepe.
When looking for safety, consider the minute details such as construction, material, and safety additions; the Hamax Caress ticked all these.
Ultimately, we advise you not to leave a child untended on a child's bike seat; it becomes a safety hazard even when loaded with all these safety features.
Which child bike seat is the best?
Our answer to the best baby seat for a bike is hugely dependent on some of the factors we considered when compiling this best child bike seat review.
The Thule Yepp Maxi ticked all our boxes and gracefully made it to the top of our list. It is our top pick as the best rear-mounted child bike seat.
The Yepp Maxi is light, easy to mount, easily adjustable, comfortable, and versatile, making it best among the rear child bike seats.
What is the best budget child bike seat?
We very well understand that financing your kids' hobbies can be costly as a parent.
Times are also hard. This is why we specifically reviewed, after testing, the best budget baby seat for a bike. If you are on a budget and need to hit the trails with your kid, you can opt for the Topeak II BabySeat.
It comes with a combination of safety, comfort, and utility features comparable to middle-range and high-end baby bike seats, such as the Hamax Caress.
In our opinion, the Topeak is an inexpensive bike seat in the market, given its features. You will find some below $100, but the fact remains that the Topeak gives you value for your money.
Which is safer between a bike-mounted seat and a bike trailer?
While there has been a debate on what makes what, this is like comparing a Yacht and a cruise. Well, both bike seats and trailers have their safety concerns.
Now, your choice of either will hugely depend on where you want to ride with your tyke.
If your kids are adrenaline junkies, you can consider both, but be sure to check our MTB front-mounted seats for a great off-road experience. We can conclude that both options are safe but depend on where you are riding.
Do children have to wear helmets when riding in a child's bike seat?
Yes! Safety is not substitutable even when there is fun involved. Even though they are passive cyclists, they are prone to injuries in case of accidents.
You know how bikes are if you are a cycling daddy or cycling mommy – they mess you up when you least expect them.
So, to cushion against any mishaps, helmets act as protection. We do not want a fun family ride to turn into an event that negatively impacts the child's future.
Can I attach both front-and rear-mounted bike seats?
Yes! Of course, that is possible, but be sure to check the weight, comfort when pedaling, terrain, and the kids' weight. If you have more than one kid and would wish to ride with both of them, you can alternatively get a bike trailer; it would be safe, efficient, and cost-effective.
At what age can a child go on a Bike Seat?
Most parents desire to cycle with their infants. So, you will find them asking ", can you Ride a Bike with an Infant?"- Yes, it is possible to ride with an infant. In this case, if you would like to cycle with a six-month-old to a 4-year-old baby, a child bike sit would be the best option.
Most of the bike seat manufacturers such as WeeRide recommend nine months to 4 years. However, setting the lower limit age depends on if your child:
Can sit up without any support. Mostly, it would help if you test this on a flat It does not mean when the kids are supported with cushions or whatever material.
Old enough to wear a helmet. Remember, the number one safety rule in cycling is wearing a helmet.
Nevertheless, thanks to innovative child bike seats, we have reclining seats that can accommodate six-month toddlers. Still, if your kid cannot support themselves independently, you can choose the reclining versions.
Age is a factor that restricts the upper limit when a child can use a bike seat. Typically, kid's bike seats are restricted to children weighing 40lb or 20kg and below. Forcing a child who weighs more could mean exceeding the tested and trusted weight limits.
Necessarily, this does not mean that it will break. However, it makes steering and controlling the bike cumbersome. In some cases, especially when it is a rear-fitting seat, you are likely to get tired pedaling or handling the bike.
How Many Bike Seats Can a Bike Handle?
We have always insisted on a one-child-one bike seat rule. After all, that is how they are designed. However, depending on the terrain where you ride with your baby or kids, you can mount two bike seats on a single bike, but you will have to be cautious not to cause any mishap that can harm your little ones. Yes! That is right; you can use both front and rear bike seats on a single bike, but it comes with an increased level of caution and responsibility.
It is always preferable to do so when in flat areas. Otherwise, you can face challenges trying to handle the bike. In the case of two children and tricky terrain, a child bike trailer will offer superior performance and advantages for hauling more than one child on a bicycle.
Are Bike Seats Safe for toddlers, babies, and kids? Is the front or rear bike seat safe?
Just like child trailers, baby/toddler bike seats are safe. The bike seat versus bike seat debate has been ongoing. They are a reliable way to carry children and cargo. As both allow you to share rides and cycling benefits with your kids, it is always good to consider safety fast. Check the straps, material, ductility, and safety ratings.
However, with a kid's helmet on, you have no safety issues to worry about. It would be best if you exercised caution when in the bile boulevards, streets, bike paths, or the road; ride the bike with the mind that you have a fragile passenger. Oh well! Passive little cycling partner!
Now that you are in the know, we ask you to share this knowledge with other parents so that together we can handle our cycling passion as we simultaneously attend to our parental obligations - killing two birds with a single stone! Doing so is just a means of passing the button to the young ones to conserve and preserve planet earth. Cycling does that, exactly!
Bottom Line
Do you plan to hit the trails with your kids aboard, although they cannot ride? Or are you simply looking for the safest and best way to commute with your kids? Well, you can consider buying a child bike seat either rear-, mid-, or front-mounted and get to enjoy biking with kids.
Kid bike seats work well for children from 9 months to 4 years of age. A series of anecdotal evidence confirms that child bike seats can accommodate children between 1 and 5 years old.
With many notable household brand names for baby or child bike seats in the market, getting the best one can be confusing. There are various factors that you need to consider before finally buying a baby bike seat.
The good news is that we tested, listened to parents, and researched and compiled this excellent and comprehensive review, just for you. In this child bike seat review, you can find the best child carrier bike seats and infant and toddler bike seats. It pleases us when you make the best decision when acquiring child bicycle seats.
If you feel there is anything omitted or have any questions, shoot it up in the comments section, and we will respond promptly. As for now, all we can say is have a happy time riding with your little one (s).
Please Rate This Article
SEND