CyclingDeal US standard Baby Bike Seat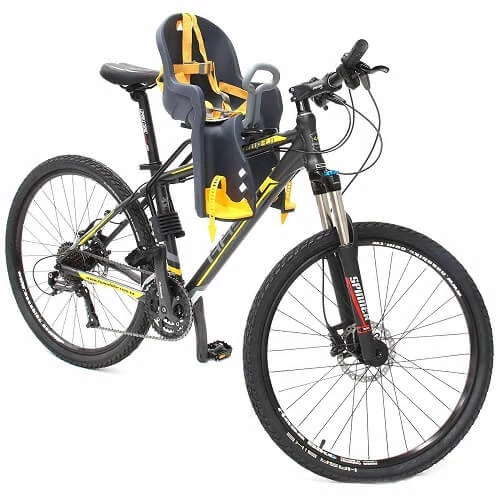 Brand name - CyclingDeal
Age range - 9 months to 4 years old
Maximum weight capacity - 40 pounds
Weight - 9.5 pounds
Mount type - rear-mount and front-mount
Attachment point - seat tube clamp
The quick-release button enables easy mounting and dismounting
Harness system with multiple height-adjustment settings
Compatible with a wide variety of frame sizes
The cocooned seat offers maximum protection
Budget-friendly price
Meets all recommended USA safety standards
Wobbly seat
Lacks shock absorbency
Full Review of the Rear and Front CyclingDeal Child Bike Seat
Child carriers are quickly making a name for themselves in the biking world, so it comes as no surprise that CyclingDeal would have a hand at their child bike seat.
Both front-mounted and rear-mounted versions exist from this brand, but we shall focus on the CyclingDeal standard rear-mounted bicycle carrier baby seat for this review.
A rear-mounted bike seat has the advantage of the adult rider shielding the child from the wind and even allowing leg freedom for the adult rider who would otherwise be forced to ride bow-legged as with some front-mounted child bike seats.
Sure, a rear-mounted bike seat has a lot of great functions, but just how did this particular rear-mounted child bike seat perform when put to the task?
Let's see, shall we?
Right out of the box, this carrier was extremely easy to set up and mount onto a bike.
It comes with a baby seat and other mounting accessories whose installation is quite rudimentary, so the average rider should have no problem going about it.
While the assembly process is simple, the mounting process is even simpler.
The ease of mounting and dismounting is owing to a quick release system that allows the seat to be installed and uninstalled from the mounting bracket within seconds.
This rear-mounted carrier bike seat is compatible with just about all frame sizes with a round tube diameter of 27.2 – 40mm. This covers a majority of bike frames and allows the seat to be mounted onto many bikes without the owner having to get a fitter bike.
The mounting mechanism is also secure, although the seatstends to be a bit wobbly- but we'll get into that a bit later.
Overall, not only is the setup easy, but the seat is also compatible with many bike types.
Weighing 9.5 pounds, this seat is quite lightweight- which is excellent because the adult rider has little to no feeling of the combined weight of the child and the carrier seat.
One great thing about this bike seat is that it can hold kids of up to 40 pounds, which is quite commendable as compared to the average bike seat which holds about 30 - 35 pounds.
What's more- the lightweight nature allows for easy riding even when pedaling uphill, which can be quite the task for heavier rear-mounted bike seats.
There are a plethora of features that have been integrated to ensure that your child remains comfortable as the two of you ride together.
A cushioned seat is among the best comfort features that a bike seat can have, so it was great to note that this bike seat incorporated that. The padding is an assurance that your child won't be uncomfortable during those long rides.
Not only that, but the seat spots a wrap-around cocooned design that provides ultimate shoulder support and protection from external forces. In the event of a fall or crash, your child remains protected from impact.
To prevent the child's head from slumping forward when wearing a helmet, the seat provides a recessed area to accommodate the helmet. The helmet slot has ample room for children's helmets to fit, and thereby the child's comfort level increases.
Another great feature is that the backrest is height-adjustable. This means that the child's back remains well-supported even as they grow up. This is an excellent feature as most bike seats do not usually accommodate the increase in the length of the kid's back.
With a well-supported back, the child remains comfortable when sitting and can even tolerate longer rides.
After riding the only complaint, we have about the seat is that it can be quite wobbly. This means that the child is bound to feel the effect of bumps as you ride- but that is expected for a seat of its price.
The lack of shock absorbency is, however, compensated for with the padded and height-adjustable nature of the backrest.
Protection/ Security Features
As with the comfort features, the manufacturers of this child carrier seat ensured that the security features are also up-to-task.
A shoulder harness keeps the child securely held in place to avoid falling off during the ride. This is a great feature not only because it offers superior protection but also because the harness system has multiple height adjustment settings.
Truth be told, this has to be our favorite feature about this bike seat as it ensures a comfortable and accurate fit regardless of the kid's size.
Additionally, the seat has footrests with foot straps integrated at its lower end. The footrests are a great resting area for a child's feet as it even contributed to less fatigue after a while of the ride as compared to what the child would experience with their feet dangling in the air.
The foot straps further ensure that even when the small feet are in resting mode, they do not fall off and bump into you as you pedal ahead.
With your child's feet and body secured in place, you can confidently ride ahead!
Verdict
CyclingDeal Carrier seat is an excellent example of simplicity meeting functionality in that it has robust and straightforward features. That is what sells this bike seat.
Furthermore, it's an excellent choice for families that don't want to break the bank for a carrier. So if you have a toddler that you want to ride with you for several years but don't have much money to spend- the CyclingDeal carrier seat has got you covered.
Please Rate This Article
SEND