Schwinn Deluxe Baby Bike Seat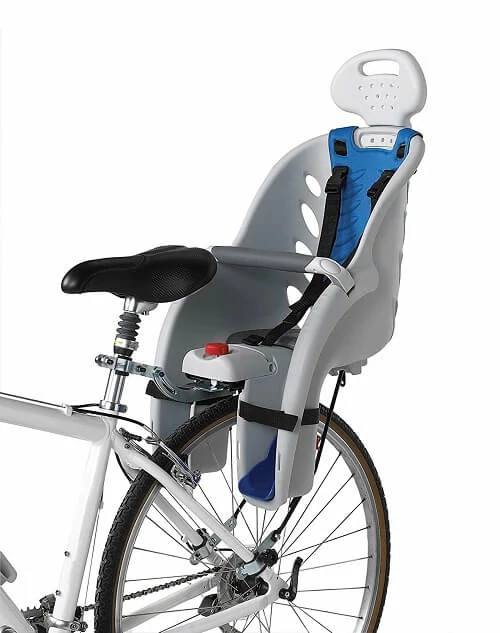 Age range: 1 year and above
Weight 12 pounds
Maximum weight capacity: 40 pounds
Mount type: rear frame-mounted
Dimensions -15.5 x 14 x 7.9 inches
Lightweight polypropylene frame construction
Molded structure is thick, sturdy, durable and enables maximum protection
Custom cushioning and vented seat provide ultimate comfort
Adjustable foot wells/ leg restraints secure child's feet and grows with them
Features additional seat spring and spoke guard
Limits use with rear suspension bikes
For some, the seat position does not allow enough clearance between passenger and rider
Full Review of the Schwinn Deluxe Baby Bike Seat
Schwinn is an American bike brand that has survived in the industry for over a century. Being one of the most trusted and reputable brands, we expect nothing short of stellar out of their products.
The Schwinn Deluxe carrier, designed for toddlers and children surely lives up to the solid reputation of the company as it ranks among the best rear-frame mounted bike seats that we have ever come across!
High quality material, superior performance, maximum safety and at an affordable price is a combination that you won't just find anywhere.
So how does the carrier perform on ground? Let's find out together.
Setting the Schwinn Deluxe Carrier up for use could just be the easiest thing that you will ever do as it takes the shortest amount of time and only requires a screwdriver. Seriously, this is such a time saver as most gear installations require time and technical know-how.
As for detaching it, you can easily dismount the seat from the base, turn it into a cargo rack and embark on a solo ride in no time. Talk about convenience!
Like we mentioned earlier, the seat easily mounts to the bike's rear through a mounting system that attaches it directly to the bike's frame.
Overall, the rear seat positioning enables a smoother and steadier ride. Equally important, the rear seat positioning in itself has the advantage of allowing room for the adult to comfortably flex their legs as they ride.
Another merit to this type of rear-mounting as compared to a rear-rack mounted seats is that you need not purchase a rack to enable mounting. So no extra expenditures on your side for a rear rack.
Additionally, the child is perched behind you so they do not have to deal with the force of the wind when riding as your back shields them.
On the flip side, some riders however complained that the seat is set up too close to the rider's back thus there was a bit of friction between the rider and the little passenger's bodies.
Compatible with a variety of bikes
Another great factor is that this bike seat fits such a wide variety of bike models and sizes that very few users would have to swap out their bikes for a fitter one.
The only few restrictions that exist are for rear suspension bikes. Otherwise, this carrier can fit just about any adult bike out there.
Lightweight polypropylene construction
If you're familiar with bike seats then you know that weight is a factor that you also have to take into consideration. The manufacturers of this seat used polypropylene in its construction which contributes to its lightweight nature and durability.
If you know anything about rear-mounted child seats then you know that their effect on the balance of a bike is usually a matter of concern. The lightweight feature of this carrier further ensures that the seat positioning won't hinder your riding style or balance.
Furthermore the molded frame design of the seat speaks of its high quality construction and performance as it perfectly encloses and protects the young one's body from impact.
Detachable and height-appropriate backrest
Another major feature that could easily pass one's eye is the height of the backrest. Sometimes carriers are equipped with a plethora of great comfort and safety features but fall short due to the height of the seat.
That isn't the case here as the seat has an appropriate height that completely covers the child's back.
Listen, if safety is a priority for you and your child then the Schwinn Deluxe child carrier is a great choice.
To begin with, it features a 3-point quick release harness that keeps the child intact. The buckling system is one of the easiest we have seen in that it doesn't require a manual to figure out.
Further, it sports a seat spring guard and bike spoke guards that shield the child's hands from the bike's moving parts and are especially helpful in the event of an impact. Not to mention that these guards also aid in increasing the carrying capacity of the bike as they sort of stiffen the carrier.
Rather than letting the kids' feet dangle in the air, this seat comes with footrests that have Velcro leg restraints. The adjustability of this footrests ensures that even as the kid grows, it will continue to appropriately fit their size.
Needless to say, this is only if the child is within the recommended size limit.
If you thought Schwinn just hit it right with the safety features, think again because the comfort features are also abound.
For starters, the seat boasts of soft cushioning that comfortably supports the backs of the little ones. Not only that; but the seat itself is also very roomy so the child definitely doesn't feel confined.
Other than being roomy and comfortable, what we loved the most about this seat is that it is vented. The back features appropriately-sized holes that ensure wind can flow through.
Not only will your child remain cool and fresh but unlike with entirely solid backs, there is no chance that you will be slowed down by wind drag.
Last but certainly not least, this seat futures a padded crossbar that the kid can hold on to. Not only does it keep their hands busy but it also secures them from accidentally falling forward.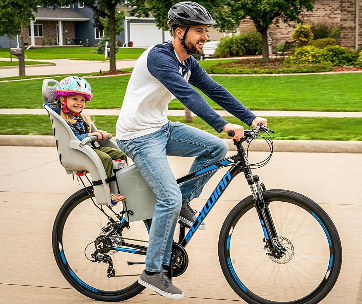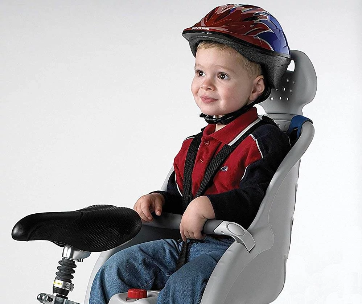 Verdict
The high quality and lightweight material used to make the Schwinn Deluxe Child Carrier are what sells it.
That, in addition to being wholly functional and comfortable, makes for one of the best rear-mounted child bike seats.
Schwinn is a superb child bike seat designed with top-notch quality, amazing style, and with safety and comfort of kids in mind. It easily made its way to our epic top 10 list of the best child bike seats.
For under $100, the Schwinn Deluxe is a piece of art and beauty that any cycling family won't shy away from investing on. It comes with premium features such as padded crossbar, 3-point harness system, adjustable headrest, and is very easy to mount and unmount from an adult bike. If you are looking for the most affordable yet comfortable baby bike seat for children, toddlers, and kids, Schwinn Deluxe should be what you are eyeing in your next shopping.
Please Rate This Article
SEND