We were so eager to purchase the Thule RideAlong Lite given the popularity of the Thule RideAlong bike seat brand. Coming from Thule, were in earnest pursuit for what makes the brand stand out. With the double beam suspension system, water-repellent padding, easy attachment, and detachability, and integrated protection wings, we rank the RideAlong Lite among the most affordable yet valuable child bike seats in the market. We recommend the RideAlong Lite for budget-conscious families who are after a vibrant child bike seat brand at a lower cost. After all, when luxury costs so much, it loses its definition instantly. Other great models from Thule include the Thule Yepp Maxi
Thule RideAlong Lite Bike Seat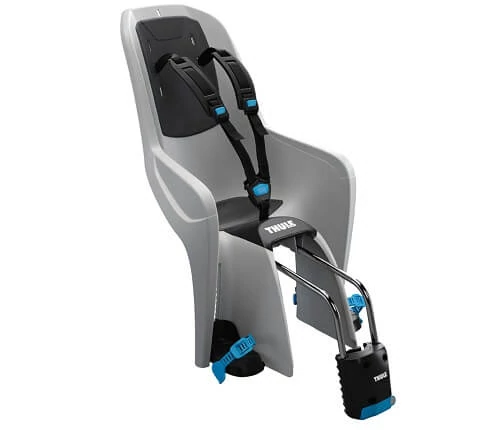 Weight: 9.5 pounds
Age range: 1 - 6 years (40 lb.)
Maximum weight capacity: 48.5 pounds
Mount type- rear frame-mounted
Material – plastic
Outer material - aluminum
Comes with a Quick Release system
Extremely easy to mount and dismount
Can accommodate a wide range of kids' sizes
Three-point safety harness
A dual-beam suspension system is great for shock absorption and ensuring smooth rides
Built-in reflectors and safety light attachment enhance conspicuity in dark settings
Padding requires some time to get used to
Limited range of colors to choose from
Full Review of the Thule RideAlong Lite Bike Seat
If you are a bike enthusiast then you are familiar with the renowned Thule bike brand.
Everything from the company speaks of sophistication, first-class quality, excellent style, and money well spent- and the same goes for their bike seats.
The Thule RideAlong Lite is a more budget-friendly version of the more popular Thule RideAlong. That said, it has fewer features than the Thule RideAlong, although you can expect an almost level of performance for its cheaper price.
From a quick release system for easy mounting to a great suspension system- this bike seat is packed with exciting features. Have a look.
Ease of installation, mounting, and detaching
For a rear-mounted child bike seat, the ease of installing this seat was a pleasant feature to note.
This is thanks to a universal quick-release bracket that allows the seat to be easily mounted or dismounted in seconds.
Initial setup takes about 10 minutes but once done you can easily mount the seat onto the mounting bracket in no time. Simply press the blue part of the mounting bracket and attach the seat to the metal bars which lock it onto the bracket.
Bike compatibility
The seat mounts to the bike's frame via the seat tube.
The mounting bracket fits most bike frames with a diameter of 27.2 – 40mm for round frames and a maximum dimension of 40 x 55mm for oval frames; and requires at least 4.75 inches of space between the seat and the seat tube.
One great feature we appreciate about this bike seat is that it doesn't sit too close to the adult rider. Therefore proximity is not an issue and especially so because the seat has a feature that allows you to adjust the level of proximity. This isn't the case for the average rear-mounted bike seat where most users complain of close proximity which causes friction between the rider and passenger.
Just be careful; not to push it too far away from you as this might interfere with the ease of riding.
Weight limit/ carrying capacity
One of our most favorite features about this bike seat is that it has a high carrying capacity.
As expected, rear-mounted bike seats have a larger size compared to front-mounted seats which can easily block the rider's view or interfere with their riding style. The large size of rear-mounted seats such as the Thule RideAlong Lite allows them to accommodate larger or older kids.
Additionally, the 48.5 pounds maximum weight limit means that the seat can support a wide variety of differently sized kids between one and six years old.
Note that this weight limit is one of the highest you will ever come across for a child bike seat- a matter that speaks of how sturdy and well-made this bike seat is.
Suspension system
Suspension systems are especially important for rear-mounted seats as they enable shock absorption that the child is otherwise bound to experience.
Adjustable options and a dual-beam suspension system are what sold it for us with this bike seat as the flexing of the metal mounting bars when under stress creates a smoother overall riding experience.
Through this mechanism, the bike's wobble effect that a seat usually has when attached to a bike is also eliminated.
Reclining seats
A reclining seat is one of the features that separate the Thule RideAlong bike seat from the average rear-mounted bike seat.
A reclining seat makes for an overall better sleeping/resting experience in that it is much easier to fall asleep on a seat that tilts a bit to the back than one that is set upright.
The RideAlong seat reclines up to 20 degrees- an angle that allows great comfort when napping. However, this feature is not available in the Thule RideAlong Lite.
Our only issue about the RideAlong Lite's seat structure is that it doesn't curve much at the top so the child's head might end wobbling to the left or right when they fall asleep.
Seat padding
When it comes to comfort, seat padding is a huge determinant of the level of comfort the child is bound to experience.
The RideAlong Lite's padding is excellent as it is just enough to promote comfort and coziness on the go. However, the padding requires some time to get used to as it can be somewhat hard when the seat is still new.
Furthermore, the padding is detachable and machine-washable meaning that you will have the easiest cleaning experience after your riding escapades.
As for ventilation, it has a breathable pad to prevent sweating when riding in hot weather conditions.
What more could you possibly ask for from a bike seat?
Security features
Another feature that we love about the RideAlong Lite is that it is packed with security features.
For starters, the seats wings are a great way to protect the child from impact from a fall or crash against a wall.
The RideAlong Lite features protective side wings which act as great bumpers against impact. One thing about these sidewalls is that they are high enough to adequately serve their protective role.
Secondly, the child is secured in place through a three-point safety harness which can be tightened or loosened through easily visible blue buttons. The buckle system is child-proof and pretty self-explanatory but equally up-to-task in terms of protection. It entails nylon straps which although not as thickly padded as the RideAlong's – are quite comfortable.
Moreover, the shoulder straps are height-adjustable for a more customized fit suited for the kid's size but more importantly, it ensures that your little passenger remains safe as you thrust forward.
Another major difference between the RideAlong and the RideAlong lite is that the former is continuously adjustable but the latter has three height slots. All the same, the Lite's adjustment system is fit for securing kids in place and even better than the average bike seat's buckle system.
Additionally, an integrated reflector adds to the child's security. The built-in reflector and safety light attachment enhance your visibility on the road. This is especially important when riding in low-light settings as it is a great way to combat head-on collisions with other road users.
Adjustable footrests
In addition to a three-point safety harness to secure the child's upper body, this seat has footrests that secure their feet/ lower body.
The footrests are adjustable and only require a one-handed operation to get that perfect fit for your child. Furthermore, this adjustability ensures that as your child grows, the seat is able to accommodate their growing size.
Bottom Line
The Thule RideAlong Lite Bike seat is an excellent way to get your money's worth.
Robust, comfortable, reliable, and embellished with a great range of necessary features for your child's protection, this rear-mounted bike seat will not fail you when it comes to family rides.
Available in two different vibrant colors to choose from and a five-year warranty- the bike seat is simply a must-have.
Please Rate This Article
SEND